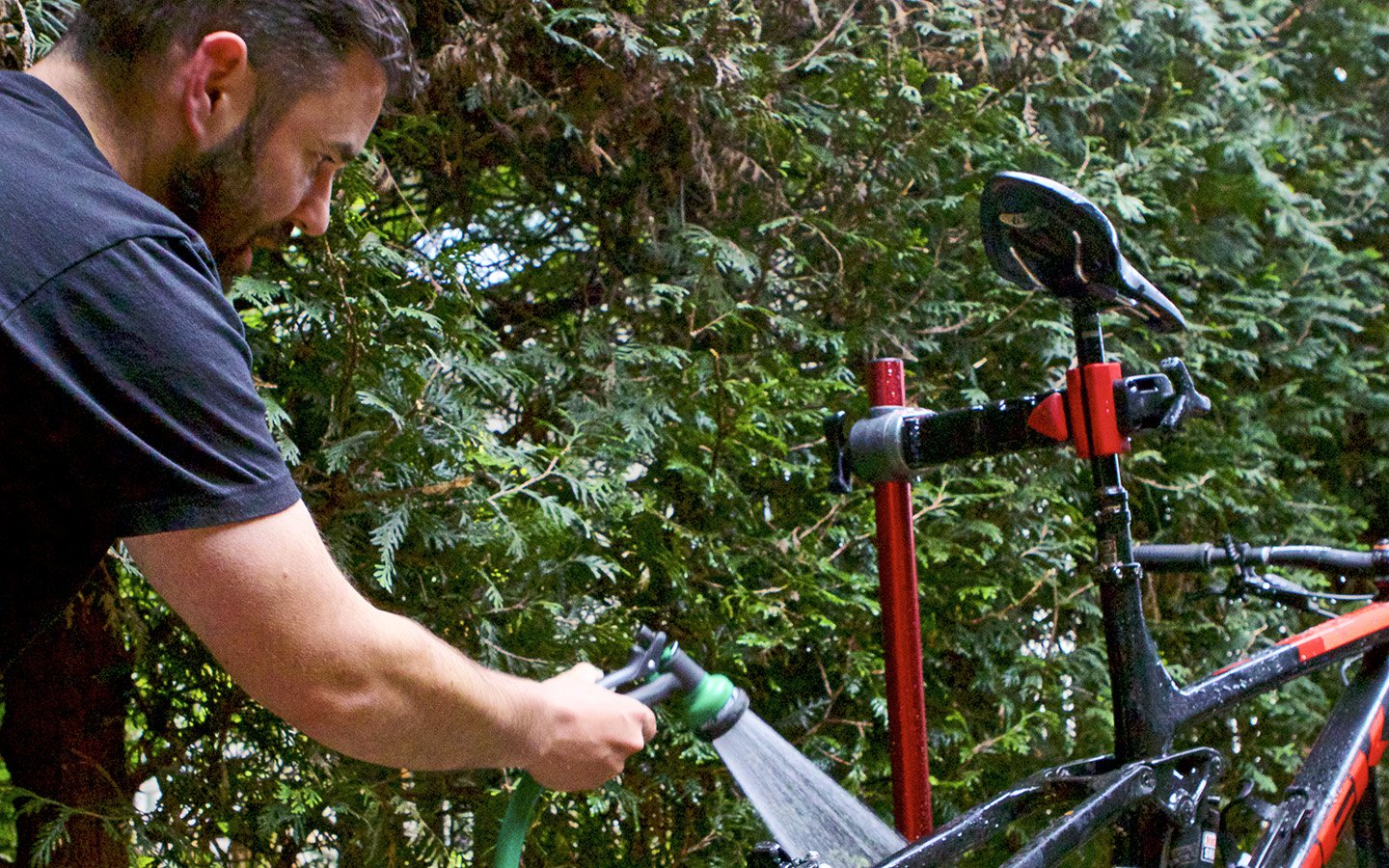 How To with EWS mechanic Jeff Bryson
Clean Your Bike Like a Pro
A few riders have gotten in touch with me about the best way to clean your bike since I built a simple, layman's bike wash stand that should come in under $50. Below is an expert's approach to bike cleaning (from someone you may recognize).
---
Riders in Southern California, Israel or Sicily don't know the pain of perpetually cleaning your bike. After the sixth muddy ride in a row, the honeymoon is over. If you are an apartment dweller and your partner doesn't appreciate brown Minion tracks across the new carpet (what's the big deal?), cleaning your bike every time is a necessity. If you have garage or shed storage for your bike you can get away with merely cleaning and lubing your chain, and I confess to occasionally going months without cleaning my bike, but I've recently become addicted. And we all know a clean bike runs better. Inexplicably your brakes start to grab firmly and consistently again and that pesky slow shift into your largest cog starts to glide in silently.
Getting the right tools morphed the post ride clean from a task I detested to one I enjoy, particularly with beer in hand. A few brushes made the difference for me but I realize I am but a lowly amateur, an apprentice if you will. Getting to the next tier was going to require some pro level help.
Jeff Bryson, who helps out with our teardown articles, was recently hired as Team Urge Rocky Mountain's EWS mechanic. Jeff is responsible for the bikes of both Jesse Melamed and Remi Gauvin, and cleaning them (bikes not riders) is a large part of that process each day. Jeff was quick to tell me that it's not just a clean; the most important part of the process involves touching and examining every part of the bike. It's a clean and inspect.
It's important to make sure the area you are cleaning doesn't dry before you have removed all the dirt. Otherwise you are more likely to scratch the finish and removing all the dirt will be a challenge. In the warm season Jeff recommends spraying and cleaning one side completely first and then switching to the other side, going from the top down both times. If you don't have a bike stand you will probably want to flip the bike for part of the process.
Here's Jeff's pro race level clean. Most of us won't do this often, but I plan to go full OCD occasionally, and definitely if I'm selling a bike.

Besides leaving the wheels, foregoing the silicone and bike wash for your everyday wash will save you time, but the brushes are really what makes this task bearable.

There is no way I am regularly pulling my wheels for a bike clean. I can see it once a month if I'm riding a lot, but after seeing Jeff work his magic I am a little giddy about rejuvenating the bike I've been riding recently. If you already have this mastered, share some photos of your clean bikes below.