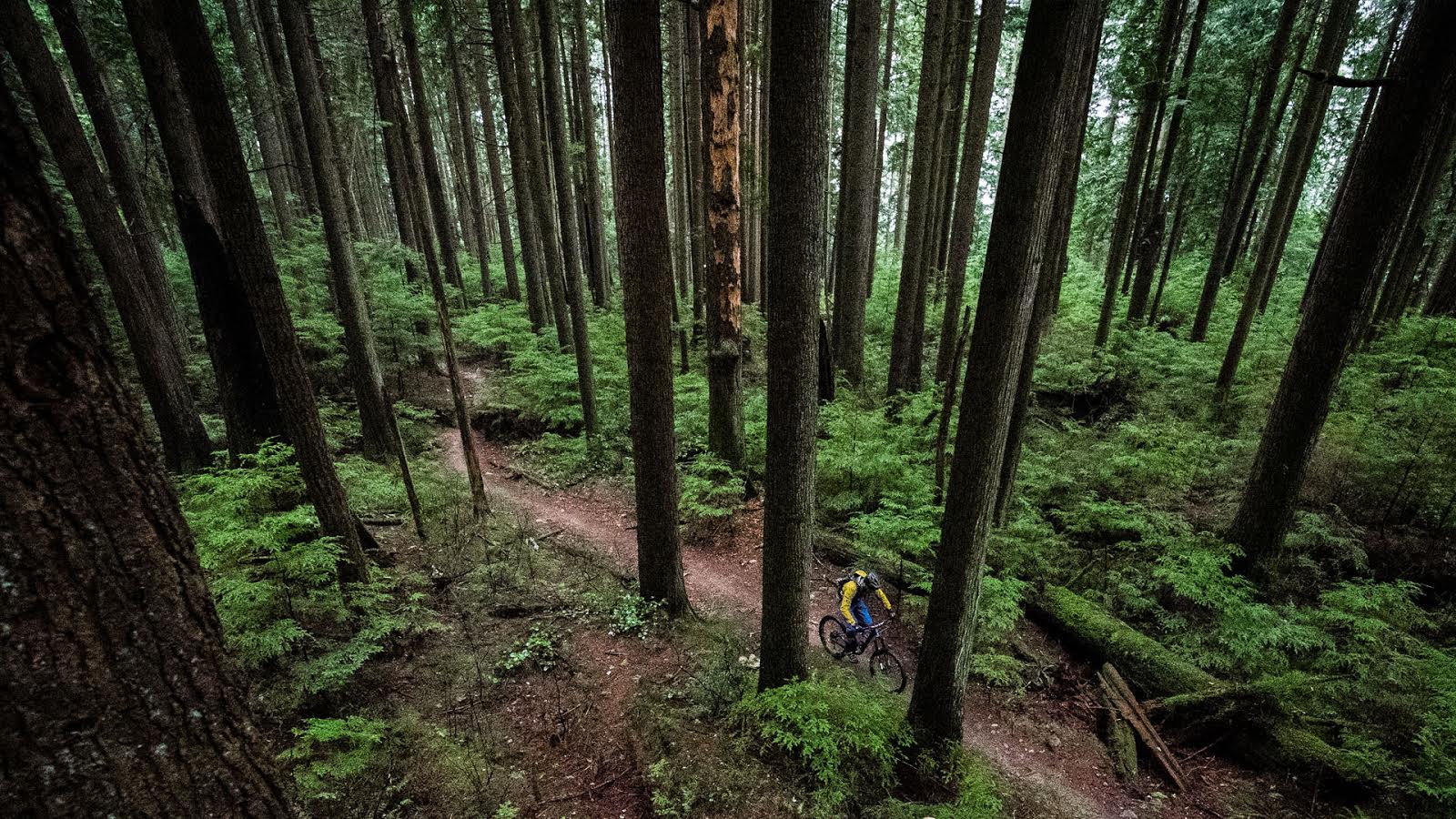 Civic Elections 2014: Craig Cameron
Editor's Note: Since the days when the trails on Cypress Mountain in West Vancouver were cut down due to hasty overreaction, and the era when North Vancouver City Council had members who didn't value the positive impact of the mountain bike community (nor an understanding of how many North Shore citizens are riders), NSMB has taken an active interest in letting those of you who live within voting jurisdictions know who you should – and shouldn't – vote for if you want to help further the mountain biking agenda in North and West Vancouver, as well as the North Vancouver Regional District.
Craig Cameron is a mountain biker (more so in years gone by) and a good friend of several of the NSMB crew. He is currently seeking re-election as a councillor for West Vancouver in the upcoming civic election.
Cam McRae compiled some questions for Craig to answer. Learn more below.
Cam McRae (CM): Dude! You got elected. You don't have to give us (me really) all the credit but I'll take most of it. I expect some serious results this time. How is that bike park (named after me) we talked about coming?
Craig Cameron (CC): The McRae Mountain Ride is definitely in the works.
CM: I understand you are still pretending to be a mountain biker? And you have a new bike? What did you buy and have you ridden it?
CC: I bought a Rocky Mountain 29er earlier this year. It has some dirt on it but the nibs are still on the tires. What can I say? Life is busy with three kids, a law practice and Council duties.
You are a veteran councillor now. Give me three words now to describe your first term? And a sound. And a short mimed scene.
Educational. Productive. Rewarding.
What were some of your biggest challenges?
Divisive community issues, primarily with certain larger development projects. I try to seek consensus where possible but the community is simply divided on certain issues.
Are there some successes you can point to? Or only failures?
There are certainly some successes. We created the largest park in West Vancouver – Whyte Lake Park – just above the highway. We kept tax increases to zero. We passed a carefully crafted and innovative policy on coach houses.
Some disappointments?
I would liked to have made more progress in revitalizing Ambleside, which has been suffering for many years.
Going into your second term, can you tell me what issues related to mountain biking and outdoor recreation you have dealt with?
We have dealt with a number of issues related to cycling. We have been making efforts to extend and improve the Spirit Trail. I have been working with Park Royal on improving their cycling infrastructure. Most importantly, we are coming up with a plan for the mountainside. I am a Council representative on the Upper Lands Working Group, a citizen working group that is consulting the public and will be making recommendations to Council regarding the future of the Upper Lands (roughly speaking, the unbuilt area above the highway). One of the three main areas the Working Group will be making recommendations about is recreation, and this will include recommendations on the future of mountain biking in the area.
Can you give me examples of progress that has been made?
See above. The Working Group will be making its recommendations to Council before Summer 2015.  At this point, the Council will have to decide what recommendations to adopt and act upon.
One of the hallmarks of the riding on Cypress is the high level of difficulty. Do you think it's possible to maintain a significant portion of the difficult trails?
Yes.  The model for the development of the mountainside is changing as it progress. The next phase of the Rodgers Creek development includes a large proportion of multi-family housing and, as a result, much more green space in between the housing. I believe we can maintain an excellent trail network in these green spaces.
Dealing with Britsh Pacific Properties, would you say they are receptive to maintaining mountain biking on Cypress? 
Yes, I think BPP is receptive to maintaining mountain biking on Cypress. At present, their attitude seems to be benign neglect. They make token efforts to discourage it but they know it goes on and they are prepared to let it continue for now. There isn't really any benefit to BPP from this state of affairs and there is the obvious downside of possible liability should something go wrong. In future, I know they would prefer to deed the green space between their housing projects to the District, so that the mountain biking occurs on public, rather than their private, land. Then it will be our problem!
Can you tell me about the 1200 foot development limit and what the status of that is going forward?
The Working Group is reviewing whether development should be permitted above 1200 feet. At this point, no firm recommendations have been made.  However, I think it is fair to say there is very little public appetite to vary the 1200 foot limit.
What do you think about the Rodgers Creek development? What are some of the successes and failures there?
I like the Rodgers Creek development much more than the previous phases. I like that the Rodgers phase includes a variety of housing types and preserves a large proportion of the green space. I don't like how many huge, gated single family homes still are being built.  I don't like the massive retaining walls that are being built.   I don't like the fact that there is too little community being created up there.
With the large lots and a lot of absent owners, for much of the year at least, would you describe it as a livable neighbourhood?
No. It isn't a livable neighbourhood. The only people you see on the street are gardeners and housekeepers. My hope is that the next phase of Rodgers Creek will be much more livable. Eventually, we want to create a village near the first switchback, which will significantly increase the livability.
What are some legitimate objections to mountain biking and mountain bikers by the public, the District of West Van and BPP that you have heard?
Well, the liability risk is still a problem. There are occasional conflicts between hikers and mountain bikers. Some people are concerned about the environmental impacts of the trails, particularly ones that aren't well maintained and that are in sensitive ecosystems.
Are there some objections that indicate nimbyism or a lack of information about our sport?
Yes, there are some objections that are ill-informed. I think there will always be some people who hate mountain biking and bikers and can't be satisfied by anything less than an outright ban. Fortunately, there appear to be very few people in this category.
How would you describe the present council's willingness to work with mountain bikers? Are they all running for re-election and who would you say we shouldn't vote for?
I think this Council is willing to work with mountain bikers. I wouldn't describe all members of Council as enthusiastic, at least not as enthusiastic as me.   Five of the six sitting Councillors are running for re-election and I politely decline the request to tell people who to vote for. Other than me, of course, you should vote for me.
What about the Mayor? Will Mike Smith be running for re-election? 
Mayor Smith has been acclaimed already. Nobody stepped up to run against him.
Voter turnout for municipal elections is pretty pathetic. Is North Van better than other places? In general do you think there is a rationale for people to be more engaged in civic politics?
In West Vancouver, we had a turnout of below 24% last election. This is pretty low, even in comparison with other Vancouver municipalities. It didn't help last time and it won't help this time that there is no race for Mayor.
Any final thoughts?
Several, but I will limit myself to three key points.
First, your municipal Council makes decisions that matter in your life. You want a Council that is reflects the entire community and reflects your perspective. The Mayor is only one vote of seven on Council, so the mix of Councillors is crucial even if the Mayor is acclaimed.
Second, your vote matters. With such a low turnout and the large number of candidates – 15 for 6 positions – the margin of victory will likely be very small, perhaps less than 100 votes. If you don't get out and support candidates you like (and if you don't ask your friends, family and neighbours to vote for your preferred candidates), you could easily be the difference between success and failure.
Third, you don't need to vote for 6 candidates. If you like one candidate, mark an "X" beside his or her name, put your pencil down and submit your ballot. If you like 6 or more, then vote for six. Please please don't feel compelled to vote for six just because you can, without knowing who you are voting for. This is not a multiple choice exam from high school. You may, in effect, cancel out your own vote.
Thank you, Cam, for the opportunity to answer these questions.
---
If you live in West Vancouver, or know people that do – we encourage you to vote to re-elect Craig Cameron. He provided this general voter info which should get you rolling if you have any questions about how or where to vote, or to check your eligibility.
Eligible voter information at this link – http://westvancouver.ca/government/2014-general-local-election/voter-information.  Basic rules are 18 years old, Canadian citizen, in BC for 6 months, living or owning in West Van for 30 days prior to November 15th. If you are not registered, you need two pieces of ID showing address – like a driver's license and a utility bill. Registration and voting takes 5 minutes, tops.
With eleven voting locations throughout the community on general voting day, you won't have far to go.
From 8:00 am. to 8:00 p.m. on November 15, eligible electors may vote at one of the following voting places:
Eagle Harbour Montessori School (5575 Marine Drive)
Hollyburn Elementary School (1329 Duchess Avenue)
Irwin Park Elementary School (2455 Haywood Avenue)
Ridgeview Elementary School (1250 Mathers Avenue)
Rockridge Secondary School (5350 Headland Drive)
Sentinel Secondary School (1250 Chartwell Drive)
Westcot Elementary School (760 Westcot Road)
Gleneagles Community Centre (6262 Marine Drive)
Seniors' Activity Centre (695 21st Street)
Presbyterian Church (2893 Marine Drive)
Ambleside Youth Centre (1018 Pound Road)