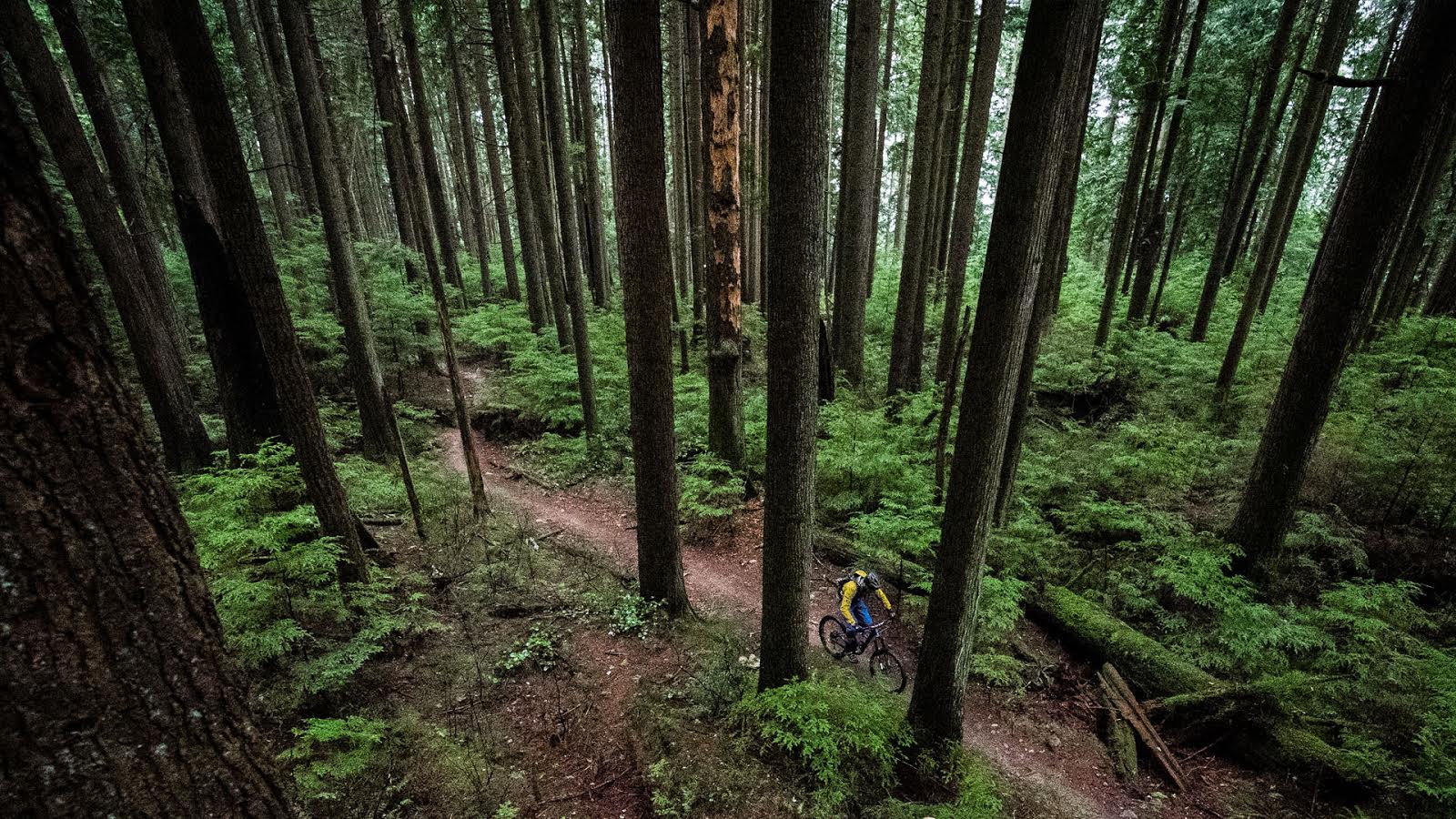 Chumba Rastro 27.5 – Long Term Review
I like ditching the full suspension bike in favour of a hardtail over the winter season; it's a mental refresh that helps provide motivation to get out in the grim weather. Something bomber you're not afraid to abuse and put away wet. It will force you to keep your lazy line choices in check, and is, in my opinion, a whole lot of fun. I've been splashing about the North Shore trails on the Rastro for a couple months now; and my thoughts are now presentable. I'll break things down by category and charge though the various bits & pieces that were worthy of note.
Re: images – Dave Smith likes his pixels painterly; we're going with a melancholic vibe befitting a typical northwest winter day. A bit of of temperate rainforest Where's Waldo if you were. Immerse yourself in the grainy atmospherics; detail bike pictures, specifications and geometry, if you require them, may be found here.
Cockpit: I found the 60mm x 10° rise stem in the build kit a little too long and high for my 6'-0" carcass – especially given the relatively long top tube (625mm on my large frame), low bottom bracket (with resultant large 634mm stack), and the supplied 1-1/2" rise Raceface Respond bar (with a proper 31″ width). I swapped to a flat 50mm stem on no spacers, and was in a much happier, well-balanced place.
Brakes: The Shimano XT stoppers were flawless. Great lever feel, power, modulation, and adjustability. Love them. If I were supreme dictator, these would be the state-mandated brake for all citizens.
Drivetrain: The propulsion parts – a mixture of Shimano XT & SLX bits with Raceface Turbine Cinch cranks – were also problem free. Given this bike's technical climbing prowess, I'd like to see a slightly lower gear than provided with the 30t chainring & 11-36 cassette. Including an aftermarket 40t cog with the build kit would be spot on. The Raceface narrow/wide chainring did it's job, tenaciously gripping the chain with nary a drop – as we've come to expect of these things.
Saddle & post: The Raceface Atlas saddle proved to be comfy for my physiology and the small wrinkles that appeared in the cover early on didn't appear to grow. I felt a little mixed about the Thomson dropper post. It performed without fail, but I had a couple nitpicks relating to the cable actuation. Compared to my Reverb, I found the Thomson release lever more on / off with it's engagement. I'd often end up dropping or raising the seat more than I wanted (I'm constantly fiddling with my saddle height, and tend to use a range between max & min). The lever effort is a bit more than I'd like as well; a slightly longer, more comfortable lever with a bit more leverage would be nice. While I'm picking nits, the set screw holding the cable is a tiny, easily stripped thing, and the lever could use a barrel adjuster to dial out cable slack.
Tires: The bike came shod with Maxxis Ardent 2.4 EXO tires. I was initially skeptical that the short, less aggressive knobs could cope with our winter trails, but they actually behaved better than expected – as long as the loam/duff didn't get too steep or deep. Fast rolling for sure, and while they're slidey in the wet, they do so predictably. Certainly worth revisiting in the dry season. The fine fellows at Chumba subsequently sent out a pair of High Roller II's to swap out – a proper aggressive tire better suited to current conditions (though I'd prefer the cornering grip of a DHF up front).
Wheels: The build kit comes with Raceface's new Turbine wheelset. A tidy looking wheelset with all house-branded components. Given Raceface's Cascadian provenance, I was surprised they came out of the gate with a relatively narrow 21mm rim. They are billed as an XC / trail wheelset, so not totally out of order, just not bleeding edge. I'm not sure how much use the wheels had seen prior to me, but the rear wheel arrived with very low tension (i.e., some nipples could be turned by finger). Evidently there's no thread lock on these, and what seemed like a low factory tension and / or lack of stress relieving. I re-tensioned and things have remained stable since. When I went about swapping out the Ardents for HR2s I was surprised how loose a fit the tires were – quite easily pulled off and on by hand. I'm accustomed to airing up my tubeless tires with a floor pump, but I couldn't get the fresh tires to seat even with my compressor, so I resorted to stuffing in tubes. My patience has it's limits. That said, I had no issues with burping on the tubeless setup, even running down to 25psi on the rear.
Fork A (Fox 34): The bike shipped with a custom lowered 140mm Fox 34 Float FIT CTD. Longer travel forks don't always play well on hardtails, as they can feel (unsurprisingly) unbalanced; the large geometry swings that occur when the fork dives tend to make for wonky chassis dynamics. I've not ridden a Fox 34 previously, but the current incarnation is supposed to have tweaked compression damping to address issues of mid stroke support in the previous iteration. Interestingly, this would be my biggest criticism of this fork. At about 20% sag in Descend mode, the fork would sit an about 3/4 travel on sustained moderate grade descents (not even the really steep stuff). This, in conjunction with the steep-ish 67.5° head angle, made for a bit more white knuckling on the steeps than I'd have liked. Bumping up pressure and reducing sag helped, at the expense of losing the last bit of travel. Running the fork in Trail mode offered a bit more support, but was still lacking on the higher end of compression damping adjustment. It wasn't unusable by any means, and may be fine on shallower slopes, for less aggressive applications, but it never really gelled for me, and seemed to hold the bike back a bit. Cue the following:
Fork B (Fox 36): The care package from Chumba containing new tires also included a sweet gem of a fork – the new Fox 36 Float FIT RC2 – also reduced to 140mm travel. This will be offered as a build kit option. This fork emphasized the weaknesses of the 34 in that it has a huge (functional) range of low & high speed compression adjustment, and an air spring that seems much more supportive through the midstroke. This translates to a fork that can be set up to ride higher in it's travel, and provide a nice firm, non wallowing platform, yet remain supple off the top, whilst using all of it's travel. It's a stout chassis, too. Confidence inspiring, and an asset to the handling of the bike – especially on the steep burly lines. I really liked this fork – highly recommended. If I were a dork, I could criticize the lack of a fork lockout (for the occasional road climb) or a tool free qr axle, alas it's so good, I'll let those quibbles slide.
Weight: The addition of the 36 and meatier tires (with standard weight tubes) bumped the weight up to 31lbs even. Not so svelte in this age of carbonium, but I can't say it rides heavy. It's not an xc race whippet; I can accept a bit of burl for (anticipated) longevity, and a reasonable price point.
Frame build: On to the important part. This is a nicely assembled bit of US steel. Construction is top notch, and details are spot on. It's got tidy Paragon Machine Works dropouts (with a 12x142mm axle), cable mounts where they should be, a threaded BB, and lots of tire clearance. No flaws to speak of. If I could criticize one thing, it would be the drab paint color, or lack of a popier option; purely subjective of course. Ok, I AM a dork.
Here's what Chumba says about the tube set: "The frame uses USA True Temper tubing and 4130 Chromoly and a PMW USA made bottom bracket shell. We also use PMW USA Stainless Steel Dropouts for a Shimano E-Thru Axle 142x12mm rear paired with a beefy replaceable derailleur hanger."
Geometry / handling: This frame sports some fairly contemporary numbers – a fat 39mm BB drop (equating to a 313mm BB height with the current build), compact 425mm chainstays, & decently long front/center (625mm top tube / 429mm reach on the large frame). The 67.5° head tube angle was a bit steeper than I had hoped for, given the frame appears to live on the burlier end of the trailbike spectrum. Since hardtail angles get steeper under sag (unlike dualies, which stay closer to static or go a bit slacker with rear sag), I generally like to see head tubes a degree or two slacker to accommodate. My first rides down steeper lines (with the Fox 34 in Descend mode, and at a sag than turned out to be higher than ideal given the available damper settings) confirmed this. Certainly less comfortable on the steep and chunky than I was used to, though the low BB and long front – with the shorter stem in place – did mitigate the steeper HA somewhat, keeping weight low, and further off the front wheel. That said, upping the pressure in the 34, and using Trail mode (at the expense of full travel plushness) helped stabilize the pitching a bit, and I got reasonably comfortable with the handling traits as I spent more time on board. We're adaptable creatures.
As mentioned previously, the swap to the 36 resulted in a fairly significant improvement in steep riding capability, as well as all round charging prowess. The head angle became less of a detriment, and made for fun, snappy handling on shallower (flow!) trails, as well as good maneuvering on tighter lines.
I really like the lowrider BB height; it's a carving machine. I'm a big fan of slug skimming bikes, and I'm fairly comfortable with my pedal awareness; my only pedal strikes occured on tech climbs (when pedal timing and terrain don't always sync). The bike is a great technical climber (as long as you can push the 30×36 low end). The 73° seat angle is well placed in relation to the other numbers, resulting in a nicely balanced position to dig deep and grind with a centered seating position, and the tight rear / not so slack front afford decent line picking maneuverability.
Final thoughts: I really like Chumba Rastro in it's current 36-forked incarnation. It's stout and playful; a happy forest dweller. I'd also say it's reasonably versatile, not giving up much in a variety of scenarios, from fast & flow, to steep & tech. If I was keeping it, I'd probably toss in an offset headset to kick out the head angle a tick, but it's not a deal breaker for me, either. In all I'd say it's a pretty solid effort.
The Rastro price has been adjusted down from $3095 to $2995 US.
---
Is there a hardtail in your future? Would you consider the Rastro?