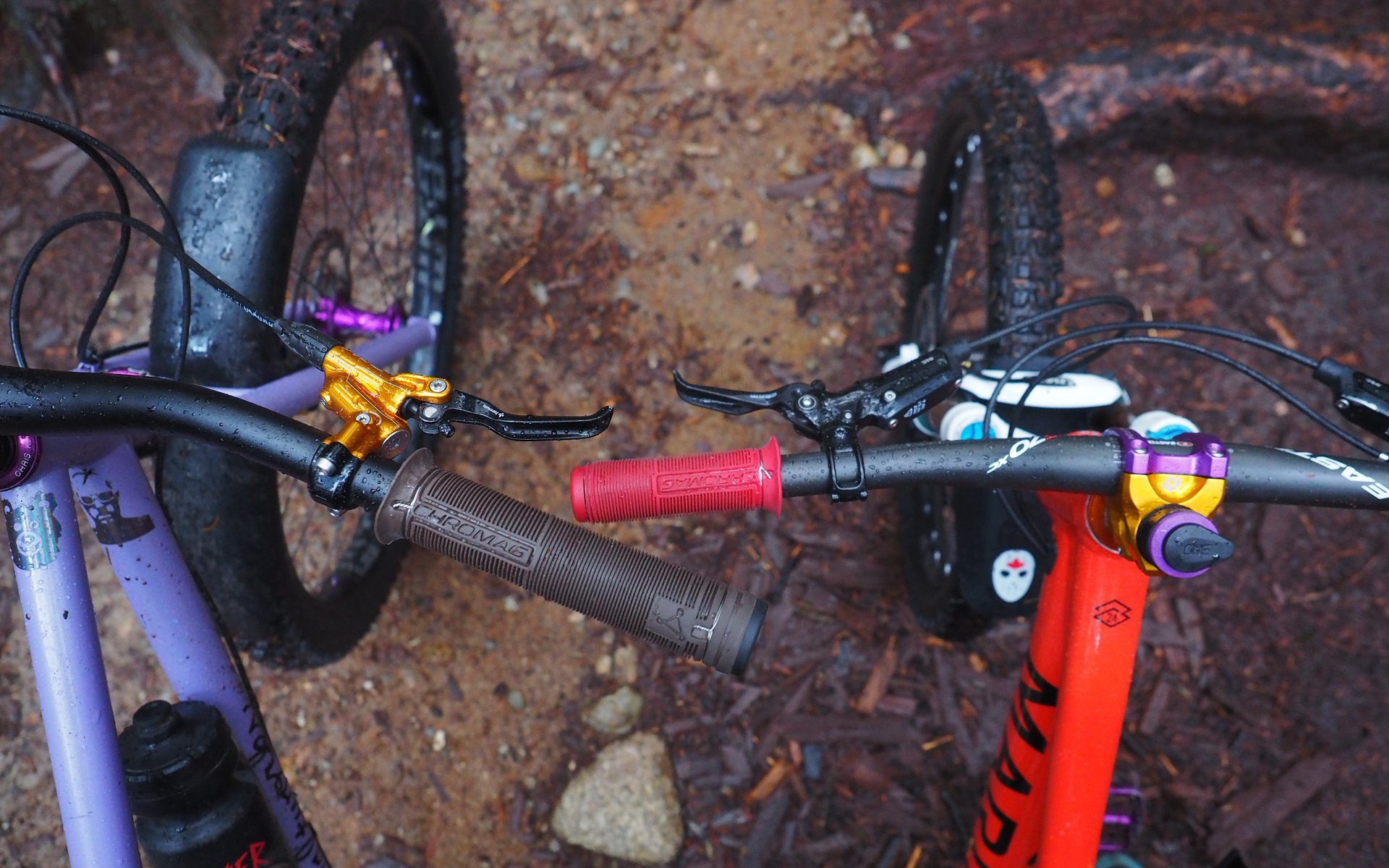 TWO-MINUTE REVIEWS
Chromag Wax Grips
Wax On
Do you know what Chromag Wax grips and the average mountain biker have in common? They both conform. But where the push-on Wax grips feature a delightful combination of support and suppleness, the AMB continues to follow the trend in choosing convenience over either comfort or cost when selecting their mitt-saddles.
I know, I'm always pushing this rope talking about push-on grips. Are there great options on the market for lock-on grips that somehow deliver ergonomic bliss while masking their hard plastic centers? Certainly yes, multiple choices. For a sweet example, check out some beautiful AJ Barlas photos and a well-crafted review of the Ergon GFR1 Factory grips. Comfort and convenience for 40 USD | 50 CAD. I'd still argue that you'd be just as well off, if not better, with a pair of "the legendary ODI Longneck" push-on grips that AJ mentions in his review, at 11 USD | 14 CAD. Just add some clear spray paint* and wire to do the install job right. I will note though, that while the Longneck push-ons come in seven different colours, there is no option for an oil-slick clamp.
*or your preferred choice of adhesive.
Chromag also has a whole line of lock-on grips using their intelligent "split-teardrop" clamp design and even a new single clamp grip called the Format. I'm certain both clamping setups work really well if you tighten them. I've even been told that the 37 USD | 45 CAD Clutch grips are "f***ing awesome" but not by anyone who's run a push-on grip in the last twenty years. So, I'm not certain it counts. If you've ridden an ODI Rogue or Ruffian lock-on in recent memory, that's the awful hard-plastic experience they gave up push-on grips for in the first place.
The Wax grips have a static width of 30mm but unlike lock-on grips, which layer rubber on top of hard plastic sleeves, that doesn't tell the whole story. For example, the Sensus Swayze, another push-on favourite, also sports a 30mm outer diameter but feels thinner than the Wax when I initially grip it. This likely comes down to the tapered density - not shape - of the Wax's tacky 25a rubber which feels thicker when squeezed towards the end of the bar. On the trail, the Wax feels a touch thicker while climbing, which I like, and a touch thicker and more damped while descending, which I learned to like.
In addition to a few dimes in wire and spray paint they sell for 18 USD | 21 CAD or less than half the price of most good lock-on options. They're also tough in a crash and truly long-wearing while being well-cushioned and tacky (not sticky) to boot. There are a few push-on grips I love to use for different reasons, but I think the Wax probably presents the best value in terms of performance and longevity.
Should Chromag ditch the rest of their grip line and just add two more diameters of Wax - say 33mm and 36mm - thus pleasantly covering the needs of every mountain biker on the planet with a superior product at a high value? No, probably not. I imagine most folks will be riding lock-ons again next year. But if you're min-maxing performance on any budget, push-ons are a must-try and the Chromag Wax is a great place to start.