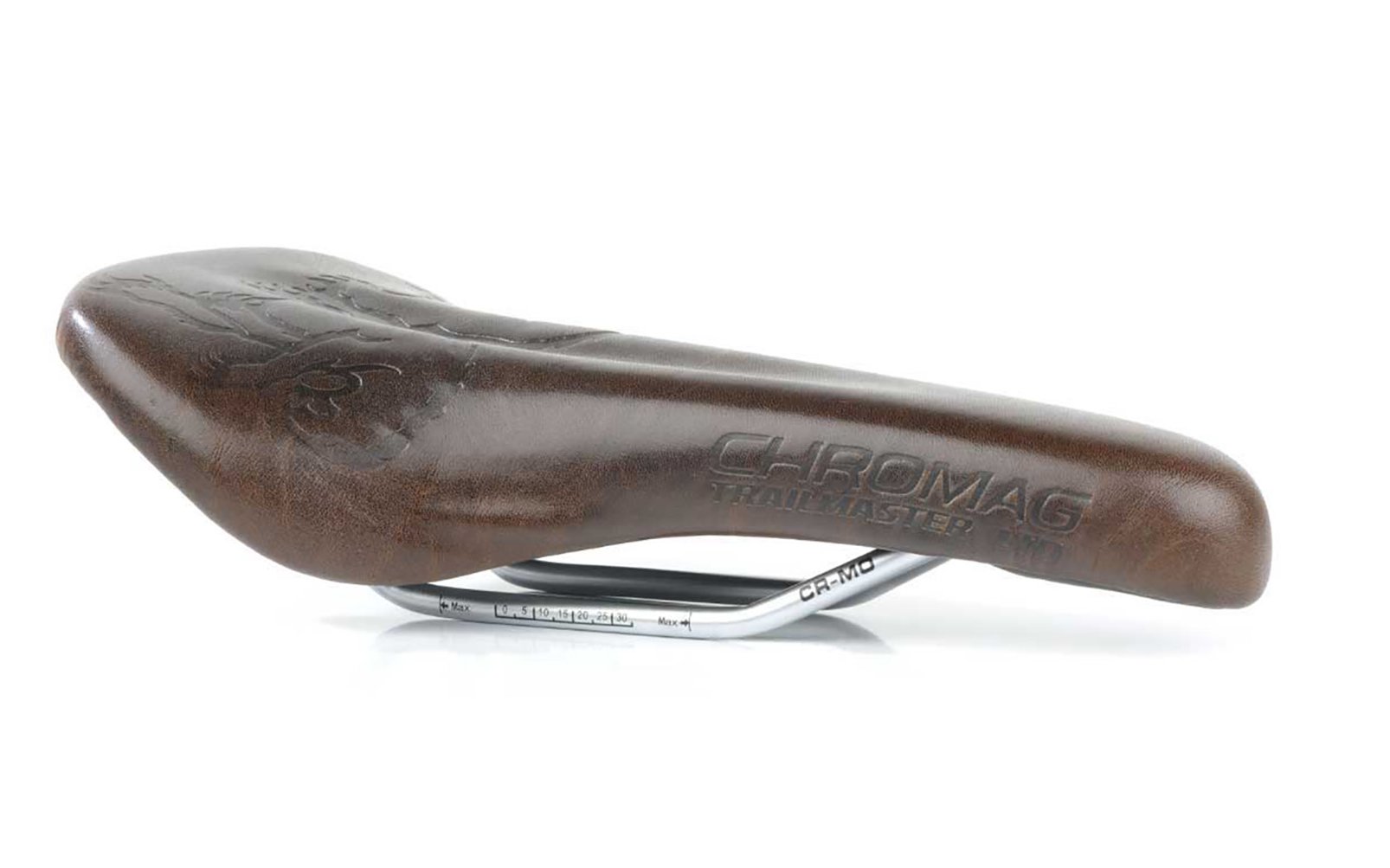 GEAR REVIEW/EDITORIAL
Chromag Trailmaster LTD Saddle - Oiled Leather is Better
Chromag Trailmaster LTD
Back in  2013 I first spotted Chromag's Trailmaster LTD saddle and I had to have one. I'd been going through saddles at an epic rate, riding regularly in our wet winters and the idea of a ti-railed saddle that would last a few seasons on my hardtail was too good to pass up, at any cost. 
And oh my. It looked so good. Oiled and embossed, it was far and away the sexiest saddle I'd ever seen. It's still a decent looking perch and the extensive patina reminds me of some biblical winter rides and awesome, or awkward, off-the-bike moments. 
The heavy-stock leather simply outlasts other saddles including Chromag's very popular Durable Top (DT) models. I'm sure I could have oiled it as with a leather Brooks but frankly I'm curious to see how long it can keep going in the raw.
Leather is Better
Light mahogany, burnt sienna, ochre or dark chocolate; there's nothing quite like a long-lasting and sweet looking oiled leather saddle. And that's especially true if the saddle isn't one that has to break in my gooch for a couple hundred hours before I can walk properly after a ride. 
Some saddles you break in. Some saddles break you in.
It all sounds so good an yet, more recently I have forsaken my Trailmaster LTD. As comfy as it is I prefer something narrower and less padded for long days in the saddle. Choice is chief and perfect would be a combination of one of my current favourite saddles and an oiled leather cover. 
There's some fit science when it comes to saddles, especially for road use, but a lot of the choice in width, shape or padding firmness comes down to personal preference. I'm an advocate for having my favorite covering stretched over a Chromag Mood or a WTB Deva but that's not the point.
Be it an SDG, Selle Italia,  WTB, Chromag, Terry, Deity, Fizik or Fabric wouldn't you love the oiled leather treatment on your preferred perch?
The Price
A Trailmaster LTD sells for around $120 (USD) which is at the premium end of mountain bike saddles without touching what roadies will unload for a pedestal. But it's within range for a performance saddle. To put that in perspective it's a $40 (USD) premium for forever-wearing leather cover. Sadly, it's no longer available with ti rails. The current chromoly-railed model weighs 320 grams and measures 284 x 140mm.
It may not be realistic to take my favourite saddles, up the price by 50% and then imagine sweet, sweet leather versions. But that's what I'm doing. And I think there is a strong argument for manufacturers and riders to get on the oiled heavy-stock leather program. 
Check out the Chromag Trailmaster LTD here...