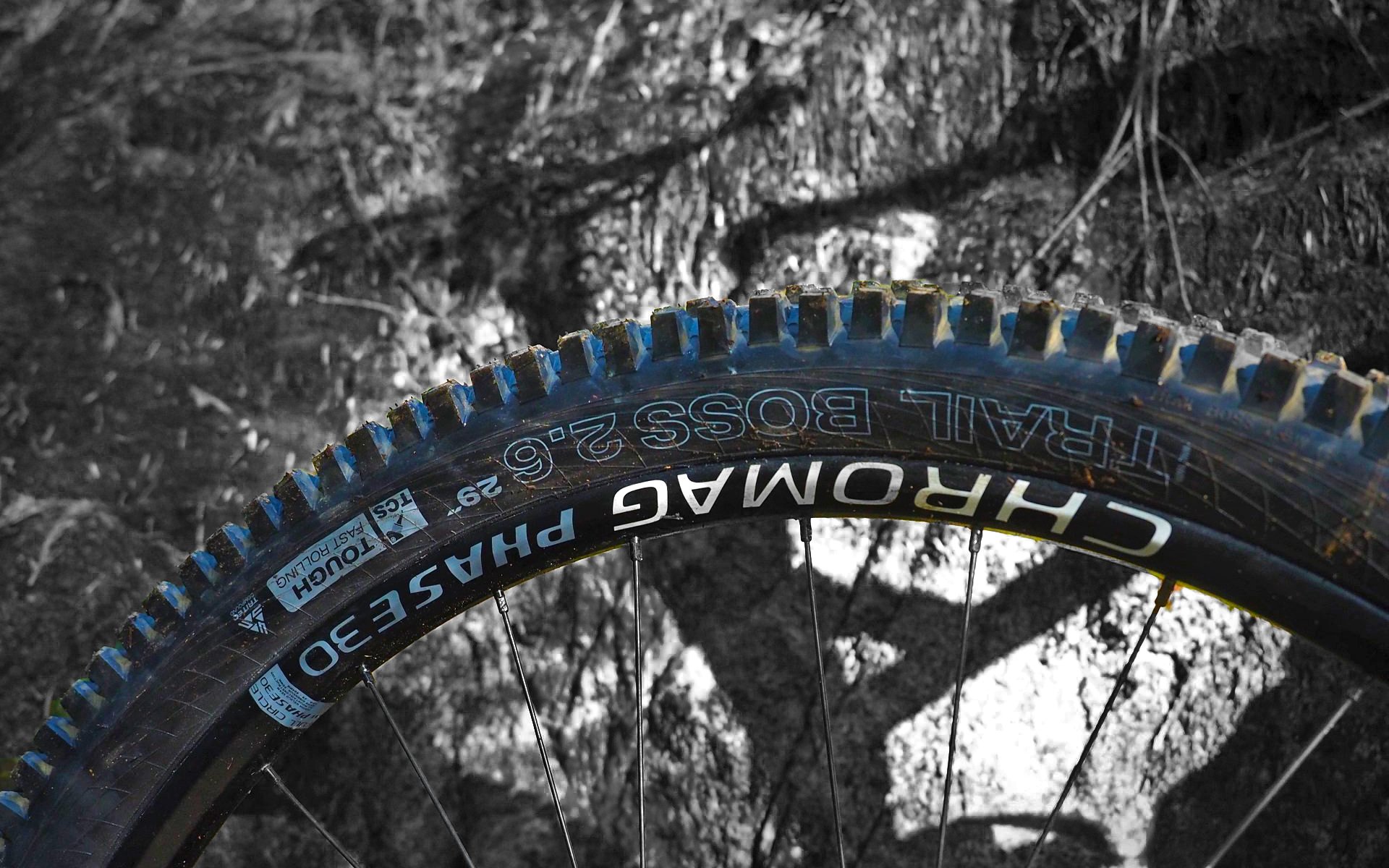 Teardown | First Impressions
Chromag Rims and Chromag Wheels
Chromag Rims
At the risk of being taken out of context, Chromag has always been a pretty conservative company supporting very progressive riding. That's from a longtime fan who's owned a couple of Ranger stems and multiple LTD and Moon saddles. 
Chromag has been manufacturing some of the world's most desirable steel hardtail frames for about fifteen years but they've never been near the bleeding edge of the geometry evolution. They make excellent components that perform while looking great, but they aren't chasing extremes in weight savings or design features. Their stuff is solid, reliable, and looks great. 
All of that extends to the new rim program. Aluminum rims in current widths, a durable black finish, clean white graphics, and a handful of subtle but well-considered features designed to exceed their followers' expectations. It's not reinventing the aluminum rim, but maybe making it a bit better for aggressive bike smashers?
Chromag rims come in three varieties. The Phase 30 that we'll be testing is the lightest format and is suited for "all mountain and trail riding" while sharing a profile with their beefier BA30.* As one would expect, both of those rims have a 30mm internal width and are available in 27" and 29" diameters. 
The third model is the Magna 40. It's actually the rim that has me the most interested because in addition to 29" and 27" diameters, with a 40mm internal width, they are also making a 26+ model. I think 26+ has the potential to make a lot of 27" bikes more interesting and a couple of rims and some great 26+ tires are way cheaper than replacing the 27" bike you're bored with. They also add a notable element of traction and comfort to 27" hardtails while invoking some early 2000's North Shore nostalgia appearance wise. 
*I hope Mr.T is getting a little taste. After all, he's currently angling for a career as a commentator on curling so I assume he needs a couple fazoons. 
The Chromag rim feature list includes a welded and ground seam, which is stronger than the surrounding area, internal bracing, directionally drilled nipple beds, internal bracing, and a robust bead wall to prevent sidewall wounds Read: fewer damaged rims, damaged spokes, and damaged tires.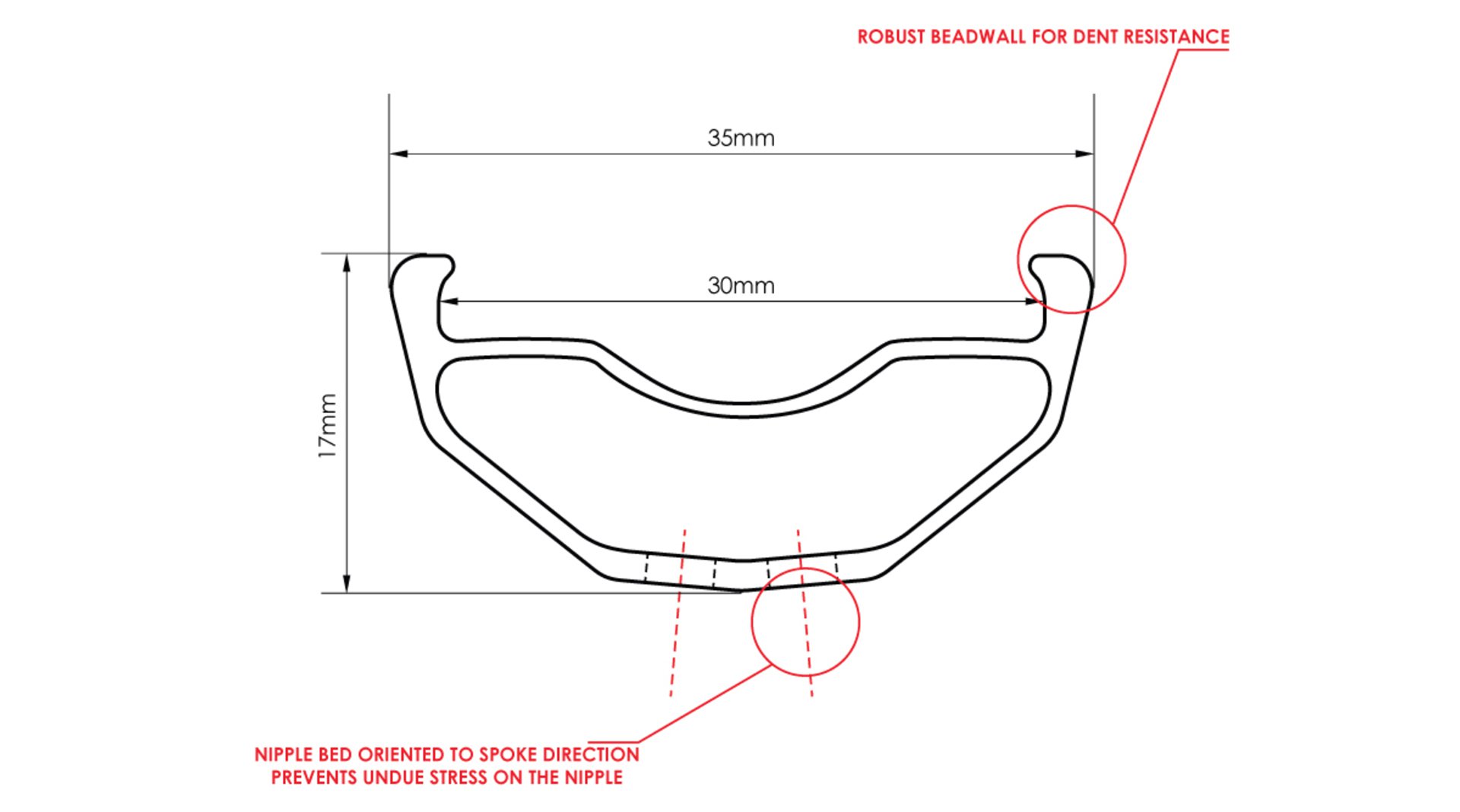 Competition
Is there a BZA Carbon Rim in the pipeline? I don't know. In the meantime, Chromag's rims join a well-supplied marketplace for black aluminum rims trying to balance weight and durability. For all my nostalgia for the heyday of Mavic's 721 & 729 the obvious current contenders for dominance in this rim-only category are Stans, Race Face, and DT Swiss. 
Like Stans, Chromag appears to be leaving a lot of potential business on the table by not offering a 28h drilled version. It's early days for their program and I've seen lots of Chromag parts mounted on Trek bikes for example - who've used 28h hubs for ages - and Chromag is in a locale where tonnes of rims get smashed so it's likely just a matter of time. 
At about 100 USD per rim for all three of Chromag's options, including the lightest Phase 30 that we're testing, the price is in the ballpark with all the other top aluminum options. The finish appears to be a cut above, as it often is with Chromag products, but comments on durability will have to wait on a long-term review. 
There is potential for routine rim smashers to generate a lot of value here, assuming the unique design features hidden behind the premium black finish of their rims deliver increased longevity compared to other alloy options. 
Wheels 
Given that the BA30 and Phase30 rims share common dimensions, I'm more than a bit surprised that they aren't mix-matching rims for their wheel builds. Phase30 up front to save a few grams and maybe add a bit of compliance and a BA30 out back where the rim is being slammed into square edges all day. 
One wheelset to rule them all.  
I suppose there's no reason the wheels can't be ordered that way with a fresh Chromag bike. That is, according to Ian at Chromag, the only way to order the wheels right now. The rims are available right now from any Chromag dealer but if you want to try their Magna hub recipe you're getting some new metal as well. 

I have noticed a few newer Chromag bikes around town sporting their hoops and they are the option with a new Chromag build so I called Jeff from Bikeroom & Wheelthing to have a look inside. 
Hub Teardown
The Chromag Magna hubs use a four single-tooth pawl configuration with a 36-tooth drive ring to delivers 10° of float between engagement. Obviously, Chromag doesn't subscribe to the notion that quicker engaging hubs bring a better on-trail experience in technical terrain and that's great. 
Many riders, our own Cam McRae for example, aren't fussy about hub engagement and if that's you then Chromag is aiming to deliver a very robust and reliable drive system. The four pawls are all backed by large leaf springs and the hubs are medium-loud with a quality sound. 
The main differentiating factor for Chromag's Magna hubs is the larger bearings made possible by a by the thin steel hub axle. Along with the solid sealing system Chromag has certainly spent a plethora of time thinking about their hub design.
Enter T-Bone
I'm already working on a couple of long-term wheel projects and can't give the Chromags the amount of time they need to qualify as NSMBeaten so Trevor 'T-Bone' Hansen is stepping up to smash them and trash them in the name of science. Look back for his thoughts to see if they survived.  

The rims sell for about 100 USD and are available through your preferred local Chromag dealer or as the spec, along with their Magna hubs, on your next Chromag bike. 
For more information, you can check out Chromag or post a comment below and I can follow up for a response.