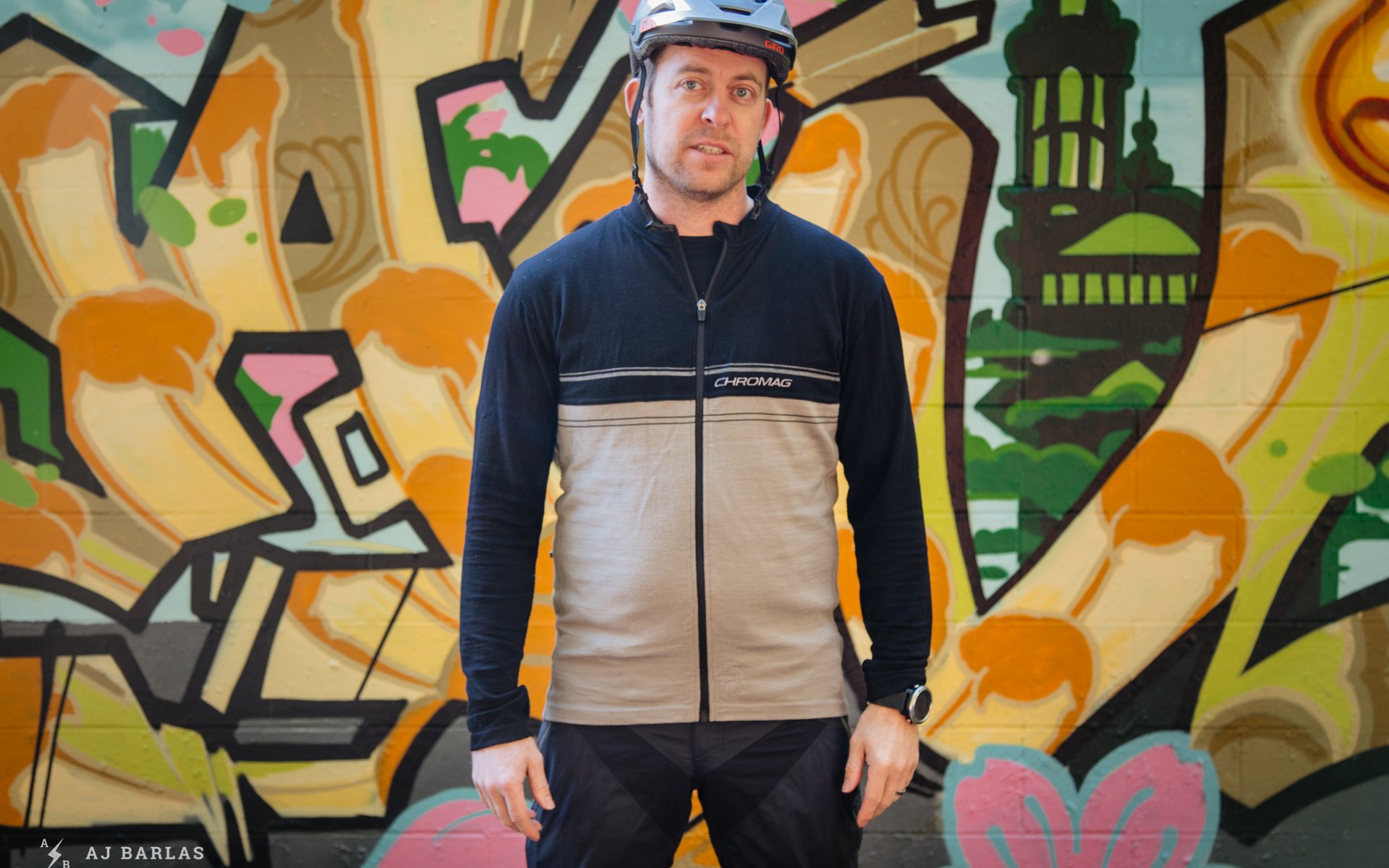 TWO MINUTE REVIEW
Chromag Recluse Wool Jersey
The only jerseys in my closet that I value are made of merino wool. Short or long sleeve, base layer or mid, full zip or pull-on - the only time I'm not wearing a merino wool layer when on the bike is when it's hotter than 20ºC. Even then I have several merino t-shirts that are perfect even when it's warm out.
Chromag took a step into the merino wool pile this year with two pieces: the Recluse long sleeve jersey, and the Roam t-shirt, which I also have been wearing.
Chromag Recluse Jersey
The Recluse jersey (as well as the Roam t-shirt) has a 70/30 merino wool blend, which smells like 'wool' - my litmus test for a layer's ability to ward off body odour for multiple wearings. I wore the Recluse for 8-10 rides before needing to launder it - and even then it was because it got dirty, not because it smelled. Less laundry is always a good thing: it benefits convenience, time, money and yes, there's even an ecological impact.
It has a full-length locking zipper in the front and three pockets at the back with two zippers that slide across for convenient access. I haven't used the rear pockets, but I suppose I would if I wore this jersey for an XC or road bike ride. Otherwise I usually have a hip bag or pack on, so the pockets back there are mostly superfluous for me, although the SWAT compartment of the Stumpjumper EVO I just started testing means that hip pack won't be as necessary, so I may give the pockets a go after all.
Chromag Roam t-shirt
Where the Recluse is a warmer, long sleeved jersey meant as an outer layer in the shoulder season or a mid layer when it's cold out, the Roam t-shirt - at half the price - is an even more versatile piece. Wear it on its own (or with a very thin undershirt) when it's warmer out, or as a base layer as it gets cooler. It looks just like a t-shirt, because it is, which means it isn't just a riding shirt, you can also wear it with jeans. As much as I love merino wool layering pieces, simple t-shirts are at least as useful, because you can pack one for a weekend trip (or even a week), wear it every day for casual use, and it saves bag space and the need to wash it very often. Well worth the money, even at twice the cost of other t-shirts.
An added benefit of wool layers is that they tend to have understated graphics, since wool can't be sublimated, so you're more likely to get subtle tones and a dash of embroidery rather than wild graphics that belong on a motocross track. Chromag always has nicely designed soft goods & apparel, and the Recluse jersey fits into the line well. The rear zip pockets may give you away, but you could otherwise wear it on the street and no one would know you were a degenerate mountain biker that hadn't laundered their shirt in weeks - except for the unfortunate knee pads around your ankles and dirt flecks on your cheeks.
Both of these pieces are highly recommended additions to your gear closet. The Roam t-shirt may be slightly more versatile across four seasons, but the Recluse is a three-season piece that can easily also be worn for other high-output sports like running, ski touring, hiking, etc.
If you're interested in picking up any of Chromag's merino wool gear, use this link and the corresponding discount code, and they'll give you 20% off your order. (this is not an affiliate link - NSMB does not receive any proceeds from Chromag sales).
Chromag Recluse Jersey - $170 CAD.
Chromag Roam t-shirt - $96 CAD.