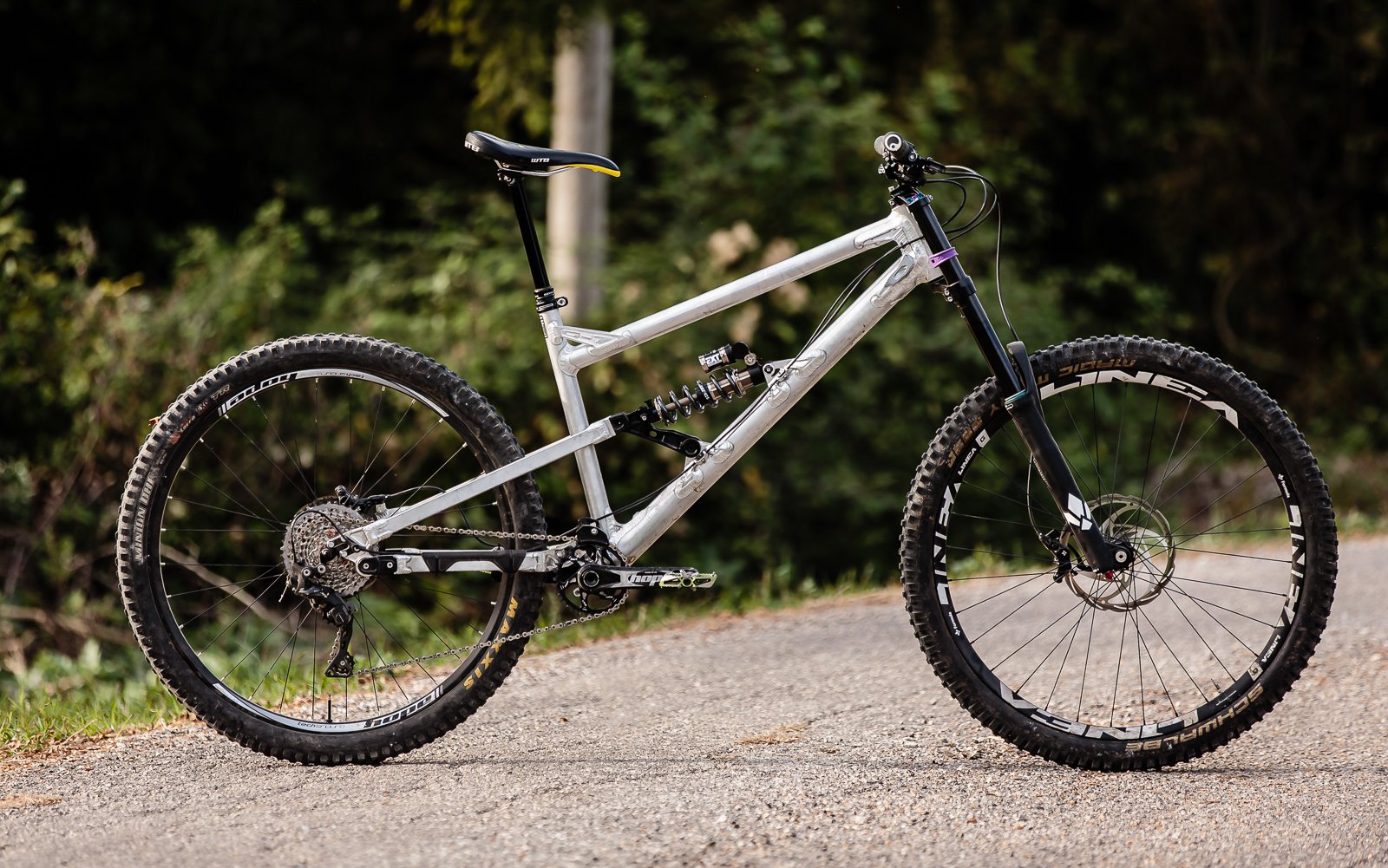 Interview
Chris Porter: the GeoMetron/Nicolai G1 Story
While manufacturers clamour to build the sleekest carbon frames, some of the most interesting geometry developments involve metal fabrication. Pole first launched Evolink models, then the Machine, and soon the Stamina model. Before Pole came Nicolai and GeoMetron, and these are only the obvious few… 

There are larger manufacturers pursuing more progressive geometry with fantastic plastic, like Yeti and Transition, but these builders are still relatively conservative when stacked against the metal members of geometry progression. Nicolai has manufactured alloy frames in Germany to progressive numbers for years and when GeoMetron joined the German brand things leapt forward. 
That partnership has now grown and the release of the new G1 frame is the product of this expansion. It's also the first time Nicolai and GeoMetron have launched parallel versions with identical numbers. I caught up with Chris Porter of both Mojo Suspension and GeoMetron Bikes, to chat about the new G1, the partnerships between GeoMetron, Nicolai and EXT, and pick his brain a little on the direction of mountain bike development.
Chris, late last week Nicolai, GeoMetron and EXT announced the child of their partnership. How long had you been working together on the G1?
It's a constant process really. Whatever bike and version we have, we are always looking at ways to improve the bike's handling. So that's from our point of view as riders! 
But we are also looking at ways to make the bikes handle better for customers! So, for instance, I have personally ended up on a hybrid bike set-up with clip pedals… That works for me and is the latest iteration of a linear line of evolutions to suit me, step-by-step changes to arrive where I am. 
But… There are flat pedal riders out there and there are riders who prefer wheel sizes to match. So as part of the process of creating a bike that works for everyone we have to test configurations for those guys too! 
If we understand that the flat pedal riders need to be down and behind the pedals and the front tyre contact patch to feel safe on the pedals, then we know we have to be able to shorten the chainstays for those riders (and drop BB height if the rider needs the shorter front centre too). If we know that 29-inch wheels have a much longer, more stable contact patch and wider steering arc from riding experience, then we know we need to be able to configure the head angle to steer more but also drop the BB enough to not overload the front tyre in the middle of the turn. In this way, the bike steers in a tighter arc but without losing speed in the corner. These things you can only understand by riding different set-ups as well as your own! We also have different riders in GeoMetron riding 29, hybrid, 27.5, single crown, dual crown, clips, flats, etc… So we can relate to each others riding experience as we charge the lunchtime laps.
That was a long way of saying it's always ongoing, haha! As soon as we started working with Nicolai in 2014 we started this process. As soon as we started working with EXT last year we started this process. We always have things on our wish list and there are still things there on the wish list that would improve the bike!

You've been working with EXT* for a while now. Had Nicolai previous to this as well? How did that partnership come about?
*Italian shock maker Extreme Racing Shox
EXT is a pretty new collaboration and the reason we got together is pretty strange. After a long relationship with Fox Racing Shox, we ended up needing to find a rear shock supplier for the GeoMetrons pretty quickly! I spoke to Steve Jones from Dirt Magazine who is a rear shock damping obsessive, haha. (He) Really worries about that stuff to a point where he used to frustrate even me, haha. We chatted about all the options offered and he just said straight up that the EXT shock was quite simply the best one he'd ever ridden! He gave me a phone number for Franco, the Boss at EXT, and we gelled straight away! 
It took us a short while to get a coil shock to work in a way that surpassed the air shock that we designed the bike with… But we did get that done through collaboration with the guys and girls at EXT. Now the Storia is a way better shock than any other we've tried. With the range of valving options we can make the bike suit heavy, dynamic riders and light, smooth riders from the same platform. 
The idea for the new GeoMetron shock started with a longstanding wish list item! (wink, wink)

Quite a few years ago I was lucky enough to get a Honda RN01 to test (we at Mojo were instrumental in Honda's business plan to launch it to a worldwide market, which ultimately didn't happen)… Despite being way too small for me and quite conservative in geometry terms (even back then!), it handled absolutely amazing. It was stable in a straight line despite the lack of length and high BB and it turned in a stable manner despite the steep head angle… The rear suspension felt absolutely sublime on the bumps too (and back then I was on flats) despite being a 'simple' single pivot… Most of why the bike handled well, despite its characteristics, was down to the spherical eyelet bearings in the shock. When the rear shock bushings bind, they transfer that stiction load to the front suspension which affects the way the bike works in straight lines and corners. Because the spherical bearings don't bind, the shock was flattering the geometry of the RN01 massively. 

During one visit to EXT, Franco and I were chatting about the useless DU bushing system that bicycles use and how it is literally just because it's cheap, easy to produce, and lightweight. No performance value at all, just cheap and light… Franco said how he would love to put a spherical bearing in a bicycle shock but the MTB industry customers just weren't focussed on that performance element enough to look beyond the weight and cost elements. Not GeoMetron, Franco! Haha. 
We are not focussed on weight or price, we are only focussed on performance! So right there and then we drew up a 'dream' shock absorber for the GeoMetron project, pushing ideas back and forth and ending up with a completely bespoke shock absorber that truly enhances the handling capabilities of a bicycle that already handles better than the rest! Spherical eyelet bearings, internal negative spring and hydraulic top out and bottom out stops! Now our focus has to be to solve the fork issues because the rear shock really throws these into pretty stark contrast.



I spoke to Steve Jones from Dirt Magazine who is a rear shock damping obsessive, haha… We chatted about all the options offered and he just said straight up that the EXT shock was quite simply the best one he'd ever ridden!
Have you done anything with other shocks and how would you work with someone who has something else they may wish to use?
The G1 is developed to use the new EXT shock. If you use a 'normal' shock absorber you take a step backwards in terms of stiction and bushing friction. When you side load a 'normal' bushing it binds and creates a lot of friction. By going to the spherical bearings in the new shock we've taken a massive leap forward in how the bike feels and reacts when you push it to the limit. Of course, you can use any shock in there but it won't work as well!
Why was there a custom Storia developed for the G1?
EXT built us a custom shock for the new G1 because we both wanted to build a shock absorber that performs at its best in all conditions and at all times. Normal shock bushings can work really well in the showroom (wink-wink)… But we know that these types of bushings have been ditched in favour of spherical bearings in all other performance suspension applications bar none!
But a bicycle has some other pretty specific requirements too. It needs a very progressive damping and spring system, which reflects the fact that the bicycle itself has virtually no sprung mass and that the rider being mobile can act like a sprung mass on each end of the bike, independently and completely un-load independently… Progressive in reality means very soft initial touch and building to create support and resistance as you push harder. 
To achieve this the new V3 Storia already has a hydraulic bottom out system but for us, EXT also incorporated a hydraulic top out system and a negative spring too. You may notice that this is the opposite of what some other people are saying! The bicycle suspension industry is obsessed with falling rate suspension systems using made up words like 'digressive' and 'regressive' and producing systems that work well when the rider is seated all the time but feel terrible when un-loaded by being ridden stood up (properly!). These are systems for people who would be equivalent to the old guy sitting down on the MX bike all the time, haha. 



In the past, Nicolai G16 frames featured a slightly more conservative geometry to the GeoMetron but it appears the G1 will share its shape whether a Nicolai or GeoMetron. Is this true? 

Yes, it is! Nicolai took a couple of years to arrive at the conclusion that we had the geometry pretty good. The peer pressure from the rest of the industry and the noise from the journalists talking about how you need to 'compromise' handling geometry for pedalling and vice versa meant that a middle step was necessary for them to reach the GeoMetron geometry. The rest of the industry is talking long, slack and low, but their multi-option sales model means that they don't need to have bikes which are 'one trick ponies' because it means they can sell you several bikes to ride in the woods. 
If a DH bike had decent kinematics, a good gear range and a steeper seat angle, it would pedal just fine. If a trail bike had decent geometry and was strong enough it would also handle DH just fine! One bike can do it all… The seated pedalling behaviour is dictated by the relationship between cranks, saddle, rear axle and anti-squat. The handling of a bike is separately dictated by the relationship between wheels, position and head angle and their relationship with the BB and handlebar. It is possible to do both without compromise!


Does sharing geometry with Nicolai change the partnership at all?
Yes and no. We already had a great and strong relationship that extends beyond business… Now we are more tied in as we were formally tasked with the job of helping to create a new bicycle model. Design consultants and partners for all aspects of the frame design. There are still slight differences between what Nicolai will offer and what we at GeoMetron will offer because we both have different markets to satisfy! 
The G16 used a different diameter seat tube depending on the frame size. The G1 moves to the same diameter, the smaller of the two, across the size range. Why did they differ to begin with and what changed to allow the smaller seat tube diameter with the G1?
They differed because 31.6 was Nicolai's legacy seat post size but the larger frame sizes with longer seat tubes need more material in the seat tube to achieve the necessary strength. WIth a new model, we can start with one seat post size!


Do you still believe the hybrid (29 front and 27.5 rear) is the best handler of the options available? How does running the G1 hybrid affect the geometry?

It suits me and the way I ride. I guess that means it will suit other people too! But not everyone… The hybrid set-up reminds us that the rear wheel also has a steering function when the bike is leaned over… In fact in many ways, certainly mid-turn, the rear wheel seems to affect the bike's steering as much as the front! There is a relationship between the head tube height and rear wheel contact patch which helps that mid turn steering on the hybrid… But for bumps… 
If we accept that big wheels roll over bumps with less deceleration then we must also accept that it won't be able to speed up as much by using the trail features (bumps, roots, rocks, etc). The smaller rear wheel gives the best of both worlds really, the front wheel is loaded on the bump face by the rider but the rear wheel is behind the rider, so the smaller rear wheel is not a hindrance on the bump face. But for using trail features the smaller rear wheel can use smaller features to create extra momentum. But! We also have to make sure the bike works in 27.5 and 29 format and we have figured ways to reduce the negative traits of each whilst keeping the positive handling traits of each…


The hybrid set-up reminds us that the rear wheel also has a steering function when the bike is leaned over… In fact in many ways, certainly mid-turn, the rear wheel seems to affect the bike's steering as much as the front!

Can customers retrofit the seatstay from the G1 to a current G16? If so, it would allow current G16 owners to get BB height and head angle adjustment with the seatstay mutator?
I'm afraid not. But you can achieve some of that adjustability on the current G16 with the old 4mm flip chip and a combination of 2mm offset bushings. It's certainly possible to accommodate a radical 160mm travel 29er geometry with 330mm BB height and 61-degree head angle! We have a lot of customers already using the possibilities here to make our bikes work better in their own boroughs.
I've heard that a headangle slacker than 63 degrees causes too much binding in the fork to be worthwhile. Have you found this?

No, it doesn't! The biggest issue with fork bushings binding on a single crown fork is flex at the crown/stanchion junction and the design of the Taiwan-led Magnesium lower castings… Again, weight and cost are the main design drivers of the front fork and there is not enough material for the fork to prevent flex. The magnesium also is not durable enough to carry a sliding bushing. 

So we have fixed bushings which are high in the leg creating a lot of side load and a malleable crown/stanchion junction which exacerbates that when braking or steering. Yes, the steering angle loads the bushes, of course, but the fork is suspended on the left-hand air/coil leg yet loaded centrally via the tyre contact patch. With Boost the industry moved the legs further away from the centre line and made the axle smaller, weaker, and less effective than the old 20mm bolt through. 
To demonstrate how this is more intrusive than the fork angle, lift the rear wheel of the bike on a step until you can compress the fork vertically with no fork angle. Compress it by building downward pressure very slowly, vertically through the bars and note how quickly the bushes bind until the bar actually bends instead of the fork compressing! Do it again with the forks at their usual angle and you can see it isn't so different! Vertically it binds almost as badly…



Do you feel that parts are limiting progress with geometry?

Oh yes! But that's natural! You build the best bike you can with what's available. If someone offers something with more performance you use that and build a better bike. I don't think geometry numbers will change that much, it'll just be the improvement to the dynamic geometry and handling…

As an example, we come back to the Boost fork standard and axles sizes (wink-wink). We had a bolt through 20mm axle at the old 110mm leg spacing (stanchions approx. 135mm apart) and we went to a 15mm QR system with Boost (stanchions approx. 155mm apart). Furthermore, the new 15mm axle isn't bolted into the lowers but has a 'clearance' hole through them. The thread for the axle is quite often a separate threaded insert which isn't actually fixed to the lowers either. So we have an axle that only touches the lower using a floating QR cap at one end and separate threaded insert at the other. 
The only reason I can think of why this design change was made is to accommodate easier fixing of punctures and fitting of bikes to roof racks that require the front wheel be removed… The fork is the most expensive component on the bicycle and it's being made worse by the new standards! And being made worse because we still get punctures…



The G1 pushes progressive geometry further. Is it where you feel it should be or is there more? 

Not so much further. We were pretty much there with geometry and sizing, we just made some tweaks around the core numbers. The G1 offers us the adjustability to accommodate individual requirements that deviate from a fixed spec. sheet norm… I don't really think the geometry needs much attention at the moment, it may do when other components improve but for now, the big things that need improving are the drivetrain and forks. We are on it!
Oh, and maybe water bottle designers can design bottles to fit bikes instead of bike designers having to make bikes and suspension systems to fit water bottles? Haha. 
---
Head to the Nicolai website for more on their G1, including a complete breakdown of the geometry, and head to GeoMetron for more on their G1 spec. and philosophy.