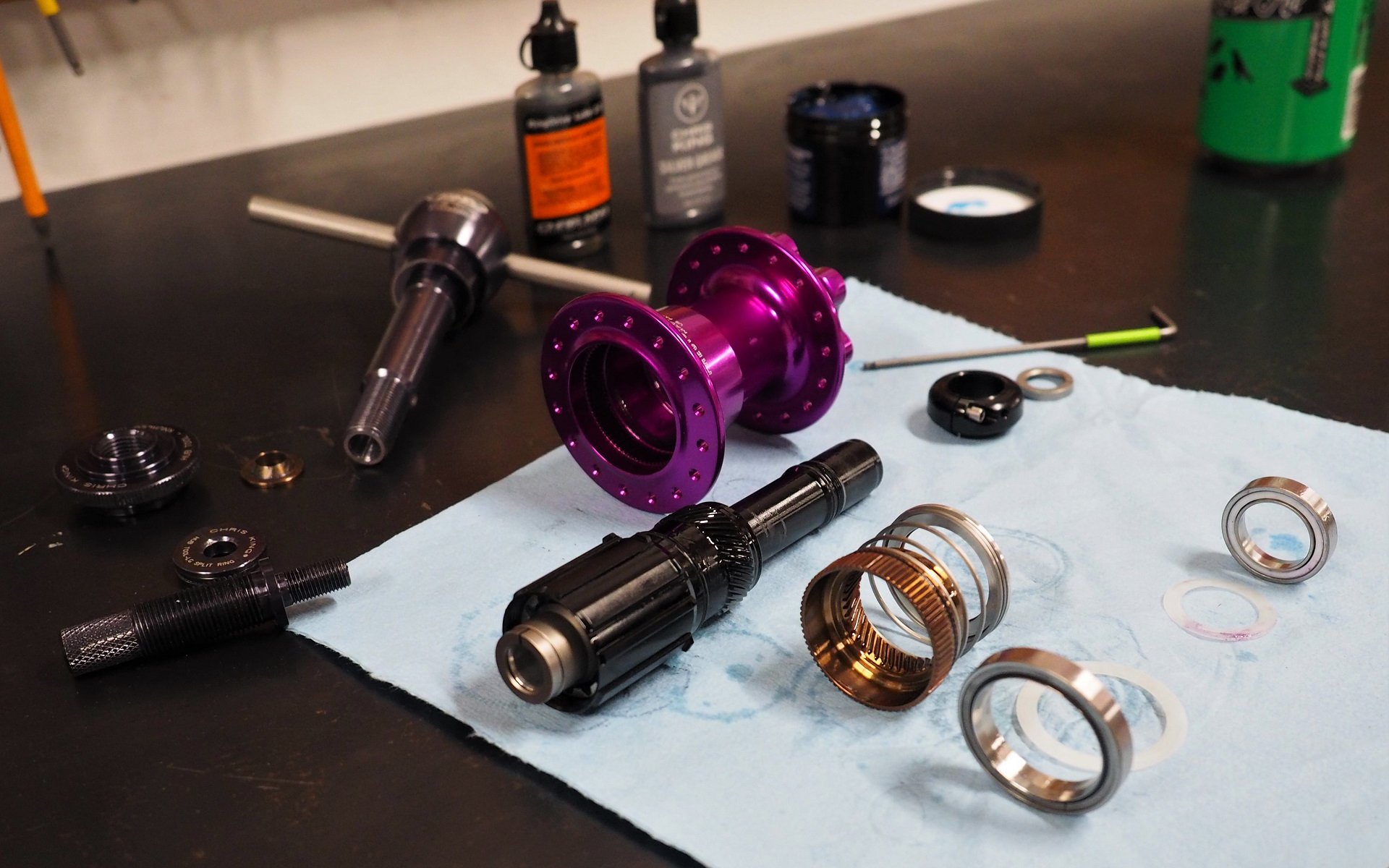 TEARDOWN | EDITORIAL
A Chris King RingDrive Hub Experience, Part 1
Chris King Experience
Toyota claims that 85% of the vehicles they have sold in Canada in the last 20 years are still on the road. It's an impressive boast amongst car manufacturers, or pretty much any consumer product, besides craft-made furniture and maybe pianos. When it comes to mountain bikes there are two products that I think could potentially boast bigger percentages: Chris King hubs and Chris King headsets.
I know dozens of riders like myself who purchased a King headset in the 90s and still have it kicking around in their commuter, that classic steel Dekerf which is basically a modern gravel grinder or, thanks to changes in headset standards, plunked into their kid's runbike. Those house-made surgical stainless bearings just keep rolling. It's a great idea to pop out the snap-rings and clean under the seals every once in a while, but how many folks actually do it?
The same is true of the hubs. I'm fairly committed to servicing the ones in my house every year and in decades I've replaced a couple of hubshell bearings* but I know folks who haven't touched their hubs in years aside from the odd touch up of the RingDrive lube. In my experience working in a shop, when they finally come around to having those rebuilt the odds are that there won't be a single component - bearings, drive rings, axles, etc - required.
*single speeding ruins everything
So why are we here? Pete actually planted the seed talking about products that are "worth every penny." I started thinking about the most expensive bike part on the market that I could also claim to be a fantastic value and the Chris King rear hub came out on the top of my list. I think this is one of the best investments in a single piece of mountain bike kit that riders can make. Starting with this introduction and a teardown with Jeff at Bikeroom, I'll follow up with the on-trail experience and some advice on ownership.
Talking purely performance and reliability, even for a rider who doesn't value King's made-in-house, made-in-America, environmentally responsible, employee-centric company culture, the hubs will quite frankly outlast anything else on the market while delivering a once amazing, and still quick, 5° of engagement. That's out of a drive system that has not changed since the advent of the 6-bolt hub standard for disc brake rotor mounting.
One of the big jokes in the bike industry is ye olde 'lifetime warranty' which is of course, for the life of the product - which can be the standard 'thirty feet or thirty seconds' under actual use. In the case of a Chris King RingDrive hub, there is no reason to think that it won't be passed down when I pass on.
A Colourful History
There is, in our modern world, an issue with peddling an identical product year after year, no matter how good it may be. There are reviews of the new I9 Hydra hub, the new P321 hub, the new Race Face Vault hub, but how much press do you get for just turning out the same great product year after year?
Chris King does the standard marketing stuff, like sponsoring the Santa Cruz Syndicate and other teams and riders and their hubs are well-represented any time small-batch bike builders get together. They dominated the fast-engaging division of the high-end hub scene for a lot of years so product awareness may not be as much a factor as price in their reduced local prevalence.
One of the marketing strategies Chris King does use is limited edition colours, like the tasty Bourbon Brown, which is currently on its last run according to the King Instagram page. Thee hubs I'm testing are Violet, which was previously a limited edition colour but is possibly here to stay now because it's the best. Well, other than Pink maybe, which is another colour that has currently been curbed and Green, which never goes out of style, but currently has.
You can't please everyone all the time but Chris King offers eight standard colours, plus Bourbon and if none of them is just what you want then hang on to your wallet because they do a few special runs a year.
Bearings
Before thru-axles were common, Chris King's threaded axle hubs, which could also accept thread-in QR adapters, were often seen rolling around with a bolt-on configuration using their custom Funbolts. It's a cheeky name because they were the opposite of fun to manufacture, being stainless steel. In the early days they were produced manually and the job usually fell to the newest machinist on the shop floor. I think as much as any King product, they epitomized two of the tenets of Chris King's manufacturing ethos: 1) make it in-house, and 2) make it exactly to the vision, even if it takes longer and costs more. A pair of off-the-shelf 8mm hex bolts with washers and an axle threaded to receive them would hold my rear wheel on, and wouldn't cost 70 USD for a pair, but a compromise is a compromise.
Another product that aligns with Funbolts is bearings. The stainless steel and ceramic bearings in every Chris King product are house-made and rebuildable and a lot of riders will never replace one as long as they own their hubs. When I hear folks talking about having to buy bearings for their King hubs I'm always suspicious about whether a) they know the bearings are rebuildable, and b) their frame is properly aligned.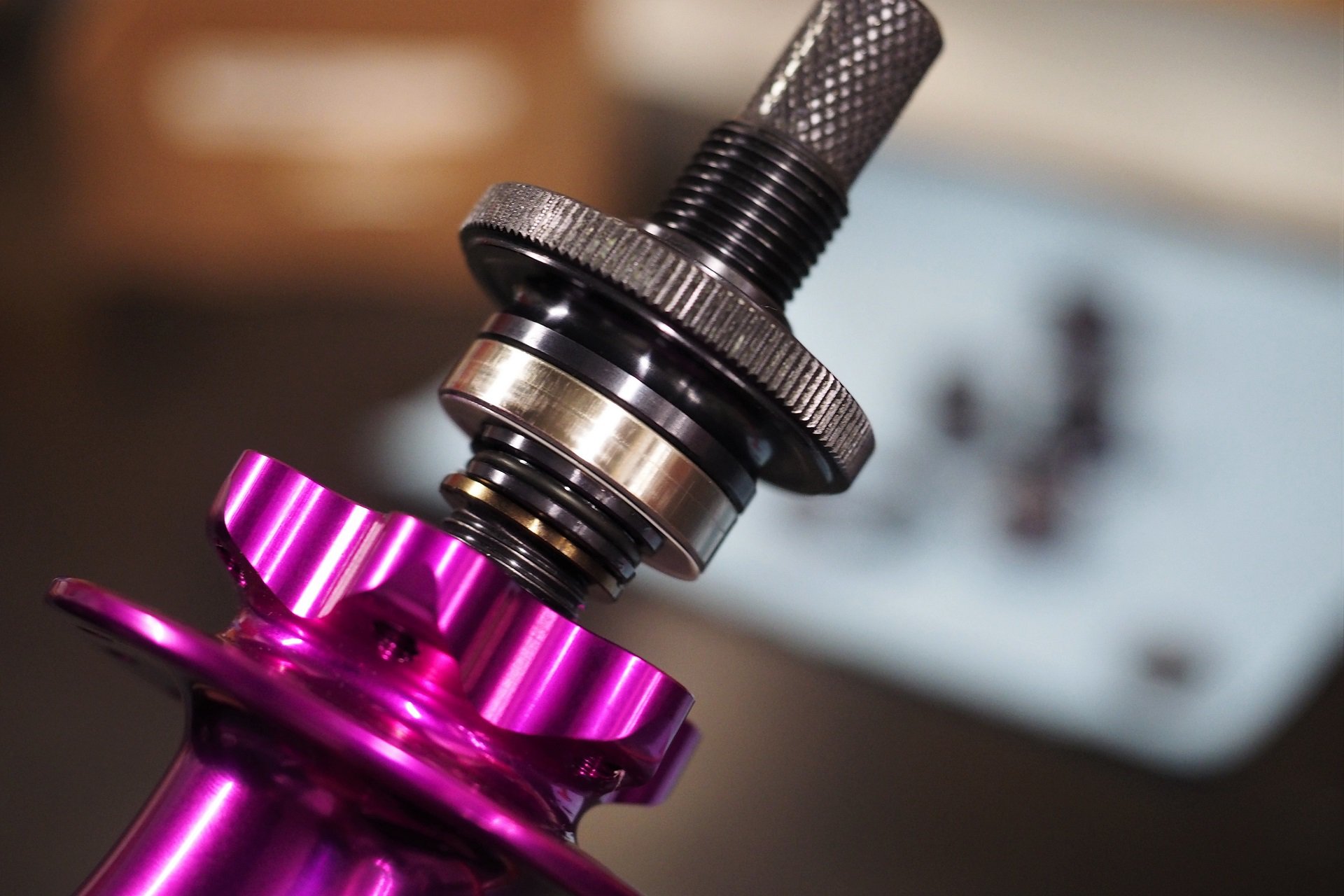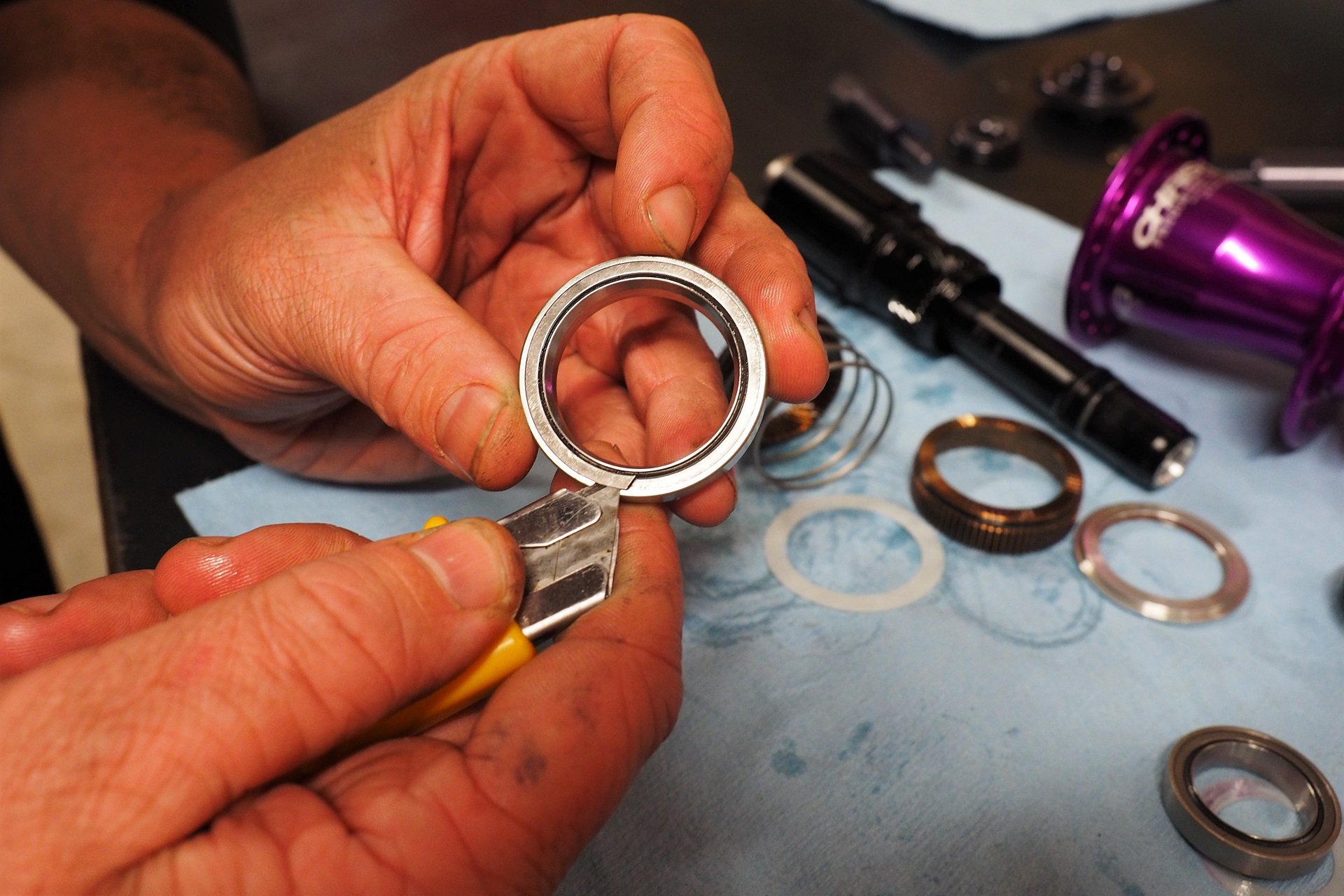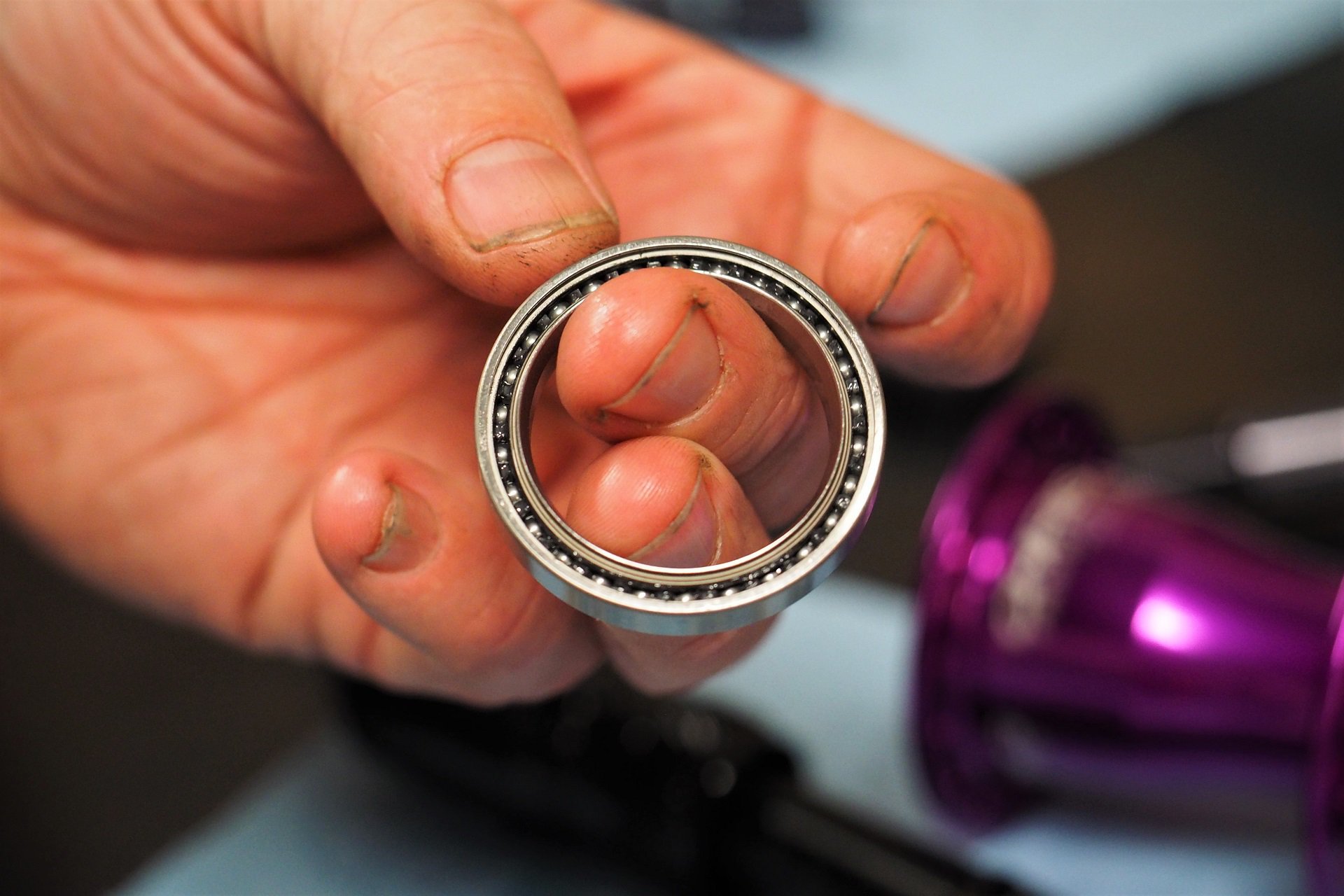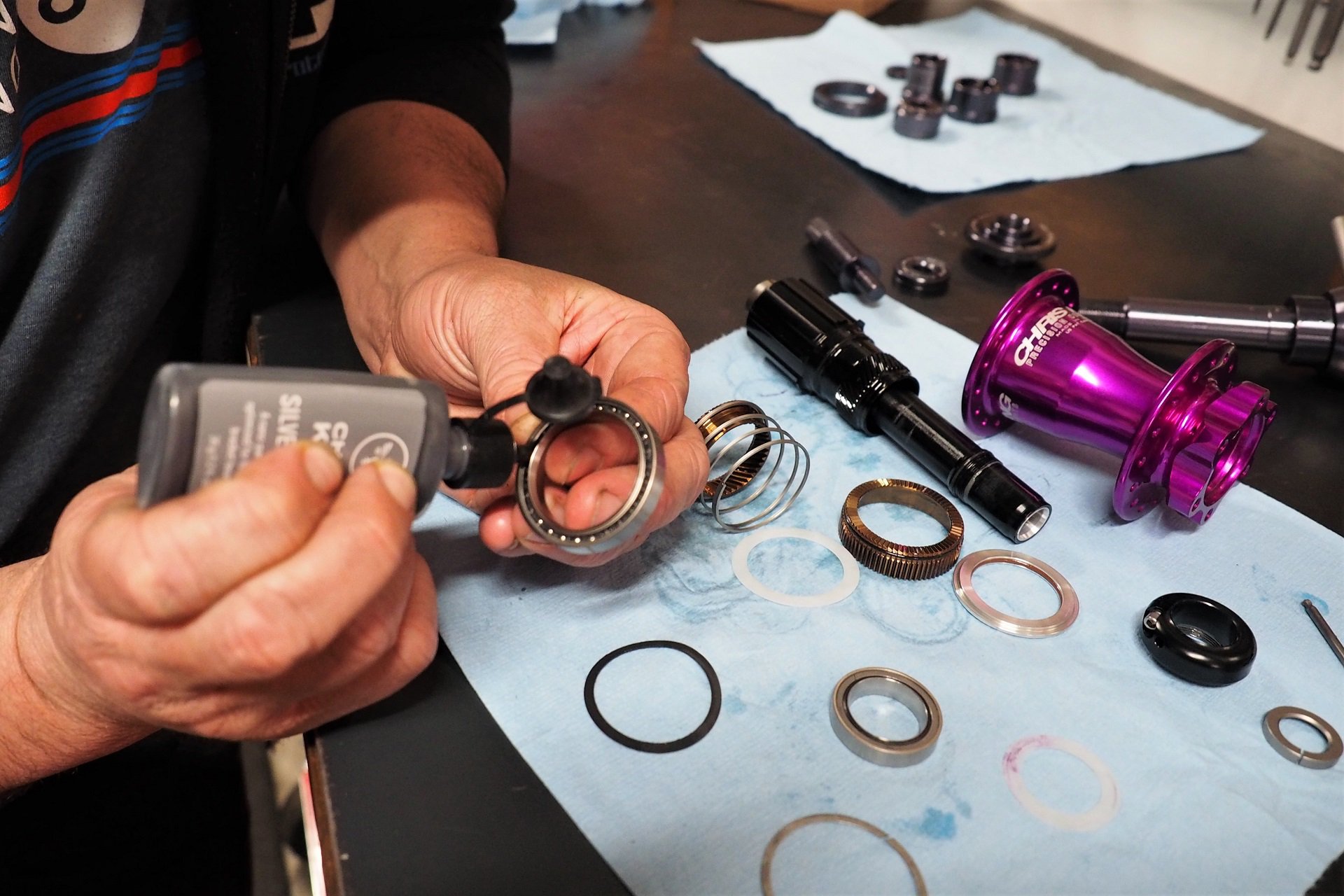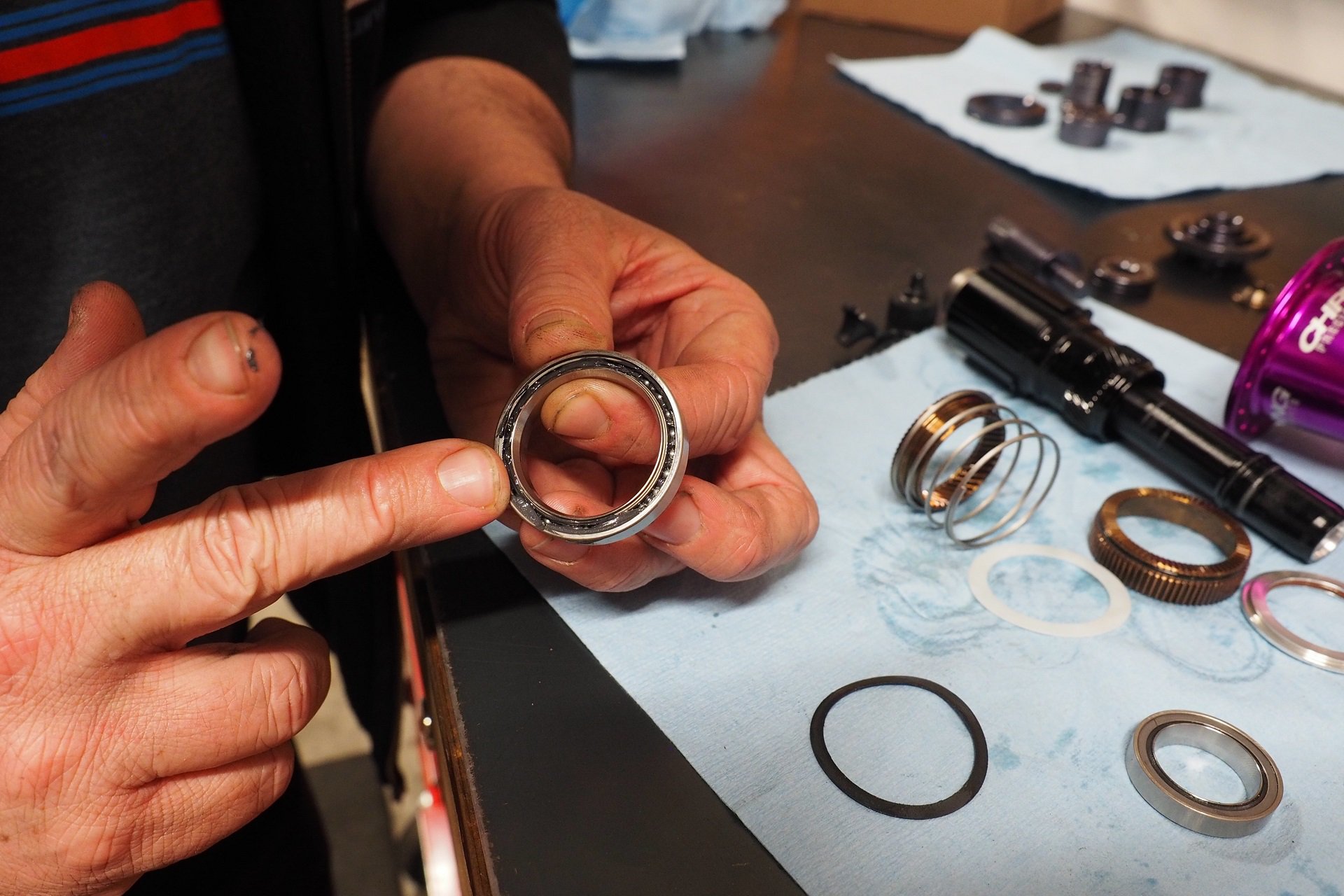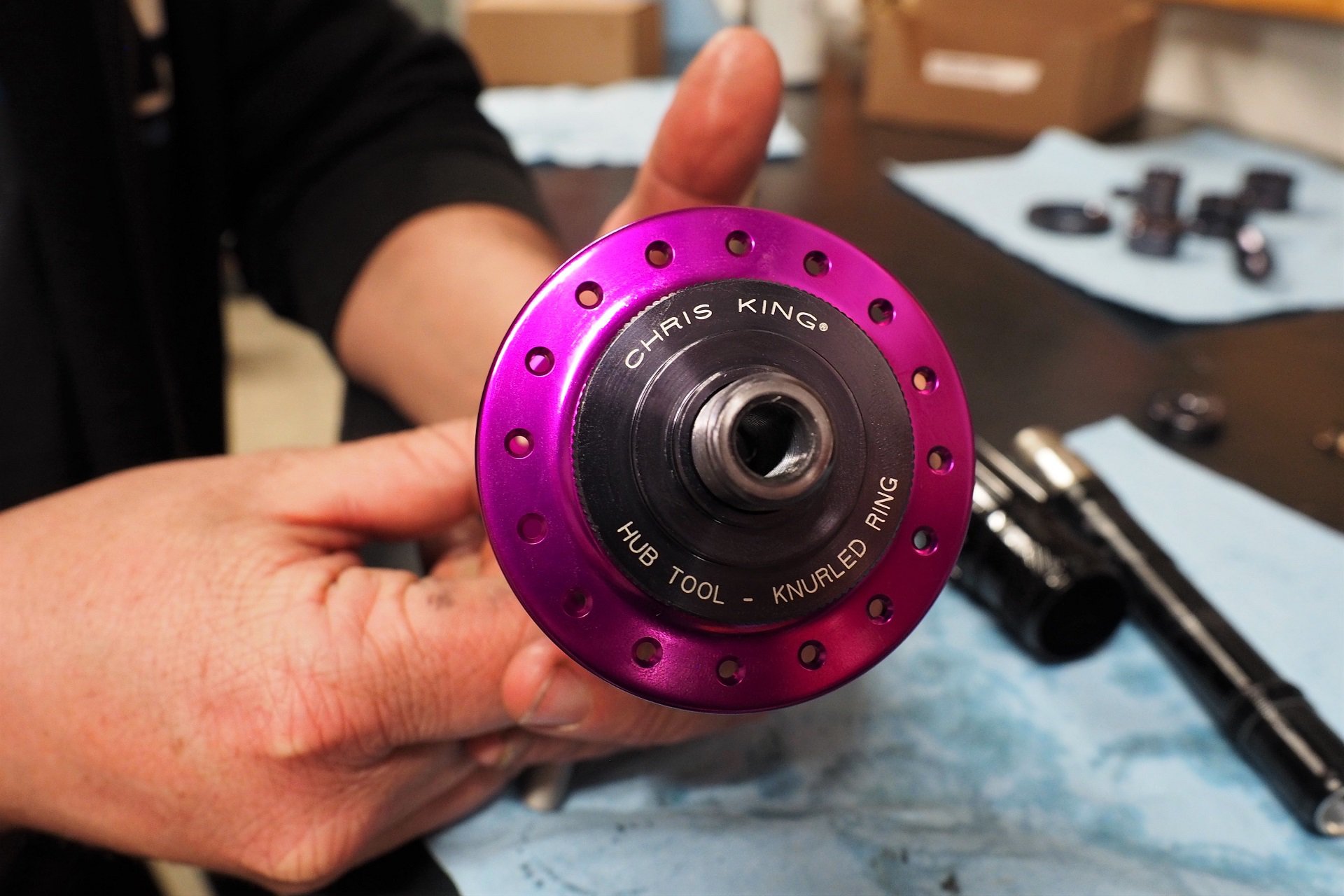 All the bearings are cartridge-style except the needle bearing supporting the axle in the drive shell (freehub). I've seen lots of solutions to hubs eating their drive side hub shell bearings, from oversized cartridge bearings to double-stacked cartridge bearings, to companies just putting their heads in the sand, and this is easily the best way to manage those forces.
Evidence? Well first off, it's impressive how long Chris King bearings last as a unit throughout the hub and also how many high-end street & park BMX hubs use a similar layout. If it's good enough for folks sideloading the hell out of 20" wheeled bikes with as much air in the tires as I run in my fork, then it's good enough for me.
Each rear hub has four bearings. In the drive shell, there is an unsealed cartridge bearing and the needle bearing. In the hub shell there is one on each side: a small hub shell bearing on the disc side and a large one on the drive side. Both the balls and races are made of heat-treated stainless steel, unless of course, you pay for a ceramic upgrade. If you do, there is an extended break-in period as the balls burnish the races, which is one of the reasons that King hubs need to have their tension adjusted from time to time.
Bearings also have more drag on an unbuilt hub then they do once laced into a wheel. This is because Chris King takes into account the effect of spoke tension on the shell. If you ever have the opportunity to handle a King hub, front or rear, right before and after lacing a wheel it's an interesting real-world test that sounds a bit like bullsh*t until you experience it yourself.
Bearings are also one of the key places Chris King delivers value over competing high-end hubs. A Boost King rear hub is 20-25 USD more expensive than a DT Swiss 240 or Industry Nine Hydra but the bearings make them a strong value argument in a lifetime cost comparison.
Angry Bees
My wife, Nina, had never ridden a high-end hub when she had her first Chris King experience and it was a remarkable case of love at first ride. Of course, she noticed the distinctive Angry Bees sound. It's not as loud as many hubs on the market today but at the time it was towards the bolder end of the scale. RingDrive still has a unique hum that only the Industry Nine Hydra comes close to replicating. Then, she noticed the quick engagement.
I know a lot of experienced riders who couldn't give two shakes about how quickly their hubs engage. Personally, faster is better and I'm a better rider in technical terrain with a quick-engaging hub. I'll take a maximum of 10° and I'd prefer fewer. I actually think it makes a bigger difference for less experienced riders as the timing of power strokes and ratcheting is much easier to sort out.
At some point - whether it's 7, 3, or 0.52 degrees - I'll accept that it becomes a bit gratuitous but it's very cool the first time someone gets on a high-end fast-engaging hub and notices a difference in their riding. In Nina's case, the hub in question now laced into its third wheel, has never needed a part replaced, and I suspect with basic routine service it will serve her forever without ever skipping a beat.
That Angry Bee sound and quick hub engagement are delivered by the simultaneous meshing of the 72-tooth Ringdrive system. The buzzing heard while coasting is the teeth of the drive & driven ring hovering next to each other. Hammer on the pedals and the teeth on the drive shell pull the floating drive ring into the driven ring, assisted by the drive spring and locking everything together.
The drive shell is aluminum and I have replaced one before because the teeth were no longer meshing nicely with the stainless steel drive ring. For single speeding, I use wide-body aluminum or steel cogs that aren't too mean to the aluminum drive shell but I sometimes wish, being a non-weight weenie pedaling around 1700 grams of rubber per wheel, that they still offered a stainless steel drive shell for that buy-it-only-once factor.
King sells replacements for the stainless drive & driven rings, but the only ones I've seen replaced have been run dry in unserviced hubs for years. The way that the RingDrive system works, the more force that's put into the system the harder the drive shell and drive rings lock together. The system is fully supported under pedaling loads such that wear and slippage do not happen.
Chris King claims that it's been tested to 800ft/lbs of torque so I'm certain even the most massively motored mountain moped riders are in the clear here.
North Shore Teardowns
My hub tool goes back 15 years, and with a household of Chris King hubs, I'm positive that it has paid for itself. The tool works just as great as the first time I used it and, knock on wood, while all the individual parts are available, each component is tickety-boo.
For a number of years my tool sat lonely in a box because Craig Sabourin, one of the best mechanics I know, used to service rear hubs for me when he'd booked in a batch of them. Then he left Vancouver over that whole affordable housing thing and joined the rest of the grey-haired dudes at Kelowna Cycle – a big loss for North Shore riders and a solid gain for anyone pedalling bikes in K-Town.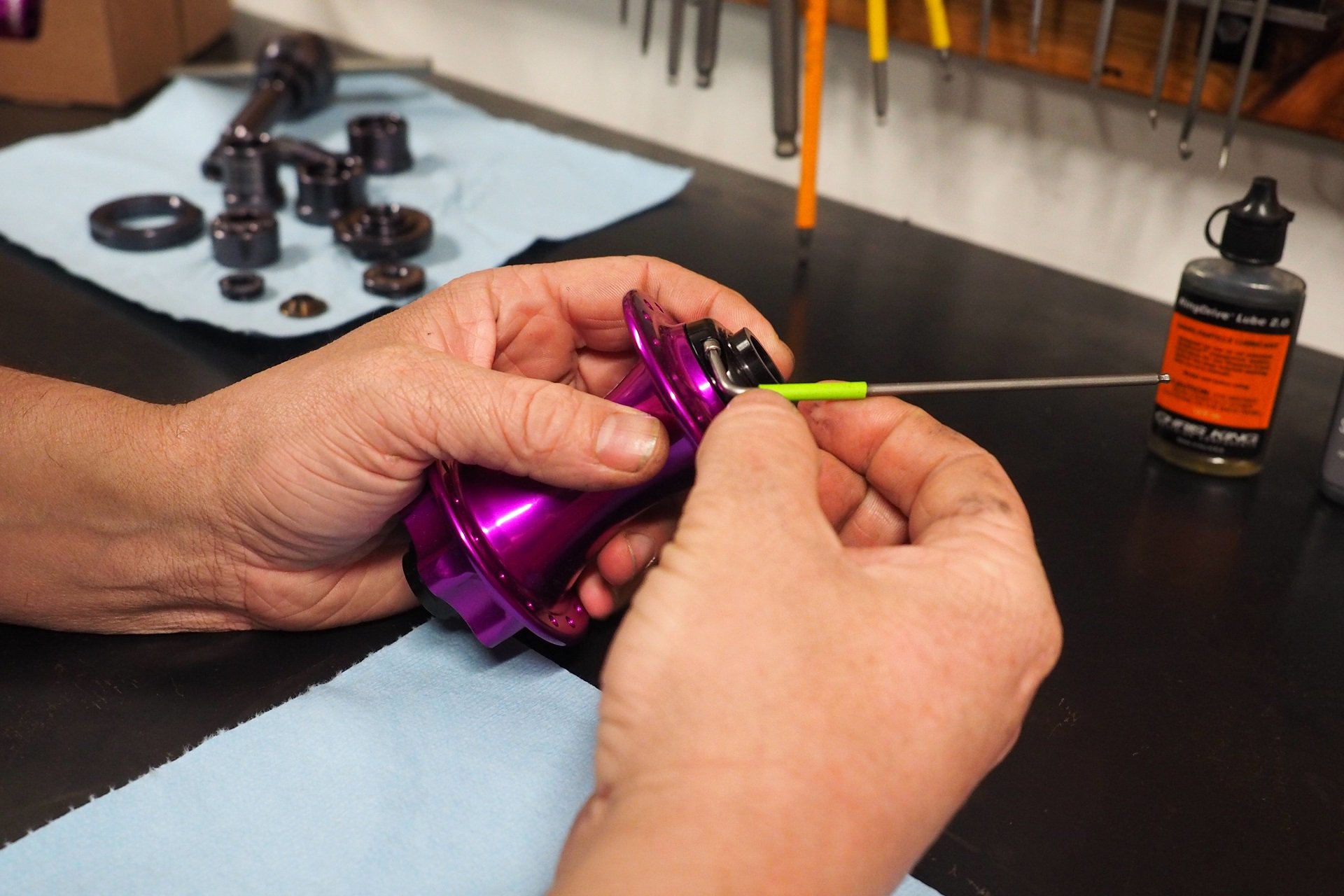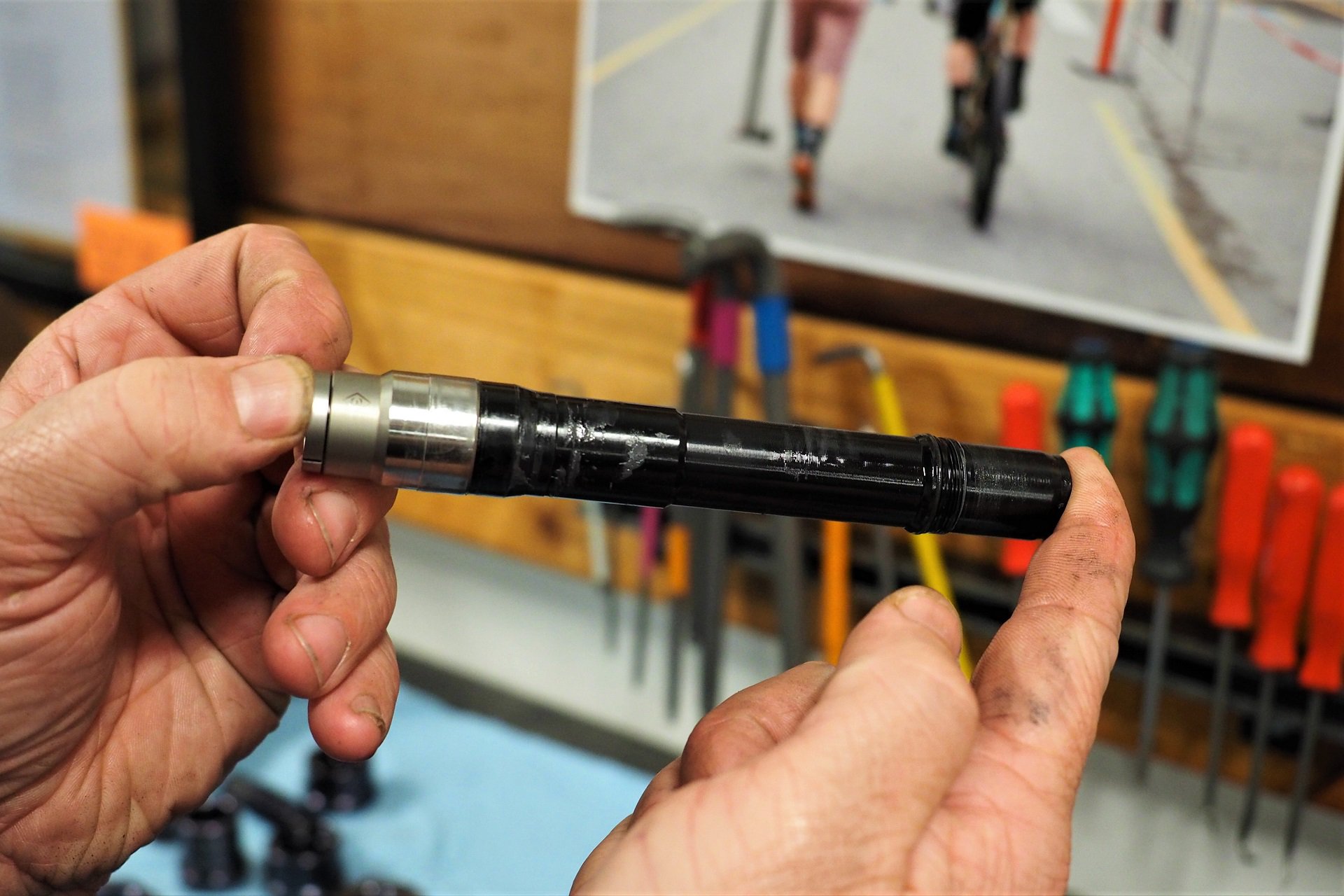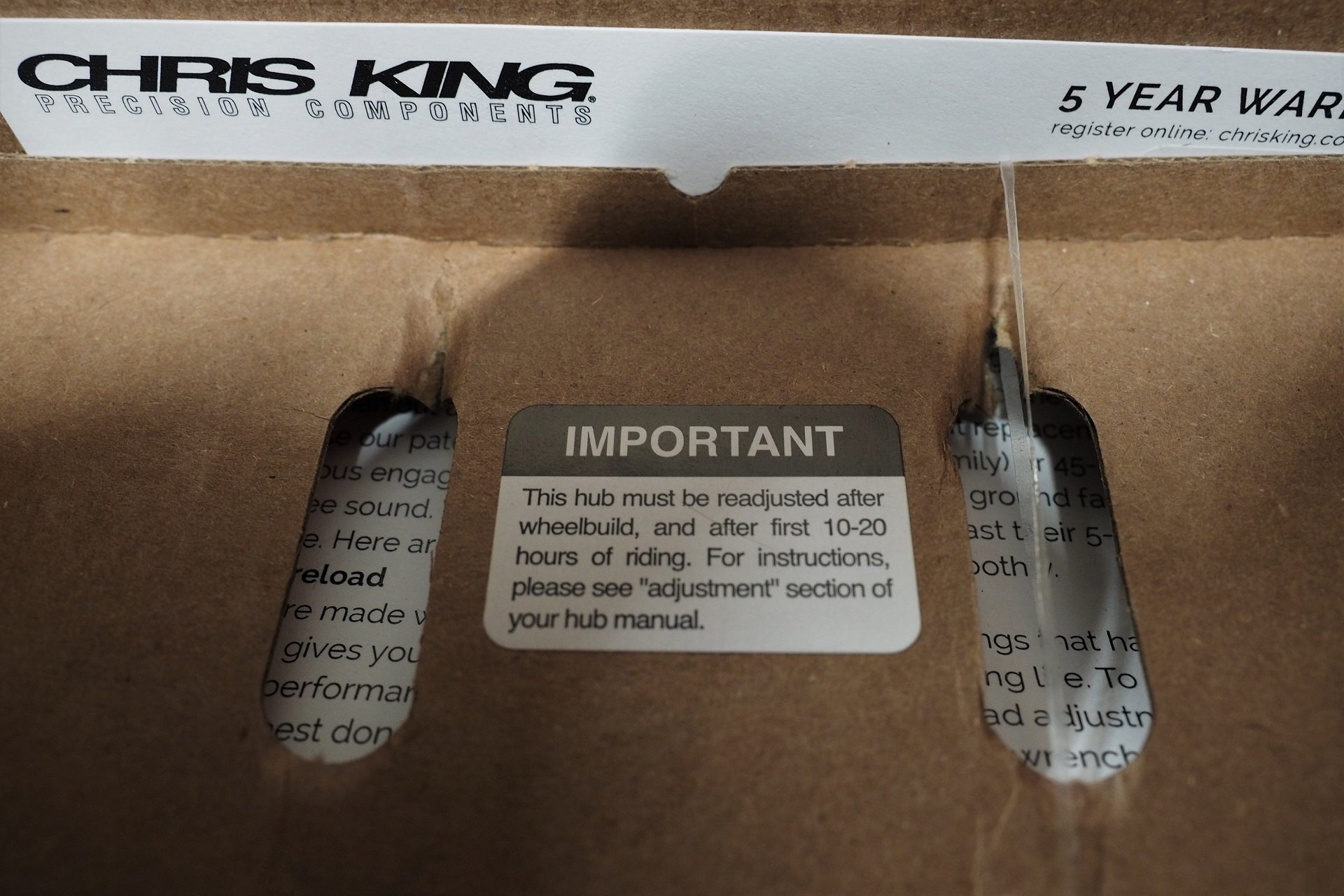 Build & Ride
I'm increasingly a fan of WTB's KOM rim series. They have the angled hole drilling I came to appreciate with the beautiful Velocity Dually, they're relatively light, options abound with a Light and Tough option (mirroring their tires) and in most sizes, they air up tubeless really nicely, and they're relatively cheap.
I run the Light version in the front, the Tough version in the rear and I have yet to dent one. I run the tough casing Vigilantes in big sizes (2.6 or 2.8) on my full suspension bike, and on my hardtail I've mated them to CushCore inserts. I'm running an i40 front | i35 rear with the Chris King hubs and my friend Dumpster Bear laced them up for me using Sapim spokes and TLC Brass nipples.
The hubs were both tightened after the initial build and I'm now at the point that I've checked preload on each of them and tightened the rear a bit. The initial break-in has happened and they're both spinning notably smoother than out of the box but the rear hub has nothing on a couple of years-old examples Nina and I have in the household. As memory serves they'll be pretty much there after a few months of hard use so I'll plan to craft Part 2 once they hit full spin. It's easy to imagine them being laced into a plethora of rims over my lifetime.
There's no question that Chris King hubs aren't cheap but they're right in line with plenty of high-end options these days in a comparative cost of ownership the King bearings will make up a 20-25 USD difference many times over. In my experience, a rider creates their value via hours, miles, and experiences as the hubs are up for anything.
Chris King ISO Boost rear hubs sell for 460 USD (HG or Microspline | +44 USD for XD) and the fronts for 241 USD and there is a wealth of information at Chris King.