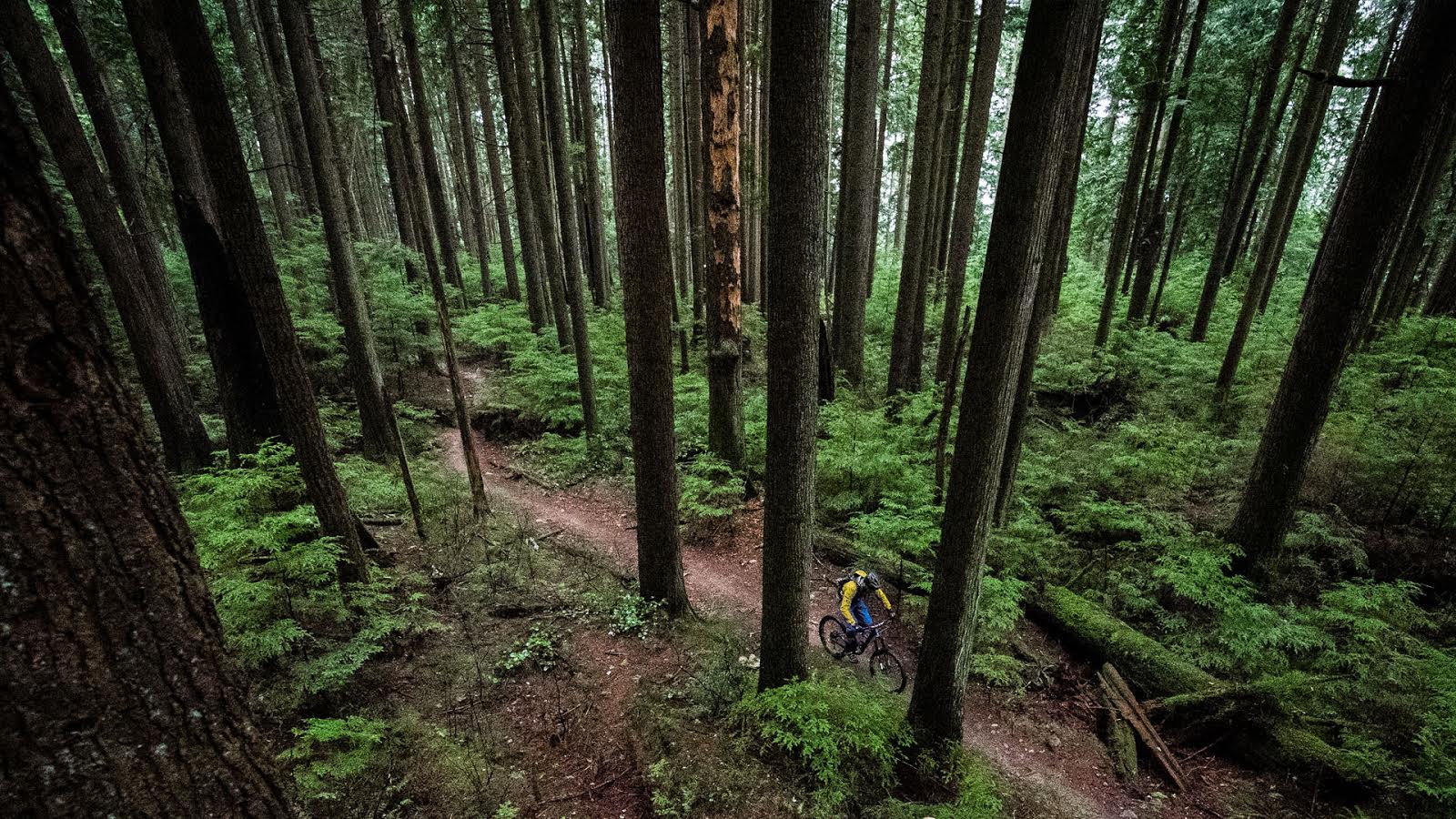 Chris King and ENVE for DH and AM
When Chris King and ENVE Composites offered to build us some custom wheels, it was not a question of when, but on which bike – and who would get to ride them. King's history runs through all sects of cycling and for good reason; ENVE doesn't have as long a history but their innovation in the carbon arena comes from years of experience in the industry.
We received two sets of matching wheels, both 26″, with shiny blue hubs and rim decals (that's pronounced dee-cals – they are made in America) to match. The AM set rides on a 142mm rear end and the DH set showcases King's new ISO 150 rear hub. After a summer of testing, we're ready to lay it out. Pete mounted the AM set to his Enduro S-Works, while Morgan put the DH set on the carbon Demo. Each weigh in below in a "he said, she said" of parts reviews…
---
ENVE AM Rims and Chris King ISO Disc Hubs
Words by Pete Roggeman
Since I get to go first I'm claiming "he" status by the way…
In the days before carbon rims were thought to be feasible for a 'real' mountain bike, Chris King hubs had already been around long enough that their reputation as 'ultimate window dressing' for your ride was already well established. Critics will argue that their cost does not justify the performance that they provide, but it's not quite as simple a value calculation as 'x gets you y'. Like many high end products (to hell with it, let's go out and call King hubs a 'luxury good'), the consumer is less concerned strictly with value, but the irony is that many of the greatest luxury brands realize long term success because their design, construction, longevity, etc. do provide good long term value. The Benz diesel wagon that cruises past 500,000 kilometers without a breakdown. The Omega that is passed down from grandfather to father to son. Handmade leather shoes that last for years, re-soled many times, and continue to look and feel great.
Yes, there are other hubs that offer comparable machine quality, engagement, anodizing perfection, design, reliability, and longevity – but none that compare on all fronts. Add to that the 'angry bees' noise their freehubs have made famous, the fanatical attention to detail that is paid to the production process, the cool corporate culture, and sustainable production practices, and you can add a capital 'X' factor to the King story. And that is why King hubs are commonly known in two ways: "the best" and "the most expensive".
But then along came the carbon fiber era, and it has changed some perceptions about what 'expensive' really is, even in a bike industry that has always had consumers willing to lay out huge sums of cash in order to be able to ride their dream bike. Carbonizing everything became a widespread obsession, but as the technology improved it seemed less irrational, but there were hiccups. Thomas Frischknecht was one of the first racers to run carbon rims on the World Cup circuit in the mid 00's (shod in custom Dugast tubular tires with hand-glued treads cut out of standard tires – that is commitment). As soon as he started using them, there was no looking back even though broken rims cost him two top 10 World Cup finishes in one year. But he developed a taste of carbon rims, and like a tiger that gets a taste for human flesh, he immediately lost his taste for anything else.
Such is it when you spin up a pair of Enve rims. It is not just that they are stupid light – in fact there are alloy offerings that are comparable in weight – but the combination of weight, stiffness, and strength. The 26″ AM wheelset with King hubs weighs in at about 1,570 grams. After 4 months of riding, they are arrow straight despite some war wounds on the sidewalls that tell a tale of abuse and poor line choices at speed. One incident with a misbehaving derailleur resulted in two broken spokes, but the rim continued to run true – it was as if the spokes weren't missed. They have been flawless, and they damn well better be, given the cost.
Both Chris King and Enve Composites offer 5 year warranties on their products (one of the reasons they started collaborating in the first place) and do a lot to stand behind their products. Enve also offers a crash replacement policy that enables you to get your hands on a new rim for half the retail cost – which sounds like the least they could do, but there are other companies that make a fortune from their carbon products and don't offer that kind of customer support.
Four or five months is not enough time to review these parts, though, as their cost dictates that anyone willing to buy either product alone or as a wheelset is buying wheels they expect to use for at least 5 years. And that is why we have a couple of sets and plan to run them on test bikes for a long time, and report on how they're doing. They're both best in class products surrounded by very worthy competition, but only after seeing countless mileage on the bike will we really be able to conclude whether they also represent value – at least to a certain category of bike buyer.
---
ENVE DH Rims and Chris King ISO 150 Hub
Words by Morgan Taylor
What he said. I'm gonna jump straight into a personal anecdote. It's not unusual for me to load up five figures worth of bikes on my trusty 15-year-old Honda Civic; the ideal underscoring this thought echoes through the action sports world – that image of a finely crafted handmade surf board on a rusted out VW Beetle is just one parallel. This could be going too far though: these wheels alone are worth more than my car. This doesn't bother me so much as I've also owned car wheels that are worth more than the chassis they are bolted to. I prefer style over fashion, if that makes sense, even if his car has a turbo and all wheel drive.
But I've got to come clean on something: while I love to curate cheaply built bikes with style for miles – and I have a few essentially worthless yet highly cherished ones in the collection – this was the year I was converted to carbon rims. I'm pretty much addicted. See, I love sticky, high volume tires, but that generally comes at a couple hundred gram penalty. Attempting to solve this issue with lightweight aluminum rims exposes another thing I love: sideways landings and riding beyond both my own limits and that of my equipment – lightweight aluminum rims don't often stand up for long under me. This year I've been enjoying the lateral stiffness of carbon rims on everything from XC through DH and I am sold.
ENVE's DH rims weigh in at a scant 464 grams each (their number, as we received the wheels complete). That's about 150 grams lighter than an average DH rim, competitive for an AM rim, and even passable for XC race. Talk to an experienced racer or coach and they'll tell you the best place to put your money is in your wheels. Rims especially. Carbon rims make DH tires feel like reinforced single plys (and make those feel like XC tires) and they're way stiffer than anything else within 100 grams – Cedric Gracia apparently thinks they're too stiff. That's cool Cedric. More burnouts in the Ferrari please.
Out for a ride with the shuttle crew this week, cruising down the road below the trails, a remark was made: those hubs sound expensive. They do. And they're not exempt from being finicky at times. Chris King's literature will tell you that the hubs will loosen up after a few hours use and require adjustment. On the plus side, this adjustment can be made externally with just a 2.5mm allen. I fought between too loose and too tight a number of times on both hubs until I found the happy medium, but they seem to have settled in – while I am myself adjusting to the swarm of bees that now follows me.
This is the DH bike I fell in love with because of the way it rode and these wheels are icing on the cake. When a build goes well both functionally and aesthetically I generally push towards an ideal. This bike is getting very close to that ideal and I'll still be landing sideways on this wheelset when the current iteration loses its lustre.
---
These wheelsets have stratospheric buy in, but offer what is arguably the best warranty around and a ride experience for discerning tastes. If you want the best, this is it. If you don't agree, you're still probably balking at the price and running cost-benefit analyses. If you want 'em, you want 'em.