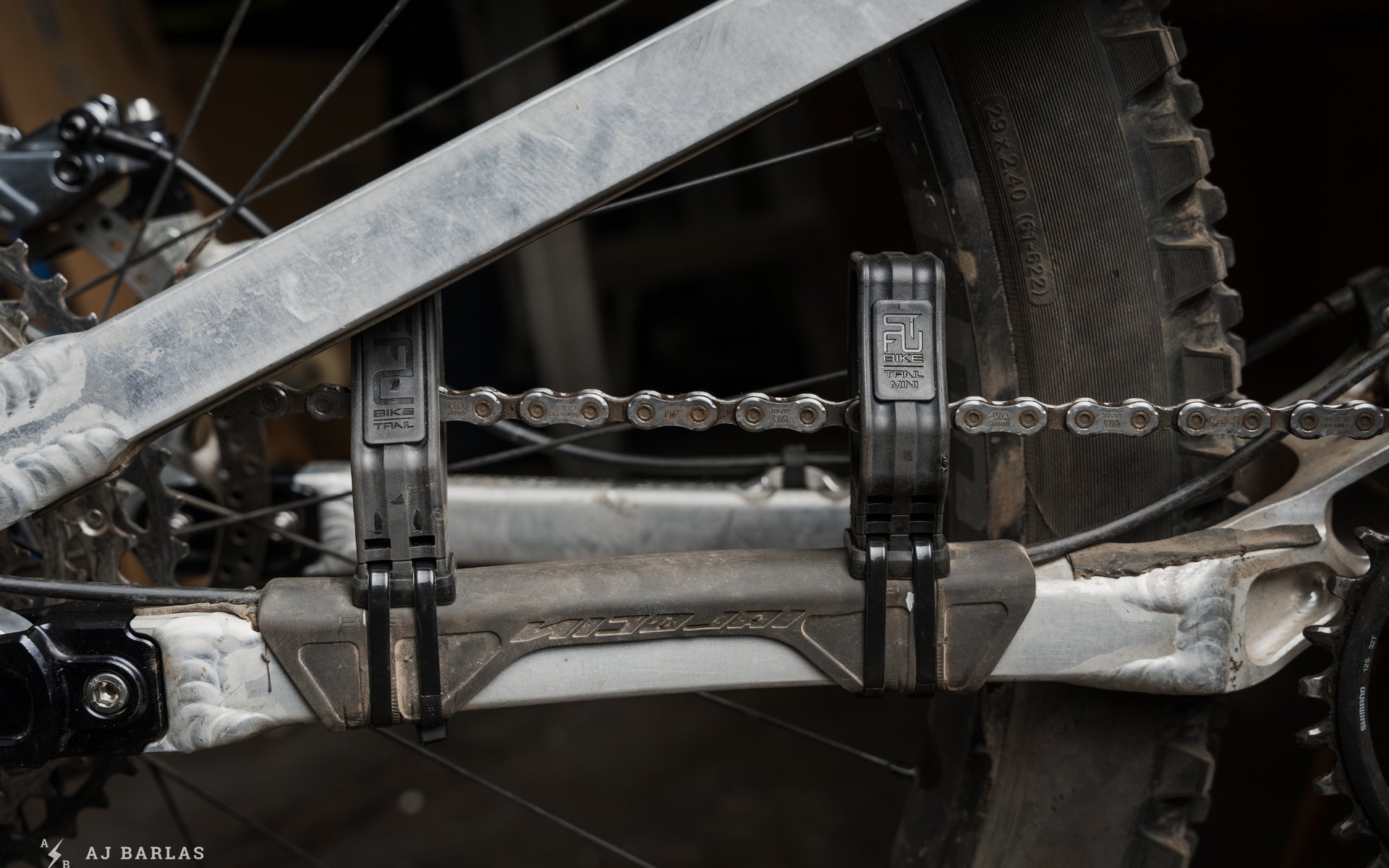 Review/Editorial
Chasing Bike Silence – STFU Chain Damper
In the last few years, modern advancements have made our bikes (and hence trails) considerably quieter. Much of the noise came from our drivetrain, but other problem areas have been tackled as well. An example is internal cable routing, which not long ago was causing riders all sorts of headaches. The rattle of the cable inside the frame was often unbearable. One publication tugged on the cables of every test bike, reporting their findings in reviews.
Not everyone is fussy about bike noise, but heaps of riders have gone to great lengths to achieve silence. Moto foam, while mostly to prevent mud build-up in awkward nooks and crannies, can help damp sounds in some situations. Another strategy was wrapping soft velcro or zip ties with long tails around cables to prevent them clanging around. When it came to drivetrains, tighter gearing and short-cage derailleurs were another popular approach, minimizing the amount of chain there is to fly around. I am guilty of trying a bit of everything over the years.
In 2021, most bikes leave the shop floor set up to be as quiet as possible. In 2018 I was blown away by how quiet the then-new Specialized Stumpjumper was on the trail. The time and effort Specialized spent studying the chain and how it interacts with the chainstay was equally impressive. The bikes were so quiet, the design sparked knockoffs from World Cup pits to home hack jobs on the local trails. Similar stock designs are now showing up on competitors' bikes.
It seems that mountain bike product managers take bike noise seriously and for good reason; a loud bike can seem clapped out or considered cheap if it sounds like a shopping trolly cartwheeling through the bush. And even if a bike is cheap, it shouldn't sound or ride like it.
The Quieter Things Get, The More Noise There Is
Before Specialized released the Stumpy, with its odd, lumpy looking chainstay protection, bikes had already grown impressively quiet thanks to clutch derailleurs and narrow-wide, single chainrings. SRAM's push for 1-by drivetrains eliminated the front derailleur and at least one ring, having an incredible effect on the sounds emitted by our bikes. Forgetting to re-engage the clutch of a Shimano derailleur is a stark reminder of what it used to be like, and that's without multiple front rings. I ain't going back there.
Whenever something improves, it shows the faults of other parts. When the drivetrain grew quieter, other noises could be heard. There's a rumour that once Specialized cut chain noise with their lumpy rubber chainstay protector, their riders were left unhappy with the noise coming from, wait for it… the b-tension screw! What next, rubber bumpers on our derailleur hangers? Hmmm…
I Don't Care About My Loud Bike
Some riders don't give a crap about loud bikes. Buy a bike that's equipped with a marvellous modern clutch derailleur, narrow-wide chainring, and plenty of rubber protection to keep things quiet, while protecting the frame, and be done with it. And it's hard to argue with, considering most modern mountain bikes are damn near silent when they leave the shop floor. If you're one of these riders, then additional parts like the STFU aren't for you. But there's also the issue of not knowing any better which I'm constantly reminded of and was again with the STFU. .
Personally, I can't handle my bike making a racket; the experience is more enjoyable for me when I only hear tires on dirt. But as with the Specialized b-tension rumour, whenever my bike performs better, something else rises to the surface. I'm hooked on how my bike rides, the suspension effortlessly quietening the trail, physically and audibly. But that left me with a new issue; an odd loud clang from the chain connecting with the frame, and sometimes the tire when things got wild.
STFU…
When I saw Kovarik running small sections of P.V.C. pipe on his downhill bikes years ago I was intrigued but at first, the idea seemed a little ridiculous. Wouldn't the chain just rattle in the sections of P.V.C.? Maybe it was for something my mates and I hadn't considered? Considering Karver's aggressive riding style and taste for music, I didn't imagine him caring about a silent bike. Later he was seen with Fox 40 bumpers strapped to the chainstay, which made much more sense. The rubber of the bumpers damps any sound from the chain running through it. Metal music and quiet bikes… who knew?
Since the Fox 40 bumpers, Kovarik and his business partner – engineer, Jaan Hurditch – have designed a system that can be fitted to most bikes. Silence is golden – or at least the noise from the rubber of our tires slapping the ground is. But if aesthetics are more important STFU might not be for you.
I've been running the Trail model of the STFU Chain Damper since the first production run. Following the directions provided, it mounts easily and does what it's tasked with no quibbles. If I take it off, I'm quickly reminded of how the STFU cuts down noise. But most interesting was that it wasn't just the sounds from the chain connecting with the supplied chainstay protection. The STFU's restriction on the chain made the bike feel better, cutting down on feedback through the drivetrain when rumbling down a rough trail. With the chain not able to sling around as much, everything feels tighter, similar to running a fresh chain verse a flogged one.
Since using the STFU, I've also noticed and appreciated less wear on my rear rim, which often looked like a stop sign someone had used for target practice. The GeoMetron G1 has improved chainstay protection from the earlier G16 but is still a few years behind industry leaders in this department.
Each chain damper is built around a firm plastic skeleton, providing the rigid structure necessary to keep the damper in shape. The outside is coated with a soft rubber that damps the noise of a chain and prevents excessive movement.
The STFU chain damper does what it says on the box, and while it won't be for everyone, riders keen to silence their drivetrain will appreciate it. For best results you'll want to leave the clutch engaged to prevent the chain from moving around too much on our long chained 500% drivetrains.
The STFU Trail chain damper retails for 34.95 USD.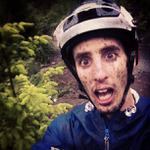 AJ Barlas
Age: 39
Height: 191cm/6'3"
Weight: 73kg/160lbs
Ape Index: 1.037
Inseam: 32"
Trail on Repeat: Changes as often as my mood.
Current Regular: Every test product spends time on Entrail