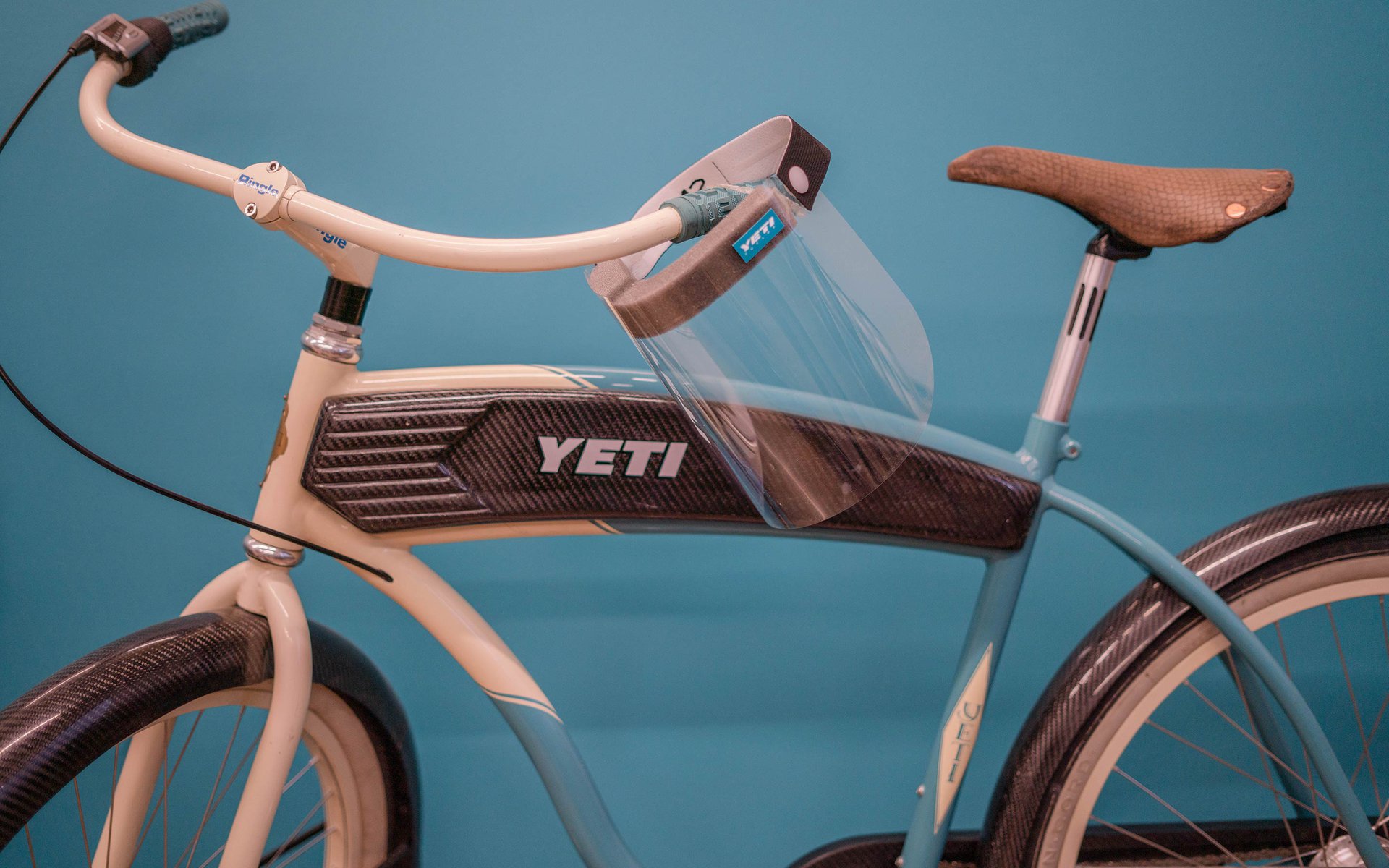 NEWS
Caring During COVID-19: How the Outdoor Industry is Helping Out - Part 2
Yeti Joins with Smith and Black Diamond to Construct Face Shields
Both Smith Optics and Black Diamond continue to divert resources to face shield production, with Smith donating 4000 yards of goggle strap material, and Black Diamond pitching in 5000 headlamp bands in a joint effort with Yeti Cycles.
The donations will allow Yeti to build approximately 10,000 face shields in their Colorado facility, all of which have been spoken for by frontline medical staff and emergency workers in the area. Yeti has been using an open-source design from the University of Wisconsin.
"Typically Yeti designs products from the ground up, but in this case we wanted an efficient way to make the most effective thing," said Steve Hoogendoorn, co-owner of Yeti. "Time is critical, so we're doing it with materials we've pulled together from industry friends and available through our supply chain. It's not surprising, but everyone we contacted wanted to help, and their help was critical in this coming together so quickly."
Yeti has also sourced 24,000 medical grade masks from one of its suppliers to be donated to health-care workers, first-responders, senior centres, and RTD workers.
More Apparel Companies Producing Face Masks for All
Cycling clothing companies Champion System and Eliel have switched over to manufacturing non-medical face masks for purchase, with funds raised going towards local health care providers, and supporting campaigns to end sexual and domestic violence.
Park Tools Goes All-In With Gloves
Minnesota-based Park Tools has seen a massive spike in demand for its signature blue gloves, but it's not for keeping bike mechanic hands out of the grime. Rather, president Eric Hawkins noted that many shops were purchasing their gloves to donate direct to local health units. The gloves are virtually identical to those used by health care workers, which made them easy to integrate into daily service.
To date, Park has donated 35,0000 pairs of gloves themselves, with countless more contributions coming from further down their supply chain. When asked about their current supply, Hawkins said: "We are now pretty much sold out of gloves, [and there's] no word on when we will be getting more."
Keeping Workers Fed: Clif Bar Donates 6.6 Million Bars
Clif Bar's bakeries have been running around the clock with enhanced biosecurity protocols to help get food in the hands of healthcare workers around the globe.
To date, Clif has committed to donating 6.6 million bars under their product umbrella (Clif, Luna and Clif Kids) to help feed those in need.
"Our top priority has and will always be our people who are working hard to keep supply available so store shelves can be stocked at a time when people need access to nutritious, affordable food," the company said. "We are engaging our employees in a company-wide effort to get food directly and urgently to health-care workers, while appreciating the heroic work of our bakery teams to keep production continuing safely and smoothly."