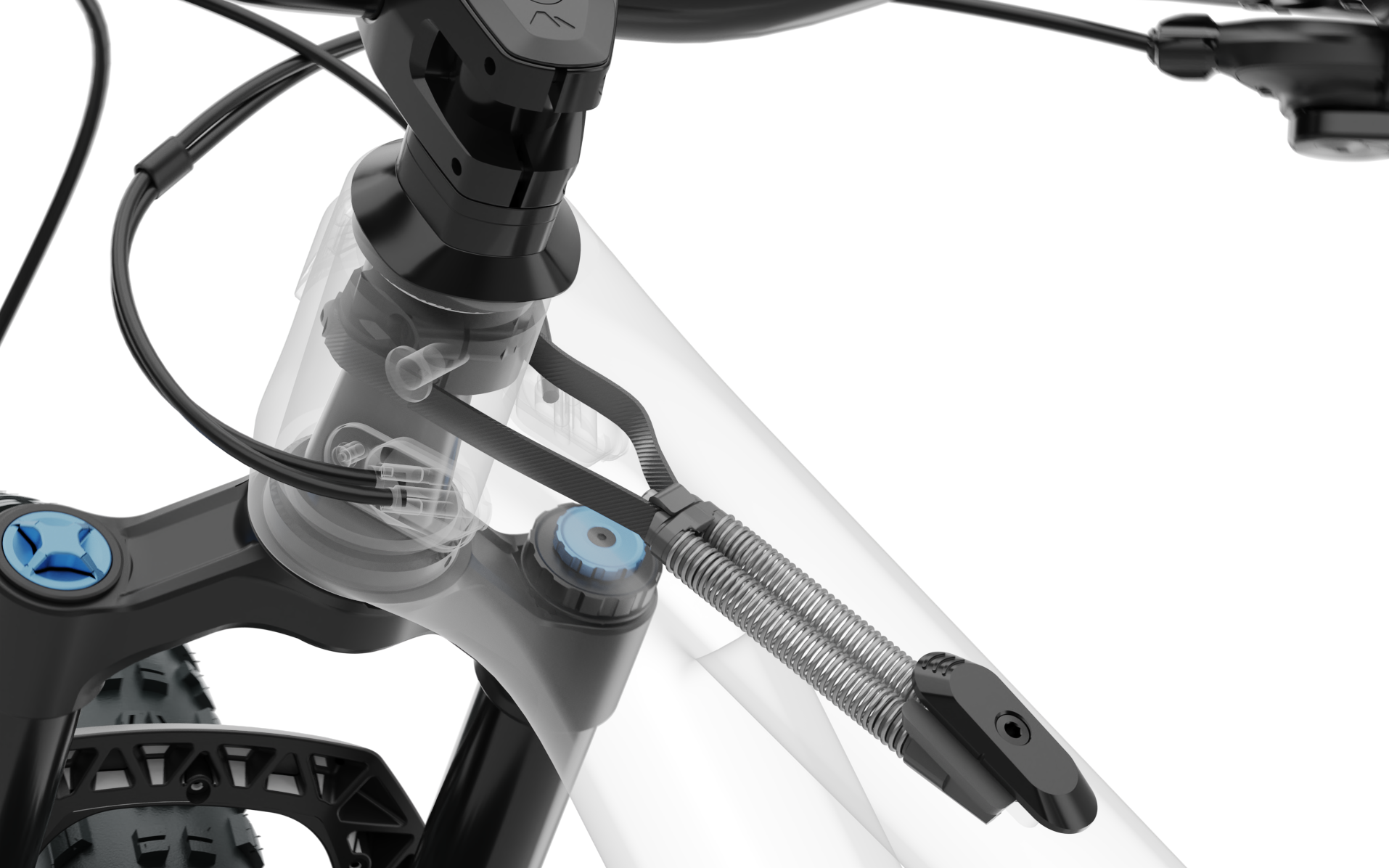 KEEP IT STABLE
Canyon's K.I.S. Tech Promises Steering Stability
The invitation didn't have a lot in the way of details, but it was long on promise: "come to France to ride a new steering technology from Canyon (and partners)." It wasn't a new bike. It was a steering technology. Huh. In a world full of rumour and gossip, no one I spoke to in advance had much of an idea of what it was, but we all semi-jokingly mused about whether it was anything like the old Hopey steering dampers that emerged in 2002 and disappeared shortly thereafter. I was certainly willing to hop on a plane to find out more.
Canyon's K.I.S. - which stands for Keep It Stable - is in fact a steering assist technology developed by Jo Klieber at Syntace and engineered by Canyon. Initially developed for use on the new Canyon Spectral CF8 CLLCTV, K.I.S. will certainly be added to more models in the future. For the first year, K.I.S. is exclusive to Canyon as well as Liteville (a bike brand owned by Syntace), and after that, we can expect to see it start popping up on other brands as Canyon's one-year exclusivity is relaxed. But we're getting a little ahead of ourselves.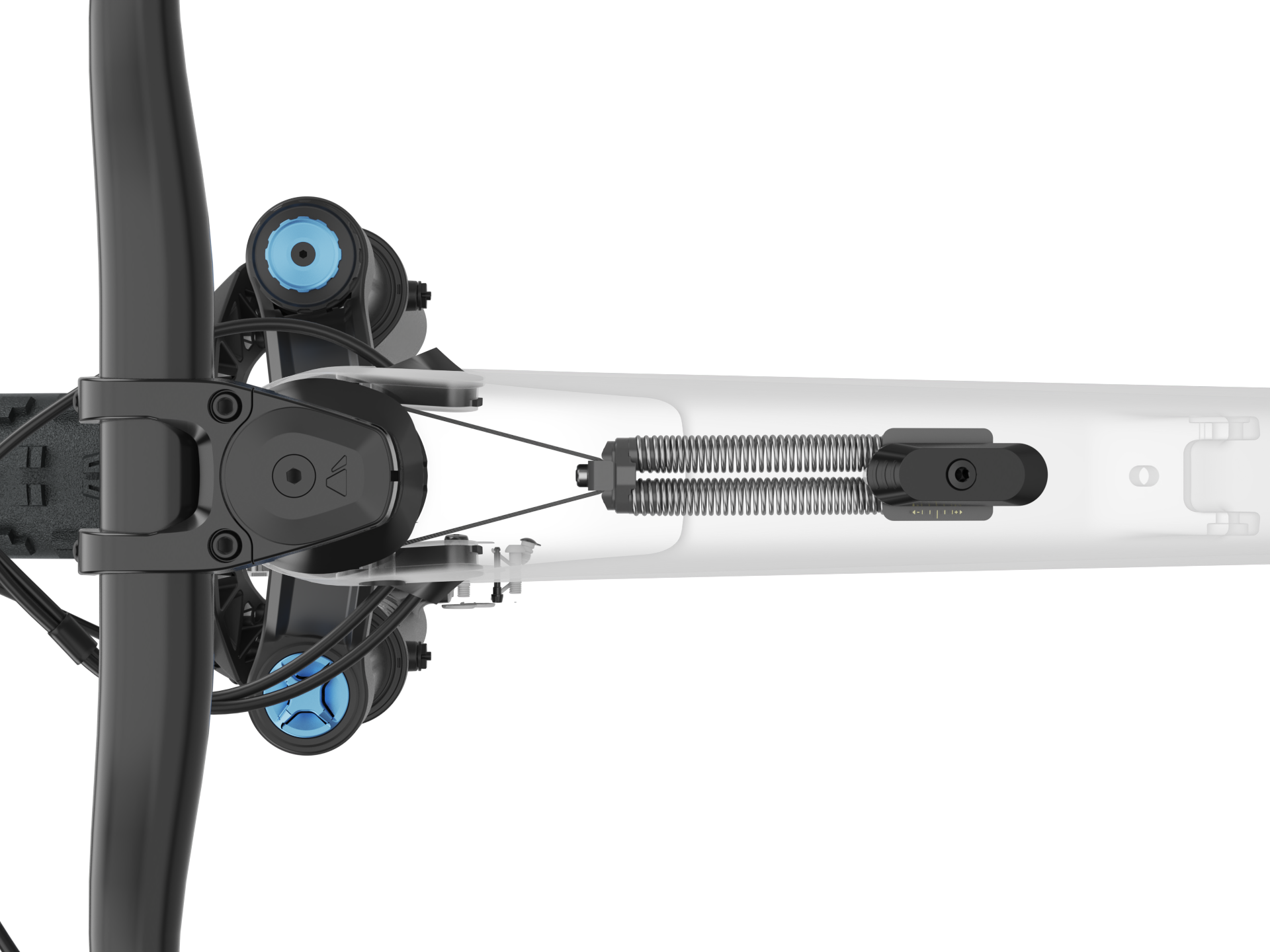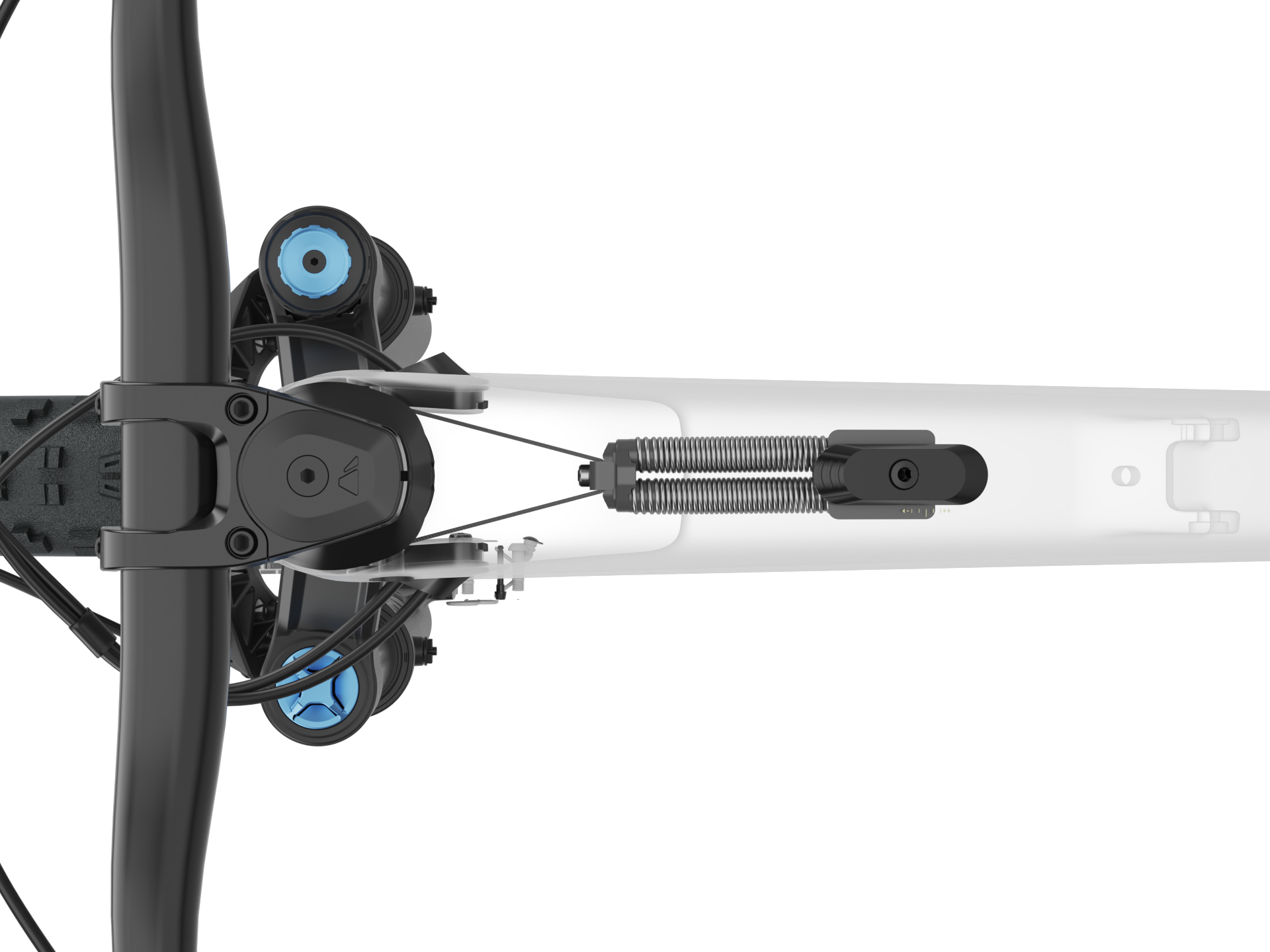 What the Heck is K.I.S.?
The heart of K.I.S. is very simple: the system consists of a spring mechanism anchored within your top tube that connects to a cam ring that is attached to your fork's steerer tube. Turning your bars away from center elongates the springs, adding tension and the sensation of a counter-force that can be felt in your hands as the bars try to self-center. You may imagine this is a foreign sensation, but the system has been engineered to add stability, not jerk your hands around, and that's how it feels after a short acclimation period. Canyon describes it as adding a 'weighted feel to the steering' and that sums it up well. Tension can be adjusted by loosening the plate on the top tube with a 4mm Allen. Slide the plate away from the stem to elongate the springs and increase tension, or slide the plate towards the stem to shorten the springs and ease off the tension (all the way to 'off' if desired).
K.I.S. only weighs 110 grams, requires no maintenance, and does not seem vulnerable to damage: an integrated rotation stop prevents the bars from turning past 90º in a crash, and a breakaway function on the cam ring clamp prevents damage in the event of a violent twisting crash that overwhelms the rotation stop. If this happens, the system can be 'reset' by popping the head tube access port which looks a lot like a cable ingress but accommodates a 4mm Allen which you use to loosen the bolt holding the cam ring. Re-align, re-tighten, replace the port, and you're riding again. That same port allows access if you need to remove the fork (the only added step is to loosen the cam ring and the fork steerer will slide through). Fork installs simply require that you push the steerer in at a slight angle so it will 'snag' the cam ring, slide it through, set everything to straight, and tighten the bolt that holds the cam ring in place - everything else is the same as before.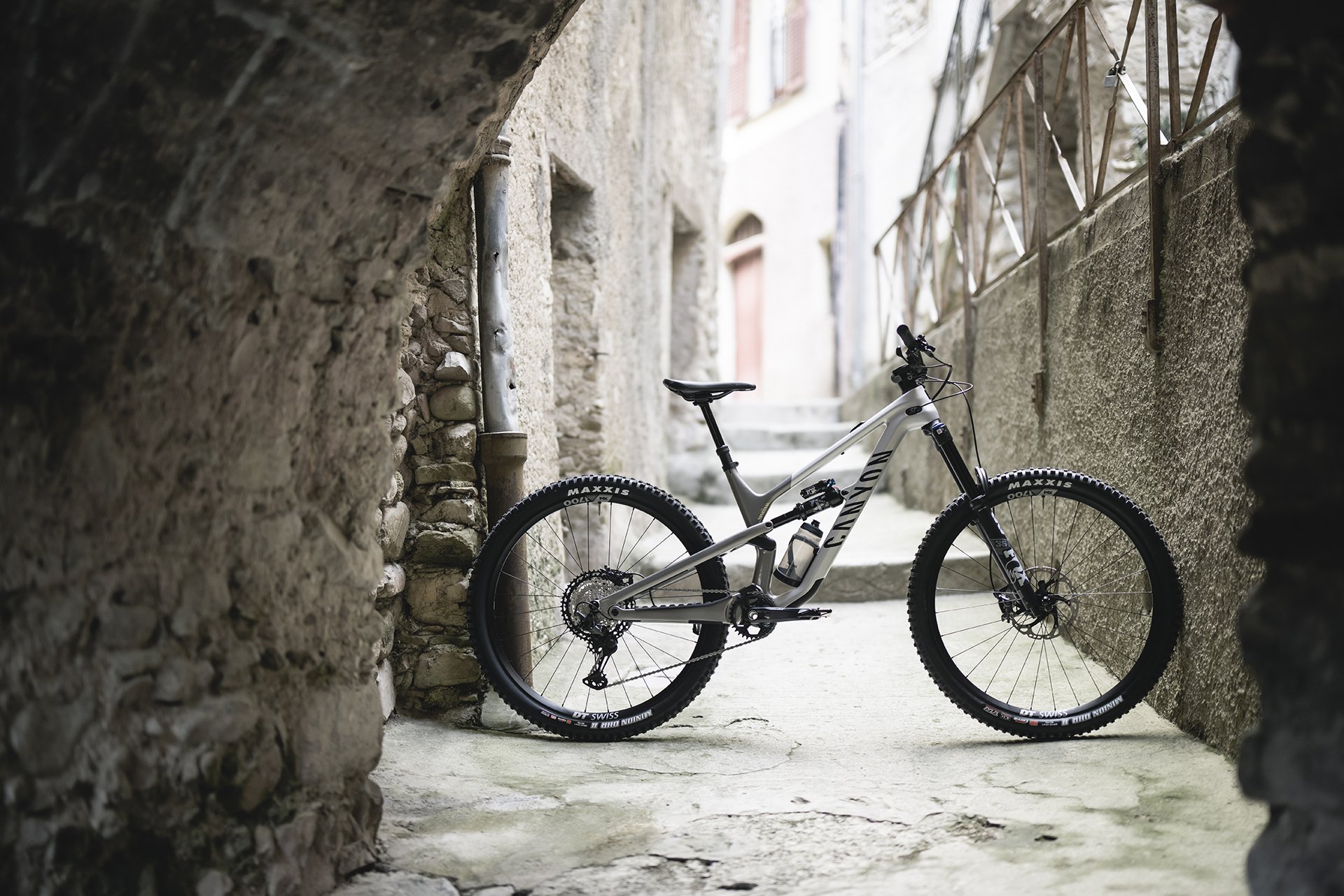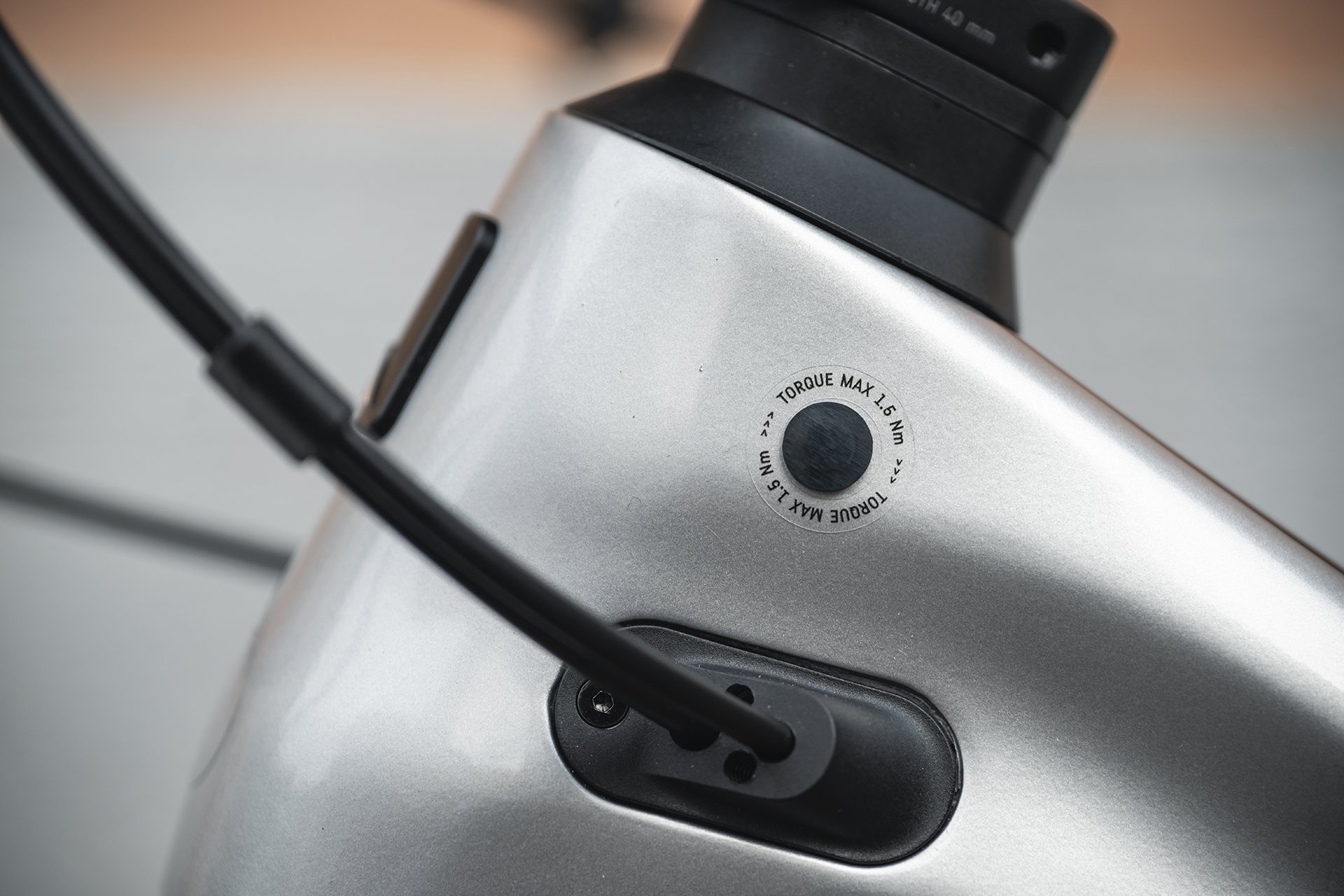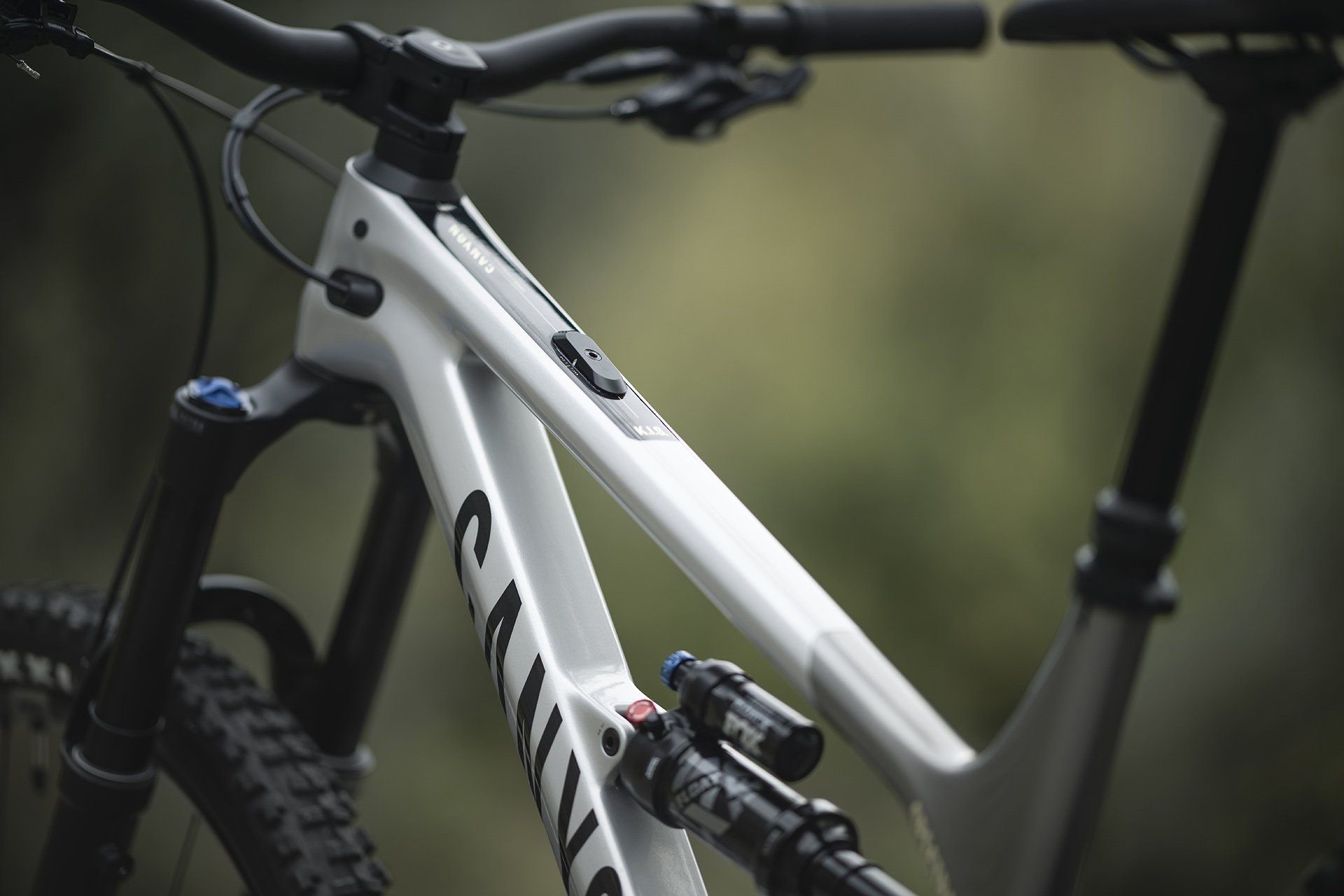 Is K.I.S. Something We Really Need?
When I first saw it, that was my initial thought. Better geo has greatly improved stability and control and bikes are so much better for it. I don't recall thinking that steering stability was a problem that needed solving. However, there are a few interesting ideas at play here, and while the system is simple, some of the ramifications are not, so let's talk about them.
First of all, the Hopey/damper issue: K.I.S. is not the same thing at all. Steering dampers are used in the Moto world, where wheel mass leads to greater risk of deflection and crashes aka the dreaded tank slapper. But bikes don't have the same issue with an unweighted front wheel under power, nor is the front end as heavy as on a motorbike. Most importantly, dampers are counter-productive in MTB because they actually dull your reaction time by slowing your steering inputs, whether away from or back towards center. K.I.S. is not a damper, it's a spring, and the idea is not to slow down your steering or add friction, but rather to make it more deliberate. It does have a similar effect in one way in terms of encouraging your steerer to stay straight (riding hands free is super easy), but it's not intended to overwhelm your intentions like a damper might. If it helps to compare to steering a car, here goes: in a long presentation that covered a lot of theory that I would have found much more interesting if I wasn't crushed by jet lag at the time, Jo Klieber talked about how steering a bike requires between 100-1,000g of force, whereas a car isn't much more: between 500 and 2,500 grams. A sports car will usually have heavier steering, or the power assist will be tuned to diminish as the car reaches speed, so that deliberate inputs give the driver a feeling of control and therefore confidence. It will also very easily hold a straight line at speed. That stability is the same idea K.I.S. is after, only the user can tune the amount of tension. Heavier or more aggressive riders will prefer more tension, whereas lighter riders, or ones that want a more agile steering feel (slow speed tech, for example) may opt for a lighter spring rate.
Here's an unexpected one: K.I.S. connects the front and back wheels in a way that doesn't normally exist. On regular bikes, the wheels are independent, but K.I.S. establishes a connection between the two. In talking to the other journalists there, some felt this more than others, but Fabien Barel described it by saying that in a turn where you're experiencing oversteer, as you work to correct it, the connection between the front and rear wheel encourages a faster and more natural return to neutral. He also feels like the system allows you to use your feet to steer more than normal, a bit like skiing, because you can impart more impact on steering from the back wheel. That part I can't confirm, because in my three days riding the K.I.S.-equipped Spectral, I was usually focusing on navigating more than nailing turns at my top speed, however I did feel a bit of the front-rear correction in some of the loose turns we encountered.
K.I.S. is not actually the only stabilizer out there - they exist on urban and kids' bikes, however those ones use a single spring and become progressively harder to turn through their range of motion. They are not performance-based solutions, they're simply there to keep the bars straight. Mountain bikers don't want that, and that's not what K.I.S. is all about.
There is even a benefit to the system while climbing. Slacker head angles make our front ends more susceptible to wheel flop, which we're willing to put up with because that slack head angle makes for more confidence and stability when we head back down. However, there is a physical price to pay every time you have to correct a floppy front wheel - you have to accelerate to regain control and then put it back into place. With a bit more stability, that wheel is less likely to flop. K.I.S. cannot, however, make it easier to get your monster wheelbase around a tight corner - that's still on you.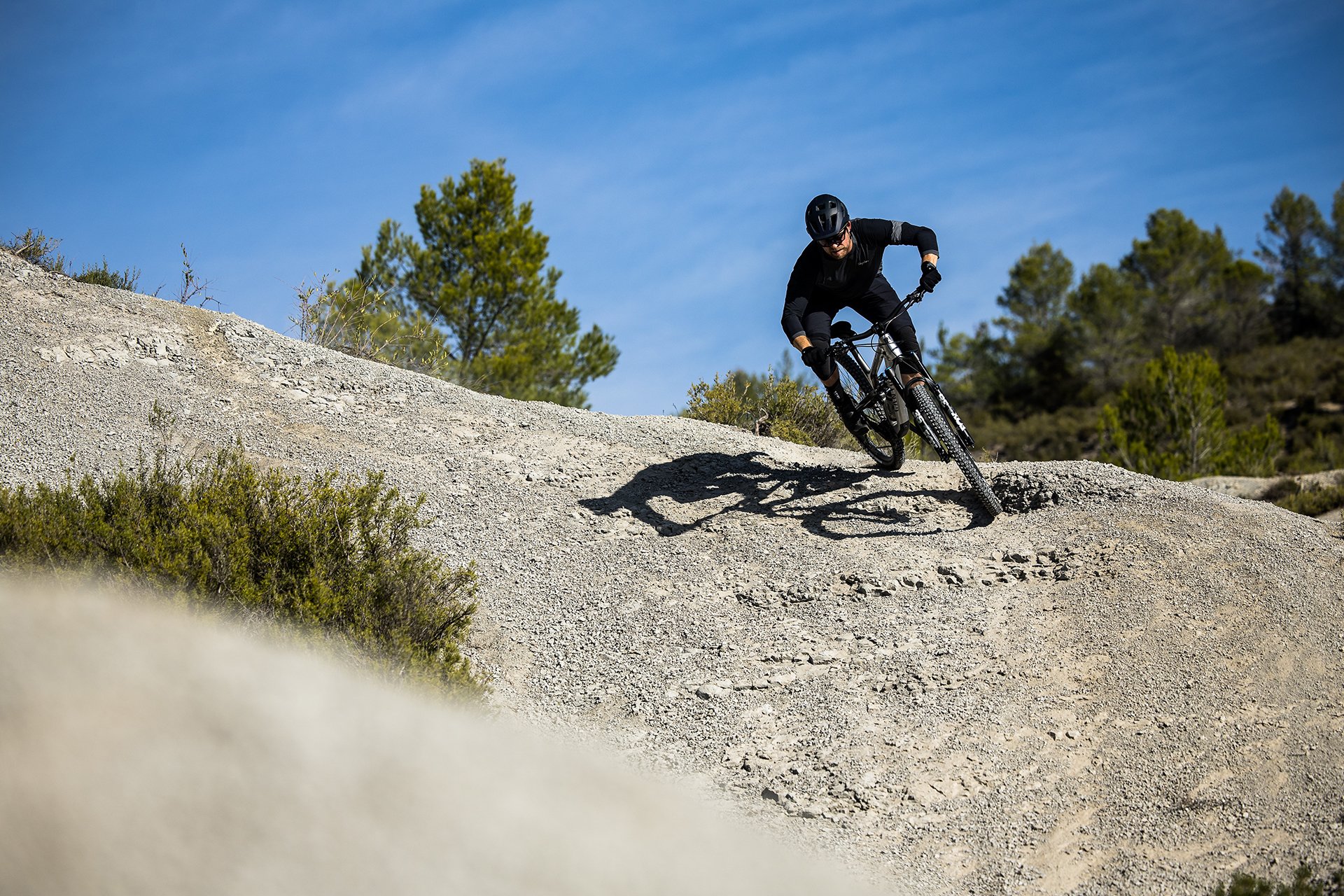 Riding the Canyon Spectral K.I.S.
Theory and diagrams are all well and good, but this was something we would have to feel for ourselves, and after two and a half years off from media camps, it was nice to go and ride trails somewhere else for a change with old friends and new ones. We stayed in a charming small town called Peillon, about 20 kms NE of Nice, France, close to Peille, where riders with names like Barel, Vouilloz, Vergier, Bruni, and Barelli all learned to ride. Thousands of kilometers of trails trace the valleys and mountain passes, and there is a wide variety of terrain, from rugged limestone cliffs to forests of chestnut and pine. The smell of sage, rosemary, and thyme is prevalent, and while the area sees 300 days of sun per year, we were the beneficiaries of some rain about three days earlier, so the dirt was about perfect.
We were in a large group and there's always the need to get the photos done before time runs out, so the morning ride had a bit of a stop-and-go element to it, which made it a bit tough to get into a rhythm. Having just flown in the day before, my body wasn't yet adjusted to the clock, so add that to the list of variables: new trails and dirt, foreign bike, and a newfangled steering doohickey to try to sort out. We were asked to start with our K.I.S. systems in the middle mode - this allowed us to feel it at work without it being overwhelming. After about an hour of riding, we started to play around with it a little bit - I pulled mine almost all the way to max to get a bracketed sensation. Some of the early trails were bench cut and had a bit of exposure, but I eventually settled into the bike a bit and was able to focus more on what I was feeling rather than just keeping the wheels between the lines.
Several trails had ruts formed by the rain from a few days earlier and this is where I started to notice the stability of the system making it easier to keep the wheel where I wanted - in the middle of the rut - rather than having it skip off the walls and try to climb up one of the edges. We also encountered some technical rock gardens with blind risers and up-and-overs that were a lot of fun, especially as we all got more comfortable on the bikes, and here again I found K.I.S. was giving me a bit of added confidence in spots where a misplaced front wheel could have led to trouble. At this point I had been riding with it at almost max tension and I was struck by the fact that in general, there wasn't much of a learning curve - at least on most terrain - and that it felt natural. It was possible to perceive the difference in feel, but it wasn't as foreign as I had suspected. In no way did I feel like my steering inputs were being hindered, it was more like everything was more deliberate. It wasn't drastic, though - this wasn't like a two-wheeled epiphany. However, when I released the tension and rode for a while with K.I.S. off, I realized I didn't like it as much, so I turned it back on after 10 minutes, and that was as telling for me as anything else.
Day Two - Learning More About K.I.S.
The official part of the media camp only called for one day of riding, but several of us stuck around for a few more days (and a few of us even made the trip up to visit Canyon in Koblenz - more about that in another article). After shuttling for all of day one, day two was a mix of shuttling and pedaling. And it gave us a better chance to spend some more time with K.I.S. I had two main revelations from day two. The first is that, due to the fact that we climbed for about an hour and almost 1,000 meters after lunch, I got a better sense of how the system feels on steep and technical climbs. And the second finding was the one weak spot - for me - in my limited time with K.I.S.
Climbing first, and right after lunch in the valley, we left the shuttle rig behind and pointed the bikes up on a rocky trail that switchbacked and snaked its way up for 3-400 meters before tapering off. Number one, don't order a Croque Monsieur before a big climb. My gut is pretty hardy, but the béchamel sauce in the middle was cold because it wasn't heated up properly, and - cry me a river, I know - that made for some slow chewing. Anyway, up we went and it was steep and hard, but I did notice that having a front end that didn't tend to wander allowed me to focus on trying to spin circles and suffer with some degree of poise. Chalk one up for K.I.S. as it seems like it does indeed climb well.
Now, number two. We were in France, and we all know that the French excel at the nose pick. Thankfully we didn't encounter as many of the nasty, tight switchbacks the area is known for as I thought we would, but they did pop up on day two. I am no master when it comes to plunking the front wheel into the apex and lifting the back wheel into a graceful, rotating arc (at least not when it calls for more than 40 degrees), however many of the switchbacks we encountered should have been manageable with my 'pick a wide line, cut it tight, and let it ride' technique. In reality, I bungled four or five of them so badly I gave up positions to other riders like I was a newbie. Without further evidence to prove me otherwise (and while also acknowledging my lame switchback technique), I blame K.I.S. for throwing off my timing. It's likely I would have adjusted, but it was the one scenario where the different steering feel seemed to mess with me.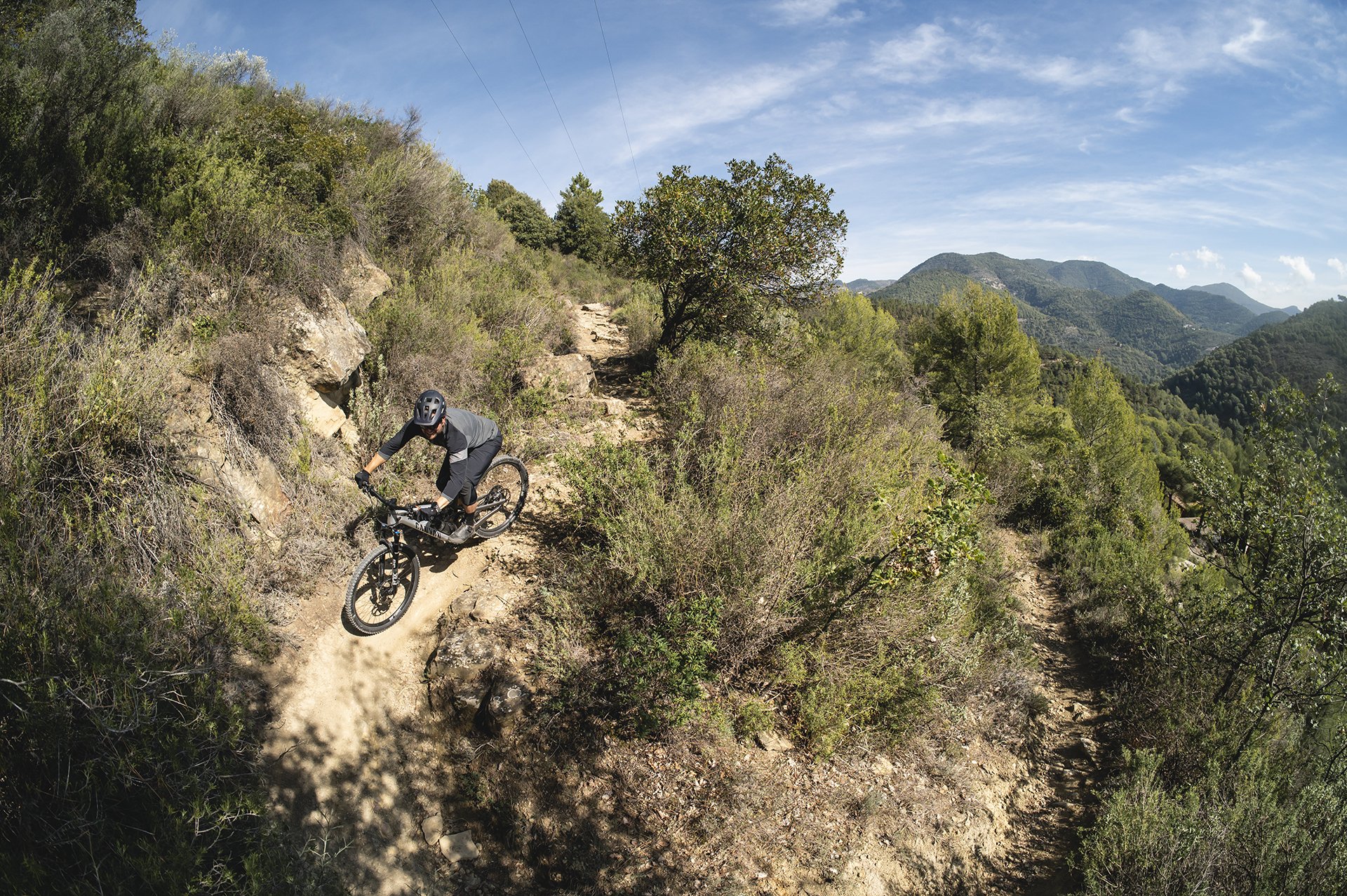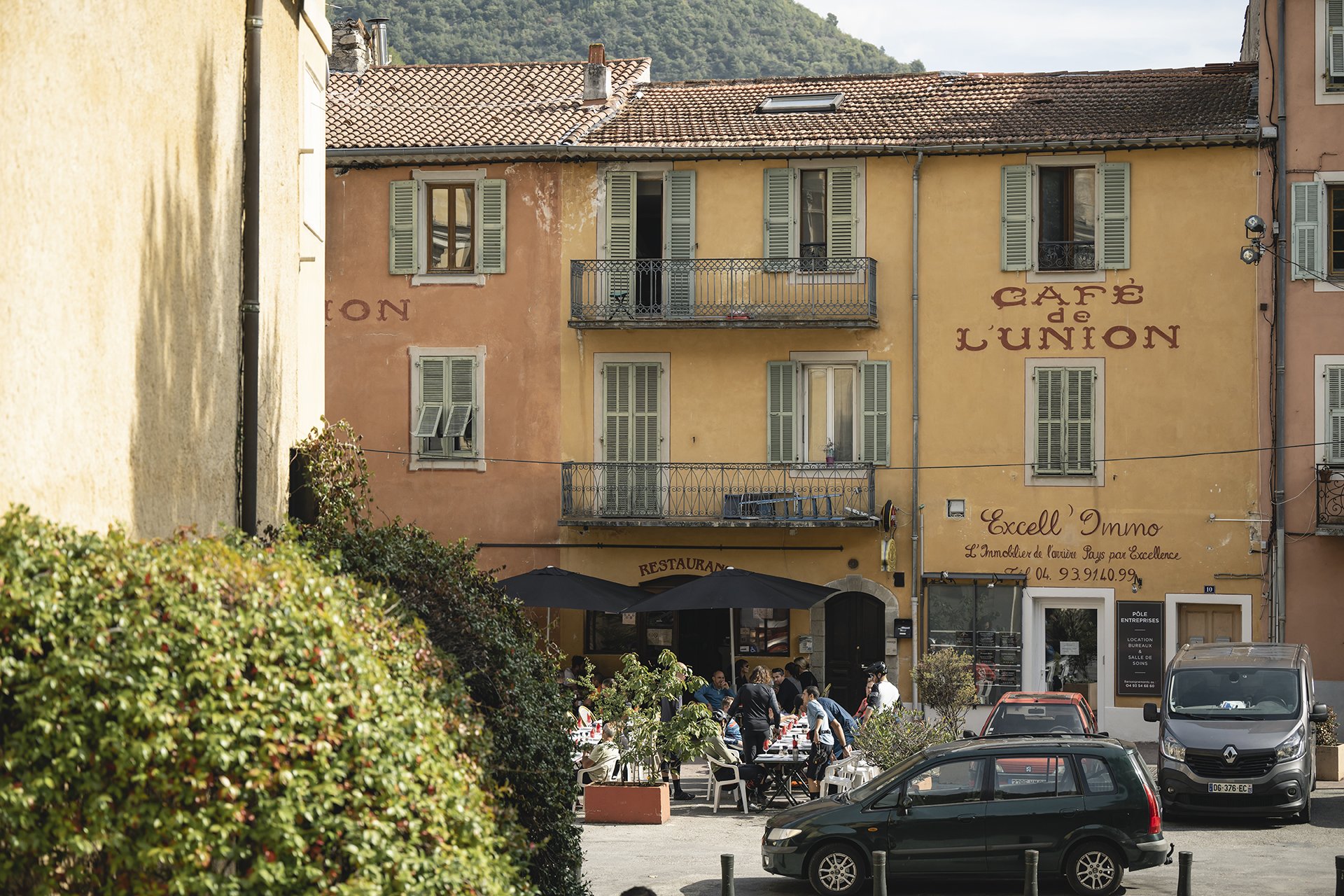 Conclusions
It's easy to look at something new and different and proclaim that it's more about the marketing than meaningful advancement. Mountain bikes are complex editions of the simple bicycle, and we're right to reserve judgment until something new earns its stripes. K.I.S. is not revolutionary, however in the short time I spent riding it, the pros far outweighed the cons and the telling moment for me was that when I had the chance to disable it, I decided instead that I preferred to keep it activated. If it was complicated, heavy, expensive, or required maintenance, it would be a lot easier to dismiss it as unnecessary, or perhaps superfluous. However it is none of those things, and because it adds something to the riding experience, whether that's confidence or performance or both, I think there is a future for K.I.S. It is honestly difficult to look into the future to predict how successful it will be, and I think Canyon shares that view, however I can say now that if given the choice between a bike that had it or one that didn't, I would elect to Keep It Stable.