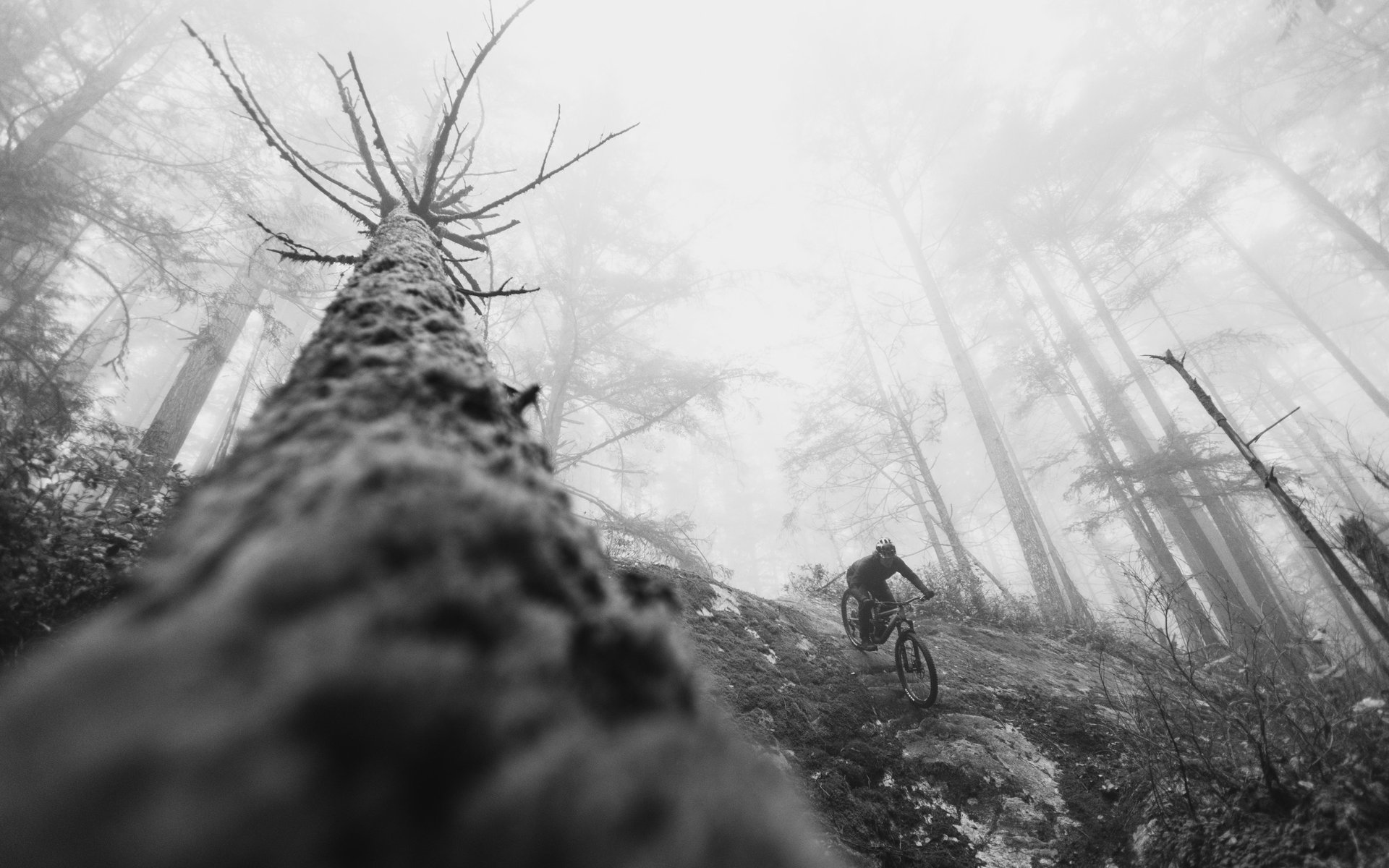 Long Term Review
Canyon Torque CF9 29 Review
We've had a very riding centric winter on the North Shore. I've been riding the Canyon Torque CF9 29 since shortly after celebrating the apple dropping on 2022 - more than long enough to figure out where it shines. 2022 began with a giant dump of snow, all the way down to sea level in Vancouver. Unusual, to say the least. The holiday season is often gloomy and sopping, saturating lower elevation trails far past their rideable limit, while the snow nukes on upper elevation steeps. Needless to say, the first few rides on the new Torque were glitchy - through no fault of the bike itself. The front wheel was constantly punching through deep crusty snow, hurtling me over the handlebars as I tried to to get an idea of what the bike park-y beast with 175mm of travel could feast upon. Fortunately, those days were short-lived. Check out my initial impressions and build spec of the Torque CF9 here.
In mid-January, snow was erased in a matter of days on the lower elevation trails, thanks to warm deluge. Typical PacificNorthWest. The following dry-ish Saturday, nearly every damn rider in the Sea to Sky pounced on Mt. Seymour. A classic flow trail had been completely refreshed, and everyone wanted to rail berms and try to double the 4-pack of roller gaps, insta-banging along the way. With the snowline still relatively low, there was no sense in shuttling. I pedalled up the road with my 60+ other mates. It was time to let the Torque eat.

Precisely planting the rear wheel is easily done, whether for a quick Euro turn, or to save the rear derailleur from a granite death blow.
Setup
Shortly after receiving the Torque CF9, I set up the Kashima-adorned Fox 38 Factory fork to my preferred settings. I immediately added another volume spacer and set the air pressure higher than factory recommendations. In my experience, Fox recommends slightly lower fork pressures than what I find comfortable. On the steep terrain I often ride, forks can wallow in the mid-stroke, pitching one's body position too far forward, particularly if you're riding the brakes too much (which I likely am - hey, I'm working on it!). Backseat driving ensues, losing proper weight distribution of the front end. Higher air pressure obviously keeps the 38 sitting higher in its travel. Counter-intuitively, adding air pressure helps small-bump performance. Initial stroke provides supple traction on slippery roots and rocks, vs. living in the mid-stroke, and encourages a more forward body position, leaving the proper stroke range of the 38 to eat bigger impacts.
Setting up the Float X2 Factory shock was fairly straightforward - kind of. I ran Canyon's recommended 30% sag, and used the Fox tuning guide to understand what range I should be in for compression and rebound values. The rear end felt active, full of gooey traction, and moderately easy to get off the ground - for a long bike. Faffing around in the parking lot a few weeks after initial rides, local trail boss Steve Vanderhoek asked to take a bounce around on the Torque. His humble suggestion was to increase the rebound speed on both the fork and shock. I listened, and opened up HSR by a click on each end, and LSR 2-3 clicks each. One would assume Steve's suspension setup is gooey, slow, and oversprung for his giant sends, but that's far from reality. He runs his rebound fairly quick. Allowing the suspension to recover quickly from small/medium impacts creates high traction, so long as you're actively aware of it, and not getting bucked. My brain adjusted to the faster rebound speeds in the first hundred metres of trail, and I've left them there ever since.
Rider weight: 205lb/95kg
Suspension Settings (from fully closed)
Fox 38: 110PSI, 3 Volume Tokens
Fox X2: 180PSI
LSR: 13
HSR: 3
LSC: 10
HSC: 1
Any other setup changes were minimal. I installed Tannus Armour tire inserts shortly after time of delivery, to give the tires more support under low pressures. Once the Maxxis DHR2 Double Down Maxxterra was beginning to shed side knobs in the back, I installed a pair of Specialized Butcher T9 Grid Gravity tires. These took the front end stability to the next level, holding their line while leaned over through chunder. Compared to the stock front tire, a Maxxis Assegai Maxxgrip Exo+, the Gravity casing of the Butcher T9 tracks far better for someone of my weight, and turns the Torque into a damn freight train.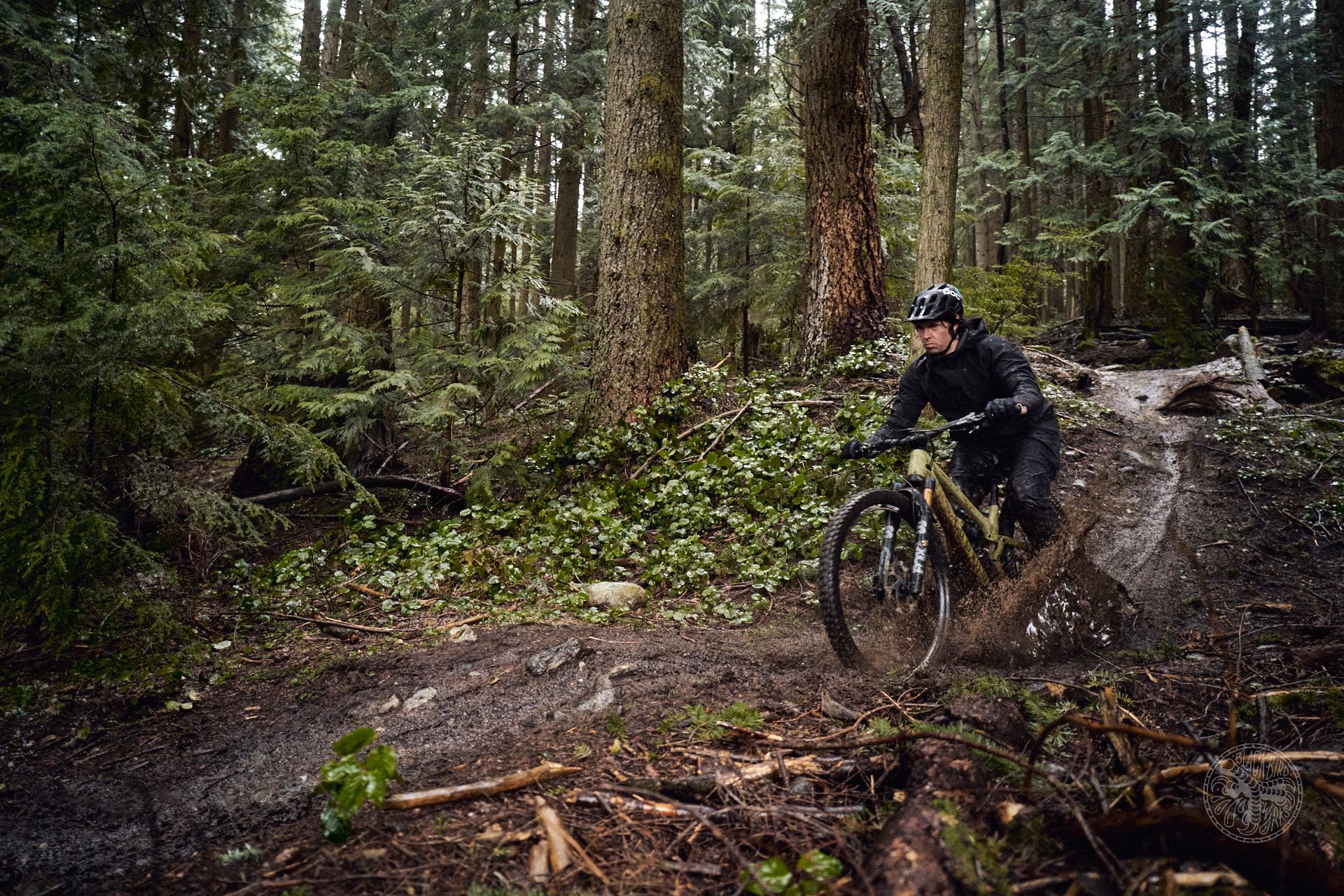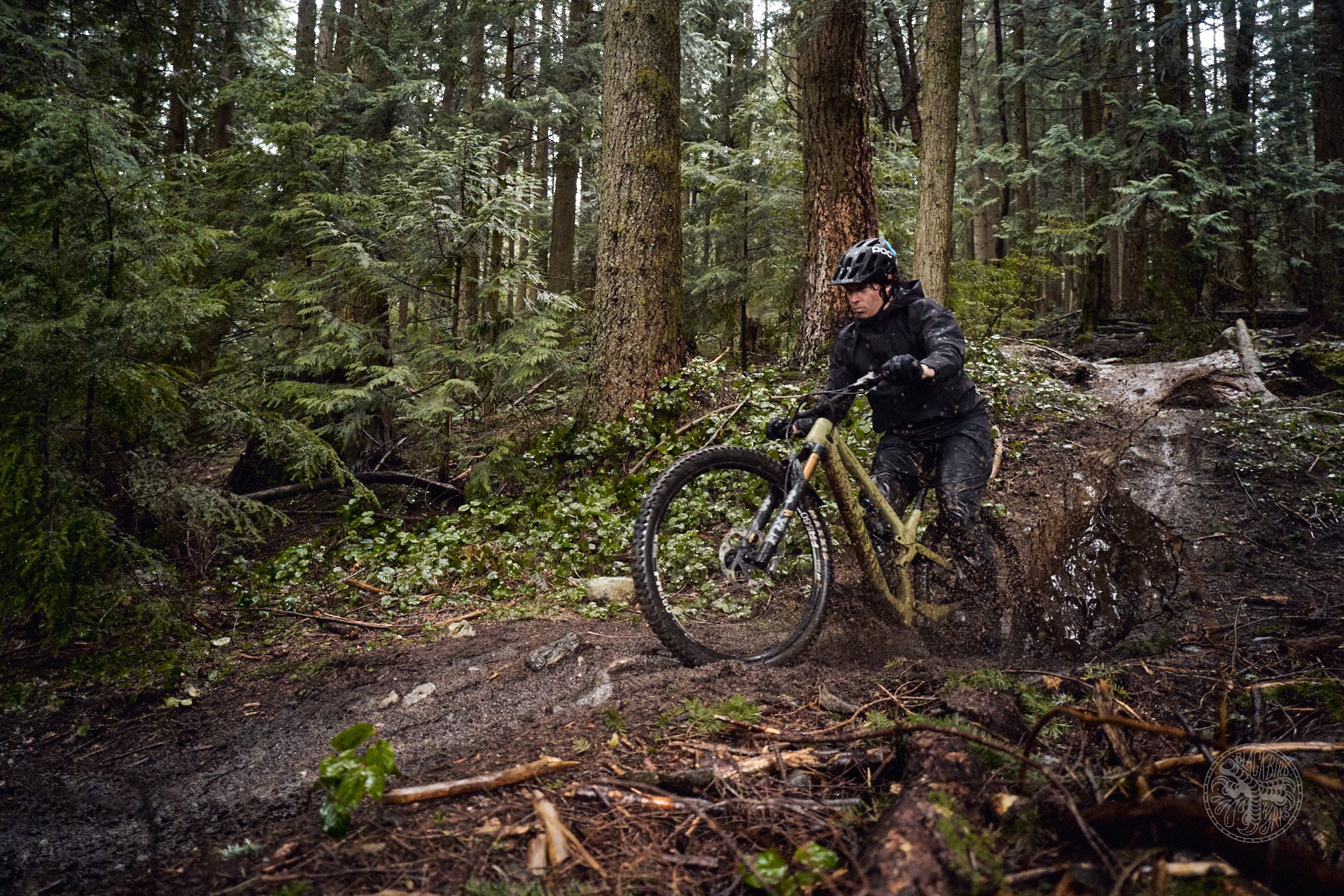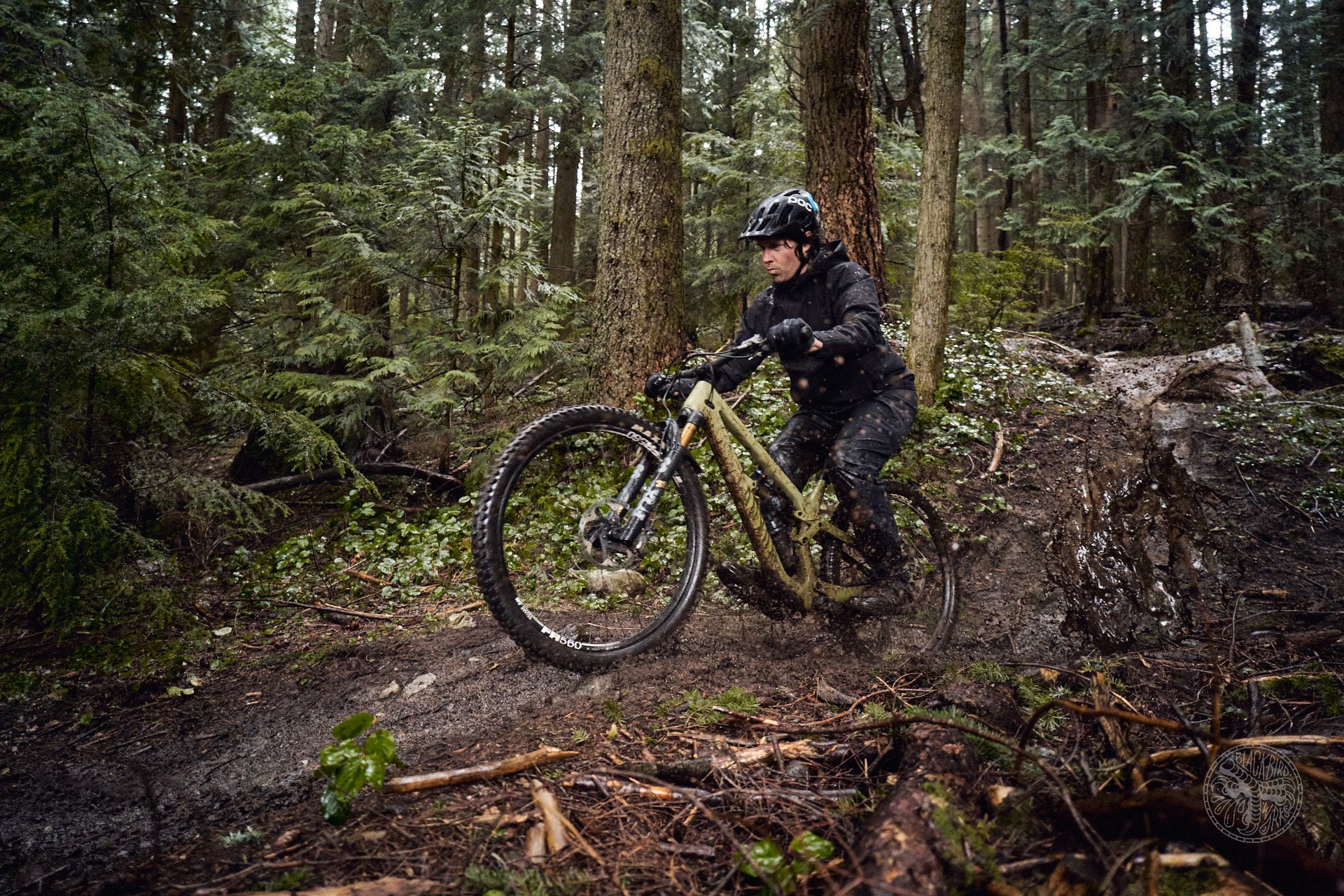 Climbing
I've billed the Torque as long-legged, and it certainly is, with a whopping 175mm travel. Though the CF9 carries 15mm more travel than my personal ride (a 160mm travel Rocky Mountain Altitude), I expected it to feel somewhat spongy and inefficient on climbs and over flat terrain. Luckily, Canyon has transposed a sprightly ride feel into their bike park/freeride rig. Canyon's Triple Phase suspension platform's anti-squat values sit slightly under 100% at the recommended 30% sag point, mitigating wallowing/extending deep into the travel. The 1282mm wheelbase of the size L is apparent during janky climbs, but blends well with the 77.5° seat angle, keeping the front end under control, and the pedalling position very comfortable. The Maxxis Assegai/DHR2 tire combo is an NSMB favourite, providing high traction on nearly everything you can spin up.
One particular ride was out of my regular realm - in the sense that we weren't: a) comfortably shuttling to the top of the mountain, or b) winching to the top of a long descent via fire road or climb trail. Ironing out the details the evening before the ride, the route proposed by a (very fit) hardtail-wielding friend: a 50/50 mix of relatively short 200m vertical climbs and descents. I balked initially, trying to justify why I shouldn't be on this type of ride, with this stature of bike. I relented, and huffed up the shorter, technical climbs leading into familiar down pitches, manically switching in and out of climb mode on the Fox X2 shock. The Torque is certainly less exasperated on climbs than I am. In one instance, I forgot to close the Fox X2's climb lever for the up, but was thankful for the added grip as I rolled through roots, soft dirt, and off-camber wet rock. Sure, the Torque can handle these rides, though I'd not recommend seeking them out, unless you need some serious interval training.
Descending
Nearly everyone is sick and tired of hearing about geometry wars, but the numbers of the large-sized Torque CF9 are extraordinarily progressive. An enduro race bike the Torque is not. It's a freeride/bike park bike. Regardless of labels, the Torque's long wheelbase and slack head angle demand a minimum operating speed and aggressive stance to really bring it alive. I found steep chutes leading into compressive, boulder-filled runouts are swallowed up shockingly easily. More so when I'm looking past the jank to a clear braking island, and grabbing the binders there. This style obviously lets the suspension work in an uninhibited fashion, not diving or squatting from braking forces. I can genuinely say that my overall riding speed has increased because of this realization. The Torque pushes me into going faster for a better sense of control, and has stability in spades to back it up. Under braking, the Triple Phase suspension layout stays very active. The chainstays are reasonably short at 440mm. Precisely planting the rear wheel is easily done, whether for a quick Euro turn, or to save the rear derailleur from a granite death blow.
The Triple Phase suspension (a 4-bar Horst link) rear end is smooth, all the way through its vast 175mm travel. I never once thought to add an extra volume spacer to the Fox Float X2 factory shock, a harsh bottom out has yet to happen. Again, with a proper minimum speed, you can pop off lips and catch transitions, lily-padding along the way. Or, push through holes to keep accelerating. The Torque does both with ease, but who doesn't want to try to fly?
Intially, I wanted to try a coil shock on this bike, though I feel like the playful pop would be slightly compromised. Maybe I'll need to steal Mike Wallace's Torque CF8 in the mullet configuration for a weekend to confirm.
Build Notes
The Torque frame is stout and light. Friends playing shuttle valet commented on the light weight of the bike, even with tire inserts and a full water bottle. The X2 air certainly plays into that equation, seeing as lifting a concurrent tester Torque CF8 (with DHX2 coil) is noticeably heavier. The paint has held up well, enduring countless grimy days, followed by the hose. There's nary a crevice for dirt to take residence, so cleaning is easy. Molded rubber bits on the chainstay and seatstay, and BB junction keep the bike very quiet.
Fox 38 Factory fork and Factory X2 Float shock are without compromise, damper adjustments galore. The possibility of changing the bike's ride feel drastically can be achieved easily, with a shock pump, some volume spacers and twisting of dials. The Fox 38 fork is one I'm intensely familiar with, very plush, but supportive through its travel. It's absolutely saved my ass. On a particular high rock line bump on a right hander, I usually pull early, catching the backside of the transitioned rock. Being in the front of the very fast guy pack, I sailed well past the landing, nose heavy - expecting a potential season-ending bail. The 38 handled it like a champ, letting me ride like an idiot for the rest of the trail, adrenaline spiking from what I just got away with.
The cockpit and contact points are clean, with Canyon G5-branded bar, stem, grips, and 200mm dropper post. With a reduced clamp diameter, I was hoping the bar wouldn't feel particularly harsh, but it does. The stem also has its own proprietary shaped spacers, but I suspect a normal spacer would work fine in a pinch. I'm glad Canyon decided on a 200mm dropper post with a tool-free travel adjustment, in the event you'd want less drop. Unscrew the collar, move the step shims to desired travel, thread it back on, done. The Fizik Alpaca saddle works for me, decidedly not an ass hatchet.
The DT Swiss 560 rims on 240 hubs with J-bend spokes are the strongest alloy wheels I've ever ridden. The spokes still hold reasonable tension after countless battles, and the hoops are more or less straight as an arrow. A singular small dent in the rear rim happened from a lame gap casing with low tire pressure. The 240 hubs spin buttery smooth, the star ratchets received a light greasing recently after a quick inspection. Unreal wheels.
Shimano XTR Trail 4-piston brakes are incredibly strong. The Torque shipped with resin pads, and I can't forgive that. The dead, woody feeling of resin isn't confidence inspiring at all, and I replaced them after one ride with proper sintered pads. Faith restored. I didn't feel the need to immediately source a 220mm rotor either - there's plenty of modulation and power with 203mm RT86 rotors, even for this heavier guy.
The XTR drivetrain is very smooth, as it should be. Unfortunately, a Deore 6100 chain seems to cut the life of smooth shifting in half, compared to an XT or XTR chain (which should live on the Torque from the get go). The 32t Shimano-specific Race Face chainring is also completely roached from the short-lived chain. I know many riders who successfully run a top-tier chain on lesser cassettes/derailleurs/rings, to maximize drivetrain life. I'd like to see a better chain choice. For a week or so, I was dropping chains often - only to notice the B tension on the XTR RD had completely backed off. Once adjusted properly, the chain stayed on fine.
Final Words
The Torque is Canyon's fun bike, built for days jumping around in the bike park, shuttle rallying steep gnar, or pedalling to the top of your favourite descent. It could even tackle an enduro race, if stages lacked lengthy pedal bits. It's not the most efficient bike, nor does it aim to be. Akin to a big-mountain ski, it needs to get to its requisite minimum operating speed, where it'll truly come alive. Only then will it tell you to pull for the gap you're scared of, and slap that berm faster than you ever have. I've thrown a leg over the Torque many more times recently than my personal bike. I've gained new confidence in riding faster than I ever have, my riding partners assure me of that.
I can't recall a bike in recent memory that's handled the constant abuse of a muddy winter, with minimal servicing and consumable (brake pads, tires, grips) replacement. Out of the box, one would be wise to trade the resin brake pads for sintered, and ditch the Deore chain for XT or XTR. At 7,849 CAD, Canyon's top-tier direct to consumer model offers a build which would cost upward of $2k+ more at a brick and mortar store. A relationship with a bike store can be virtuous if any build/warranty issues potentially rear their head, but Canyon is committed to ironing out adversities should they arise, albeit remotely.
The new Torque range is vast, with a slew of wheel size options: 27.5", mullet, and 29". Budget-friendly alloy models start at 3,799 CAD, while high-end carbon tops out at $7,849. Mullet versions are offered in carbon only, starting at $6,349.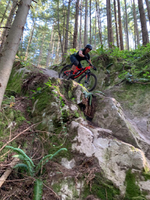 Graham Driedger
Age - 35
Height - 182cm/6ft
Weight - 92kg/205lb
Ape Index - 1.035
Inseam - 32"/81cm
Trail I've been stoked on lately - Pleasure Trail, Lower Digger
Bar Width - 780-800mm
Preferred Reach - 470-500mm