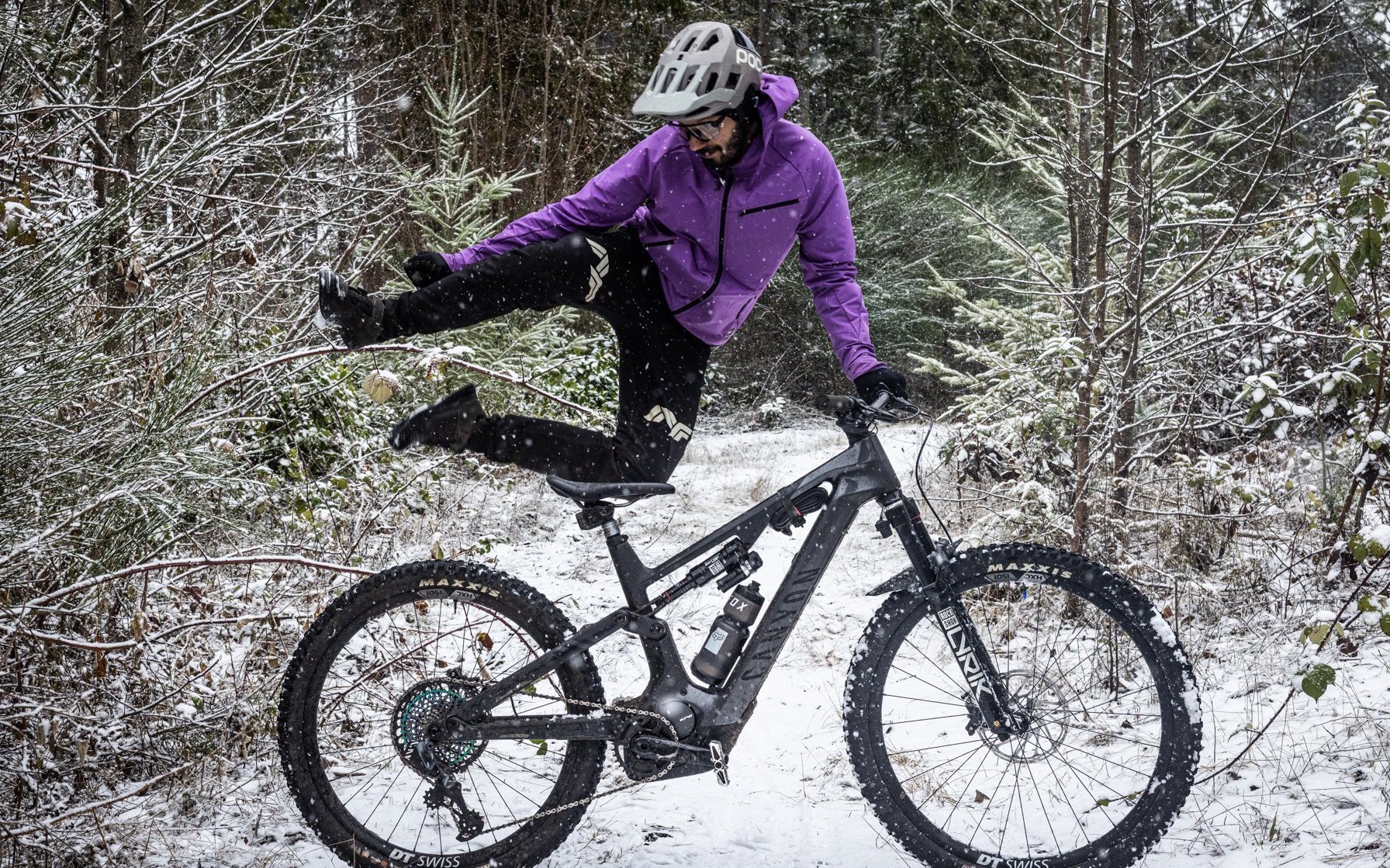 Review
Canyon Spectral:ON CFR LTD eMTB
Canyon Spectral:ON CFR LTD
There are a few decisions in life that I've made that led me here. Some good, some not, but none more important than the fact that Canyon's New spectral:ON CFR LTD is an extremely pricy eMTB that I won't be able to afford. Currently the Spectral:ON family is not available in Canada. In USA it is available as the CFR version but without the Rockshox Flight Attendant equipped LTD. The Flight Attendant system is unique and complex enough that we featured it on it's own HERE.
The price of this bike as it sits is 11,000 EUR or 16,000 CAD right now. Take a moment, scream into your pillow, take a chill pill and come back to this review after your knee jerk instinct to yell at me about this has subsided.
If a direct-to-consumer brand like Canyon has to charge this kind of money for this, I'd love to see one on the shop floor price from other brands just to have a good chuckle.
So what does 16,000 CAD get you?
What You Get
A heck of a lot of blinking, carbon-weaving, electron-spitting goodness. If you picked the equivalent at a car dealership and checked every option on your spec sheet, this is what you'd get. With that kind of perspective, let's see if this powerhouse of an eMTB is worthy of roaming the North Shore.
The Spectral:ON is a 155mm rear wheel travel, full carbon, mixed wheel, hybrid, mullet trail bike. The 29" DT SWISS HXC 1501 carbon front wheel sits between the legs of a 150mm RockShox Lyrik Ultimate Flight Attendant, wearing 2.5" Maxxis Assegai Exo MaxxTerra, the rear 27.5" wheel sits between one of the burliest rear triangles I've ever seen draped in 2.6" wide Maxxis DHR II MaxxTerra EXO+.
The 4-Bar, Horst Link suspension layout puts the rear link above and in front of the rear axle. The main pivot sits slightly behind and well above the bottom bracket.
The plush ride this setup provides can not be overstated. With a Shimano EP8 motor nestled between the cranks, there is no need for pedalling efficiency in the traditional sense and very little reason to worry about anti squat values.
For a 5'9"(175cm) rider, the Medium frame has a very familiar fit. The 460mm reach and 440mm rear centre are both within millimeters of my pedal bike and this feels like home. The Spectral:ON has a tall stack for a bike in this travel range at 643mm with a 125 mm head tube, puts the rider in a very upright position. Sitting beside a 170mm-forked Orbea Rallon, the one-piece bars sit an inch taller on the Canyon. Fortunately, I like tall, stack bikes on the terrain we tend to ride on the North Shore.
TheFlight Attendant-equipped Rockshox suspension took a few extra steps to set up and dial in, but the plush feeling under the mass of the Spectral:ON was evident right off the bat.
The Canyon Spectral:ON was shipped to me from Germany directly. From the moment I received the shipping notification to the moment the bike showed up at my door was less than a week. If you are ordering a bike for yourself from Canyon, this is great news. The timing was important. BCBR Mega Volt was in a few days and I was gone for over a month on the road afterwards. Shipping bikes that have big batteries in them is tricky and Canyon shipped the bike without a battery and the US headquarters were to ship the 900Wh battery separately. As it turns out, you can't just pack up and ship a massive Li-ion battery across the border and the plans to race the Spectral at Mega Volt came crashing down. Which brings up the issue of travelling with an eMTB. The safety regulations behind high capacity batteries are no joke and no airline is going to let you board.
I am always a little nervous when big ebike batteries are charging around the house. I don't see any reason for this Canyon to go up in flames, but one has to be careful with the health of the electronics on their bikes.
Terrain
Then I started thinking where and when I would ride the Spectral. With no conflicts in schedule to carve out a time to ride, I started to look at Cam and Trevor for ideas to utilize the Canyon. I had been missing out riding with the boys on a few occasions where they would jump on their big battery bikes and ride all day until they drained the last electrons from their bikes. They would climb into the alpine where it would take half a day to get to for bare-legged pedaling. The FOMO can be a terrible drug and I felt it right in my chest.
Doing multiple laps on hard to reach trails also had a strong appeal with this much power on tap. Skyrocketing gas prices and environmentally consciousness hitting a peak made me think I could live on this bike and put thousands of kilometers on the clock by riding it everywhere. There was another problem however: this German bike that supposedly came from an advanced civilization, had a 25km/h speed limit.* On the trails this wasn't a deal breaker but on the road, commuting and heading to the trails, it was unbearably slow. Watching Cam and Trevor pull away at 32km/h broke my heart and killed my spirit. What good was an ebike if I couldn't even take it up to 32km/h? I just rode my gravel bike to work instead.
*EU regulations limit ebikes to 25 km/h and they take this very seriously
Not being able to find a source to hack my Euro klunker to bring it to Canadian road speed standards has been a major buzzkill and limited my riding. But the odometer says 900+ km and I have a good idea how that 900km went on the most expensive Canyon you can buy.
I like 27.5" rear wheel bikes. They are fun and satisfying to corner with and in the steeps, they stay clear of your butt. What I don't love is when the trails are flatter but still chunky, I need to keep pedaling to maintain speed. On a powered bike, this is far less of an issue. The Canyon's smaller rear wheel suits its intentions. The 2.6" Maxxis DHR II loves clawing its way up through technical trails. 440mm chainstays are not extreme but they create an ultra stable platform on the size medium chassis. The smaller rear wheel initiates its arcs a smidgen wider than the 29" front wheel and settles into a slowmo worthy oversteer just about whenever you want. The relatively light weight of the bike amongst its peers makes it one of the most playful eMTBs I've thrown a leg over.
This playfulness can trigger confidence in terrain where quick direction changes are necessary. Combined with a faster rebound, the Canyon loads into the suspension very well during a scandi flick and a quick left-right-left
With a heavier bike underneath, the centre of gravity drops a few inches and the bike starts to dance on the singletrack. Flat pedals are happy on the Canyon and there is no fear of bouncing around and off the pointy pins. Not every suspension platform caters to flat pedals this well. I switched between Oneup Composite Flats and Crankbrothers Mallet E Pedals frequently during the testing period and enjoyed the ride characteristics equally.
The bottom bracket sits at a ground-scraping 320mm on the Canyon. That's all fine and dandy if the BB shell was the lowest point on the bike. Unfortunately, there are 2 more inches of motor and cover below the BB that makes the Canyon a tough bike to pedal over rough stuff. That kind of BB height numbers will mess with your head on breakover angle moves. Not wanting to high centre on the plastic motor cover, I used the quick burst of power from the Shimano EP8 to wheelie drop just about everything. 165mm cranks are still on the longer side and on a low bb eMTB like this, 155mm cranks would be appreciated.
E-Motoring
The Shimano motor engages quickly, and delivers power very smoothly. There were no unexpected surges of power when wheelie-ing the bike and the delivery of energy seemed very organic for lack of abetter term. The assist levels available with the EP8 could be broader. ECO mode has plenty of power and pretty much equalizes your output to a competitive XC rider, which is a lot. I'd get the E-tube app and reduce the power of ECO mode slightly. Trail mode, which I ended up using the most, has almost as much power as BOOST but in shorter spurts. Again, I'd like a little less power from the trail mode but longer duration of power when I am off the pedals. The BOOST mode is the most output you can get and is plenty powerful with the 27.5" rear wheel. On wide open forest service roads and singletrack it's amazing, but as soon as things get tight and twisty, you better be ready to grab a handful of brake riding uphill. Learning new skills has been the most fun part of riding full-powered eMTBs.
The motor is not without its flaws and I found out the biggest one on my first outing. During a deep water crossing (deep enough to submerge the axles) the electricity went out and I was left standing in knee deep glacial water watching my buddy with his Bosch-powered bike pedal away. Luckily it was still summer, so we dismantled as much as we could with the tools at hand to find the short. The motor itself is sealed well enough and I knew the problem was somewhere between the battery and the motor, but 20 kms away from home with minimal tools was not the place to figure it out. We did what every person with a heathy, problem-solving mind would do and engaged in some psychedelics and pulled out the spare tube to use as a tow rope. With a dead battery, the Canyon pedaled better than I expected. I've always liked the EP8's drag-free nature leaving you with only the weight of the bike to deal with.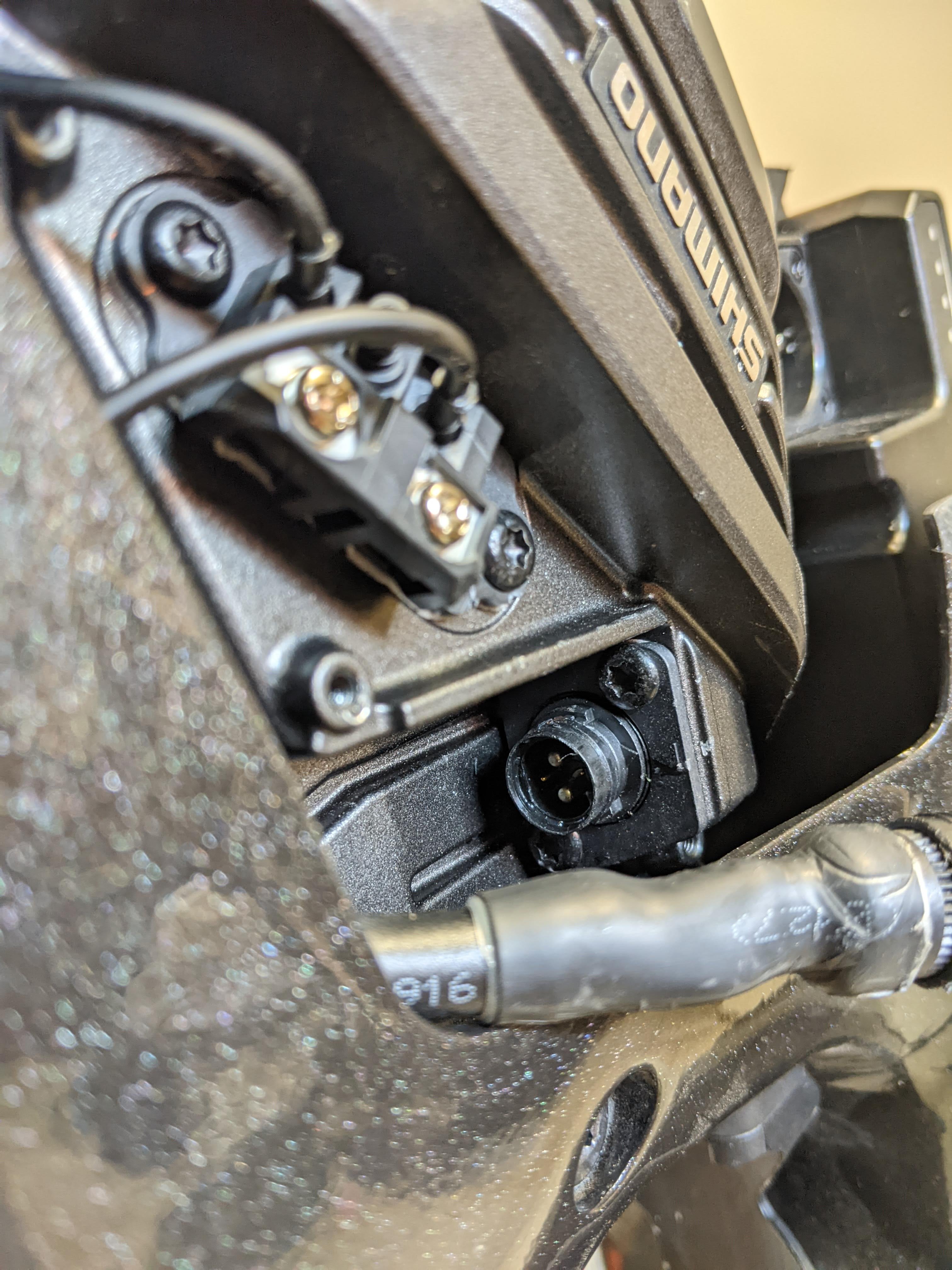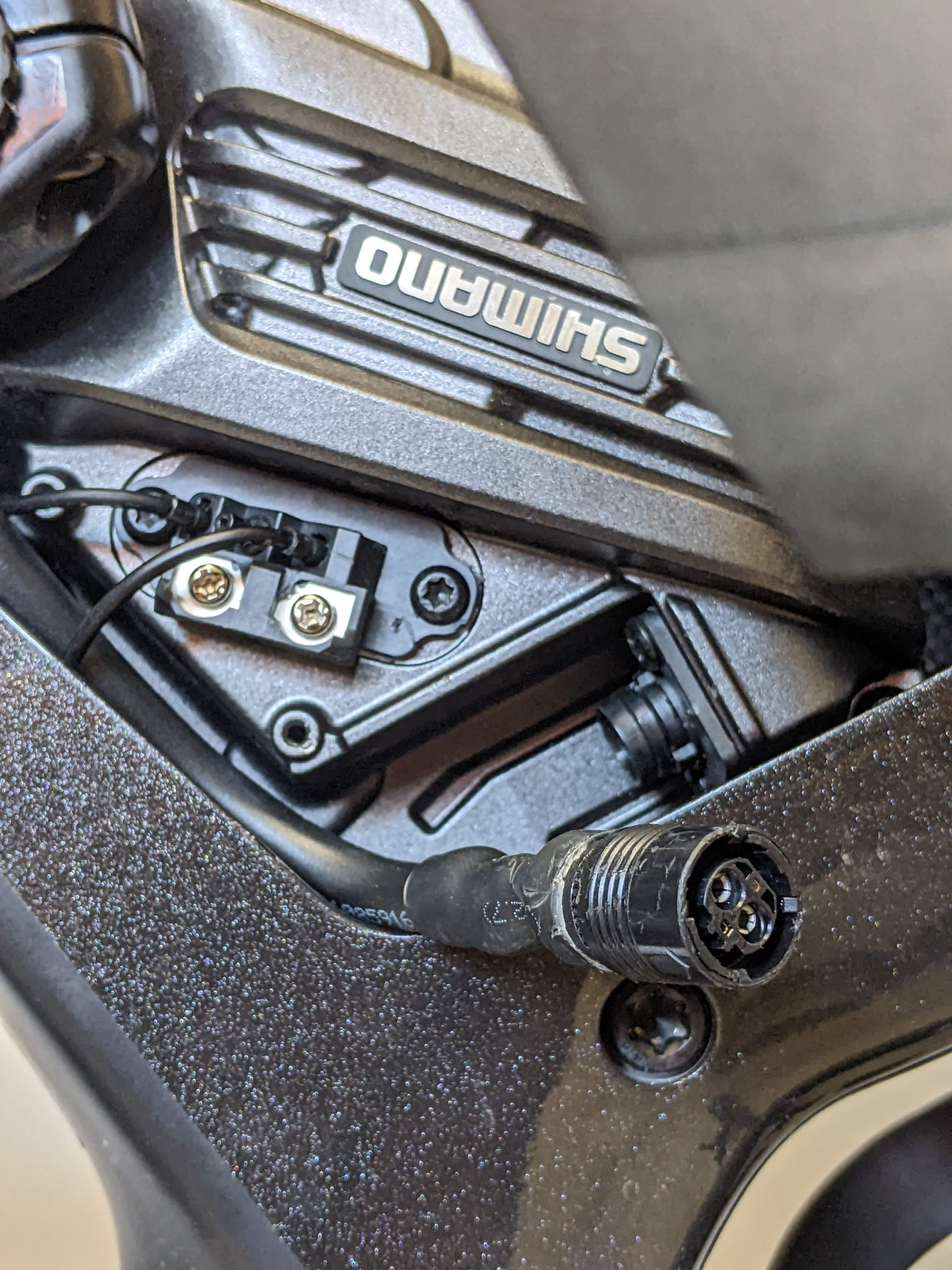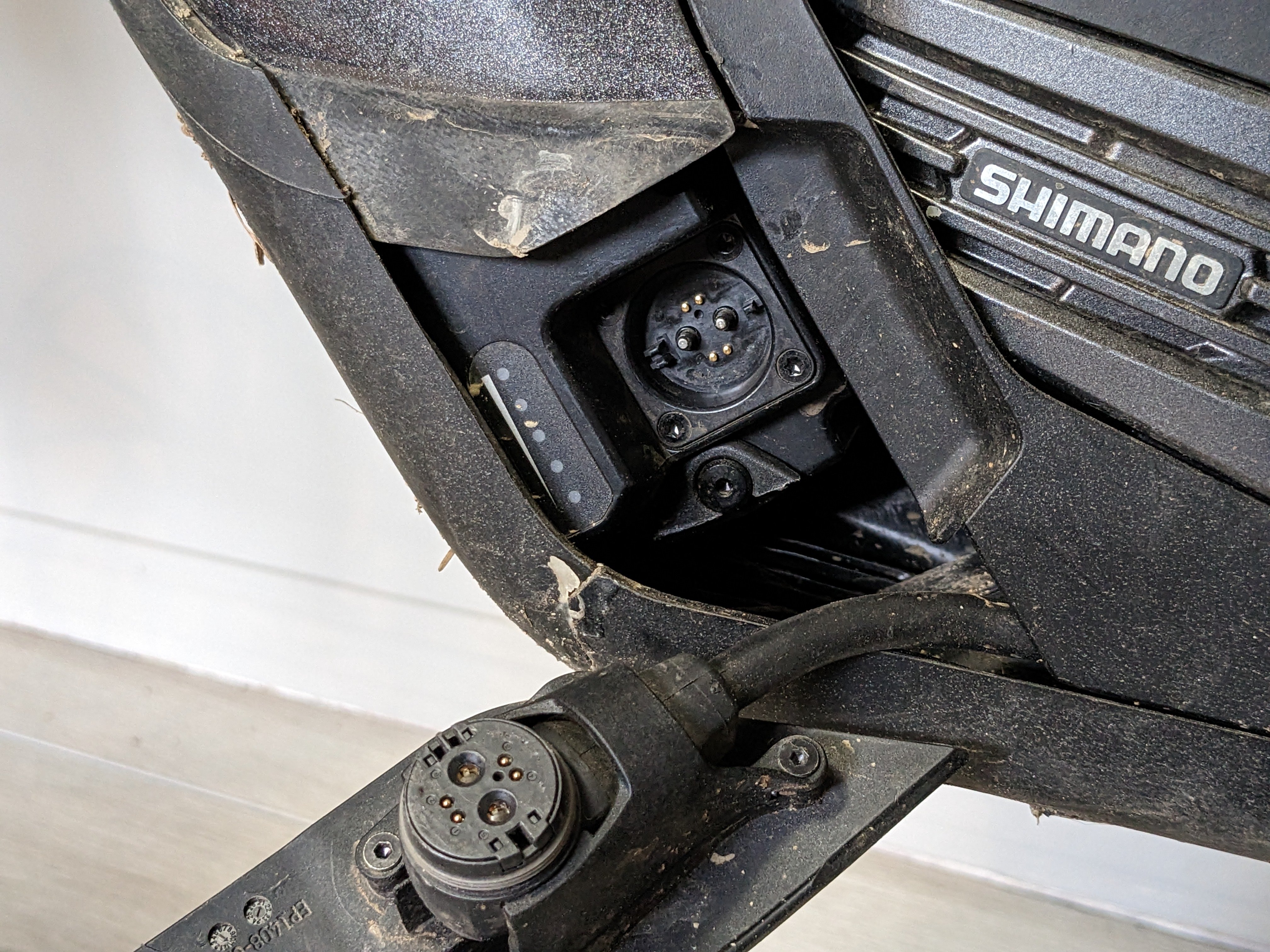 At home, more ports came undone and the problem was the connector on the cable that mates the charge port to the motor. The Shimano engineers decided that adding a separate charging port to eBike systems is silly talk and decided to come up with a magnetized plug to connect to the motor, or the charger to the battery. The motor is never connected to any power source if the battery is charging. When you are done charging, you simply connect the motor to the charge port and you are off to the races.
As sound as it seems on paper, the idea does not work well in practice. First of all, the cable that connects the battery to the motor has a multi-pin connector on the motor side that takes some horrendous routing before it clicks in. The routing creates tension on the connector and allows for water to get in on deep submersions, killing the motor mid stream. I imagine this design decision was made to allow for multiple frame designs and shapes to work with the EP8 by allowing the cable to be routed however the bike manufacturer wants. I really would have liked a hard-wired connection or a better type of plug. Shimano has a way to go before they figure out solid electrical connections. A bit of a missed mark I have to say.
The magnetized end of the cable has a cover that matches the contour of the full carbon Spectral. The magnet port is the same one on Norco eMTBs but for some reason, I could not get a charge going with Cam's charger even though it mated perfectly to the Canyon's battery. I blame the software in the battery for this. So just because the plug fits, doesn't mean you will not get a charge going. I didn't appreciate this at the time when I was far from home with a dead battery but I understand the implications of wrong voltage charging in this day and age. Nobody wants a swelling 900Wh battery in their home ready to spit fire. Always use the correct, undamaged charger.
Mitigating damage from rough riding is a tough one to negotiate around here. With a million opportunities to wreck yourself and your bike, the Canyon took some damage on its 900km journey. The first blow was to the motor cover skid plate. The lowest hanging part on the bike being made out of hard plastic is great for weight savings but not for bouncing off rocks and logs. An aluminum bash guard would be a better choice.
The 150mm Lyrik has been trouble-free for the most part. Inflated to 80 psi, it suited the agile nature of the Canyon well for the first few months. You can read about my detailed look into the Flight Attendant system here. When the Lyrik decided not to hold its oil and control its rebound after a few Whistler Bike Park laps, SRAM rebuilt it with a 160mm airshaft. This was a welcome change in many ways. I asked if 170 was possible, but I was told to chill and learn to like the 160. With 10 more milimeters up front, I had to up my air pressure to 95psi. With slightly higher BB numbers and a slacker head angle, the Canyon was ready to do silly things on the North Shore.
With a single glance, there are lot of glaring issues that will trigger the most liberal mountain bike commenter on the Canyon. From the one-piece bar stem combo to the headset-routed brake cables, there is much to pick on. Some rightfully and some rather unfairly. I didn't love the angles on the one piece bar all that much. No matter what I did, I found my hands sliding inboard every ride. I moved my levers around, angling them flat and then less so, but no matter what I did, I didn't get along with the shape as much as I did on the Bontrager RSL bars. The grips were decent and the Code RSC brakes were powerful enough to stop the big heavy bike on the steeper trails. I ran MTX Gold pads exclusively during the test period. 203mm Centerline rotors did an excellent job dissipating heat and maintaining consistency as well.
The Canyon:ON really came in handy on trail building days, saving valuable hours of walking with heavy tools. I filled my pack with a chainsaw and a day's worth of supplies and climbed my way up to the trails right from the house, did whatever building necessary and partied down just as efficiently. The Canyon was put to work for enjoyment, photo work and trail building during its time with me.
The fancy carbon DT Swiss HXC 1501 Carbon rear wheel somehow de-tensioned its spokes around the 700 km mark. I've never seen a carbon wheel do that before and surely didn't expect it from part of a $3,000 DT wheelset. The spirited riding and general abuse must have done the spokes in. There were no lost spokes or as much a wobble in the rim. A quick re-tensioning and everything was good again. It was quite strange for this to happen on these extremely expensive wheels.
The pivot hardware did not loosen any more than 1/16th of a turn during the test period. That's a great track record for a bike that comes pretty much fully built out of the box. Speaking of the box, it was a beast of monumental proportions with extremely well thought out packaging to survive the most careless UPS drivers. For a bike with 4 AXS batteries, it came with 3 chargers and a user's manual thick enough to use as a wheel chock. A decent torque wrench came included with the bike, like all Canyons we have tested, along with a bag of goodies for the home mechanic to put the bike together. I applaud that.
Final Thoughts
The Canyon Spectral:ON CFR LTD is a tech wiz eMTB without a doubt. It is not made for the regular oe who just wants to hop on and do some quick laps to beat nightfall. There is prep that needs to be done with all the batteries begging for attention and the occasional tear down to see if anything has come loose. But Canyon has nailed what they wanted to achieve with the frame design with a low-profile, high-capacity battery on a low CG bike, it is as playful and fun as a North Shore worthy eMTB could get.
Are there things I would do differently? Heck yes. I'd love to see a BOSCH CX RACE motor on this platform as I prefer the on-trail behaviour of the Bosch system. The power delivery and duration allows for a more aggressive climbing experience. Maybe shy away from the Flight Attendant as it doesn't seem to do anything good for the ride on this bike. It's a good thing the regular Spectral:ON CFR exists.
I love the idea of the slim battery and mixed wheel frame. With a longer fork and better fitting handlebar and stem combo, we would have a winner of a bike to ride on the North Shore and beyond.
Remember, the rider on that eMTB could be heading up into the forest to build a trail that you'll eventually poach. Respect all those who ride bikes in the forest except for the assholes who blast their playlist for everyone to hear while tailgating you up the single track climber. Do not be that guy or gal.

Deniz Merdano
5'8"
162lbs
Playful, lively riding style
Photographer and Story Teller
Lenticular Aesthetician