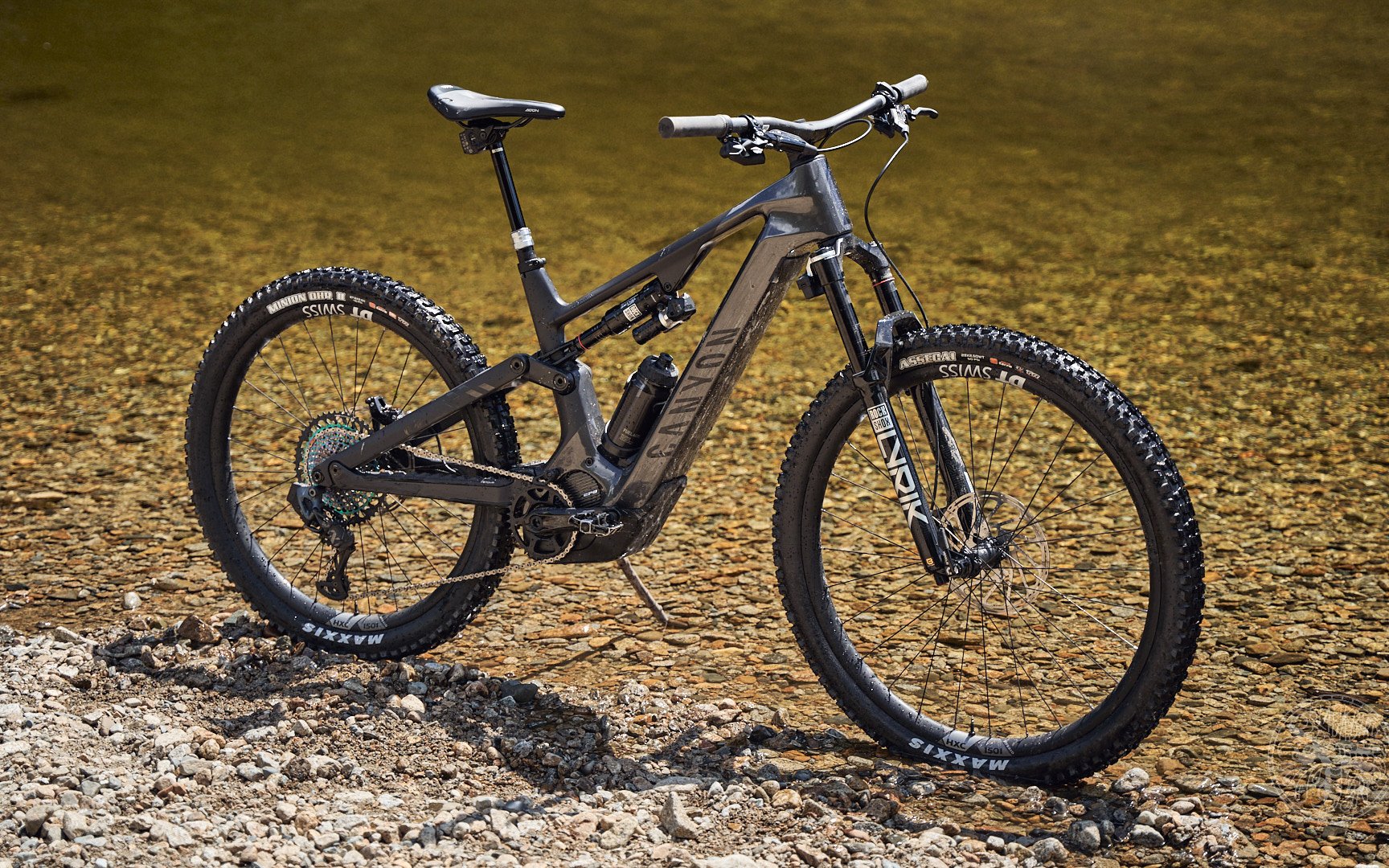 First Impressions Review
Canyon Spectral:ON
Canyon Spectral:ON CFR LTD
No good love story has a smooth start. That's what makes them good. Persevering to get through the hardship together. And you can only get over life's obstacles together. Generally though, it's so hard just to be together in a damned house, you'll end up splitting after a nasty divorce. The love fades away and leaves a massive gulf between the lovers.
Oh, just look at me ramblin' on again. But not without a reason. I'm really talking about the opportunity to start a healthy relationship with Canyon's newest engineering marvel, the Spectral:ON CFR LTD. Thankfully this story doesn't go too far back. During Sea Otter 2022, something really cool caught my eye. A printed Titanium, Lugged, Carbon-tubed E-bike frame mule stared at us with its grotesque silhouette, in the sexiest way possible.
Canyon Spectral:ON CFR LTD Highlights
New thinner battery in either 720 or 900Wh
48 lbs (21.8 kg)
8 batteries (4 for AXS post, derailleur and controllers, 3 for RockShox Flight Attendant, and the main battery)
New carbon layup for more strength and lighter weight
150mm front travel and 155 rear travel
Mullet - 29" wheel up front and 27" in the rear
Shimano EP8 motor
Meets "Category 4E" strength and impact resistance testing standards
Priced from 6,000 USD to 10,500 USD
I tugged on Pete's pants while he was being distracted by the friendliest of Vernons (Felton) and told him "we need to get one of these to test." His devilish smile made it clear he was 2 steps ahead of me. The arrangements would be made and a test unit would show up at NSMB headquarters sometime after Sea Otter. I kinda wished it was the Frankenstein mule, but I knew that was mere science fiction. Instead a head-to-toe carbon-dripping superbike showed up. How the hell did they get from Frankenstein to Heidi Klum so fast? That's some clever German engineering.
Canyon did a lot of homework before releasing the new Spectral:ON to the market. They had to do even more homework to get the CFR LTD to the people. The all new Spectral:ON has quite a bit of engineering behind it to make it an obvious upgrade over the previous version.
The CFR models have an all new frame and a carbon layup that increases strength and reduces weight. The frame is full carbon apart from the shock yoke. There have been a few simplifications done to the overall design of the bike that shed quite a bit of weight. The new Spectral:ON comes with either 720Wh or 900Wh batteries. I ended up with the 900Wh version. Currently you can only buy the bike with the 720Wh battery but the 900 option is on the way later this year. I couldn't fathom having range anxiety while both Cam and Hansen are running around loose in their 900Wh Norcos.
Luckily for me however, the Canyon Spectral:ON CFT LTD only weighs 22kg (48.5lbs). That is 8-10 pounds lighter than their Norco VLT machines. This lack of mass has both good and questionable consequences to the ride quality. Canyon set out to make the lightest, full power eMTB in the market. How did they do it?
The Battery
the new Spectral:ON with its 720Wh or 900Wh battery, is a part of a new breed of E-MTBs that aim to kill range anxiety. Wether it is going longer between charges or going further from home, 900Wh of power comes at a cost. The size of the battery is the elephant in the room, coming in at nearly half a meter long and 4,756 g in weight. Figuring out best way to conceal such energy can't have been easy. Canyon worked with TrendPower, a Shimano-approved and supported battery manufacturer, to ensure that the form factor worked with the design principles of the frame. The wild-looking Frankenstein test mule supported the big battery underneath its belly, and this idea made it to production.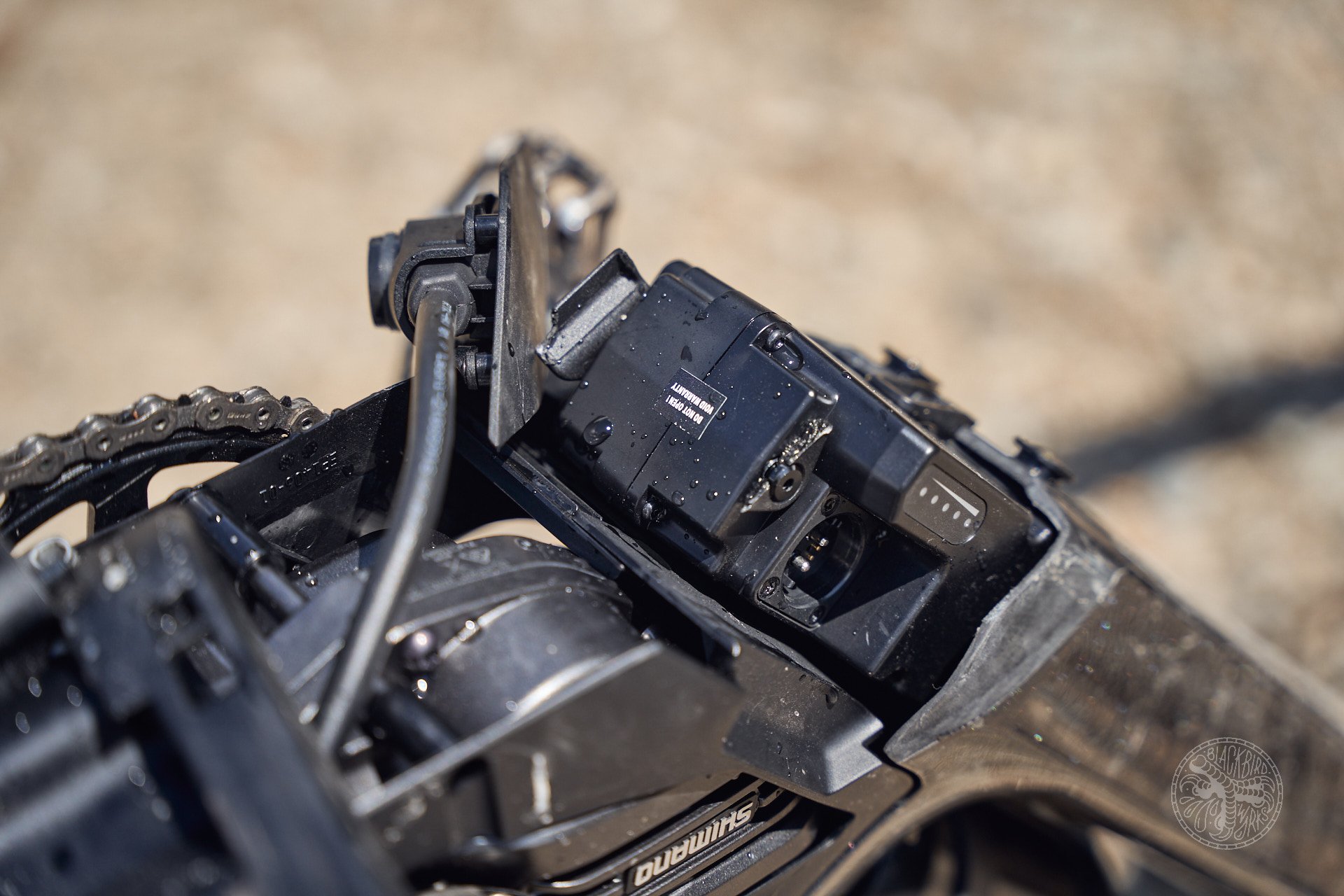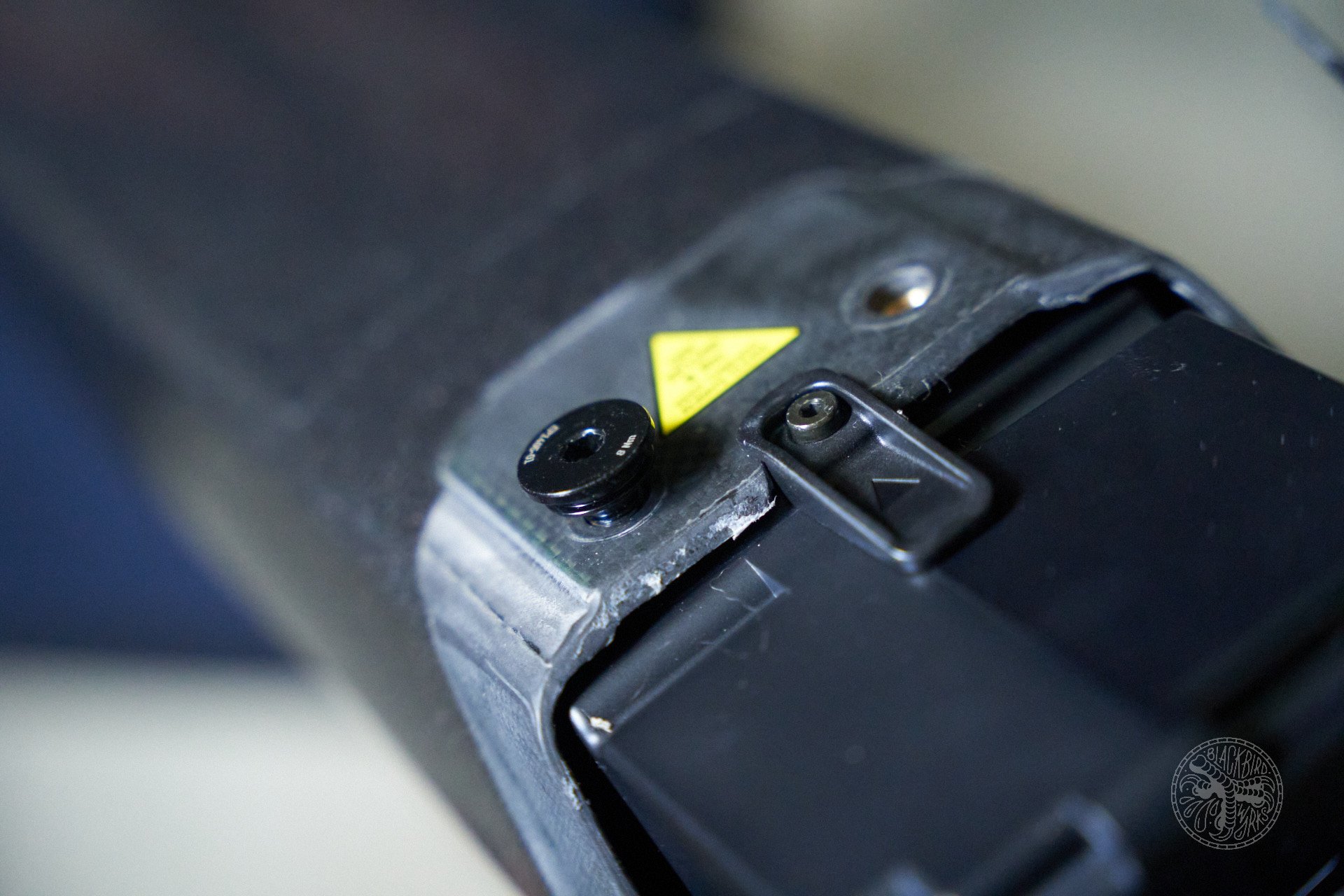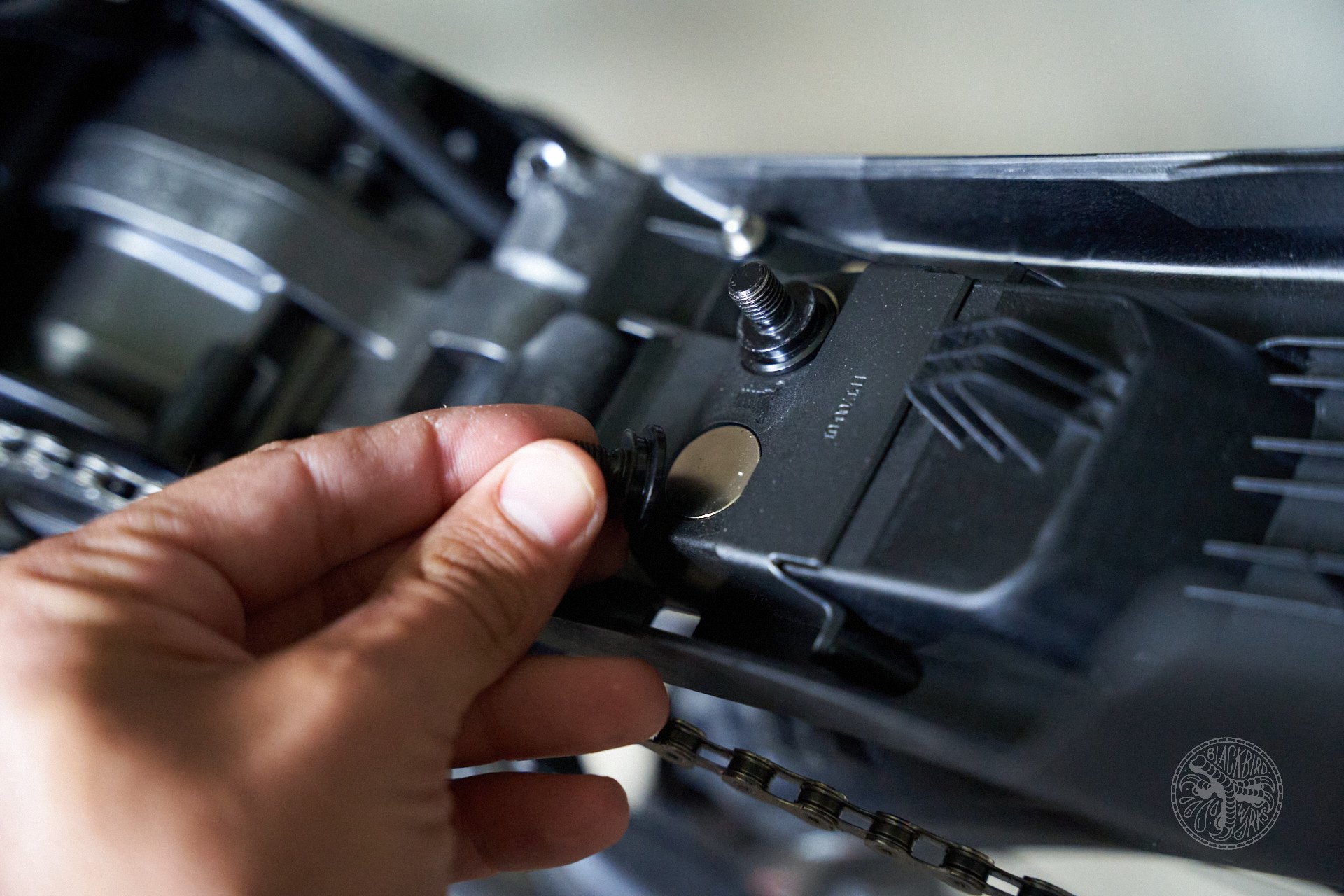 Generally, 650 or 720Wh batteries have a 80-83mm thickness. Either Bosch or Shimano variants seem to have the same cylindrical form factor that requires a tall and voluminous down tube that attracts attention. Canyon, working with TrendPower, a 3rd party Japanese battery solution company, designed a battery that is half the thickness of what's currently available. This kind of freedom means the downtubes of an eMTB could be as thin as your sub 30-lb trail bike. Don't be fooled by this optical illusion however; when you perch yourself above your new bike, you'll notice the width of the battery has turned your downtube into a powder ski. What is thin, has to be wide!
I think in the overall tube shape category, Canyon designed a gorgeous looking bike that has all the flowy lines. The simplification of the frame design that allowed Canyon to shed a whole bunch of weight also led to a battery-activated power button. The system turns on and off via a button on the top of the downtube but the feeling of this button is rather vague because it's actually just pushing another button that's on the battery. So technically, you can leave the battery in your backpack if you have a long enough power cable to run to the Shimano EP8. DIYers... go!
The magnetic connector that mates the battery to the EP8 is my least favourite part of the whole system. It is not as snappy a fit as I'd like it to be. It sure works and looks slick but more connections mean more points of failure. And it did.. Read on.
Cockpit
The 780mm integrated carbon handlebar/stem combo is light and slick and it hosts the Shimano Display unit SC-EM800 tucked away next to the stem. There is a 7-10 degree angle adjustment that feels solid and convenient. The Sweep of the bars suits my wrists and the effective 50mm stem is right where I'd like on a 460mm-reach size medium bike. The bar is obviously designed for eMTB integration as there is a groove and a hole under the left grip to run the cable from the Shimano controller to the SC-EM800. Be mindful while taking the grips off the bars as the wire could potentially get snagged and damaged.
The AXS paddles adorn the high tech cockpit and on the left you have the dropper control (that can also be set to override certain Flight Attendant settings) while on the right you have the XX1 shifter with the V2 paddle.
They are mated to the SRAM Code RSC brakes with a matchmaker adapter. I am not a huge fan of this setup as I can't get the angles I want as I like my brake levers flat and my shift lever pointing up. This is my personal choice and not a spec fault. The setup looks extremely clean like this with only the rear brake hose and a shimano cable from the motor to the display to be routed... RIGHT THROUGH THE HEADSET!!
There is no excuse for this. NONE.* (At least not according to MF - Ed.)
With this particular application, there is no derailleur or dropper cable and housing to worry about, the only time I see the headset routing to be a problem is when you have to deal with your brake hose. Having to do a brake bleed to service the headset is one more thing than I'd like to do and I hope your bike shop charges you handsomely for it if they assess the repair properly and catch the offending routing in time. Sorry, not Sorry.
Wheels
This is a mixed wheel bike, a hybrid, a mullet, a party bike, whatever you want to call it. It has a 29" Front wheel and 27.5" rear wheel. It makes sense on most gravity-focused bicycles but especially on eMTBs. The wheels are probably the nicest and most understated pieces of this puzzle. DT Swiss HXC 1501 wheelset with 240 Hybrid hubs. :drool:
These $3500 CAD wheels are designed for eMTB abuse. 30mm internal width and the reliability symbol 240 hybrid EXP ratchet hubs with steel rings may not look fancy but they are perfect. Well, almost. If you don't mind straight pull spokes. Not a deal breaker but if you are a spoke breaker, it is way often easier to find J-Bend spokes. One thing to note is that straightpull spokes can often be changed without the need to remove the cassette and or rotors, which is a big time saver. Carbon wheels do not break spokes often and rarely go out of true. This makes them easier to live with compared to aluminum options.
The front tire is a MaxxTerra variety EXO casing Assegai. 2 of those terms I don't love on my bikes, let alone an e-bike. EXO+, MaxxGrip it should have read. Going into summer I am less worried about grip but always worried about flats. I immediately tossed a Tannus Insert in there.
Out back we have a 148mm hub spacing that we love so much. The 27.5 x 2.6" tire is a EXO+ in MaxxTerra flavour. I'm more accepting of this combo out back. At the time of building I did not have a 27.5 Tannus in the house, but as soon as I can raid the NSMB headquarters, I will insert one in the back tire.
The tubeless setup was very easy apart from the lack of tubeless valves in the box. I will chalk this up to my misfortune as I'd hope yours will come with some DT Swiss branded ones at least. I had some Stan's valves laying around so no problem with compatibility there. The 203mm SRAM Rotors were not the newest HS1s but they are big and stop well, paired as they are to Code RSC calipers.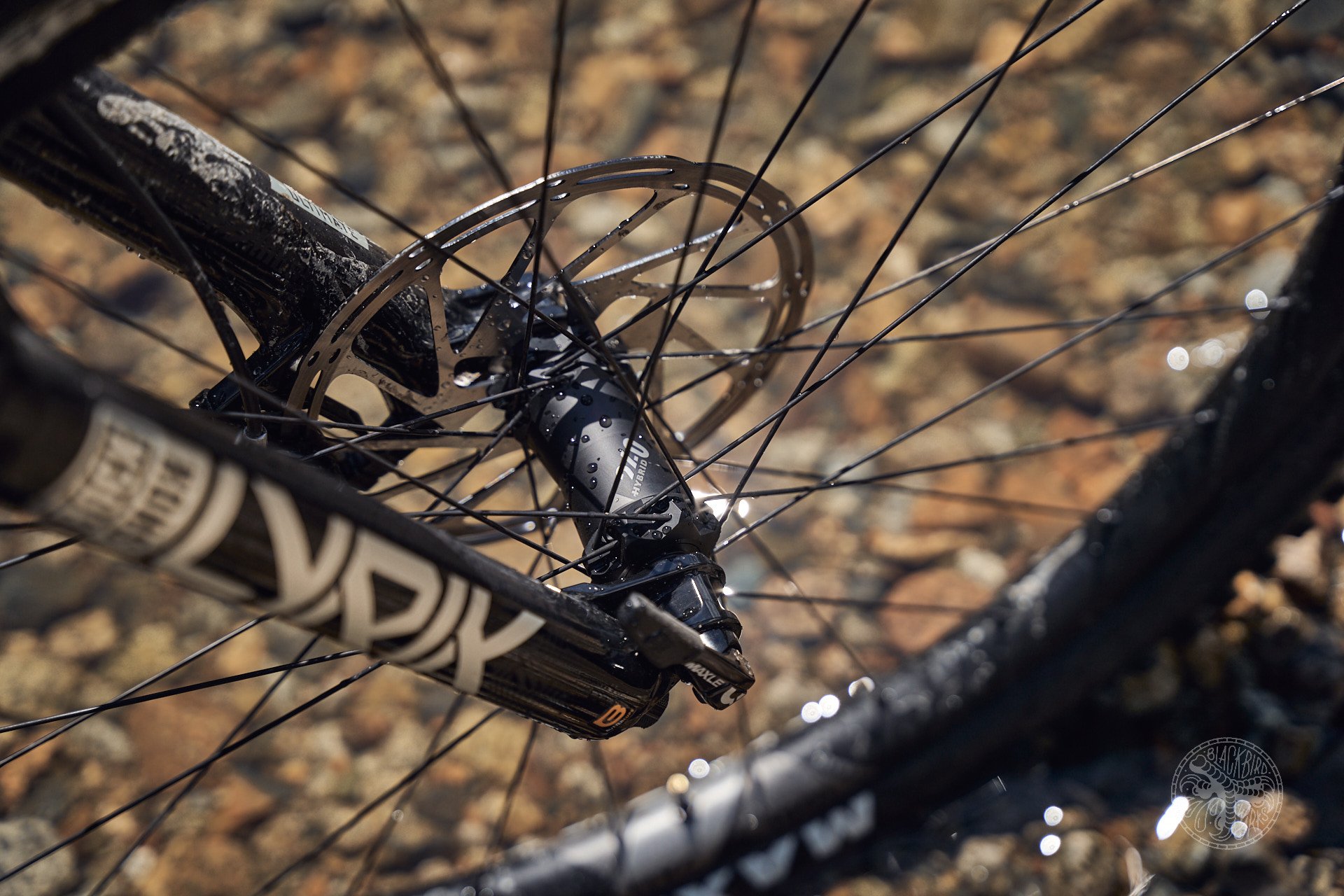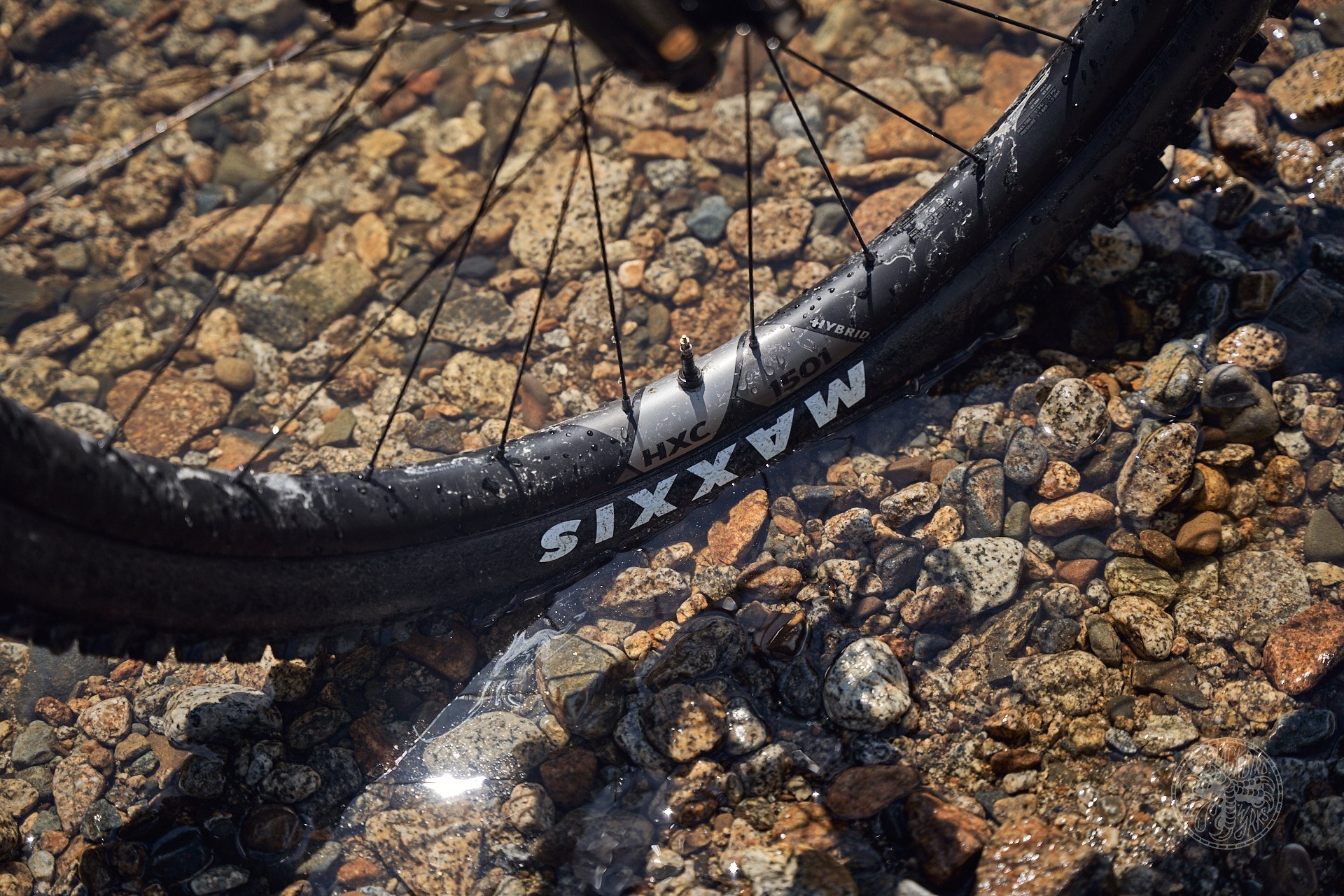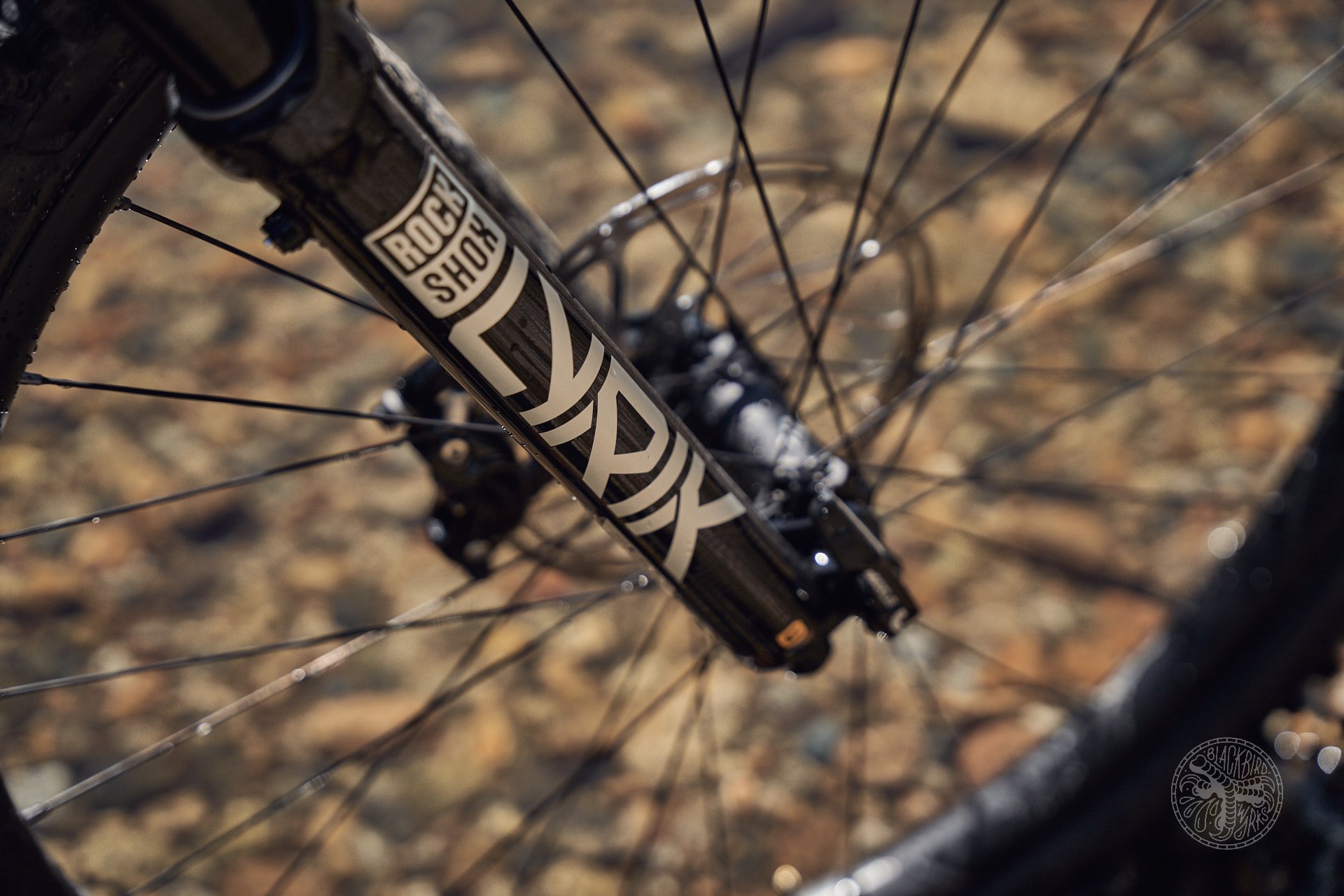 Bouncy Bits
"Tell me about the fucking golf shoes".
Well they are 150mm Rock Shox Lyrik Ultimate w/ Flight Attendant and a Super Deluxe Ultimate w/ Flight Attendant. There are a total of 8 batteries on this Canyon.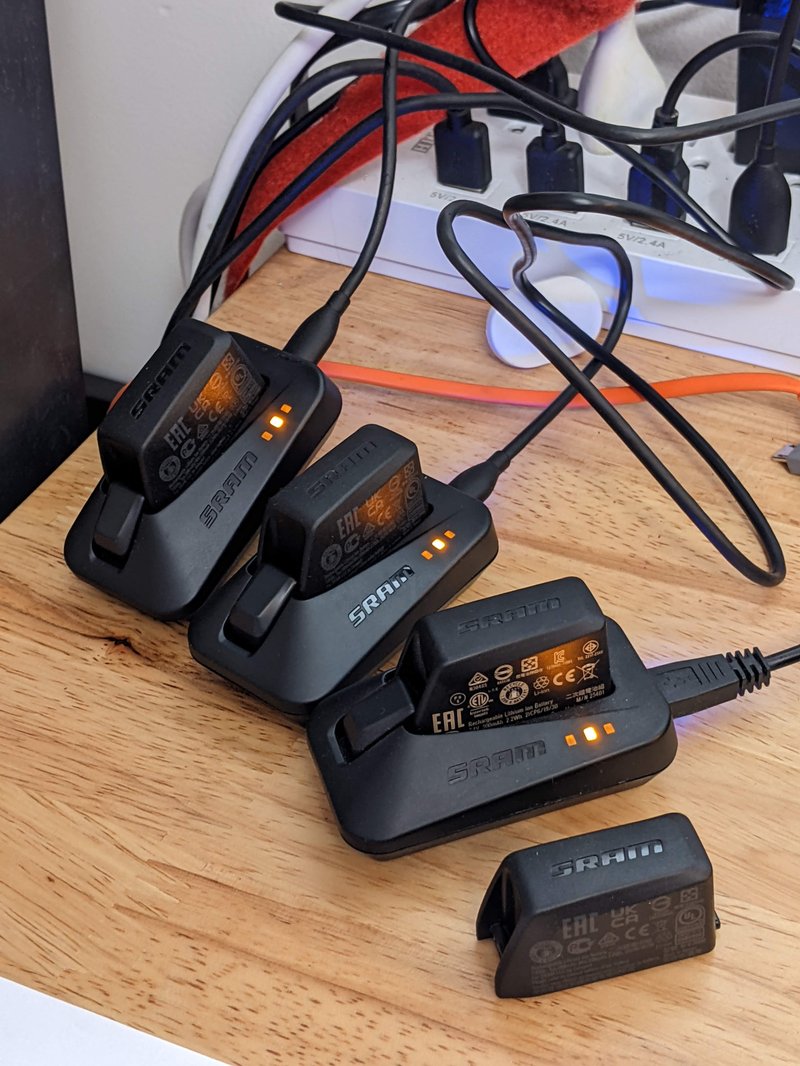 AXS Paddle shifters, fork, shock, Pedal sensor, Dropper post, derailleur, the main battery. I am a photographer and a nerd. I have a lot of devices in my office that have batteries. I try to keep my life simple and low maintenance but there is inevitably a certain amount of battery charging that happens throughout the week.
Last year I got a SRAM GX AXS system for my personal bike. It has not been an issue keeping the battery charged. Driving around, I take the battery off to keep it deactivated. I charge it for half an hour after every other ride and so far, knock on wood, I haven't been stranded with a dead battery. Brilliant. But how the hell do I keep track of 8 batteries on one bike? I don't know this yet. As I find out and run out of batteries on individual components, I will report.
RockShox Flight Attendant
I will dive into how Flight Attendant rides and behaves on a separate article once I have more time on it. It whirs and makes chirping sounds non-stop. I keep thinking there is an angry fowl after me. The setup process was simple enough, but there was an important step that wasn't communicated with me in any of the RockShox manuals. First of all, the fork needs to be lean-angle calibrated and that takes a good 30-45 seconds. But for the fork to accept calibration, ALL the AXS parts on the bike need to be paired together into a group. You can not just pair the fork and the shock and carry on with calibration. The shifters and the pedal sensor and the derailleur all need to be paired together for the calibration to stick. This will allow full automatic mode to be enabled and set by default. Otherwise, you can use the fork and the shock in manual mode without having to do the pairing. Then there is the SRAM app. The people at SRAM are smart, I know a few personally but their app is lacking in functionality, UI and reliability. It needs more work, asap!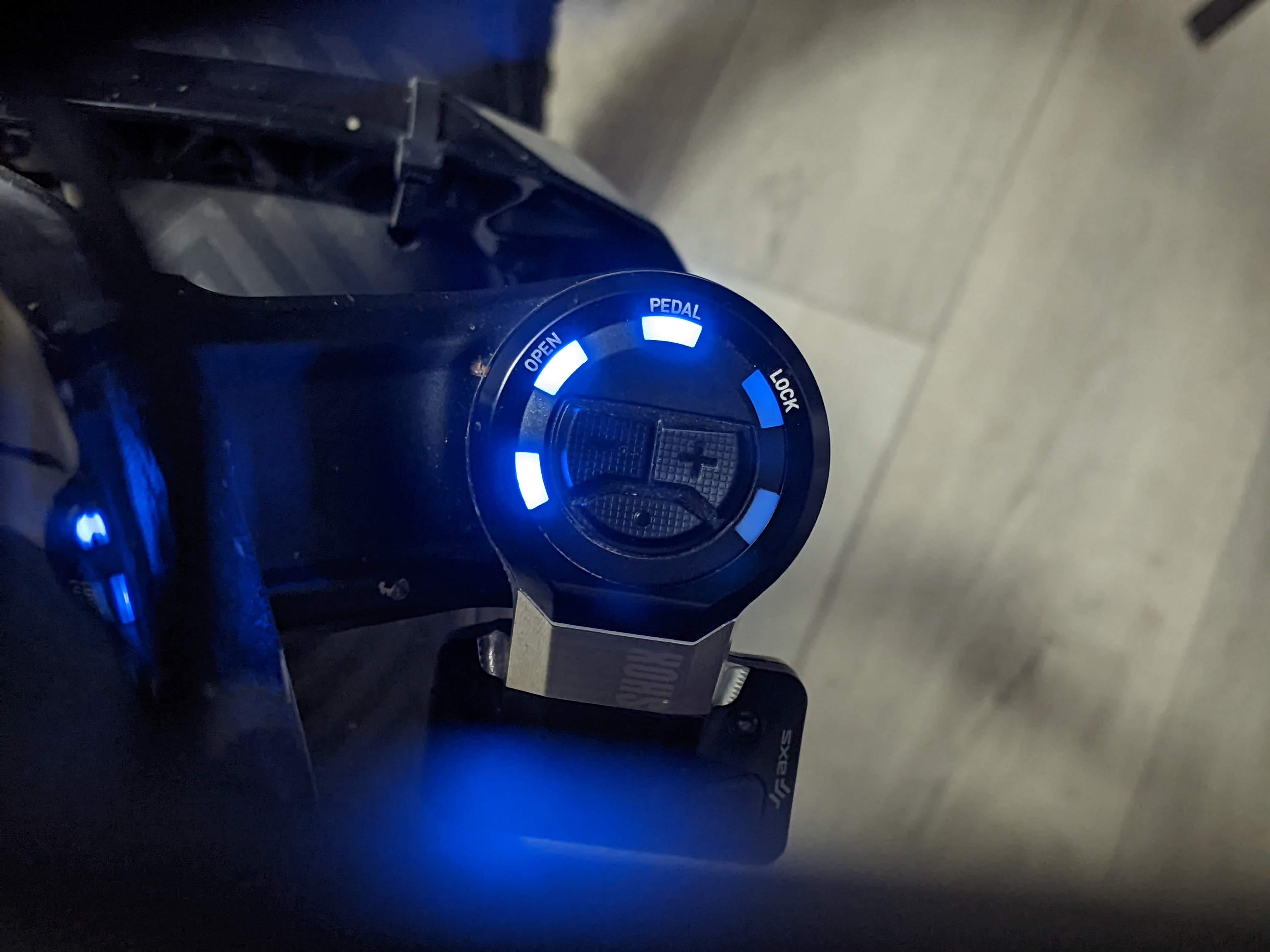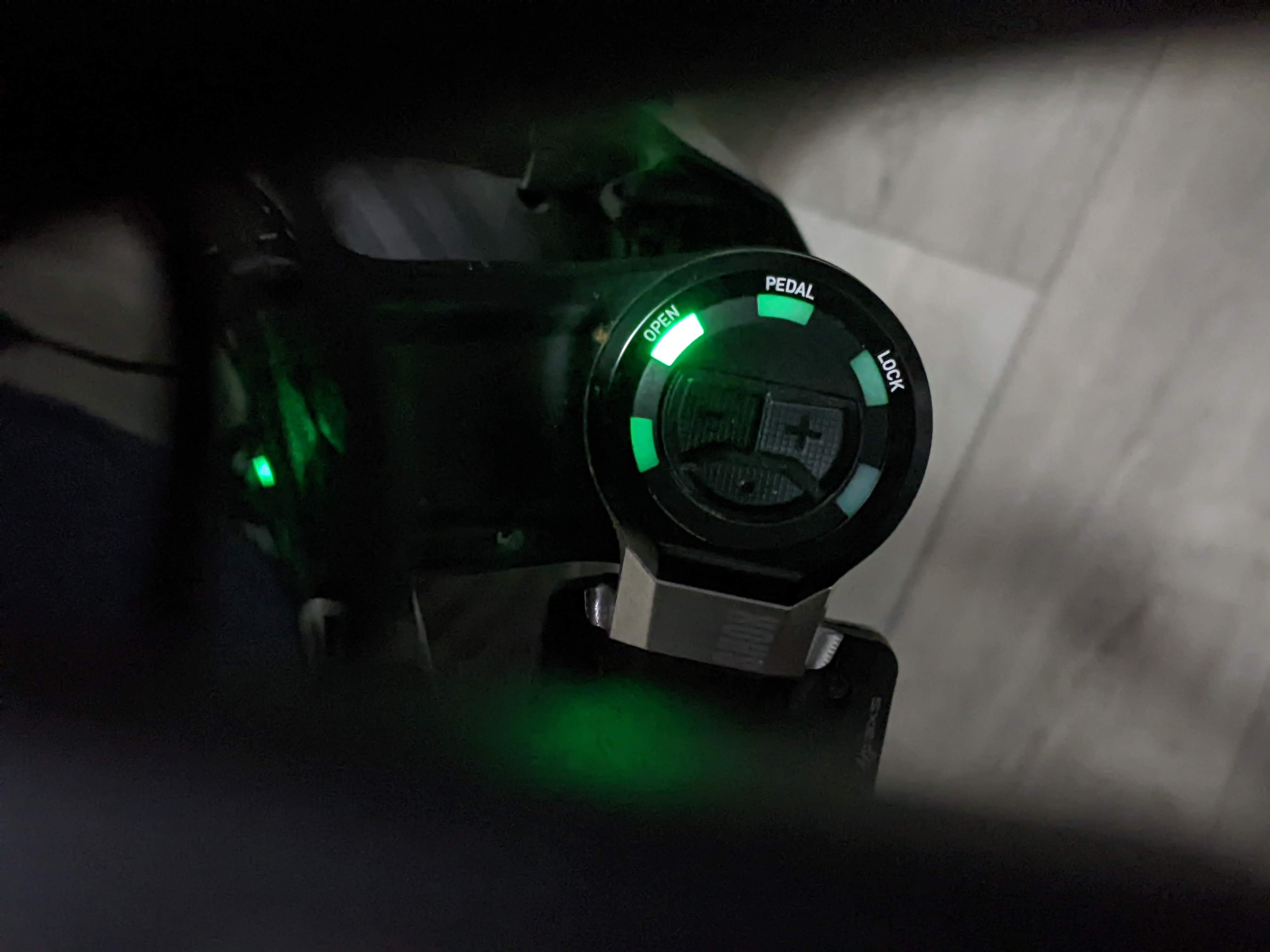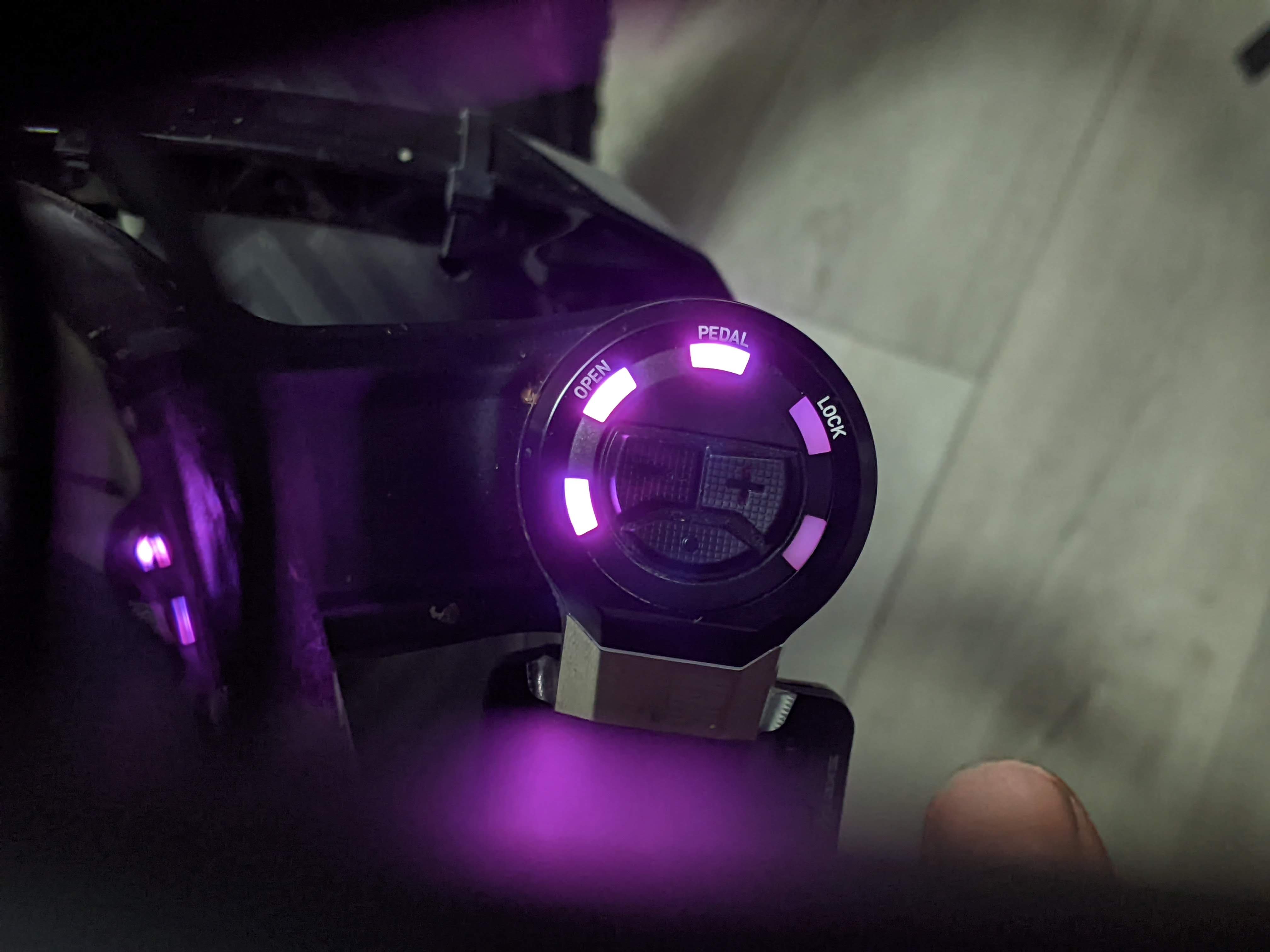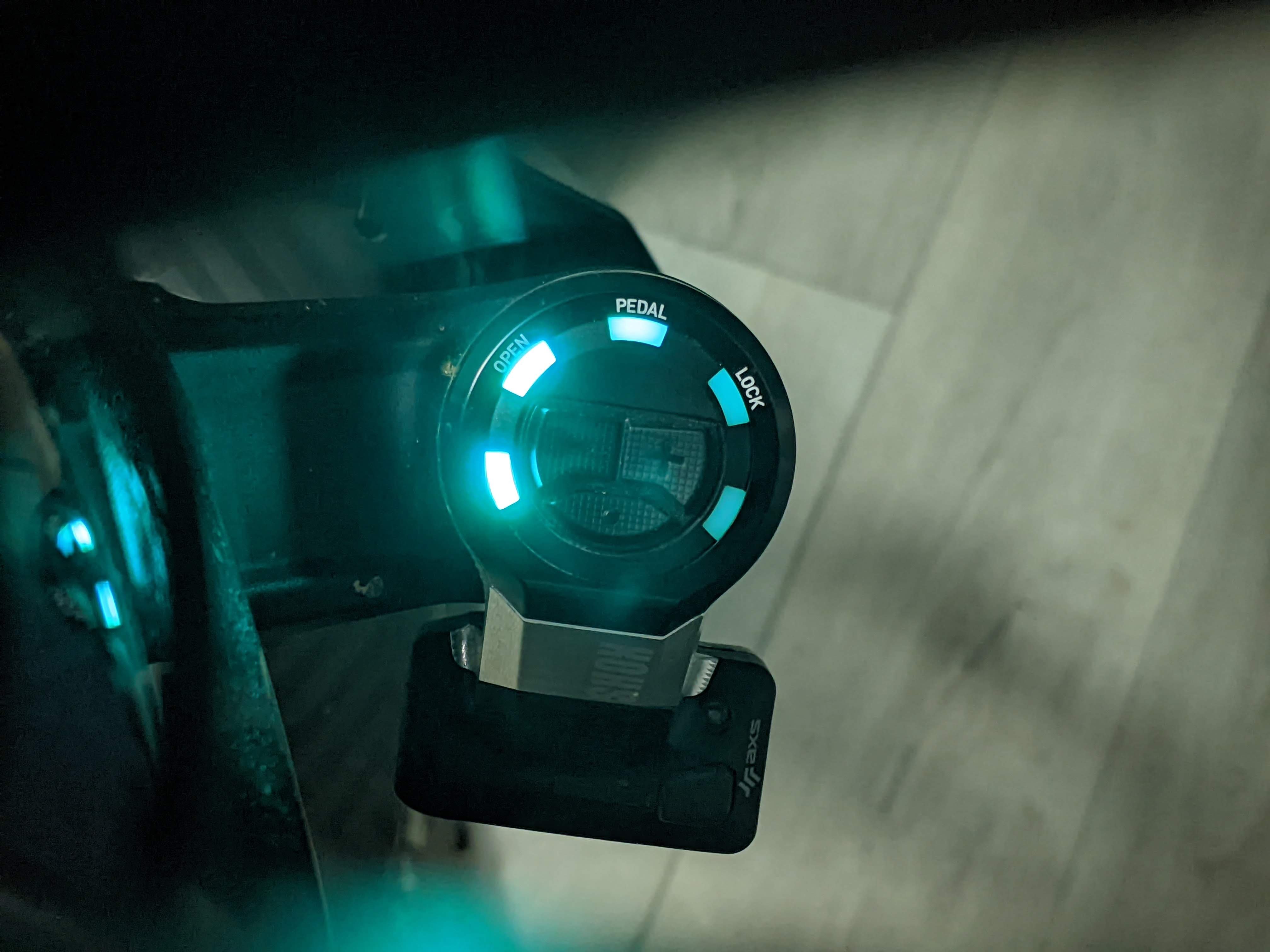 Flight Attendant talks to you from the status lights on the fork and you can derive as much information as you need from it. Setting bias allows you to set the system to prefer between open-pedal-lock modes while you are pedaling. The system only chooses between the modes while you are pedaling. If you stop pedaling and start coasting, the system will move to the Open position. If you go off a curb, the system will open. If you hit a bump or a hole, the system will decide if the size of the bump was big enough to warrant opening the shock or not. I am learning and anticipating the system's decisions as I spend more time on it.
There are -3 to 0 to +3 settings. Minus being open, plus being more closed.
The fork decides what happens to the system and tells the shock what do do. The fork and the shock can be in different settings too. If the fork decides to do so, it can open the shock and leave itself locked. I'm not sure if the other way around is possible, but I'll figure that out for the final review as well.
Update from SRAM
We do have a setting called 'split state' where the fork is one position more open than the Rear Shock.  You know you are in this when there are two lights lit up on the fork module.  The left most light always shows the position of the fork and the right shows the rear shock.  This 'split state' was developed well into the development process based on rider feedback on technical climbs.  Possible states are:

Fork in Open – Rear Shock in Pedal
Fork in Pedal – Rear Shock in Lock
The bike took took no more than a couple of days to arrive at my door. Considering it was all the way from Germany, I was quite impressed. Air shipping eMTBs or other powerful battery-operated machines is prohibited so the bike arrived without a battery. Which was fine as Canyon US sent a battery across the border from California. As it turns out, that is not as simple as we thought. 3 or 4 attempts later to air ship the 900Wh battery to my door, Canyon's shipping department learned valuable lessons about shipping batteries. Which meant that the bike was not ready in time for BCBR Megavolt which was where I really wanted to test it. Book end that with a month in Europe, and there hasn't been any significant time spent on this complex machine yet. I have been using the bike often these days to maximize all the daylight hours we have at our disposal and learning a tonne in the process.
The 65.5° head angle is definitely on the steeper side of things for bikes I ride, but not for this category. Paired with a powerful motor and lighter than average weight, the bike is nimble and hides its weight very well. It rides like a heavier trail bike that smooths out the chundery ground but retains incredible agility. So far the 440mm rear center has been right on the spot for me and believe it or not, this thing even manuals with ease. Compared to my previous experience on Cam's Norco Range VLT, it feels like a completely different vehicle. The seat tube is a little longer than I'd like it to be, and the 150mm AXS Reverb is on the short side, however the operation is lighting fast and smooth, every time.
Geometry and Ride Impressions
The suspension makes all kinds of noises while pedaling but nothing distracting on the descents. The Shimano motor has a slight clunk that is widely noted but I do not find it to be distracting or annoying. The speed limit of this tester was a hidden surprise. As it came from the EU, the maximum assist has been limited to 25 km/h. It absolutely blows on the road and commuting, for which I will be using it a lot. In Canada our e-bikes are limited to 32km/h and connecting the Canyon to the Shimano E-Tube Professional at the bike shop, I could NOT alter this speed limit. I am looking at ways to do this as it is technically not breaking laws or voiding the warranty. I am just trying to claw back what is rightfully mine...a bit more speed.
On the trail, the Eco and Trail modes have been more than sufficient. Following Cooper on his Trek Top Fuel up the climber, leaving the bike in ECO and casually chatting was possible. Considering how fit Cooper is, ECO puts out an incredible amount of power on this bike. BOOST is reserved for road pedaling only as it is definitely not viable for twisty technical climbing on the Shore. (Oh just you wait... Ed. Seconded...Ed #2.)
On the very first ride, an ambitious water crossing killed the motor mid stream. Meanwhile, a friend on a Bosch-powered bike made it across without an issue. The culprit was the battery to motor connector that had taken in water. Unplugging and drying it out fixed the issue but I will be coating that connection with dielectric grease and maybe even silicone.
Pricing and Availability
As it sits right now, this bike is only available on the Canyon UK and EU websites. It is currently only available with the 720Wh battery and around £10,000 or $15,475 CAD. Add $600 or so for the 900Wh battery and the price is over $16k. For a bike that has all the latest and the greatest it is in line.
Hopefully by the time I put 5000 kms on this thing I will have a better understanding of what it can and can not do. It will be appreciated by the North Shore community for all the trail work I will be able to take on thanks to this speedy traveller. Might as well put the beast to work and see what it can do.