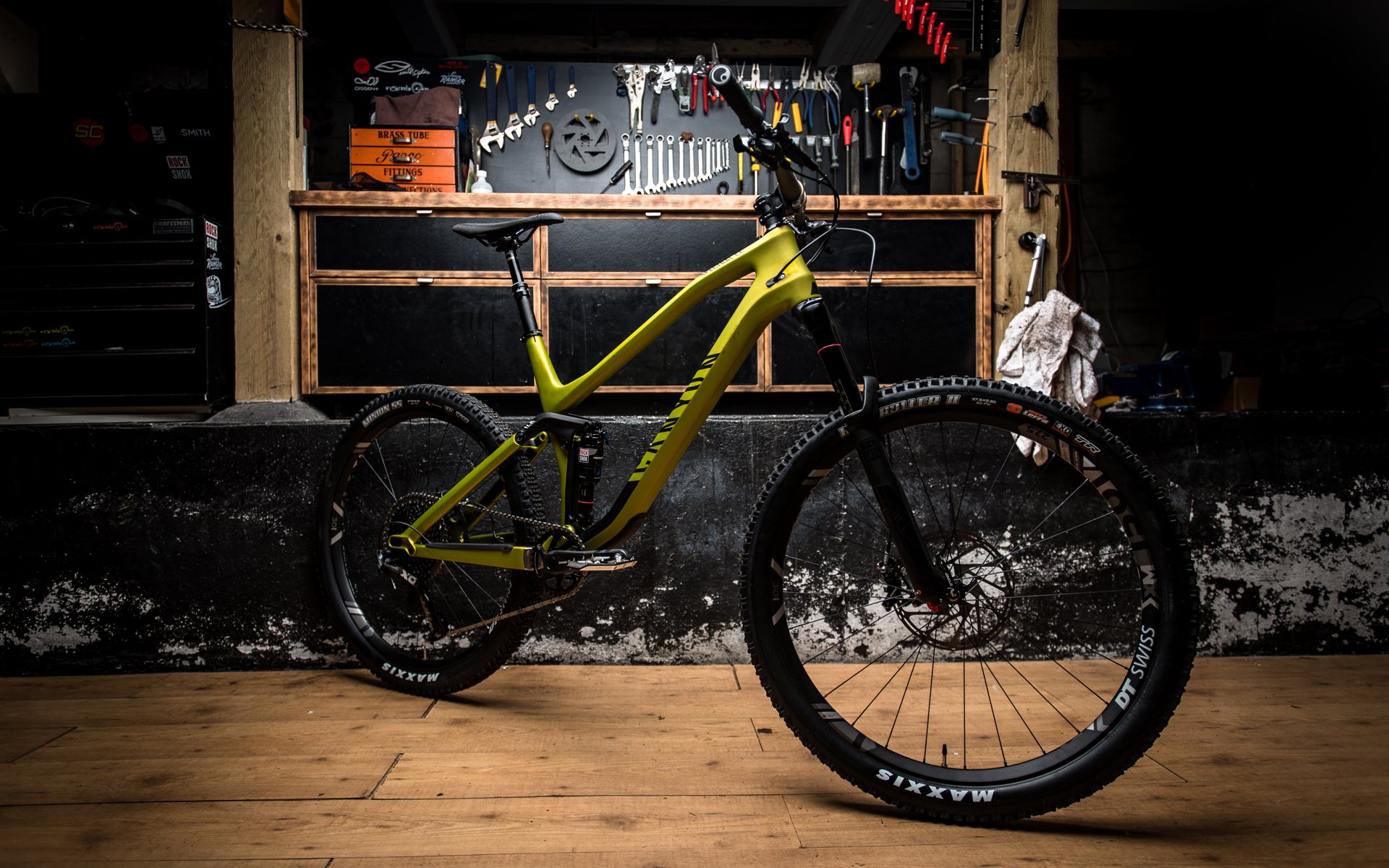 First Impressions
Canyon SPECTRAL CF 9.0 EX
I'm always fascinated by how much interest a test bike elicits.  Some fly under the radar, with nary a peep.  Others inspire so much interest it's tough to make it out of the parking lot. But this Canyon made me aware of a potential new means of judgment: The workplace gathering test. Out of any bike I've tested and rolled through my place of employment, by far, this Canyon has caused the most stir. (Uncle Dave has a 'real' engineering job outside the bike business - Ed.) The first day that I brought it to work, I had three engineers holed up in my office for over an hour (okay...30 minutes...it seemed like forever though) peppering me with questions. Unprecedented. Let's dive into what they were staring at.
Assembly
When you buy a Canyon, this will probably be your first experience with it.  A somewhat weathered cardboard box.  We'll hand things over to Cam, who was kind enough to complete the dirty work on this build.
---

Canyon, a direct to consumer German brand, has built a reputation for producing bikes that offer value your LBS can rarely compete with. And they leave them right on your doorstep. The plan is to bring Canyon to the US shortly. Initially, the goal was spring but that was moved back to the 3rd quarter of 2017 which is rapidly approaching. The new plan is to launch with model year 2018 bikes to bust through the doors guns a-blazing. The Canadian launch date hasn't yet been announced but considering the company already ships to 60 countries (including East Timor) you can be sure it's in the works.

Unlike most riders, we get most all of our bikes in boxes. Most come in the same state they would to a bike shop but some have already been ridden and some are even given a special media build to ensure everything is as it should be. Canyon is a direct to consumer brand and many of these bikes will be assembled by riders who have never built a bike before. Luckily the included tools and the way the bike is packed make the process about as easy as Lego, and easier than Ikea. Odds are good that if you don't live in Canada or the U.S. you can already order a Canyon. 
A multi tool that doubles as a rudimentary torque wrench is included and it will do everything that is needed to assemble the bike. All that was needed was to unpack things, which I'm happy to say involved much less plastic than I'm used to, and then strap things on. It was quick and idiot-proof. There is talk of some sort of partnership with Velofix, the mobile bike shop, but nothing has been inked just yet. /Cam McRae
---
Geometry and Suspension
There's nothing earth shattering here with the suspension design. Canyon has gone tried and true and gives us a classically appointed Horst Link suspension layout (And no, I don't want you to spend time in the comments section pointing out that the chainstay link is 5mm out of the range that would have been covered by the Horst Link patent.). That rear end gives you 140mm of travel, and is controlled by a Monarch RT3. The EX versions of the Spectral (like the one here) couple that with a 150mm travel fork (a Pike RCT3 in this case), while the non EX versions stick with 140mm.  I'm guessing that most of our readers are going to like that extra 10mm of travel.
Our Large sized frame has a not-overly-steep 67 degree head angle, and a 74.5 degree (effective) seat tube angle that will get people arguing in the comments section. Chainstays are 425mm long, and the top tube/reach come in at 627/455mm. All-in-all, it slots in about where you would expect with a 140mm travel trail-oriented bike.
Bits and Bobs
We're still trying to figure out exactly what this bike will cost you in US or Canadian dollars.  If you head to Canyon.com, hold the antenna on the roof just right, and set your location to Mexico, it tells us that this here bike will cost you US $3,869.  If that pricing holds out, this beast is going to be a pretty fantastic value. (Note: we've got a confirmed msrp of $4299 - still good value!). From head to toe, it's nothing but finely engineered carbon fiber and parts that you wouldn't mind spending your own money upon.
Points to Ponder
I have a handful of rides under my belt on this rig, and things are looking interesting.  The component spec truly leaves little to be desired (especially for the price), and my first few rides suggest that this bike is more than just good on paper.  Stay tuned.
The SPECTRAL CF 9.0 EX Retails for £3899 €4299 (France) and AU$6199. We'll have to wait and see if US pricing meshes with Mexican pricing. For more details click here...