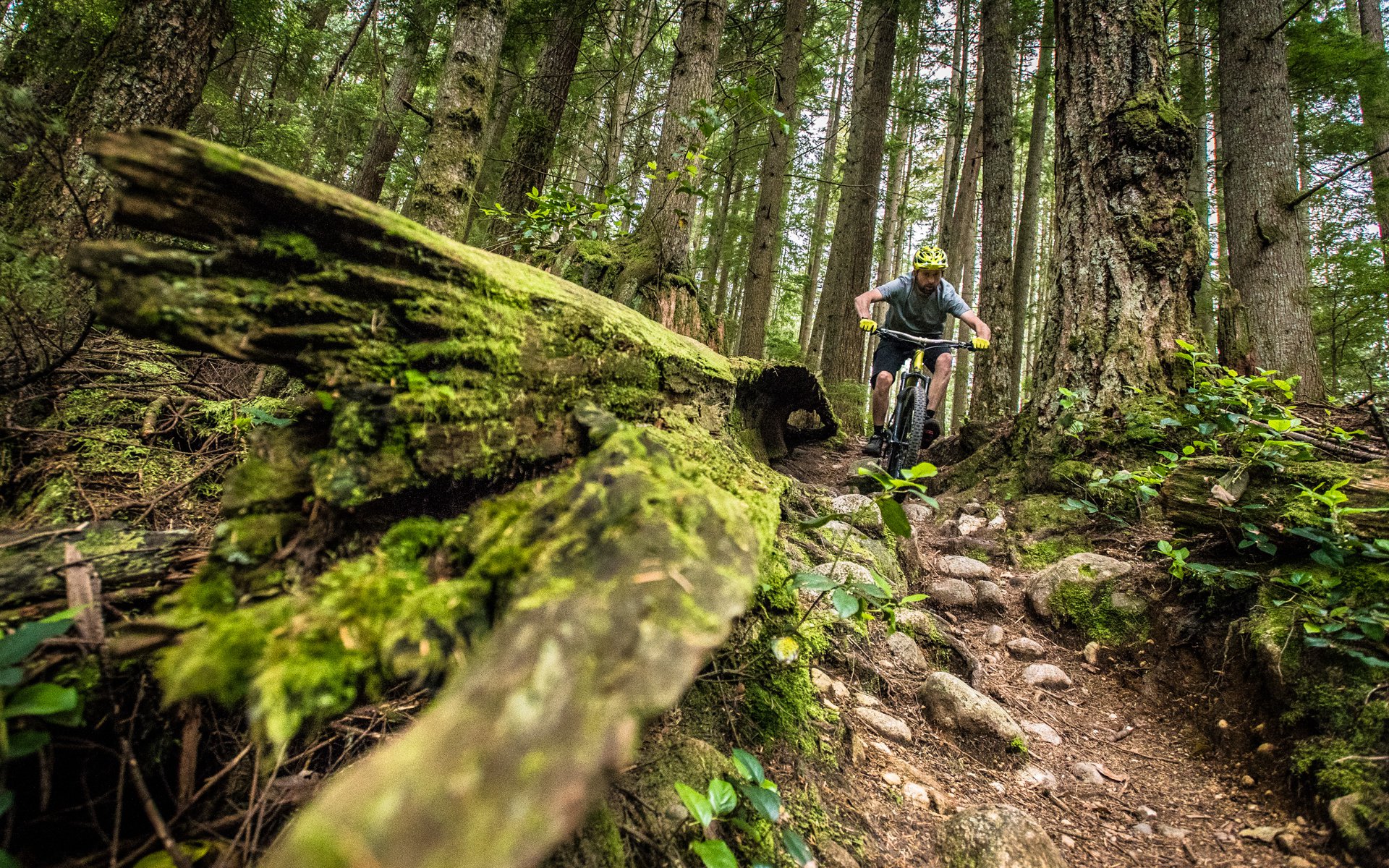 LONG-TERM REVIEW
Canyon Spectral CF 9.0 EX
A few years ago, I was at a product launch for another European brand. I was sitting down, drinking beer with some of the Engineers and Product Managers and I asked them what they thought of some of the direct sales companies, and I used YT, who seemed to be gaining steam in North America, as an example. The response was a bit unexpected. To paraphrase, it was along the lines of "YT? I don't know much about them. But Canyon? Canyon scares the hell out of me."  Turns out there was yet another thing from Europe that us North Americans are missing out on. And I started to pay a bit more attention to what Canyon was up to.
First Impressions
Which is a fine and dandy thing to say, but until the Sender rolled around, this extra attention never caused me to get very hot and bothered. The Spectral (and the Spectral CF 9.0 EX that you see here) has been around for a few years now, and is one of the bikes that I was a bit blasé about. It always seemed a tiny bit weird in photos. The kink in the top tube seems a bit off, and the dog-legged rocker link spoils what remained of the party. But these impressions quickly become moot in person, as the Spectral is a fairly handsome bicycle in the flesh, and I quickly started to come around to it.
More than that though, this bike is impeccably finished. There are some amazing little touches that make a big difference. Start with the "knock block" style steering stopper. Trek made a big deal about this with their launch last year and Canyon has quietly played along. Move back on the bike and things are just as cleanly detailed. The cable ports are nice and even the chainstay guard is a neat little piece. This Canyon certainly will not leave you feeling like you've cheaped out by ordering direct.
Parts choices leave almost no room for complaint. A Renthal cockpit defies upgrade (some might want a slightly wider bar, I'm sure), and you'd be silly to kvetch about the fancy bits from SRAM (XO1 Eagle drivetrain, Guide RSC brakes, Monarch RT3 Shock, Pike RCT3, a painfully short Reverb Post). Even the tires seem to be full-fledged, non-OEM spec from Maxxis. Job well done, Canyon.
The wheels are nice units from DT, non-Boost on both ends. If you've got a roomful of non-Boost wheels, this may be a benefit, but those worried about future compatibility might see an issue. But no matter the hub, tubeless setup was a breeze. The rims come pre-taped, so just throw in a valve and some sealant and they pump right up (and held air for weeks). And these suckers ran true, no matter what I threw at them.
(For more on the spec. and geo. of the 150mm front/140mm rear Spectral CF EX click here for our first look)

And at some point we need to speak about the price. Canyon has finally gone live in the USA, and the price of this bike is listed at $4300 US. This seems pretty fantastic. There are lots and lots of similarly travelled bikes in this price range. There just aren't very many that come close to this much bang for the buck, either in frame design or parts.
Suspension and Set-up
The suspension has a pretty straight rising rate. The leverage ratio goes from about 3.15 down to 2.55. Couple that with a pretty short stroke air shock (2" stroke), and you have a fairly progressive rear end. This proved to be both good and bad.
Bad because this much pressure in a rear shock always feels difficult to manage. By the time I got things sorted, 250 psi leaves me and my shock pump feeling uncomfortable, and still has me in the 35% sag range. As you play around with air pressure, it always feels like it wants 5 psi more, and it leaves me wishing for a drop in leverage ratio, or at least a shock that requires a bit less air pressure.
But the good thing is that with all that progression, set-up is fairly forgiving. In my perfect world I would probably want to run a set-up that is firmer off the bottom, with a bit less sag. But even though this "feels" a bit soft, in practice it works really well. Pedalling isn't compromised, small hits are handled easily, and there is enough ramp up to eliminate any fears of bottoming out.
Riding Up
Riding up on this bike is a pleasure. The light weight, good seating position, mini-nobbed rear tire and relatively bob-free suspension make climbing easy. Indeed, on my first ride my planned "couple of laps on the bottom of Fromme to sort out suspension settings" turned into a climb to the top. And more than a few rides resulted in me spinning an extra lap, or pushing up another switchback or two. This is high praise from a non-climber like myself.
Once the climbing turns technical, things remain well composed. The front end doesn't wander and traction is plentiful. It is easy to scoot through tricky bits and remain on your bike where you might otherwise be hike-a-biking. For a 140mm travel, 650b bike, climbing is as good as I could hope for.
Descending
I've been spoiled lately with some bikes tailor-made for descending. I've largely been riding longer travel 650b bikes, with a mid-travel 29er or two thrown in, without a lot of time spent on this category of bike. Indeed, on my first few rides, I wrote it off as a good climber, nothing more.
But once I dialled in the fork with a bottomless token, and sorted out the pressure in the rear, I realized that this bike was handily taking on all of the things I could throw at it over the course of a regular ride. It's not as slack or as long as some of the latest bikes, and it may lag a bit on outright pace, but the counter to that is that it is also a lot easier to ride, and you're quickly deceived into thinking you have more bike under you than you do. The end result was me beating the crap out of this bike more than I have any recent test bike. I started to get cocky, taking it places I shouldn't, crashing it more than I would hope as I found its limitations. Indeed, a wet day on the far side of Cypress showed me that there probably isn't such a thing as a quiver killer.

But the more time I spent on this bike, the more I appreciated it, and the less I missed having more travel. I was always a bad racer because I was too focussed on being smooth and precise, and this bike plays right into that. It's easy to find your line, and the progressive rear end and the extra 10mm of fork travel (The EX part of the title... many of you won't bother with the 140mm forked versions) do a remarkable job of ensuring that you find your way through it.

Nitpicks
If I have to nitpick, there are a few things I would change on this bike. Or think about changing, at least.
As always, companies need to spec longer travel seatposts on their larger framed bikes. The 125mm post just isn't cutting it.
The saddle (an SDG Circuit MTN) perched on top of that post could use some work as well. It's hard and unforgiving.
Part of me thinks I'd build up my personal version with a bit more meat in the tires. They're certainly starting to show their limitations as moisture creeps in to my rides, but in dry weather I had absolutely no complaints, and maybe changing them would detract from the enjoyment I experienced on the climb up?
Conclusions
What is this bike best for? This bike is best for people that want to climb to the top and have a bunch of fun on the way down. It's best on those trails that fall somewhere in that middle ground of difficulty, and it lets you pump and pop your way down those trails with grace and aplomb. It's not quite one-bike-to-rule-them-all, more like one-bike-to-rule-95%-of-the-stuff-you-ride-on-a-regular-basis. It's a capable, fun, well-priced bicycle that won't need much (if any) work before it starts eating away at your local trails. This bike has been around for a few years now and is probably due for a re-design soon. Hopefully Canyon doesn't screw with the formula too much on the next iteration.
The Spectral isn't yet available in North America according to Canyon's web site but the US price of $4299 has been announced.