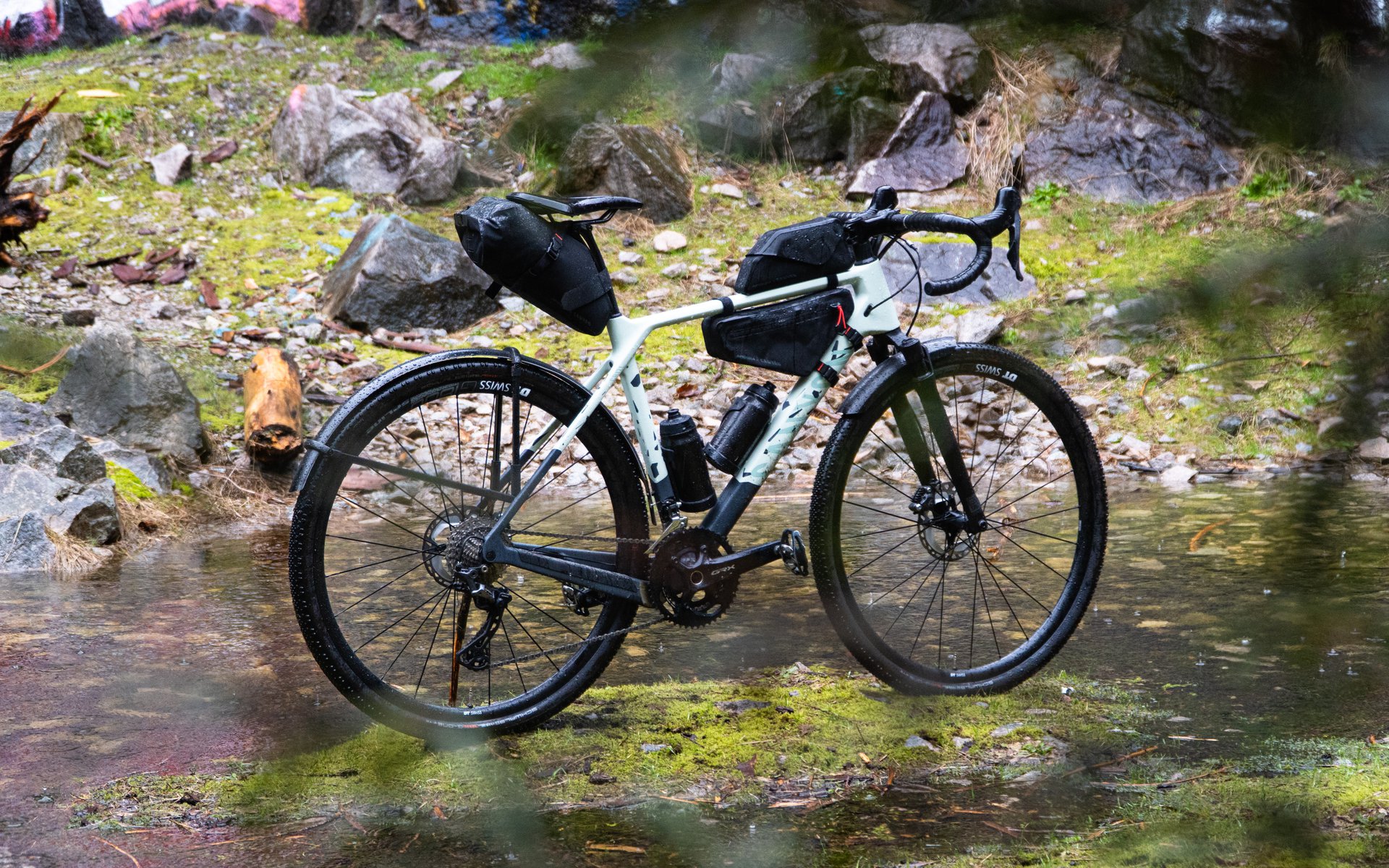 FIRST LOOK
Canyon Grizl CF SL8 Suspension
November 2nd, 2016.
As far as I can tell, this is the last time a front derailleur was featured on NSMB (at least in a review). Roughly two years earlier, somewhere between October 19th and November 9th, I removed the last front derailleur I'd ever own or ride. Until now, that is. Let me present the 2x GRX equipped Canyon Grizl CF 8 Suspension.
Before we delve into the bike, let's delve in to why this bike is even here. I don't think I'm a terribly unique human – when I look around at my friends, there's a remarkable amount of died-in-the-wool mountain bikers hiding drop bar bikes under a tarp in the garage. My drop bar habit started innocently enough; looking to replace the 16 year old, flat bar 2003 Dr. Dew (long since converted to 1x with some RF Turbine cranks and 11-25 DuraAce off a DH bike) I'd owned since new, I decided to build up a new commuter. And when it was all said and done, I was many multiples past the original commuter budget, but I owned a bike that fulfilled the non-budgetary parts of the design brief; it kept me off the tarmac as much as possible, and was infinitely more comfortable than a road bike. My Bjorn SS founds its way onto these pages in 2019, and I still dearly love it. Commuter duties, with no detours, are a ~24 kilometers and 300 meters of climbing a couple days a week and it's a solid mix of road/gravel.
This initial hit of drop-bar biking took hold, and what started as a way to keep far away from the 2000 kg Machines of Death on the way to the office, led to taking detours on the way home. Then longer detours, up, over and around on paths and walkways, finding connections and routes... Eventually, occasionally, I found myself reaching for drop bars purely for fun. When COVID really set down here in Beautiful British Columbia in March of 2020, I took almost exclusively to the gravel bike in an effort to keep fit without a commute and keep myself out of the healthcare system (where I make semi-regular appearances thanks to mountain biking).
*Head tube angle is less critical in the gravel world than we're used to in the MTB realm. Stability and steering characteristics are dialled more with changes in a bike's trail, with forks often coming with a flip chip in the dropouts to adjust this.
Nowadays, gravel is just one part of a healthy bicycle food pyramid for me. 170mm enduro bikes one day, gravel bikes another, "downcountry" in the middle, and towing a baby trailer around on an ebike through it all. I'm not someone out there micro-dosing my way through 270 kilometer days in the mountains of BC on resource roads - my typical gravel ride is anywhere from 30-60 kilometers of urban-adjacent riding, and since I live on the North Shore, there's usually a lot of climbing. It's all about trying strange connections to 'see if it goes', following fencelines, the occasional sketchy MTB descent, and learning the surrounding geography using methods that would be less efficient any other way.
Here at NSMB, I'll bring the occasional bit of gravel content with our usual angle: a healthy dose of skepticism and irreverence, with the same me in our unique geography and environment. There are lots of other great places to read about gravel bikes, but if you're a mountain biker looking to expand the quiver, hopefully this perspective will be helpful. As this is the first piece of gravel content here, don't be shy in the comments – let us know what you want to see (or not), what your questions are, and let's take a ride.
Let's go Grizlin'
I don't think we need to go deep in the weeds on geo, specs, and frame design here. It's all available on Canyon's website, and there's nothing here on NSMB to compare it to anyway. Canyon's Grizl comes in alloy builds from 2,149 CAD, and two different carbon layups with builds from 2,749 (SL is Canyon's more affordable carbon designation, and SLX denotes premium carbon -Ed.). Canyon provides a myriad of build options and paints, rigid or not, and it all tops out at (an incredibly reasonable) 6,599 CAD for a Force AXS build with RockShox Rudy suspension fork. All build frames and build kits are size-specific, covering four bar widths, at least four stem lengths, three crank arm lengths, and XS and S come with 650B wheels. Geometry on gravel bikes is an evolving beast, but the Grizl geo is on a trend towards my preference of longer reach and ETT paired with a shorter stem that'll feel more familiar to mountain bikers. Yes, you're reading that right. Gravel bikes are getting longer, lower, and slacker. The Grizl fits in where you'd expect from the German brand: on trend but not on the front edge of the wave.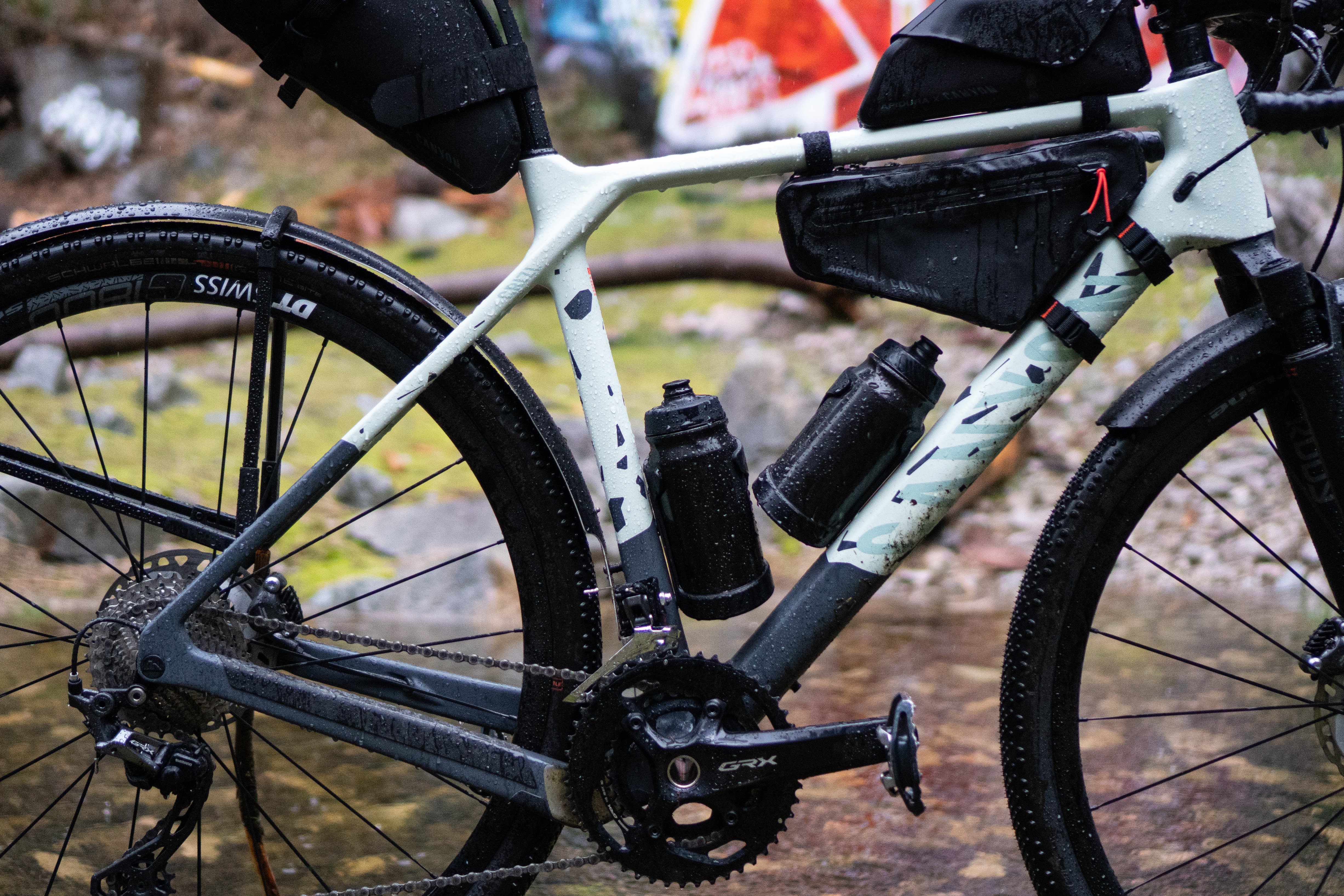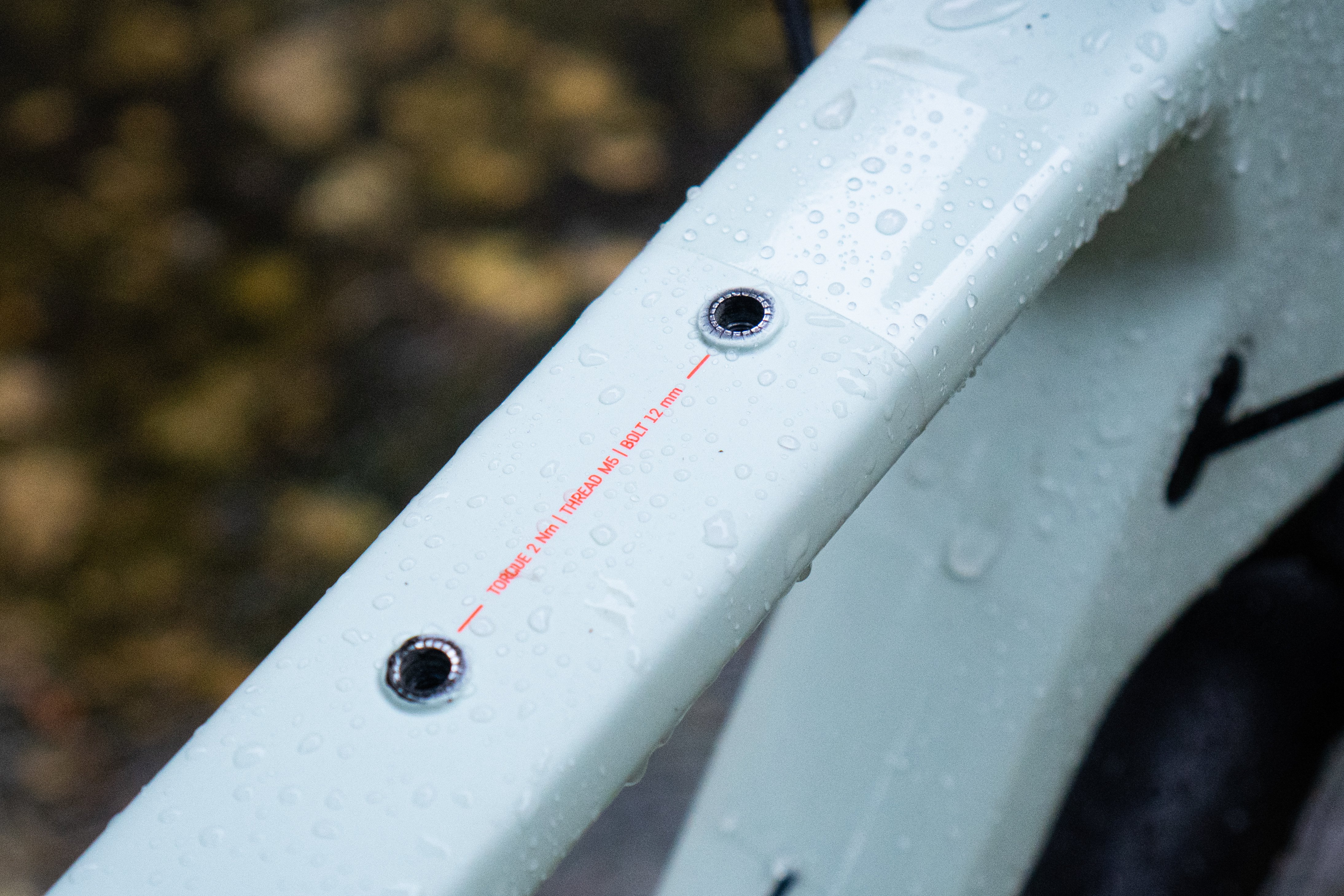 Canyon Grizl CF SL 8 Highlights
9.98kg / 22.0lbs (listed)
Alloy and CF SL builds are dropper compatible (SLX aka premium/lightweight carbon is not)
50 mm tire clearance front and rear
GRX 810 Drivetrain, 48/31 front, 11-34 cassette
DT Swiss G1800 Spline db wheelset with 45mm Schwalbe G-One Bite tires
The build here is a size medium, "Matcha Splash*", and costs 4,299 CAD. We got one with a Rockshox Rudy suspension fork because, well, this is NSMB after all.
Accessories
Operating in the D2C (Direct to Consumer) world means it behooves Canyon to have a dialed accessories program. As your local bike shop also knows well, once customers have decided to take the plunge on a bike, convincing them to add a few high-margin accessories to maximize the experience is gravy. In the past, I've mentioned they have some really well thought out Canyon branded products; Canyon also carries a significant amount of other brands to add to your order.
We've thrown a few things from the Canyon store onto the Grizl - the Canyon X Apidura bags (2.4l frame bag, fuel tank, and seat bag), and fenders. Wonderfully, it all came installed on the bike in the box - no fender faffing required - however the fenders are very simple and well set up if you like to take yours on/off as conditions require. In another nice touch, the frame was wrapped with clear protective tape where the bags are attached.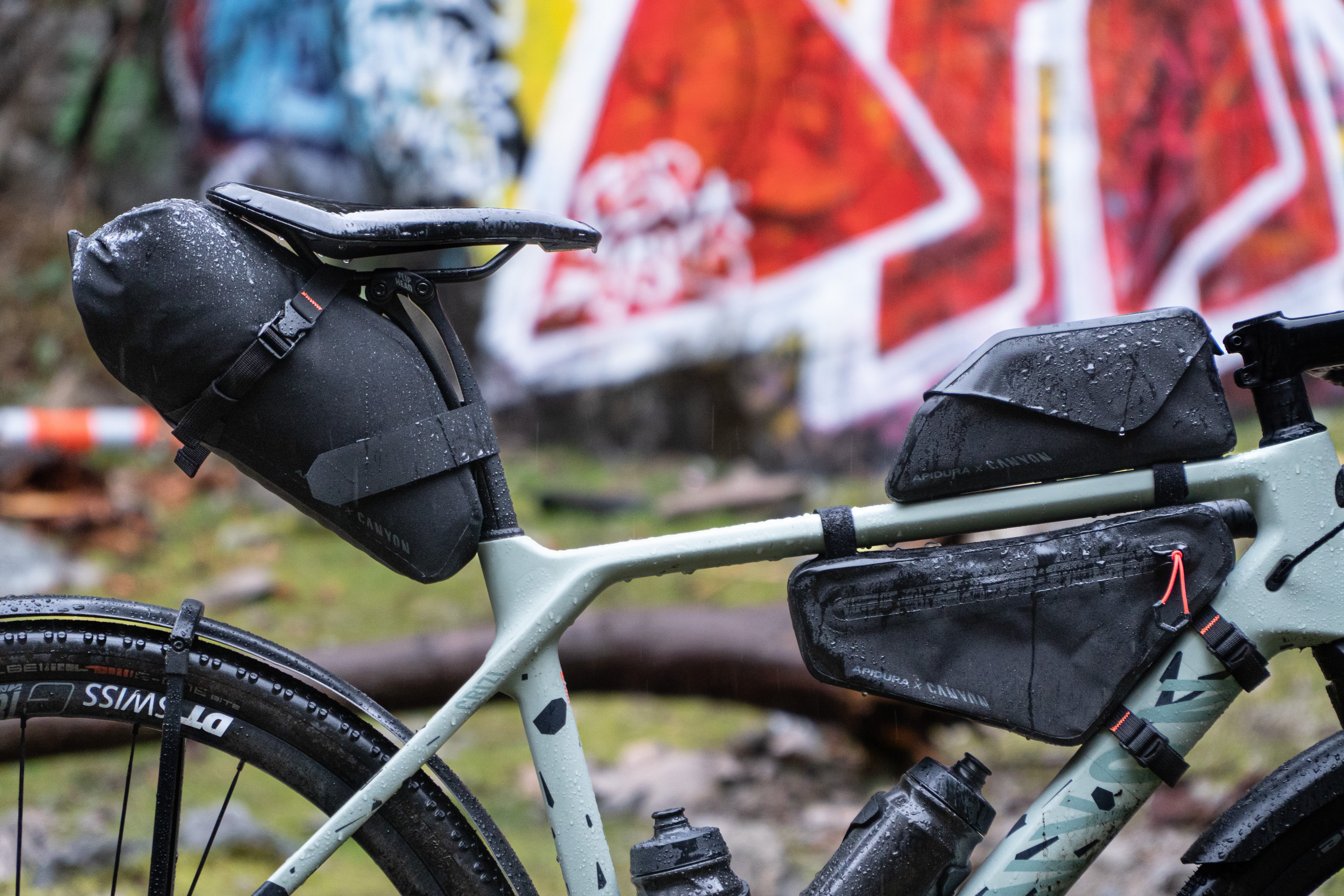 Riding Impressions
I've got around 300 kilometers on the Grizl, so it's early days, but my initial thoughts are positive. I'm enjoying the geo and frame thus far; it's a "racier" fit than my personal bike (however it's less racy and aggressive than Canyon's gravel race bike, the Grail, with its polarizing handlebars), but not uncomfortably so. It's a bike that's very comfortable and snappy on road but really starts to feel at home once you hit dirt. This bike is fast - no, comfortably fast - and feels premium.
Canyon's overly complicated and elegantly named S15 VCLS 2.0 CF seatpost and 30mm of air-sprung travel provided by the Rudy up front provide a significant amount of separation between rider and Earth, doing a very noticeable job at smoothing out the rough bits. Does this translate to more speed, more comfort, or both? Perhaps. The seatpost flexes enough that you're able to stay seated, keep spinning, and keep power down. I'm less sold on the suspension fork at this point - it's heavy and expensive. But we'll see - I do enjoy some of the ride characteristics it provides, but I haven't determined if it's worth some of the tradeoffs, at least for how I ride.
GRX shifts very well, and the brakes are fantastic, however unless you're in the pro peloton, front derailleurs just need to die already. I'm perfectly capable of performing the dance with both hands, but here in 2022 there's almost no need for this. Give me - and especially every begintermediate rider - simplicity, please. That said, despite having every major option from SRAM and Shimano, there's currently no stock Canyon Grizl build that totally suits me (I'd like to match the range provided by the Ratio Technology hacked Force 11 x Eagle X01 drivetrain on my Bjorn). If it were mine and I had the dough, I'd be building a mullet AXS setup; as Pete refused my request for thousands of dollars in mod budget, we'll try some other more budget-friendly options to ditch the front derailleur and keep plenty of range.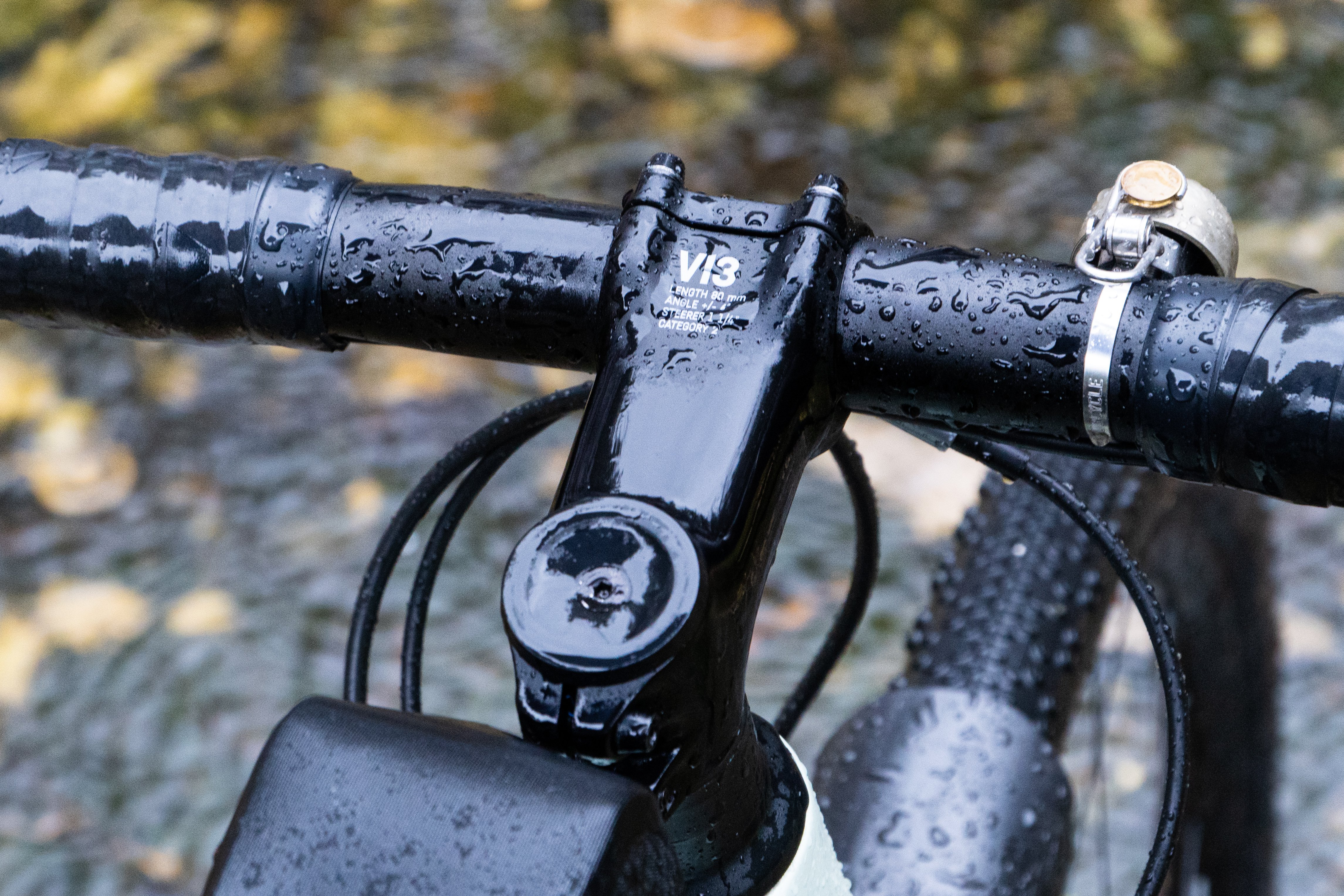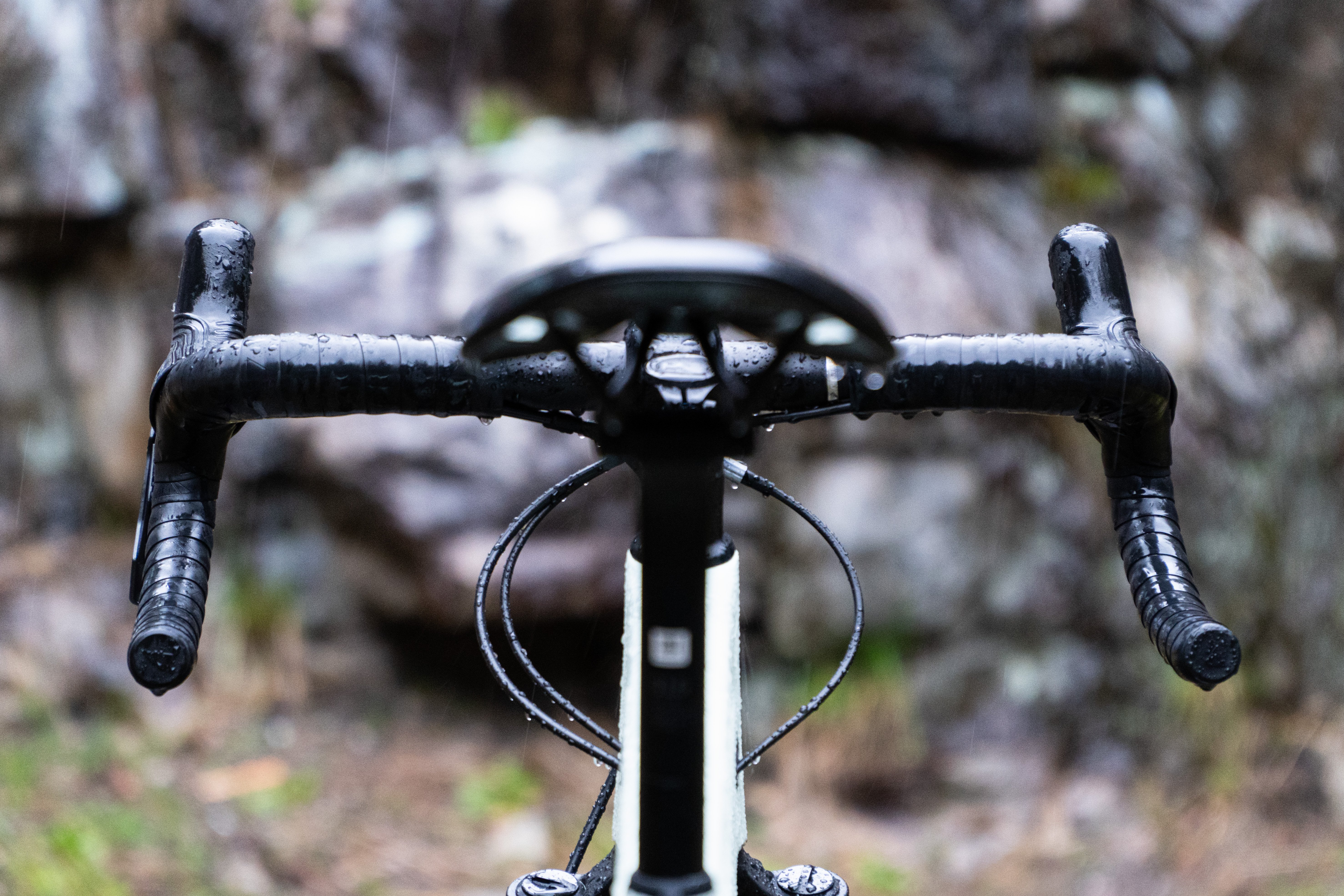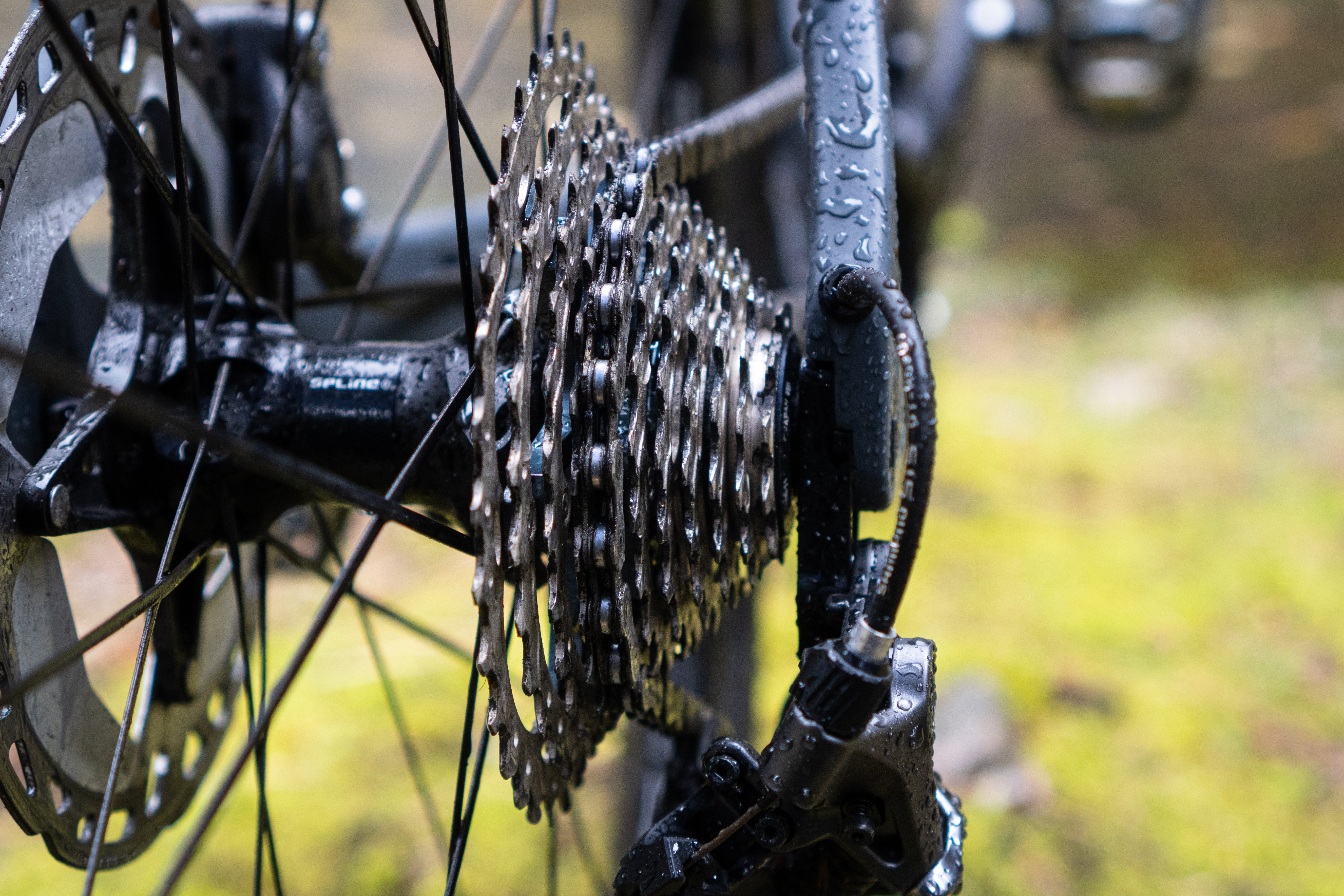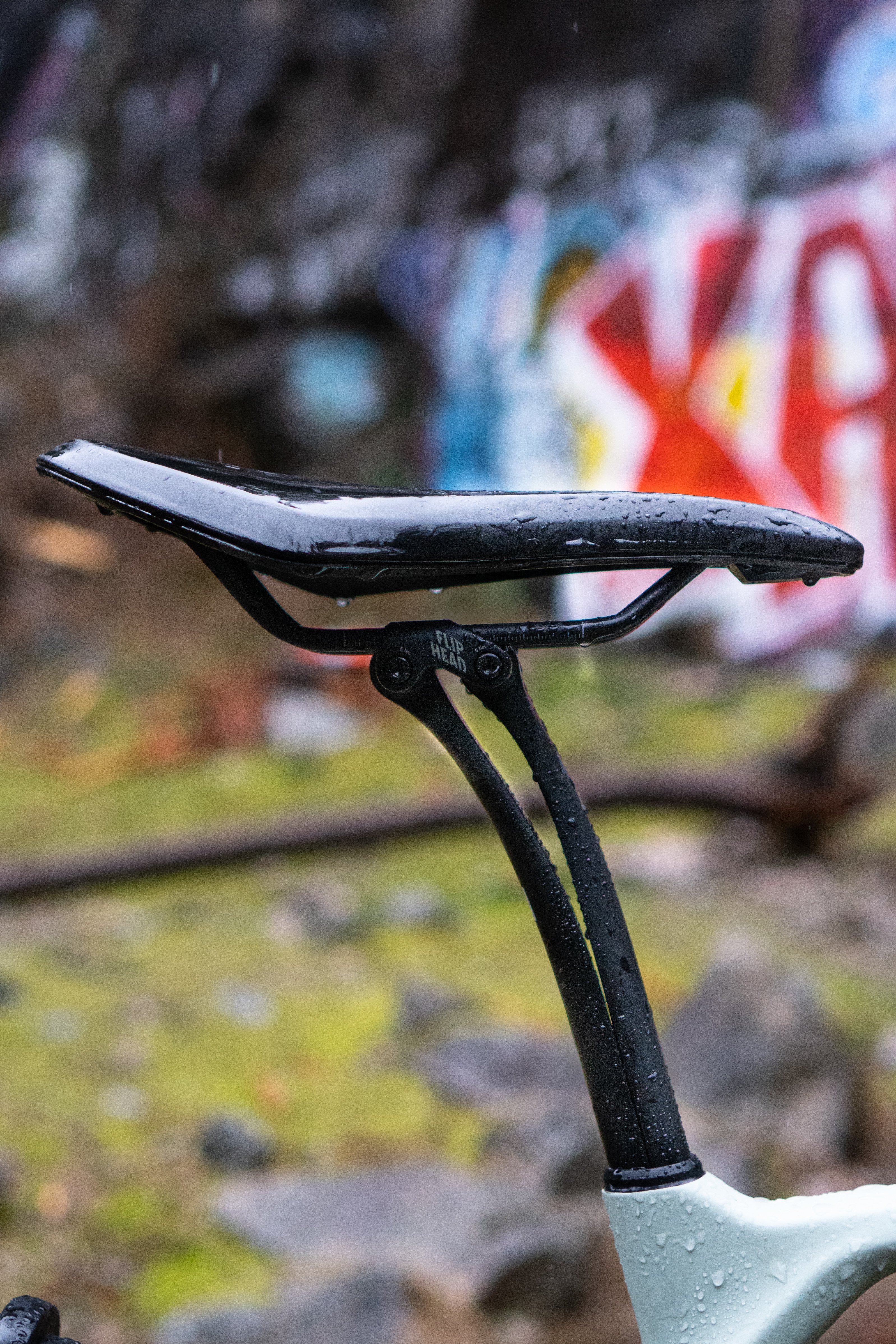 It's time to start making some changes here, though. The touch points need some swaps. We're going to add a dropper. This front derailleur is going in a box. I'll do what we do here at NSMB – ride this bike up steep hills, down steep hills, and in all weather. The jury is still out on whether or not the RockShox Rudy matters and makes this the mountain biker's gravel bike.
Does this belong here? Do you have a gravel bike? What do you want to know, fire away. But beware, the first person to joke about how "gravel bikes are just 90's XC bikes" in the comments owes me a beer. (what if I joke about it before the comments? -Ed.)