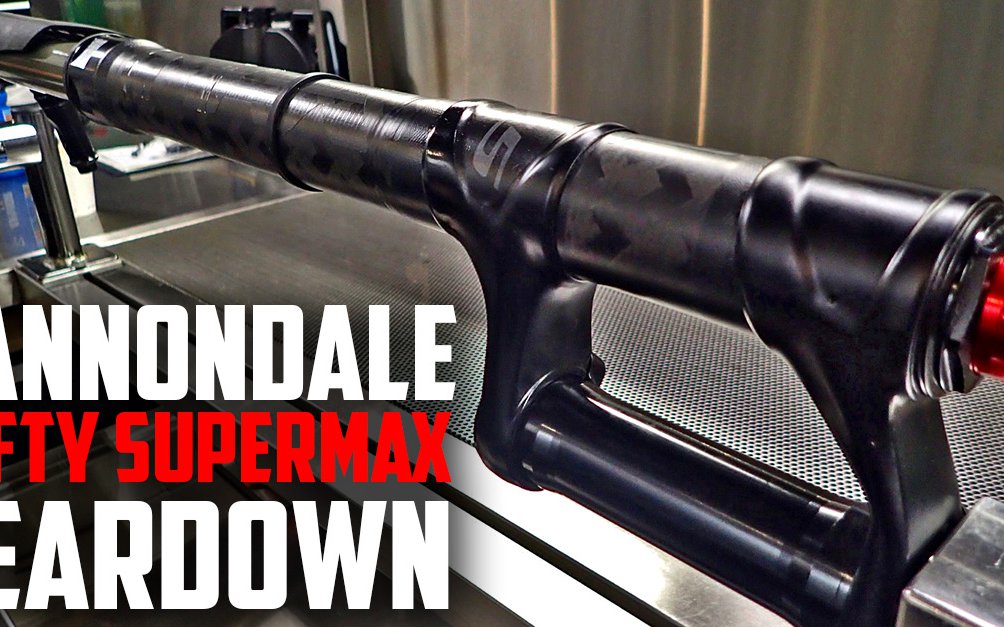 Cannondale Lefty SuperMax Teardown
Lefty Apart
"There are three ways of doing things around here: the right way, the wrong way, and the way that I do it."
-Ace Rothstein (Casino): based on the real life Frank "Lefty" Rosenthal
There are three types of forks: regular, inverted, and Lefty. Oh sure, if you want to really simplify things it's an inverted fork, and if you wanted to be technical/argumentative it isn't a fork at all, but the Cannondale Lefty, their super stiff, one-sided, needle bearing, suspension strut is guaranteed, to this day, to garner more looks, questions, and opinions than any other suspension product you can bolt on your bike.
Steerer clamps bonded to a carbon upper tube. 36mm Stanchion. Hybrid system combining the best features of a 'standard' inverted fork – namely lubrication of the stanchion/seals/bushings – and the previous Lefty struts – namely the needle roller bearings and square stanchion interface for smooth operation and maximum stiffness.
In this case, Cannondale has provided me with a 160mm Lefty SuperMax to test on our Jekyll Carbon 2 vs. the stock 2016 RockShox Pike RCT3 Solo Air, but thanks to Cannondale's Lefty-For-All steerer or Project 321's Lefty Adapters you can choose to run a Lefty on ~ any frame on the market.
The new Lefty "Hybrid" combines the best features of a standard inverted fork (lubrication of the stanchion/seals/bushings) and the previous Lefty struts (needle roller bearings and square stanchion interface for smooth operation and maximum stiffness) and in the process ditches the ugly boot in favour of a very clean looking stanchion guard.
Rebound knob, push button lockout, bonded clamps, bolt on steerer tube, carbon upper, clean graphics, & stanchion guard.
Our friend James at SuspensionWerx recently became a Cannondale Factory Authorized service center, servicing Leftys and DYAD shocks, so I asked him to tear down our Lefty SuperMax so I could see the evolution of the unique one-sided suspension layout. There are some special tools required (available from Cannondale or Andreani Group) that allow the single stanchion/upper to cleanly house both the air system and damper. For the record, there are a number of professional bike shops and home mechanics regularly performing basic services on these forks, so if self-serviceability is a deal-breaker for you then Lefty serviceability, to whatever level you currently service your standard fork, is a few tool purchases away.
Andreani Group Castle Tool; Original Answer-Manitou 1.5" steerer/vice clamp.
The Lefty's basic layout consists of a damper unit oriented on top of an air system. Interestingly, especially given I will be directly comparing the SuperMax to a Pike, Cannondale borrows a number of components from SRAM/RockShox. The SuperMax uses Cannondale's own Push Button lockout system, but many of their forks use a RockShox hydraulic remote. Depending on the model, Lefty hybrid struts also borrow the basic design and a number of components, including top-out bumpers, from RockShox's very well received Solo Air air system.
Easily accessible Push Button lockout and rebound adjuster located at the top of the strut.
Air system located at the bottom of the strut. Also note the unique brake adapter mount and tapered axle to accept their hub mounting system.
Lefty gets particularly interesting once you start removing components. As the damper and air system come out as a complete unit, minus the Schrader valve cap/assembly and the adjuster knobs, and are further dissected from there. Before we start pulling pieces out of the strut, I thought this brief write up from SRAM's own website did a great and/or hilarious job of explaining the basic function of the solo air system for those unfamiliar with its benefits: "Solo Air is like a Buddhist monk. Its enlightened design lets you add air to your forks through a single Schrader valve, filling both the positive and negative air spring chambers simultaneously. So they're always in perfect equilibrium, like Yin and Yang. Giving you a plush, predictable ride you can set up in seconds, with the lightest weight air spring on the market."
Bottom of strut with air cap assembly removed.
Top of strut: metering rods visible with adjusters removed.
Damper & Air System removed as a unit.
One of the key benefits of the Solo Air system, aside from very easy set-up, is the ability to customize the ride by adding volume spacers. This carries over to the Lefty. Cannondale specs different volume spacers depending on the size of bike you are buying but if you qualify as extra-beefy for your height, one of those giants who weigh less than the average person skeleton, or are buying a Lefty aftermarket, it is not rocket surgery to change the progressiveness of your air spring.
Air System. If you've serviced a recent RockShox fork you may recognize some parts.
The Lefty's damper system is a particularly nice collection of machined components including a high flow piston. One of the knocks on the fork is the lack of adjustable low-speed compression; however, if you do find yourself needing more, or less, support from the damper your Cannondale service center can custom valve the shim stack for you to add support. Cannondale has developed different base tunes depending on the application of the fork with the Lefty SuperMax shown here having a different shim configuration from the more XC-oriented Lefty 2.0.
Cannondale Lefty Damper.
Brains of the operation.
Metering rods allow rebound to be adjusted and lockout engaged from the top of the strut.
Rebound shims to the left of you, Compression shims to the right, Piston stuck in the middle.
You can hand bleed the damper, but a vacuum pump — such as the Andreani Group unit shown here — guarantees a perfect bleed.
In the case of the SuperMax's 36mm stanchion, and the Lefty 2.0's 32mm stanchion, the suspension strut achieves its well-reported stiffness from square faces machined into the stanchion that are captured by, and roll on, needle bearings as opposed to sliding on a standard fork bushing like other regular and inverted forks. This overcomes the major complaint of inverted forks – stiffness under twisting loads – and allows Cannondale to build the uniquely one-sided suspension without resorting to the common key-way design we see in most dropper posts as well as future inverted single crown forks from X-Fusion and RST.
We didn't go this deep into the Lefty as part of our basic service with SuspensionWerx; however, the amazing Greg at Cannondale's Factory Tech facility in Connecticut tore one down to bare bones to send me a photo of the needle bearings and square faces machined into the stanchion tube. Thanks Greg!
I'll be riding this Lefty SuperMax, and comparing it directly to a 2016 Pike RCT3, as part of the long term Cannondale Jekyll review. For pricing on a Lefty to upgrade your current Cannondale bike, or if you are interested in running one on a non-Cannondale, you can consult your local Cannondale dealer. In addition to a fork you will need a front wheel, unless if you have a Chris King 20mm hub in which case the latest generations are convertible with an axle kit.
Thanks James!
---
Are you Lefty curious? Maybe just a little?