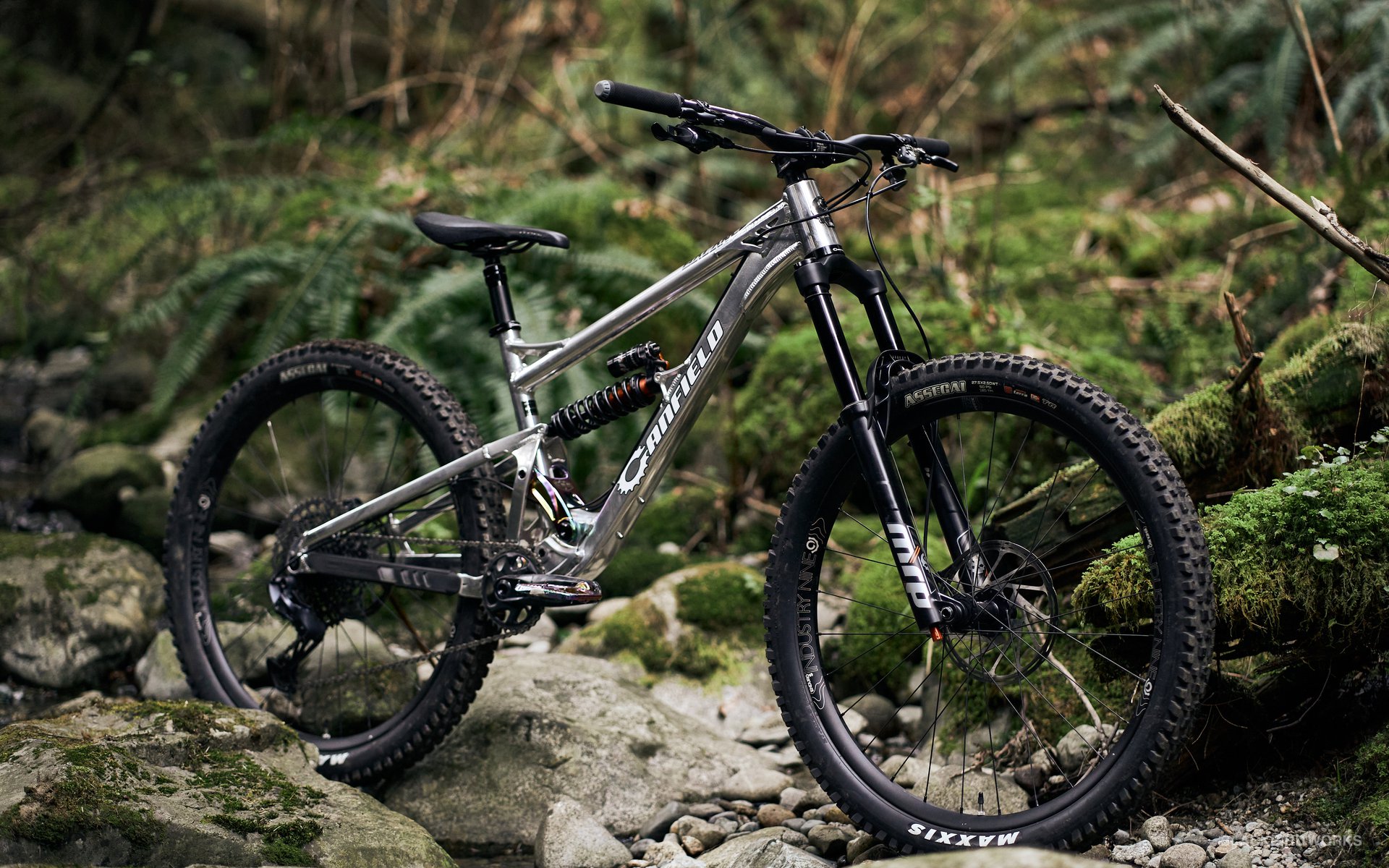 BIKE REVIEW
Canfield Bikes Balance LE - Review
Canfield Balance LE
I've never been the one to raise my hand in the classroom to get on the teacher's good side, but I always wanted to get the last wise opinion in. It was sure hard to resist the urge to speak up when the the NSMB bike tree dropped a shiny Canfield at my feet. Canfield and I go back to circa 2013. When I picked up a "lightly used" ONE from a guy on the North Shore. It was my first boutique bike brand experience. I mounted a fresh Marzocchi 55 on the front of it with 160mm travel thanks to Naz and Alex. It had a Marzocchi Roco Air shock on it and 7" of travel.
I felt invincible and hucked my meat off of some stuff I had no business being around. As my first real North Shore-ready mountain bike, I was happy with my purchase. It cost me $600 for that used frame and in retrospect, I probably paid a little too much for it.
One day, not too long after my purchase, I found a crack halfway around the top tube near the headtube gusset as I was dropping into some steep unsanctioned trails. Devastated, I walked down the mountain, haunted what could have been if I hadn't noticed the frame failure.
I immediately e-mailed Canfield not expecting a response in my favour. To my surprise, I got a swift replay offering a crash replacement frame at a reasonable cost. I could also go down to Bellingham and demo as many different bikes as I wanted before I made a decision. As a shop grom working with big bike brands, I did not expect this kind of personalized service from Canfield.
Even though I didn't buy another Canfield at the time due to a financially-debilitating little love bug that joined our poor family, (I love you son) I knew that our paths would cross again. I instead went down to Bellingham to purchase a used Banshee Rune at a price I couldn't say no to.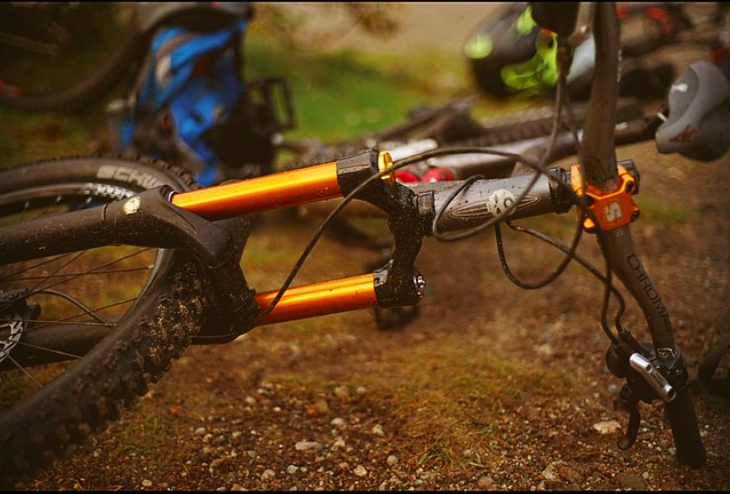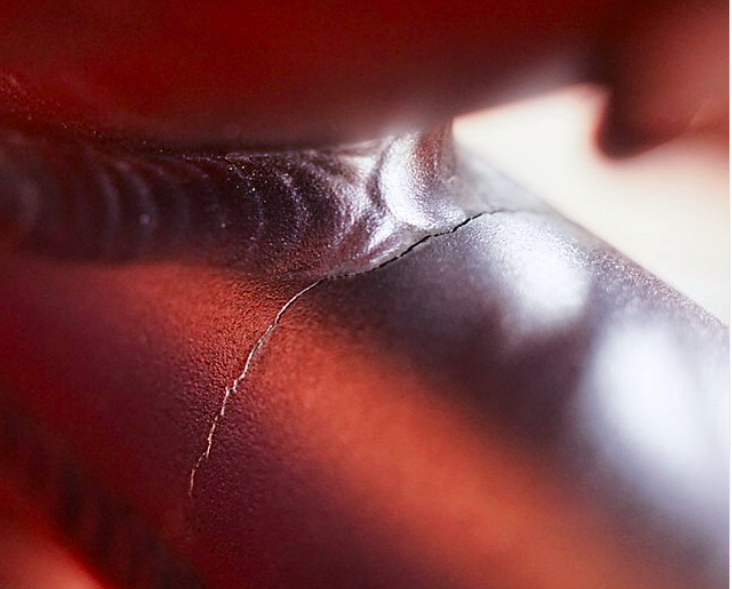 The Build
Covid '20 delayed the promised delivery of the 2020 Balance to the North Shore. What else is new, eh? Eventually a blindingly-bright, size Medium, Canfield Balance emerged from its box at the NSMB Headquarters. Number 100 of 100; a limited edition polished raw frame with an oil slick anodized linkage dressed with coil-sprung MRP suspension. Front and rear tuned to my contemporaneously declared 150lbs rider weight. I weigh a bit more now at 155lbs. The chassis rolled on I9 Enduro Wheels and 1/1 Hubs. Maxxis Assegai EXO+ Maxterra front and back. Stopping duties were performed by by Sram G2s with 180mm rotors.
FEATURES
27.5" All-Mountain / Enduro
7005 aluminum with CNC links
Patented Canfield Balance Formula™ Suspension
169mm travel
DVO Jade X Shock w/ LS Spring
Metric shock sizing (230mm x 65mm)
Boost Spacing
Custom CBF Chainstay Protector
Tapered headtube
15mm pivot bearings
Water-bottle mount -- not really
Replaceable rear derailleur hanger, spare hanger included - I didn't receive one
Signed and numbered production badge (Limited Edition only)
Available in Limited Edition Polished Raw (w/ rainbow oil-slick links), Desert Loam and Deep Space (w/ black links)
Frames ship with white decals. Black decal sheet included.
Available in Small, Medium, Large and X-Large
FRAME SPECS
Shock Specs: Metric: 230mm x 65mm, (22mmX8mm/36mmX8mm hardware)
Recommend fork length: 170mm – 180mm
Headset: Tapered 44mm upper/49.6mm lower
Bottom bracket: 73mm, threaded - Heck yes
Seatpost: 30.9mm, stealth dropper compatible
Seatpost clamp: 35mm
Rear dropouts: Boost 148mm x 12mm, Canfield axle included
650b+ compatibility: Up to 35i rim/2.8 tire
ISCG tabs: ISCG 05
Brake mount: Post 180mm -- more on this later
Seatpost max insertion: 205mm(S), 225mm(M), 260mm(L), 305mm(XL)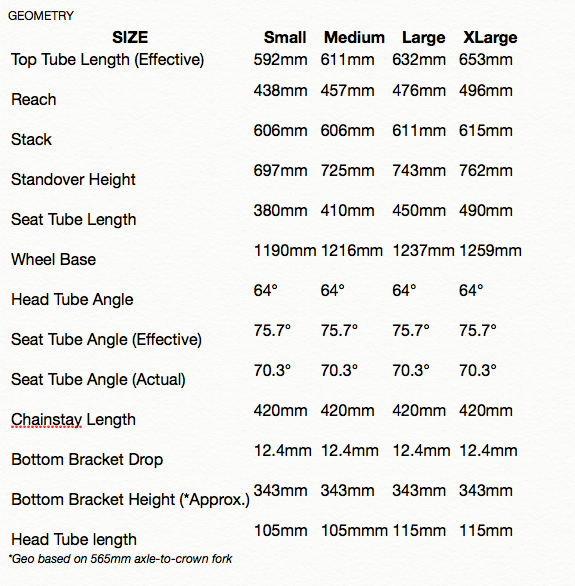 Profound satisfaction wells up when looking eye-to-eye with a skull that sits on the helm of a bike like this, one that you have to ask forgiveness of. Will I be worthy of this heritage and do justice to the ride?
Frame Details - Suspension Design
Canfield Bikes is all about simplifying the frame design and production and utilizing their CBF ( Canfield Balance Formula) suspension. CBF is also found on a couple of other bike brands like Revel Bikes out of Colorado and Versus Cycles (RIP). CBF promises a lot of things. Chris Explains with much stoke on his patent website CBF Design. His videos are worth a minute of your time if you want to hear about what it takes to create intelligent suspension design. The general idea is that the instant center rotates with the center of curvature which sits right on the chainring.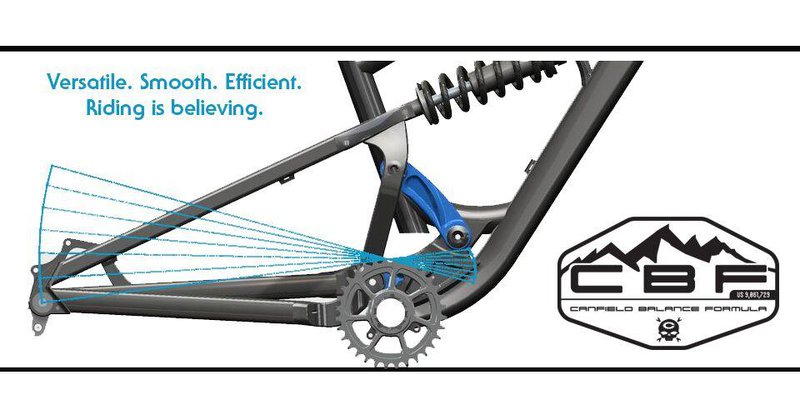 This positioning means the pedalling performance is independent of how much sag you end up with. Bottom Bracket height and bottom-out resistance are dependent on the amount of sag you run as usual. CFB design allows the chain to have a constant amount of tug at the rear end no matter how high or how deep you are in the suspension stroke. Your pedalling position in relation to Seat tube angle will be different at different sag points, but the suspension will not bob or bounce more with more sag. For the most part this stays true.
Read About Canfield Suspension HERE
The frame is a work of art. The perfect amalgamation of hydro-formed square tubing with the traditional extracted round tubes and gussets that remind me of mid-school BMX frames. External Cable routing promises a life of 'easy maintenance' joy. It falls short with a final move through head tube gusset. The brake lines are just a little too thick at the compression nut to pull through without a snip-snip on the hose. The hose will fit through fine, but the end that attaches to the brake lever will not. Alternatively, the banjo end at the calliper could fit through with some finessing but I don't like to remove banjo fittings unless I absolutely have to.
This is major step forward from all internal routing with no guide tubes, but a slightly larger opening at the headtube gusset would make the entire design smarter. (I'm not sure if the larger-sized frames have bigger openings or not) A tidal wave of beautiful welds clad this frame and each and every one of them are as intended. There is no slop or misfire on the entire frame.
The aesthetic elephant in the room is the oil slick linkage. It is the most important piece to this CBF puzzle and has generated lots of talk on the trail and in the workshop. Friends who suggested we do a 4th of July Fireworks themed photoshoot for the review and others who expressed disapproval of the whole colour scheme, all eventually agreed that this Balance is a badass looking bike. It means business sitting still and when while flying down the trail.
The Balance uses 6902 Bearings throughout the frame and gives the burly impression that only a Banshee can compete with. It's hard to overemphasize the added convenience of using a single bearing size for all the suspension parts. High quality Enduro bearings are spec'ed and they all stayed trouble free for the test period.
The head-badge is indeed CNC machined and Black Chromed. Profound satisfaction wells up when looking eye-to-eye with a skull that sits on the helm of a bike like this, one that you have to ask forgiveness of. Will I be worthy of this heritage and do justice to the ride?
Climbing the Balance
I'm not entirely committed to 29ers but I also wasn't planning to spend hours on the saddle climbing a 34lbs, 27.5" wheeled bike that can't hold a water bottle in the front triangle. The season was very wet and hydration was not much of a concern. But in the summer I'd be pissed. Sure I have a fanny pack to carry stuff but for long days in the saddle, I need one bottle on the bike. It's not end of the world as the bottle cage option under the downtube exists but I won't be utilizing it anytime soon, save for a full day epic.
I really got along with the 75.7 effective (70.3 actual) seat angle. I didn't have to slam my seat forward but I pointed it down slightly. Apply the power and the smaller wheels spring into action much easier than its 29er brethren. Add 32 x 52 gearing and you can winch yourself up to any high point without much fuss.
I especially enjoyed punchy power moves that require rapid bursts of wheel movement to get over things and the front and rear Assegai combination responded well, clawing this beast way up stuff as long as it wasn't too muddy. Assegais clog up rapidly in the presence of mud.
The biggest issue I had was the short chainstays on tech climbs. There is traction on the rear wheel for days if you climb up loose gravel roads or smooth singletrack. But approach a North Shore caliber tech move, where you need to thrust your way up the slippery stuff, the front end lifts up off the ground a little too easily to keep the ship steering straight. The fine balance of shifting your weight to the front of the saddle and breaking the rear wheel loose is a little less forgiving than on bikes with longer stays.
Shifting to one or two gears harder and smashing through is another option but not one I employ on the regular. I prefer to pick may way through the jank. Slippery roots require a balance of unweighting the bike and maintaining traction at the same time. I had a little harder time climbing this bike up technical stuff than some of the other bikes in my stable. It is not impossible, but more work than I wanted to do.
The climb switch on the MRP Hazard shock is easily accessible and it was used. Flick it backwards for a very firm platform that I found usable on the smoothest surfaces. This includes some climb trails but not undulating terrain as the bypass threshold was too high for me. The lockout circuit on the Hazzard was so firm that it made the bike a hardtail. I hit the climb switch accidentally with my knee a couple of times, knocking it out of the position. This wasn't a deal breaker for the climbs but no way to have fun for the downs with the shock on the edge of locking out. It wasn't a regular problem but worth a mention.
The front and rear coil suspension and a complete absence of carbon contributed to the 34lb build. I believe this is a very reasonable weight for this bike and there is lots of room to bring it down to low 30s with air suspension along with a carbon cockpit and wheels.
The testing period coincided with another bike that is a lot more excited to take you to the top of the hill and I reached for it a lot more for the climby rides, leaving the Balance more for the shuttles or solo rides where I had the time to play in the forest.
Descending
The Recipe is sound; add 170mm of Front and Rear travel, throw in some decent geo numbers and you have a bike that is made to party attitude on the way down. The traction I mentioned on the way up is there even more evident on the way down and the suppleness of the suspension lets you get away with less grippy rubber if you want. Max Terra compound is not my go to for the slippery season, but the Balance made them work on just about any surface I put them on. The North Shore terrain is flattened like a pizza and you can make your way down some seriously hairy stuff.
The suppleness of the coil-sprung machine was addictive. Just pushing down on the bike, or breathing on it really , moved the chassis downwards with little effort. This, is where the traction came from. Slower-speed, steep, technical riding has been an absolute joy. There is a certain satisfaction to knowing precisely where your wheels are with the 27.5" wheel setup. Add some meaty Maxxis Assegais and not much scared me on the rides this bike came along to.
When the terrain levelled out a little, I struggled to keep up with the boys and gals on their fast rolling 29ers. I had to pump the terrain more and stay out of the holes that robbed my speed. But eventually we came to a corner and I had a better hand than the rest of the crew. Corners were the stage where the short chainstays performed for the audience. 420mm Chainstays meant that I could manual into a corner, drop the front-end just before the berm and thoroughly evaluate the work of our skilled local berm constructors. On a particularly buff, roller coaster-like trail, I ripped the tire right off the rim at 24psi on one corner. This was a first for me and I was somewhat proud of it. It was annoying to walk to the lot but this experience set the tone for the rest of the review period.
FIND A CORNER AND STOMP IT
A little voice inside of me screamed with joy every time a berm or any kind of corner with support showed up. I would wait until the last second to lean the bike over and somehow exit with more speed than I entered with. This feeling got addictive. I started choosing twistier, tighter and flowier trails to ride this bike on. All I could dream of was for Whistler Bike Park to open.
Then the ground started drying up and speeds picked up on the Shore. It even got a little too loose at times. When the trail got fast and rough, the suspension did its job but wouldn't let you fall a sleep at the wheel. The short rear centre had me pushing the rear end down with my legs on repetitive hits and things got a little out of control if I didn't pay attention. Hoots and hollers became more common as near wreck saves became more frequent. The Balance demanded my attention in the most polite way possible, by taking me to the edge of destruction and then returning me to earth safely.
Jumping was a particularly enjoyable experience on the Balance. Finding the balance point and moving the bike around in the air felt effortless. I think I could go up a spring rate to add more support and less sag to the shock, but the bottom out circuit on the MRP Ribbon Coil worked really well when dialing it in about 20clicks from open.

The Balance demanded my attention in the most polite way possible, by taking me to the edge of destruction and then returning me to earth safely.
MRP Ribbon and Hazzard shock
These are not a very common sight in our neck of the woods and I've been looking forward to the opportunity to try them. The Grip 2 Damper Marzocchi Z1 on my Druid works so well that I had high expectations from a boutique option from MRP. The fork worked really well for the first 5-6 rides, then developed a dead spot right off the top down to about 15% sag. The low-speed compression dial only exacerbated this feeling and made the compression unusable. A quick e-mail to MRP and Canfield got me a speedy response within hours and the options were to send to fork to them or to send the tools to me to bleed the air out of the damper. I couldn't pass up the opportunity to open the fork and get to play with new tools. Everything showed up in no time and I got the damper bled in under an hour following the video on the MRP site. The results were immediate and the dead spot had been eliminated.
MRP dampers seem robust and they definitely let you know that they are at work. The sound of the oil flowing is audible on the trail and while not distracting for me, you may not like it if you prefer a silent ride.
The Shock worked really well from the start. The Hazzard offers both high and low speed compression and a single rebound knob to play with. The rebound knob is only accessible with a 3mm hex tool but I would prefer a knob as I generally adjust rebound a couple of clicks here and there depending on the trail. There are 20+ clicks to all the settings and I set them right in the middle and left them there. That's 15 too many for me and for a race bike it maybe beneficial, but for the party the Balance brings to the trails, that's way too many layers of fun-dip. This is a bike that benefits from simplicity in my opinion. Coil suspension removes many variables but the range of adjustment on the shock will be too wide for some riders.
Components
I9 1/1 Enduro Wheels
I love these wheels. No crazy engagement like the Hydras, but the 1/1s play to the favour of the CBF suspension and tug at the chainstays just the right amount. High engaging hubs require fully decoupled pedaling platforms for janky trail riding. The Enduro rims have been bombproof and don't appear any worse for wear; no dings, no flat spots and still holding true.
Sram GX drivetrain
This is the everyday business person of drivetrains. It goes to work and gets shit done. It doesn't ask for a raise but gets the boss's hand me down company car every couple of years. That's how it gets to drive a Mercedes S-class. The 10-52t ratio is spot-on for this bike or any other for that matter. The jumps from BIG to smaller cogs are annoying but it shifts without a fuss in the morning, even after a few too many after work bevvies at the local dive bar. It get's up, takes a shower and carries on.
Rockshox Reverb
This is the latest reverb. It's got 150mm drop on this bike but I wish It had 170mm. The dropper works and can be bled at home if it develops a sag at extension. Mine did, but got remedied in about 10 minutes with a 9mm socket. The sag come back and got remedied again easily. On the 3rd time I got tired of doing it, so now It sags about 10mm when I sit on it.
Sram G2 brakes
No matter the bleed or the pads or the rotor size-up, I couldn't get these brakes to work well. Bled and re-bled. No dice. Canfield specced the Balance with 180mm rotors. That's a mistake in my opinion but I'll chalk it up to supply chain issues. A 203mm centerline rotor I had laying around made its way to the front right away and made a small difference with the G2s. After a ride where I lost the brakes entirely, I took them off and installed some Shimano XT four-pots instead. Problem solved.
Sram does make brakes that are worthy of the Balance and those say CODE RSC on them. Brake rotors of 200mm need to be on the complete builds front and rear too. As much as I wanted the G2s to work well out of the box, they did not and I wished Canfield hadn't specced them. External routing made the brake swap easy and painless, save for a hose snip and re-hardware I mentioned earlier.
Spank Cockpit
This was a great compliant alloy bar along with slip on grips. The grip plastic sleeve has a cut-out for added squish and I found these very easy to hold on to. I left the bars uncut at 800mm and had no issues. Just for a laugh, I put 750mm bars I borrowed from the NSMB HQ for a couple of rides. It was a little too narrow for me and made the bike a lot less fun on the descents. On my 29ers, I run my bars at 780mm for comparison.
Who is this bike for..
You better have a chat with yourself about this bike. Canfield made a bike that is easy to ride and get along with. There are no obvious design flaws or weird suspension kinematics; the rearend is supple and stiff enough to generate infinite traction while not feeling like a wet noodle. Unique looks are stock and there are also interesting build options.
There is alot to like about this bike. The Deep Space blue frame is a stunner and I wish I could see one in person. If this was my ride, I'd love to try an air shock and carbon wheels to get this puppy down to 31lbs and have a screaming time on any trail, any time.
The Canfield Balance is a heavy-hitting bruiser as it sits with the all-coil, all-alloy build. It apologizes for nothing while drinking all your beer out of your workshop fridge and you are happy just to be in its presence. Get it up to speed and enjoy a poppy playful ride, or manual for ages down some sweet-ass singletrack. It is not out of place anywhere, none. I'd bet as a lightweight build with some fast tires, you could slay some XC rides on it too.
I may have to convince the guys at Canfield to let me keep this one, because, there are a few corners out there I haven't hit yet!
$4500usd ($5500CAD)

Deniz Merdano
5'8"
162lbs
Playful, lively riding style
Photographer and Story Teller
Lenticular Aesthetician