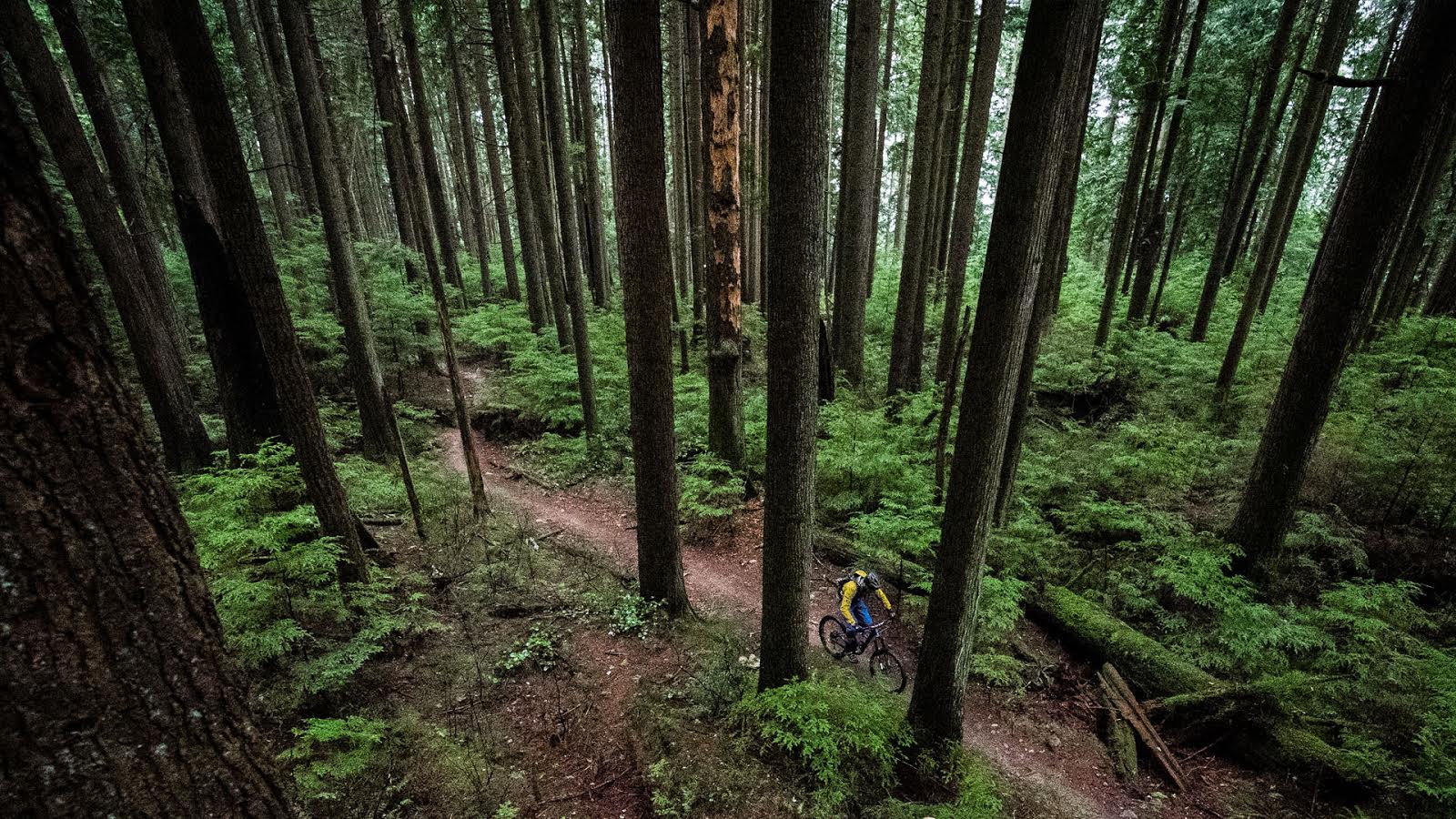 2015 Canfield Balance Ridden
It's been a long time coming but today is the day that Canfield is finally fully releasing the Balance. We first saw this bike back at Sea Otter where Lance Canfield had a preproduction version of the frame. The Balance isn't a new model for Canfield, with the original released in 2006. That bike had quite a cult following with people naming it a mini DH bike because of the way it rode. For the new model the Canfield Bros went and tweaked the bike to suit more all mountain use with 27.5″ wheels, while still having the option to get properly rowdy on it like the original.
When we talked to Lance at Sea Otter he was notably frustrated that it had taken this long for him to be able to have this bike out in public. It seems that due to some patents on the suspension design, they had to keep things under wraps until those patents were secured. The goal with the new suspension design is to have an efficient pedaling bike, while giving it the classic Canfield Brothers plushness when things get rough. A big claim and we will get into that more later. Here are the stats on the frame:
● 160mm travel
● 27.5" and 26" compatible
● 66° head angle, (27.5" with a 160mm Pike)
● 16.75" chainstay
● Front derailleur compatible
● 142x12mm rear spacing
● Frame weight: 7.5lbs without shock
The frame is built out of 6061 aluminum, with all the normal features like a tapered headtube, 73mm bottom bracket shell, ISCG tabs, 142 x 12mm rear dropouts and stealth dropper routing. The suspension moves around oversized 15mm pivots and Enduro Max bearings which should stand up to a wet winter or two. In today's world of sleek carbon frames, the Balance reads industrial with its machine plates and manipulated tubing, and the black anodized or brushed raw aluminum finishes make for a purposeful looking machine. 
I got on one of the pre-production frames for a while and I tossed it into a range of off road scenarios. I took it on a rowdy jump line, did a 25 mile back country loop near Mount Hood, hit some bigger hits at Post Canyon and also found some steep rooty messes of trails to pitch it into.
The bike comes with the very capable Cane Creek DB Air CS shock and Canfield has two different suggested set ups for the shock; park and all mountain. I started with the more park oriented set up but also rode the bike in the all mountain mode. The main difference between the two set ups are sag or air pressure. The AM setting sits the bike up in it's travel a little higher.
The bike itself was built up with a Pike 160mm fork up front and a SRAM X9 built kit combined with the Canfield in house C2 components for the cranks and wheels. A stealth Reverb from Rock Shox, Race Face Atlas stem and SixC bar and Maxxis rubber finished things off. Very little to complain about on the build.
My first ride was at Galbraith in Bellingham with Vin from Canfield. We rode up the technical way, taking in the 3 pigs trails. I engaged the climb switch on the climb because past experience told me bikes of this ilk need to be taught some manners. The first thing I realised as we worked hard against the grade was that even with the climb switch engaged the bike stayed supple, holding traction up and over roots and knobbly bits of trail. The suspension didn't react negatively to my pedal inputs unless I really decided to get up and jump. A good first impression.
At the top we pointed down into trails like Evo and Atomic Dog, trails with some drops, big jumps, berms and some twisty stuff in between. Despite being my first time on the bike I was quickly getting into the groove on the bike and tailing Vin over some of the bigger jumps, bigger than I'd hit in awhile. One particular jump, in the clear cut on Atomic Dog, is a decent sized gap where the landing is blind from the lip. I've never hit this jump before, but putting my trust in Vin I tailed him and comfortably landed on the tranny. You don't start doing stuff like that on a bike you are not comfortable on.
The thing that jumped out after the first ride on this bike was that the action of the rear suspension felt right. The panacea for riders is for their rear suspension to have great start of stroke suppleness, a good supportive mid stroke and then a nice ramp to the end. This gives you great traction when climbing, a good platform to work against when pumping through a trail and a bottomless feel when hitting something big. The Balance has that straight out of the box. How much of it is down to the Cane Creek shock and how much is the Canfield suspension design I don't know and don't really care, the back end of this bike feels sorted.
A few more rides in and my feel warm feelings about the well-controlled rear suspension hadn't cooled. Switching to more pedal-focussed rides I noticed something missing; pedal feedback while I was on the gas on rough sections of trail. In fact you could pedal through rough root sections or rock gardens and the rear end just felt as active as if you were freewheeling.
After the first few rides I shot Vin an email to tell him how I was getting on and to try and find out some more on what was happening with the rear suspension; "we sprinkled on some Canfield secret sauce" came the reply. Thankfully when I dropped the bike back to Canfield HQ I caught Chris Canfield who was fresh back from Taiwan where he's been overseeing the production of the frames. Chris tapped into my engineering background by going to town with a mind blowing set of diagrams showing me the instant centres, moments of inertia and other suspension geekery. It does seem there there is some secret sauce here, and something that Chris was surprised hasn't been covered in other patents yet.
To put things in layman's terms, the parallel link suspension is designed so that as the suspension moves through the travel on a vertical wheel path, the torque vector created by the tension in the chain does not affect the suspension's ability to move. This means that when you decide that you are going to pedal through a ball of roots or a rock garden, you don't feel that varying chain tension as the suspension moves through the pedals.
The geometry numbers are similar to many modern bikes aimed at this market segment. The 66 degree head angle on my set up felt bang on and the bike lives up to it's name by being really balanced front to rear. It has a nice tight rear end with a 16.75″ chain stay length so you can stay centered on the bike and not feel like the front is going to push wide on you. The head angle wasn't silly slack so when climbing the bike still tracked nicely without wandering, but slack enough for the bike to feel stable when ripping back down. Stiffness front to rear is good and when I was slamming the bike into turns it tracked accurately. It was tough to find fault in the Balance's handing allowing me to focus on the ride and go as fast as possible.
The trick that the Balance has up it's sleeve is that you can build it up with 26″ wheels and a 170mm fork if you prefer. This makes for a slacker more bike park-oriented machine. Based on my experience on the bike I'd happily take a day in the bike park with the bike as it is, changing only the rear suspension settings to suit.
There really is no better way to describe how this bike rides than to point you to the video below.
Canfield Brothers Balance from Reilly Kintzele on Vimeo.
The Balance frame will set you back $2100USD and is available directly from Canfield via their webstore with various packages available to add a fork, cranks, wheels and pedals for your build. The full release details for the bike, including detail photographs of the frame, color options and all the nitty gritty details can be found on Canfield's website.
---
Do you think you might be as enamoured with the Balance as Jon?