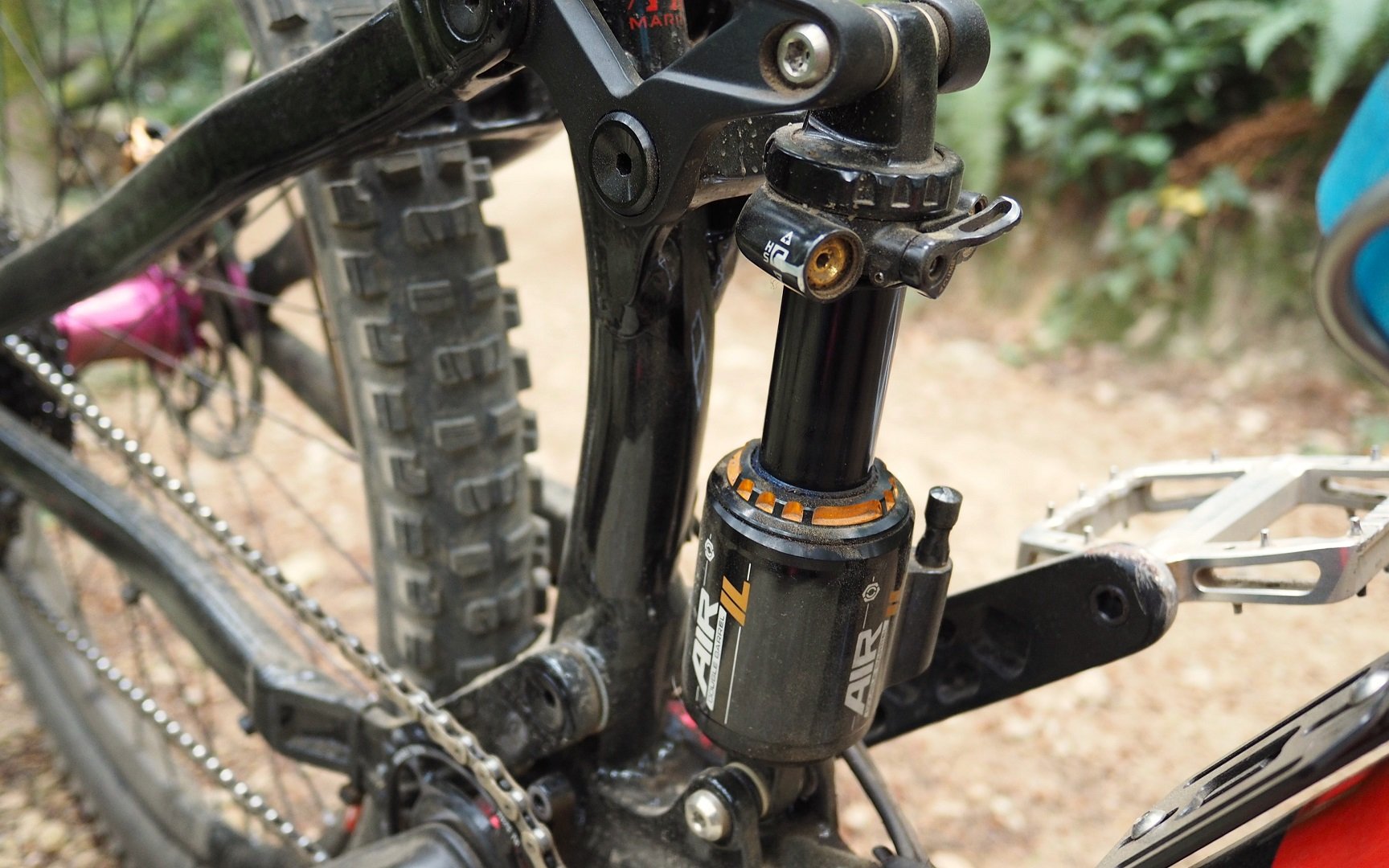 REVIEW
Cane Creek 'Covid-Created' Double Barrel (CCDB) IL Air
Paperweight
I was talking with Noel from Aenomaly Constructs about the best value for a new rear shock; not the cheapest, not the best performing for the smallest upfront investment, but rather my picks for a long-term suspension investment. How I'd invest my own hard-scratched cash on a new shock will change like the weather, starting with whether I'm in a coil or air spring frame of mind, but these days it's not a conversation I can have without mentioning the Cane Creek Double Barrel (CCDB) IL Air shock on my Marin Rift Zone.
Noel brings up that he'd had a first-generation CCDB Inline Air on his Specialized which had served him well and was now in retirement somewhere at his place, and that is where the conversation gets interesting. These shocks had significant small-OE penetration and since my first piece on this CCDB upgrade went live I've talked to a few folks who had one sitting around in a box, or picked a blown one up off a friend for a couple of cases of beer. Their experiences matched my own. You simply can't go wrong when you take an Inline Air you already own or pick up for cheap, add in a routine 100hr/yearly service (220 CAD), and the full upgrade package including the inner & outer air cans and black shock body (135 CAD). This shock was locally rebuilt at SuspensionWerx, and your preferred authorized Cane Creek service and tuning center offers the same service.
It's up-cycling an existing product, that could be almost a decade old, to match the current spec of one of the best performing and most tuneable inline shocks on the market - for somewhere around half price.
My own experience started with my teardown piece on this specific 2014 & 2022 CCDB IL Air. I'd ridden my previous Rift Zone with a rebuilt CCDB Coil CS shock, with a piggyback, and I loved that setup. I don't care about weight and the 5" Rifty platform pops even with the increasingly damped ride of a coil spring but there was simply nothing available at the peak of the COVID parts shortage. I actually had the bike completely ready to roll other than a rear shock and Cane Creek, like most companies, was completely out of inventory in any option. But, they did have service parts.
Thus a project was born. Starting out with an original CCDB Inline Air that had been sitting in a box for at least a few years following the previous owner riding it into the ground and electing not to get it serviced. It was a first-generation Cane Creek Double Barrel Inline Air shock which would have suffered from the bladder-related bleeding and general massively-ramped-production issues of the species along with the fact that the air cans were simply too voluminous, or 'coil-like' if you prefer, for many short-to-mid travel bikes of the time.
Yes, with the right frame and a really good bleed, or with the updated bladders that came out around a year later, it was a good little shock for the day. The key feature, present in all Cane Creek shocks, being that the architecture allows for the full tuning range to be externally accessible with a 3mm hex key. There's no need to tear down the shock to revalve the damper for the best performance with a given frame. This newest version, now known as the IL and also available in a coil-sprung version, carries over the damper layout and adds better-tuned air volumes and construction updates that make it much more robust.
My Rifty is a coil-shock-friendly frame, and I'm running this IL Air shock with no volume spacers and about 25% sag. I have used full travel, but never harshly such that I'd consider reducing the volume. A similarly-sized rider who prefers more sag would likely find themselves popping the outer air can to play with reducers, which is easy to do. I know some riders find tuning Cane Creek's rear shocks to be intimidating, since a full range of damper adjustments to suit any bike are available externally at the turn of a 3mm hex key. If you invest just a little bit of time when you first install the shock it can be as set-and-forget or perfectly dialed in as you're prepared to get it.
Unlike most suspension products, the settings on Cane Creek's shocks are listed from the open positions. I start with the high-speed compression (HSC) at 2.5/4.5 turns, the high-speed rebound (HSR) at 3.5/4.5 turns, the low-speed compression (LSC) at 10/18 clicks, and the low-speed rebound (LSR) at 10/18 clicks. The first thing I adjust after setting sag is finding the right LSR speed for me and then I hit the trail. If my bike starts feeling out of whack as I play with bracketing settings, I simply return to this base tune.
The only tuning tip I'd add is to do with the high-speed and low-speed poppet valve architecture. Sometimes folks complain that these dampers can feel a bit harsh and that can almost always be traced to the not enough HSC and/or HSR.
There are so many metrics in choosing a rear shock - price, service cost, reliability, a brand's reputation for long-term support, tuneability, user serviceability, ease of setup, specific frame pairings - that it's really impossible to recommend 'the one' shock these days. Even if you narrow it down to air vs. coil and we specify an amount of travel. A fresh CCDB IL Air, compared to other shocks in the 700-ish CAD price range, has a lot going for it in terms of user tuneability as well as performance in a non-reservoir shock. It's easy to recommend, but there are other solid contenders in the price range and, of course, you can easily spend twice that amount for a custom-built shock from PUSH or go halfway and buy a reliable basic air shock like an SR Suntour Edge.
The clear win with the Cane Creek shocks is the long-term support and backward compatibility. Where this shock delivers excellent traction and support climbing (wide open, I never use the Climb Switch) and where I find the traction, comfort, and support descending to be on par with other top-end air shocks I've used, the price makes it that much sweeter. This is especially true for riders who already own an older Inline shock or can find one in need of a rebuild for an excellent price.
Check out Cane Creek for more information on the IL Air shock, and check in with your preferred authorized service centre for more information on upgrades to existing Inline Air shocks.