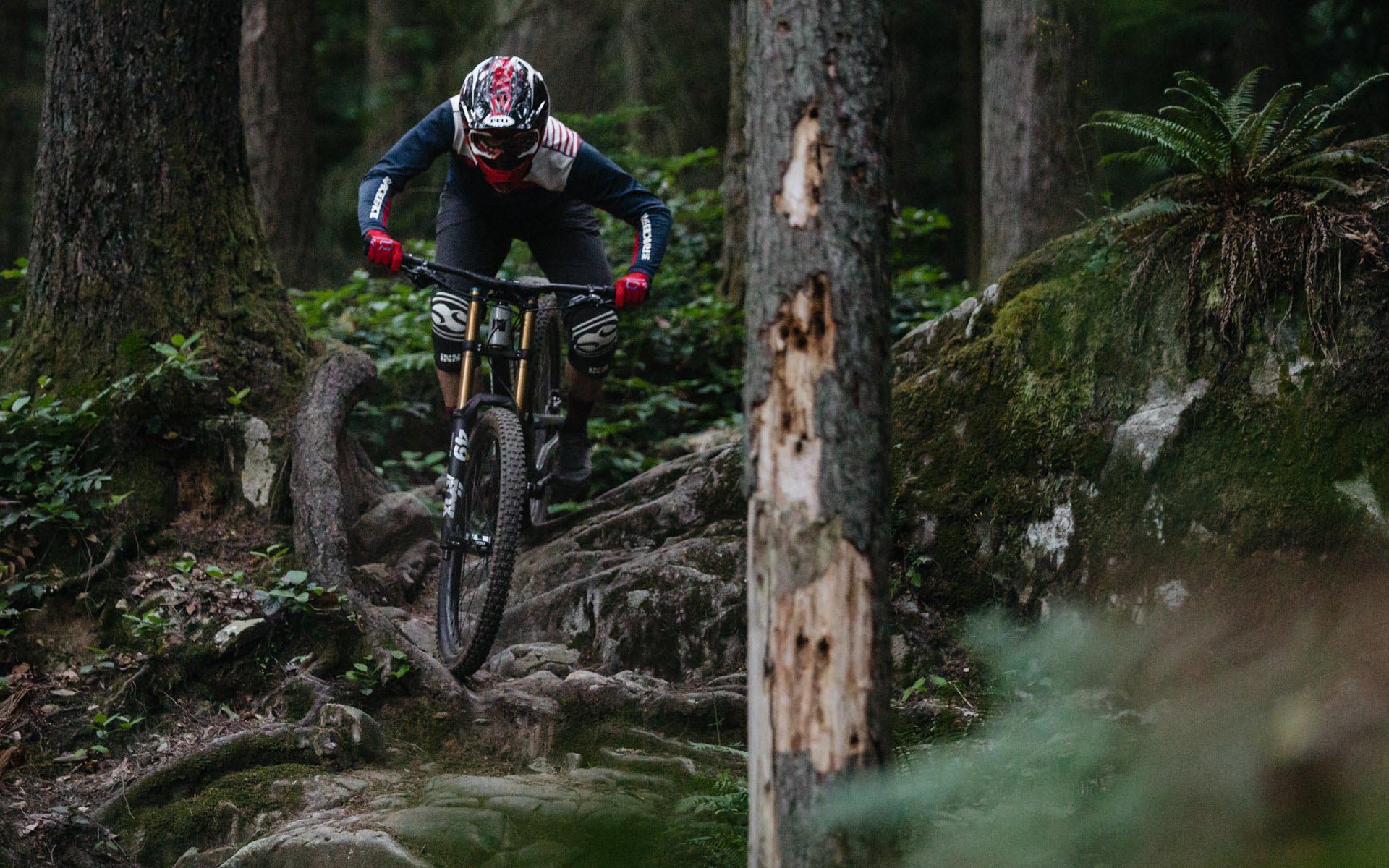 Race #2 on the V10 in prep for Master Worlds.
A Canada Cup and Progression on the V10
Article #3 in the Master Worlds Prep series. If you didn't catch the first two, I introduce the Santa Cruz V10 I'll be racing on here, and my first downhill race back here. The next step of Master Worlds Prep was to do another downhill race. I wanted to do the Canada Cup in Silver Star. Mostly because I remember really enjoying riding the Silver Star Bike Park, and also because its a track I didn't really remember.
Since the BC Cup downhill in Whistler I kept the CushCore in the wheels, and kept all the same bike settings. I created three segments on Strava to keep track of my progression; Top Half of the track, Bottom Half of the track, and the Entire Track (truth be told I did this after the race finished). The top half of the track was fairly open, fast, and committing. There were a number of rocky sections, and one big blind huck. The bottom half of the track was mostly in the trees. This portion of the track had lots of line choice and was fast and busy.
I immediately felt comfortable in the fast open stuff up top. I was riding a gnarly straight line through a rock garden, into a steep section, tight left and then there was a 4-5 foot steep roll to a long straight. I was able to ride the left corner fast enough that I was having to drop to the steep roll. When doing some laps with my friend Tom Power we were debating the best lines through that section. He mentioned that my line through the rock garden was faster, but that I seemed slow on the exit of the left. It wasn't until the end of practice on Saturday that I realized my mistake. Everyone else was getting a great pump out of the steep roll and carrying that speed for the long straight. Tom was also destroying me in the lower half of the track. I was struggling to remember where I could push, and where to let up. I also wasn't looking up enough and kept missing a few key lines. Long story short, I wasn't happy with my riding and had work to do. How to fix that? Go to the pub! Almost all of the Masters competitors were in the pub on Saturday night having beers. Perfect.
| Run Number | Top Half | Bottom Half | Entire Run |
| --- | --- | --- | --- |
| 1 - Saturday AM | 21:04 | 1:56 | 23:01 |
| 2 - Saturday AM | 3:09 | 1:31 | 4:41 |
| 3 - Saturday AM | 4:52 | 1:28 | 6:21 |
| 4 - Saturday AM | 3:25 | 1:26 | 4:52 |
| 5 - Saturday AM | 1:25 | 1:28 | 2:54 |
| 6 - Saturday PM | 1:25 | 1:29 | 2:55 |
| 7 - Saturday PM | 1:24 | 1:26 | 2:51 |
Sunday morning practice went better. On my last practice run I got the pump out of the steep roll up top, and felt good through the lower woods section. At this point I didn't realize how big a difference that top section was; 7 SECONDS!
| Run Number | Top Half | Bottom Half | Entire Run |
| --- | --- | --- | --- |
| 8 - Sunday AM | 1:26 | 1:29 | 2:56 |
| 9 - Sunday AM | 1:23 | 1:32 | 2:56 |
| 10 - Sunday AM | 1:16 | 1:27 | 2:44 |
Race run comes, and once again all the Masters guys were super cool, hanging out at the top and chatting. Stay rad BC Masters! I thought Tom was going to be the man to beat. Tom had just won the Provincials, and I was struggling to keep up with him in practice. Tom dropped in a couple riders ahead of me. I thanked the course workers, wished the guys behind a clean run, and dropped in. I smashed the first few corners, flew through the upper rock garden, railed the tight left, and absolutely sent the key steep roll to flat ... F*&K! I pedaled hard trying to accelerate back up to speed. I erased the mistake from my mind and focused on hitting my lines. On the big blind huck I got crooked off the top, and did a huge bar hump funky chicken move in the air (Dave Smith would have been proud). I heard the bros at bottom all gasp in unison, it felt like they sucked in all the air. I landed at the very bottom, barely hung on, and railed the next corners to an eruption of cheers. Yeah boys! The woods went ok, I got a couple key corners really well, but wasn't looking up enough for one key line and missed it completely ... double F*&K! I got the next section better than I had all week-end and sailed off the last jump to the finish. I finished with an official time of 2:50.53, and that was good enough for P1 by 0.65 seconds over Alex Matthew. Tait Geue came down next and was only 1 second back and went third. After the dust settled I took the win by the slimmest of margins, with Tom Power only 2 seconds back in fourth. How awesome is that, top four separated by less than 2 seconds!?
| Run Number | Top Half | Bottom Half | Entire Run |
| --- | --- | --- | --- |
| 10 - Sunday AM | 1:16 | 1:27 | 2:44 |
| 11 - Sunday PM (Race Run) | 1:23 | 1:24 | 2:48 |
Looking back at my race run and the Strava data, it looks like I lost 7 seconds in the top section by jumping the steep roll. I made up some time on the bottom half, but also lost a couple seconds by missing a key line in the woods. Not a particularly great race run, but stoked to take the win. Overall I'm happy with my riding, and take this as a great learning experience. But I need to work to putting my strongest run together when it counts.
More than anything I thoroughly enjoyed the Canada Cup in Silver Star. I rode with a bunch of great folks, sessioning the race track was fun, and ripping the rest of the Silver Star Bike Park was awesome. Next up I'll be spending a day with Fox suspension guru Ariel Lindsey in Whistler, looking to get the most out of the Santa Cruz V10.