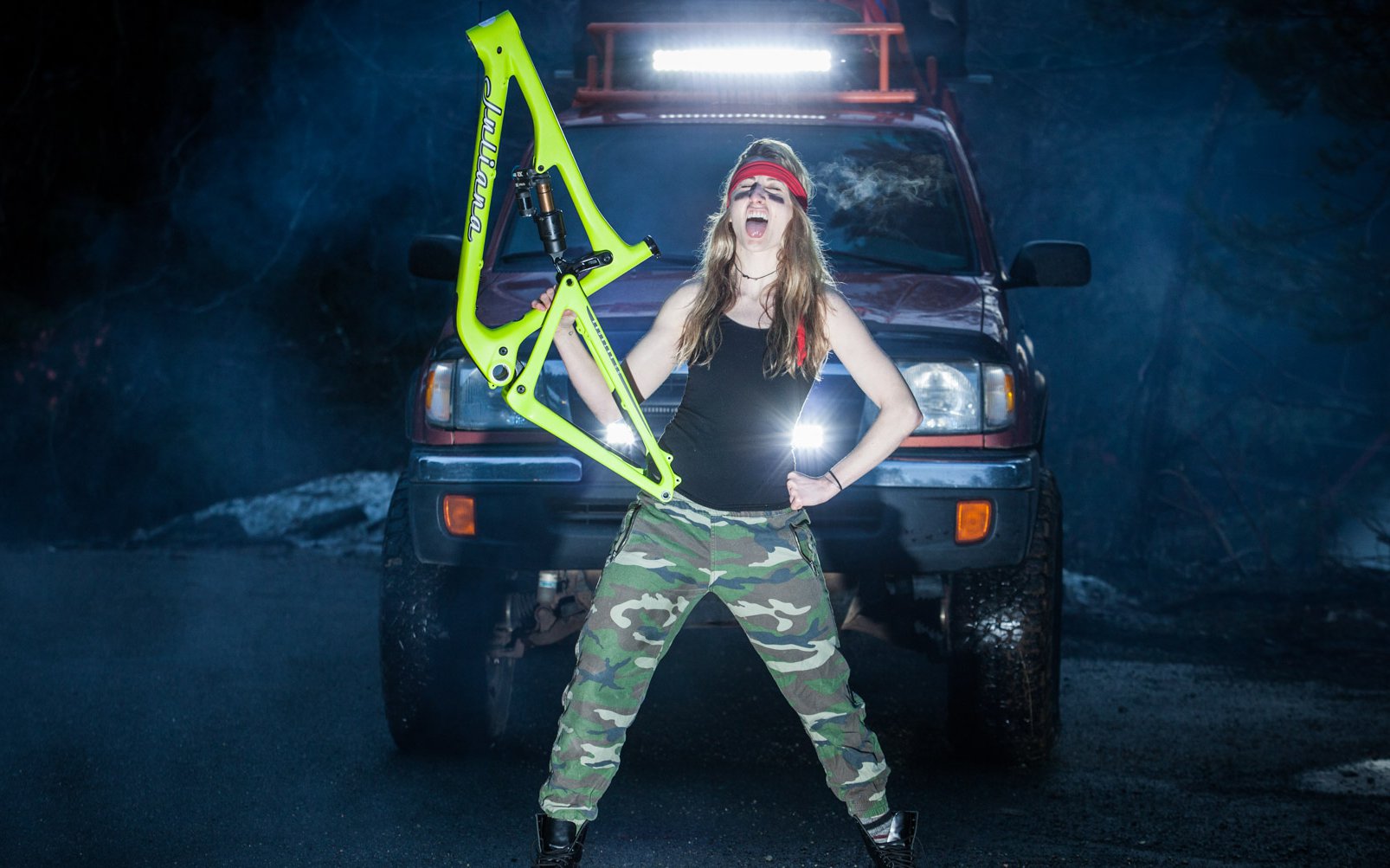 Editorial
Can You Escape The New Bike Tractor Beam?
Let's say you don't race or use Strava. And let's make you a Saint, with an ego so unassailable and benevolent you simply smile when your buddies beat you down the trail, even as you choke on their loam. If you imagine yourself within these parameters what use would you have for a new bike? Let's add the assumption that everything is dialled and functional on your current ride so there is no wear and tear motivation for an upgrade. Would you lust for a shiny new ride all the same?
Do you want to go faster despite not competing? Against anyone? Why is that? Do you want your suspension to smooth out the trail more than before? Does a stiff front end that will shred more precisely motivate you if you aren't scratching out tenths? If performing our best was the real motivation wouldn't we all be in the gym more?  Unless it's a pretty new colour that has made your trigger finger itchy...
Any Whistler Bike Park patroller will tell you that crashes involving higher speed produce the worst outcomes (those slower technical trails are often safer). And yet we want to go faster. The human animal has a lust for more that has kept our species multiplying throughout the ages. If you aren't moving forward you are falling beyond; this expression has never been as apt as it is in the internet age. We are addicted to new and shiny and we spend much of our free time in that pursuit even as we become more aware of this trap.
Is it sensation we are chasing? In the absence of competition, is it that feeling that we are floating above the trail that has us slapping down that second card (the first one's maxed) for a new bike? More speed can be felt in your stomach; higher G-forces and longer moments of weightlessness. And perhaps a "better" bike allows you to feel more in control so you can ride with an extra dollop of abandon. Is that it? When your bike feels perfect it's a moment that's difficult to compete with; tires tracking the ground precisely and silently, allowing you to approach the edge of adhesion with confidence. But if we could keep reproducing that feeling it would soon become dull and unsatisfying. 
Must. Have. More.
Auto enthusiasts are a good case study for this. Dudes (almost always dudes) who are enthusiasts but have never street raced or spent a day on the track, pour thousands into making their cars faster in every way. Even though they won't likely get within 80% of the top speed, and nowhere near the cornering limit. The internet is bursting with forums for every performance car imaginable. There was a model of 3-series BMW produced between 03 and 06 that has 10 more horsepower than stock and a few other small modifications, and owners of these cars have their own forum that has 525,000 posts; ZHP Mafia Yes... Mafia. The obsession is real. 
Being a product manager for a bike company must feel like a twisted version of Groundhog Day. Imagine reliving the day you release your newest project, the bike you have laboured over, bleeding into every detail from axle path to grip colour until you think you've done it; produced the Ultimate Shred Machine. It sounds like a pretty good day until you realize you've already got the next generation of the bike well under way. This isn't always the case but often it is. If NEW BIKE is so perfectly hewn, how can you possibly improve on it? Do you leave some imperfections as low hanging fruit? Is it planned obsolescence? Are you simply responding to changing market forces with the newer model? Have the goalposts moved so much since the last time you started with a clean slate that you have an entirely new target to shoot for? Will technology or advances in material driving the change? Or are you simply fixing something... that ain't broke?
Clearly tinkering and improving was important to our ancestors, and the best tinkerers likely passed on more DNA than their ham-fisted or lazy counterparts. So maybe it's genetic. Otherwise, I'm at a loss to describe what makes me lust for new carbon wheels, a fresh camera body or a fancy knife for the kitchen. My son gets excited when we buy new soap, deodorant or a particularly nice bath mat. 
It has to be more complex than being victimized by marketing or being a slave to fashion. Or maybe less complex. Homo Sapiens is a species programmed to become dissatisfied with anything that is no longer new. Whether it's spouses, Ipads, wall colour, hair colour, beard colour or sandals; our favourite things often lose their lustre over a shockingly short interval.
New bikes are amazing; nothing squeaks or rattles, your rotors don't rub and everything is shiny and clean. Companies are pushing harder all the time to make a better product so we'll keep slapping down the plastic. And they have this magic trick down. Newer trail and AM bikes do pedal to the top and shred to the bottom vastly better than those from even five years ago; that is inarguably true. But imagine for a moment that someone had drawn the line permanently at 26" wheels the way BMX has with 20. Would any of us be less obsessed with mountain biking? Less charged about that next ride? Would we have less fun? The purist inside me hopes the charge would be no less... but maybe that wisdom is wrong. 
Perhaps the progress bikes have made has kept us interested and engaged.* It's easy to point to sports that were once hot and growing that have since fallen from favour, windsurfing and roller blading being two examples. And skiing was in the doldrums before skis started to get fat and curvy. The enthusiast segment of mountain biking seems to be growing at a steady rate, for better or worse, and the barrier to entry to our sport is lower than it's ever been, thanks to the quality of even entry level bikes. And the early adopters keep the used market charged with year-old carbon masterpieces for bargain bandits to pick up on the cheap. Maybe all this improvement for the sake of improvement has a silver lining? Or bronze at least?
The best reason for getting a new bike is the charge it brings. I'm eager to get out and try the new machine so I get my shit together and carve out more time to ride. But I can get close to that same buzz from bleeding my brakes or doing a really good clean and maintain on my bike. And picking up a nice used sled works almost as well as a freshly unboxed virginal bike. So maybe we can do without new as long as we get different or refreshed?

Hooray for the Luddites, the riders who are happy with heirloom wheels and Chromoly hardtails. Being grateful for what you've got is a life skill for the ages,** but maybe it's not all bad, this progression. Maybe it's as human as extramarital affairs, Bavarian car lust and Louis Vuitton bags - and occasionally mountain biking is actually less expensive than those three. 
*Interested, engaged and broke. And I realize it's possible that for every one of us who is as excited as ever about mountain biking, there may be two who have given up out of frustration with the industry. 
**Unless you are grateful for cable actuated disks or elastomer forks. Stop riding those if you can.