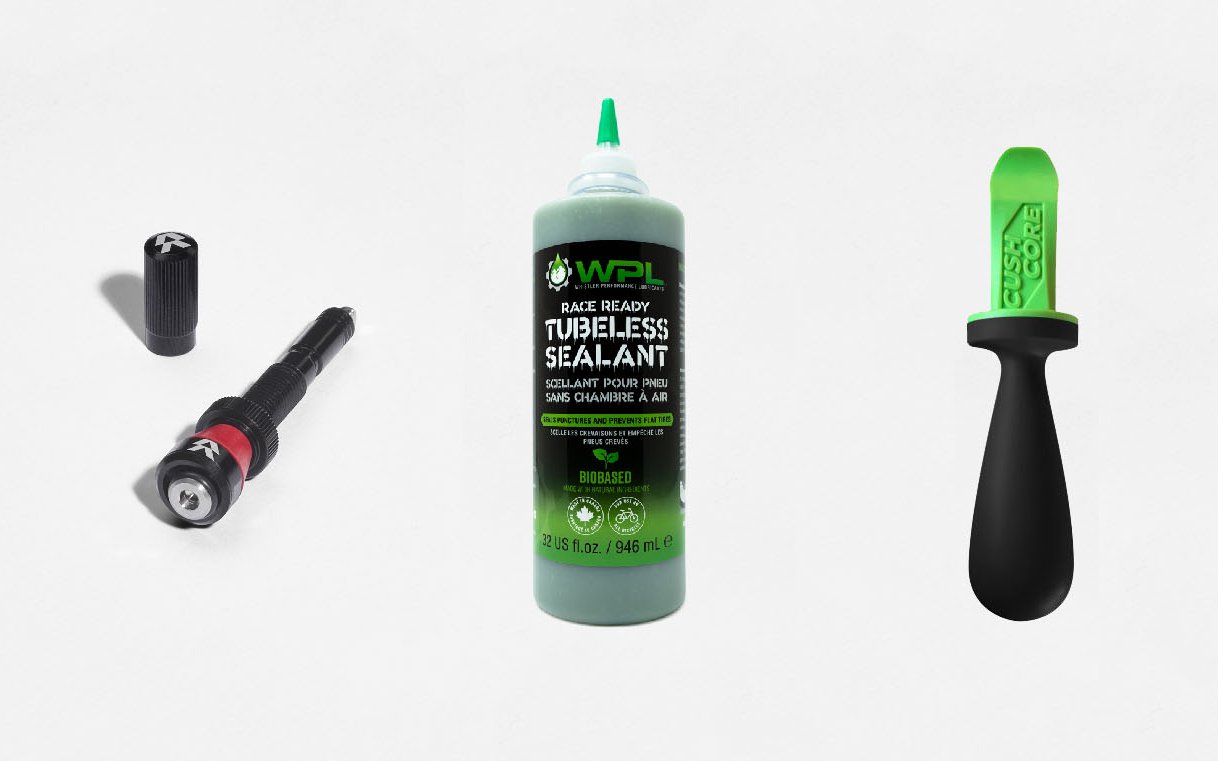 Presents for Obsessed Riders
Cam's Gifts for Mountain Bikers 2021
I'm a fan of unconventional channels of gift discovery. The harvests on Craigslist and Facebook marketplace are often bountiful. Used is different than used up, and it's common to find fabulous items in those places that are either brand new or close to it. Obviously there are limits beyond which this strategy should not extend. I rarely (hardly ever) purchase a used chamois or speedo using this strategy, but most everything else is fair game. Shoes? Great value if they pass the sniff test. Used tools, with patina at no extra cost? These are often the best value.
And let's not forget about re-gifting. If you were given something that is of no use to anyone living or dead, by all means bring it to a gag secret Santa party, but that's not what I'm talking about. We are sometimes given presents that are not our cup of gruel despite being perfect for some misguided person we happen to love. Free yourself of that perceived stigma, because it really is the gift that counts, re or otherwise. It might make sense to shy away from giving that mug monogrammed with your name, or accidentally regifting something to the original giver. If you think, "this will be perfect for Dave," take a moment to ask why that occurred to you.
Last year I wrote a gift guide for the meticulous mountain biker. This year's list will focus on gifts for extremely dedicated riders. Casual observers may even describe it as a sickness. There are of course many ways to be obsessed, and many ways for people to notice how loony you are. If someone seems to be swapping tires and wheels regularly, perhaps even daily, that is a reliable indicator. In the old days swapping a tire was a low stress ten minute affair, aside from some notable DH tire and rim combos. Now it is regularly a real pain in the pisser. There is stinky, messy sealant to deal with, tough to mount tires, clogged valves, and possibly worst of all, inserts. And then everything needs to be seated using a floor pump or a compressor and left over night. A certain level of madness is required to perform this sort of torture regularly and repeatedly.
There are some riders with the patience and means to have this done at the bike shop every time, but the riders I'm taking about roll up their sleeves and tackle these tasks themselves. These products will take some of the sting out of that process, and the stink as well.
CushCore's Beaddropper Tool
I had the misfortune of dealing with several months without this tool, and I hated it. My life was bleak. Days became darker. Some of the perk went out of my perker. Once I had a pair of bead droppers in my possession, my will to live began to return. This is only somewhat hyperbolic. I have many different tools for mounting and removing tires, and none is as critical as CushCore's Bead Dropper tool.
The Bead Dropper allows you to prep a tire for removal by pushing the bead into the centre channel, making that task comparatively simple, and then helps you remove it from the rim entirely. When mounting it helps you in the same ways in reverse. If there is a rider of mountain bicycles in your life that meets the criteria listed above, they will love you for this small gift. One is great, two is greatest. They will set you back 20 USD, and your friend will be so happy, you'll realize it was a bargain.
Santa Cruz Reserve Fillmore Valves
I haven't had enough experience with these to give you a long term perspective, but everything I've gleaned so far has been very good. The humble Presta valve has been around since somewhere between 1880 and 1974. Invented by Frenchman Etienne Sclaverand, who lived most of his life under an overturned rowboat, it hasn't changed much in the last 140 or 47 years. It has some advantages, with the small diameter preserving the integrity of the rim, and the lockring keeping the valve from wandering, but it's become quite a bother since the advent of tubeless tires and tire sealant.
Most sealant dries out in relatively short order (more on that below). Depending on the conditions, you may have spiders of dried sealant in your tire after a couple of months. Worse still, if sealant gets into your Presta valve, it may be destroyed. One sealant label I read stated, with remarkable honesty, "we haven't yet discovered a way to remove our sealant from valves." Meaning these not inexpensive items have become garbage. The other issue is that the core of the valve takes up much of the volume of the opening, making air transfer extremely inefficient. If you remove the valve core from your Presta valve, you can inflate it in much less than half the time, and more easily seat your tire on the rim with a floor pump and even more easily with a compressor using the Shrader attachment (this is a great hack for anyone who doesn't receive this suggested gift).
The restless minds at Santa Cruz figured they could conjure up a new valve that would eliminate these two massive drawbacks. After 8500 hours of engineering, design work, and doodling* the curtain was drawn back on a tiny little valve that looks a lot like Etienne Sclaverand's... invention. The difference however, is all in the mechanism. Rather than a stopper that lives within the small diameter of the valve cylinder and pulled up to block the hole internally, the Fillmore operates a tiny poppet at the bottom of the valve. Normally a Presta valve's internal workings are unprotected from the sticky flow of sealant, and since sealant goes to where air flows, clogging is inevitable. The Fillmore plugs this hole, effectively barring sealant entry. At least so far that is. Garen from Santa Cruz will explain a little more below.
*While this number seems large, it is entirely fabricated
Inflating a Fillmore Valve with my high flow Topeak floor pump was a revelation. With a standard Presta valve I can only use the last third of the pump's chamber because the volume able to travel through the gap is so small and because the pump pushes a lot of air. With the Fillmore I was able to use entire stroke and also, to easily seat a tire that normally would have required a compressor.
A small drawback I discovered, for those of us who use inserts some of the time, is that the Fillmore isn't entirely suited to this task. At least not with the Octamousse inserts I was using at the time. Inflation is adequate, but deflation in this instance was a challenge. It wasn't a deal breaker, and these are very high volume inserts, but it is something to be aware of.
Despite that wee complaint, these would be a thoughtful and fabulous gift for the mud-addled rider in your life.
The Fillmore is sort of premium product that some riders may not purchase for themselves, (because they cost 50 bucks US for a pair!) but if they lost a long time reliably, they could easily replace 3 or four sets of Prestas.
Whistler Performance Lubricants Tire Sealant
WPL's approach to lubricants for bicycles is simple; make them out of non-toxic plant-based ingredients. The company has recently released a new sealant formula and I have used it once in a wheel that had a puncture that wouldn't seal. As it turned out there was no sealant at all inside, which may have been part of the problem. Once I poured in some WPL lube, it revealed all sorts of seepage from the sidewalls of the tires, which was another part of the problem. After hemorrhaging overnight, the tire held air well in the morning and has ever since. But that's not the story.
Normal sealant is made from some ingredients that aren't that friendly. Many sealants contain ammonia, which produces a nasty smell and is highly toxic at higher concentrations. and latex, which can be both synthetic or natural. The natural stuff, which seems to be the main component to most sealants, despite being an allergen for many people, is essentially just natural rubber which biodegrades over time. The synthetic variant is much nastier but it doesn't seem it's used in sealant formulas. Some sealants use glitter and silica to improve sealing, which may be harmful to tadpoles and guppies.
The issue with latex is that the solution is part of the problem. Latex hardens when exposed to air. Inside your tire, where the volume of air is minimal, it will remain in its liquid form for a reasonable length of time, but will eventually dry up completely. WPL uses a mechanical sealing system, transporting particles to the puncture location, while using a magic plant-based formula that is designed to remain in liquid form for an extended period in your tire. It is designed to stay wet for the duration. The early versions of WPL sealant I tried were not very effective, but this latest version, while not amazing on toast, seems to do a solid job of sealing punctures. It is however non-toxic and plant-based.
The knobby nut in your life will be pleased with this. A litre will set you back 65 CAD.