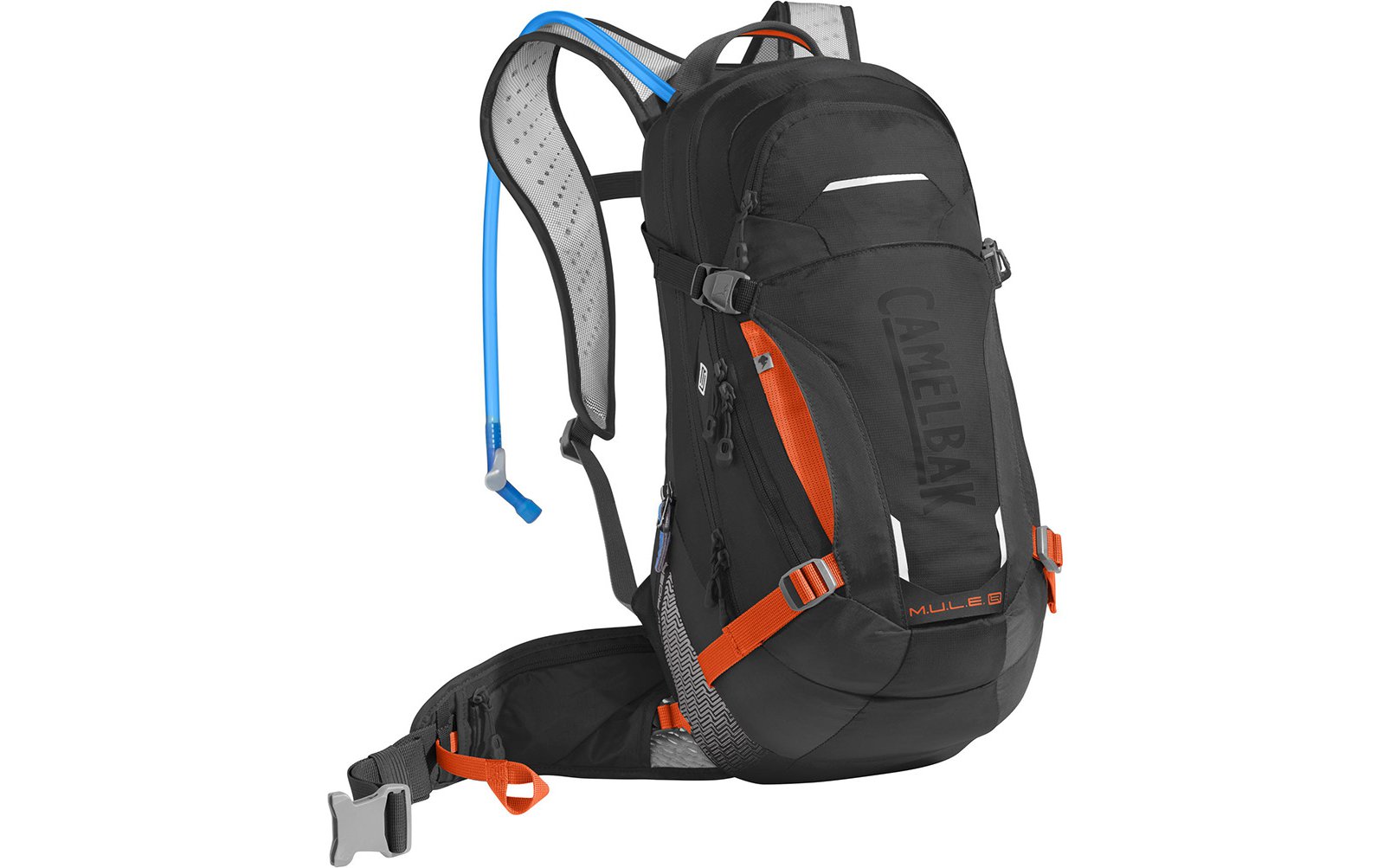 REVIEW
Camelbak M.U.L.E. LR 15
M.U.L.E.ennials
The Camelbak M.U.L.E. was born in 1996 and I think it's fair to say the M.U.L.E. LR on review here is a testament to its parents. At 21 years and counting, the not-too-big but-not-too-small all day or short ride pack line continues to evolve sensibly.
It's true that a Rocky Mountain Blizzard is no longer a steel hardtail and no one is winning World Cup XC races on a RockShox Judy these days, but in the case of the M.U.L.E. the basic layout of the 100-ounce (3L) bladder and various pockets for storage of tools, food, a flask etc. is true to the form of the original.
Not unlike bikes, hydration packs present a lot more thought and technology than they did even a decade ago. The LR 'Low Rider' moniker on this M.U.L.E. speaks to a better distribution of weight, the back panel and straps are designed to breathe as much as possible and there is a host of adjustment options to dial in the fit.
Breathe
Run, rabbit run. A backpack is always a compromise between having the stuff I want with me in the woods vs. turning myself into a hot mess when riding uphill in anger.
Camelbak has been working for years to make their packs more breathable and the sum of their focus is evident in the perforated backing and strap materials on the MULE LR. Nothing like some chalky salt stains on my pack to confirm it was an epic adventure.
In a market challenged by hip-packs, stash bibs and frame bags, pack companies have to find ways to get lighter weights, more breathability, and better fit, particularly when loaded. That's especially true for rides under a couple of hours.
Fit
I always carry a pack. Tools, jacket, snack, phone, wallet, spare gloves, flask, light and tube; there is a lot of stuff to haul around. For local rides I'll generally just take a water bottle and I'll add 1-2 liters of water in my bladder for really long rides or hot days.
To get a proper testing of the M.U.L.E. LR I filled it with the full 3 liters of water and tossed in the worst collection of crap I'd ever carry including a shock pump, a tall can of beer and my small camera.
It was a chore to lift the over stuffed pack out of my car but once I threw it over my shoulder the weight distribution was excellent. Insert some cliché about feeling pounds lighter than it was. Most importantly, the pack stayed in place even in steep technical terrain. I never had to fight to get the MULE back in position.
With my regular load and a liter of water in the bladder, the pack also danced with me and I never felt it working against me on climbs or descents.
Features
My Camelbak M.U.L.E. LR experience started with a conversation about my personal pack, a Mission/ACRE Hauser. My friends have suggested the Hauser is essentially a dry bag with straps. It has a similar degree of fit customization to the M.U.L.E. LR 15 (in both cases very good) and is exceptionally well made. Otherwise it provides a fairly simple storage space.
In contrast the M.U.L.E. LR offers a great amount of internal organization in addition to a couple of zippered pockets on the mesh waist belt. A good choice for the more OCD among my fellow travelers.
I particularly like the included tool roll with its own sleeve, and the large mesh cellphone pocket with key clip is a great feature as well.
The M.U.L.E. NV sold very well in a shop I worked in a decade ago. It carried a similar amount of crap then and most importantly for here in North Vancouver, included a stashed rain cover. That's the only feature carried over to the current M.U.L.E. LR, only with a much faster and easier storage sleeve in its external pocket. It takes a few seconds to install or stash the cover.
For the life of me, I don't understand why Camelbak doesn't do a premium M.U.L.E. H20 model with waterproof material and zipper and seam sealing. That said, the cover works admirably.
Crux Lumbar Reservoir
Camelbak's new bite valve and the cap on their Crux bladder are both welcome improvements. The cap is very easy to remove and reinstall for re-filling and the open/close function on the bite valve is easy to use. I've almost always used a Camelbak reservoir in my non-Camelbak bags because they are the best, and this is an improved product yet again.
Here's a short public service announcement for anyone who didn't know that you can easily shorten your Camelbak hose. If you are riding around with an extra foot of hose sticking out of your pack, hooking on trees or even your handlebar, you may as well put on a JOEY name tag.
Figure out the desired length. Pull the bite valve off. Cut the hose. Push the bit valve back on. It's easier than changing a pair of lock-on grips and it will improve your experience.
Camelbak MULE LR
A 15L pack is just right for me. It lets me take everything I need for a long day in the woods while forcing me to jettison the unnecessary. In keeping with Camelbak's reputation, it is well made and has excellent airflow. It is easy to adjust the fit and to get it dialed in and the MULE LR has a great assortment of features.