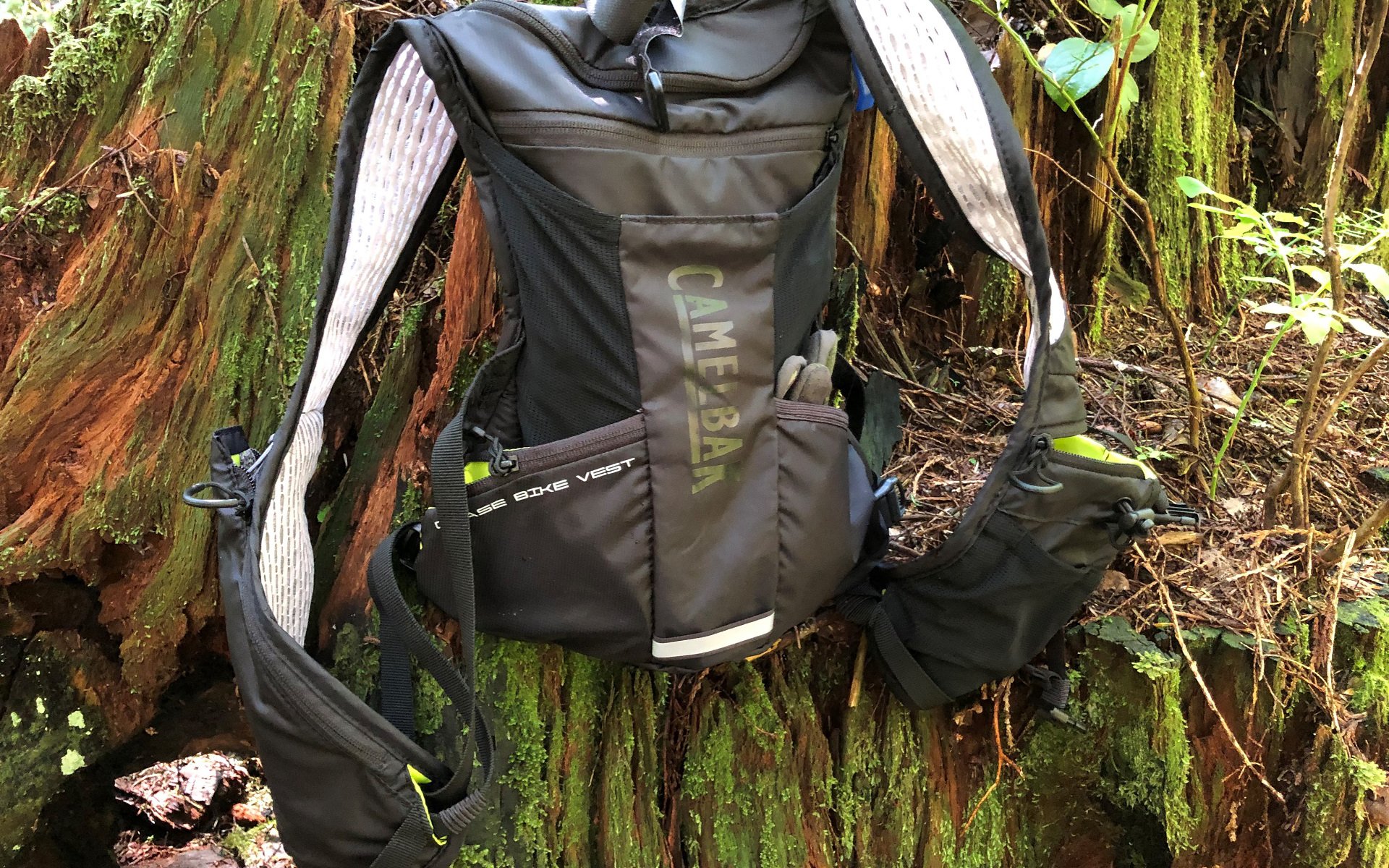 REVIEW| EDITORIAL
CamelBak Chase Bike Vest
Chase Trends
It weights 330 grams empty, holds 1.5L of water, has a pile of pockets, and it's easily the most breathable pack I've ever worn. I can't say the CamelBak Chase is the perfect pack for its intended use, but from a baggy shorts & merino t-shirt perspective, I'm very sold on this piece of kit.
Before I get into how I use the 'Bike Vest' and the little changes I'd love to see, there is some house keeping that I need to take care of:
I get hip packs. I mean, I don't get the huge ones with hydration bladders, but in general I'm sold on the idea of putting weight on my bike, carrying my stuff in a little pouch, and letting my back breathe. But they don't work for me. Yes, I've tried lots.
Yes, random Enduro-bro on Fromme, I do recognize that the CamelBak Chase Bike Vest makes me "look like a trail runner." I'm wearing knickers and a helmet without a visor. Does it look like I care?
When lumbar-oriented hydration packs first came out I was positive they would be my ticket to happy-back land. I was wrong. Putting all that water weight low actually made things worse. My experience with the USWE Airborne 9 taught me two things. One, when I carry a hydration pack I prefer it higher on my back.
Two: more importantly, with or without bladder, I now have no tolerance a pack that moves around on my back. Zero. Like the USWE, the Chase has no waist strap and it doesn't move around at all while I'm riding. It's lovely. Even overloaded it balances weight nicely without affecting my breathing, like the Airborne 9 can if I absolutely pack it full.
Unlike the USWE, I cannot drop my 4/3 camera in the Chase in a pinch, but I prefer to carry that in my Acre Hauser anyways.
I don't know anyone who loves riding with a pack. Given the combination of visible local wealth and a transparent willingness to divorce hard work from mountain bicycling, I'm actually surprised local guiding outfits like Endless and Essential aren't offering a Sherpa service. I picture some hot foreigner riding in the back on a clapped out 26" suspension bike wearing a Yeti Cooler full of supplies and shouting encouragement about how F***ING RAD their pack-less clients are shredding.
The reality is a grab-and-go pack* setup of some kind is at worst a necessary evil and at best a happy convenience in a busy world. Folks hitting shorter (1.5L) rides on bikes without convenient bottle mounts and/or looking for a light and breathable non-fanny pack option to carry their essential gear, have to try on a CamelBak vest.
*Waist or back
Chase Solo
I ride solo a lot, which leads me to my favourite feature of the Chase - cell phone access. Trails gods forbid I need to call emergency services for myself, but if I do I can't think of a better place for my phone than the front of my back pack strap.
The slightly elasticized pockets on both straps are easily accessed via a zipper tab, or by just reefing open the flap. Despite the easy access it holds my phone like a vice when I'm riding. And while my #dadbod is not the target shape for the Chase's cut, the flared pockets are unnoticed when riding the bike in or out of the saddle.
With a little help from my bike - carrying my tube and water - the Chase easily sports enough space for a lengthy spring/summer adventure where breathability is more important. I like to carry a bunch more clothing, food, and lights on fall/winter rides and as much as I'd like to make the vest work all year round, I imagine I'll be back wearing the hot-and-heavier USWE for the cold-and-wet months.
Chase Trail
Or maybe a few modifications to the Chase Bike Vest will add some year-round-ability?
I really like where the Chase sits on my back, but to some extent that's by accident. One of the key design goals here is the ability to access jersey pockets on the go. I ride in a merino t-shirt so there's a fair amount of wasted space between the bottom of the pack and my saddle.
I'm planning to get some straps sewn on the bottom of the Chase so I can roll up a rain jacket when it's not in use (or possibly stuff it in a lightweight dry-sack that I'd then clip on). At the same time I'd like a little clean pair of visor mounting straps since I routinely wear a full face* for Shore solo rides.
*Of the removable chin bar variety
I'd argue that my 'trail' version of the Chase Bike Vest is a logical extension of the XC Race Bikes that are being sold with 120-140mm travel forks or flexible multi-shock-stroke platforms - like the meaty Knolly Fugitive. CamelBak could add a few grams and a lot of usability without making any changes to the standard product.
My future mods aside, and realizing that some folks are too cool to consider this pack, I think CamelBak has a killer product in their Chase Bike Vest. It's one of those things that I happily hand over at a beginning of a ride for friends to try because I think it's the answer to a lot of riders' storage needs.
It comes in three colourways and it's a bargain at 100 USD including a bladder: The Chase Bike Vest.