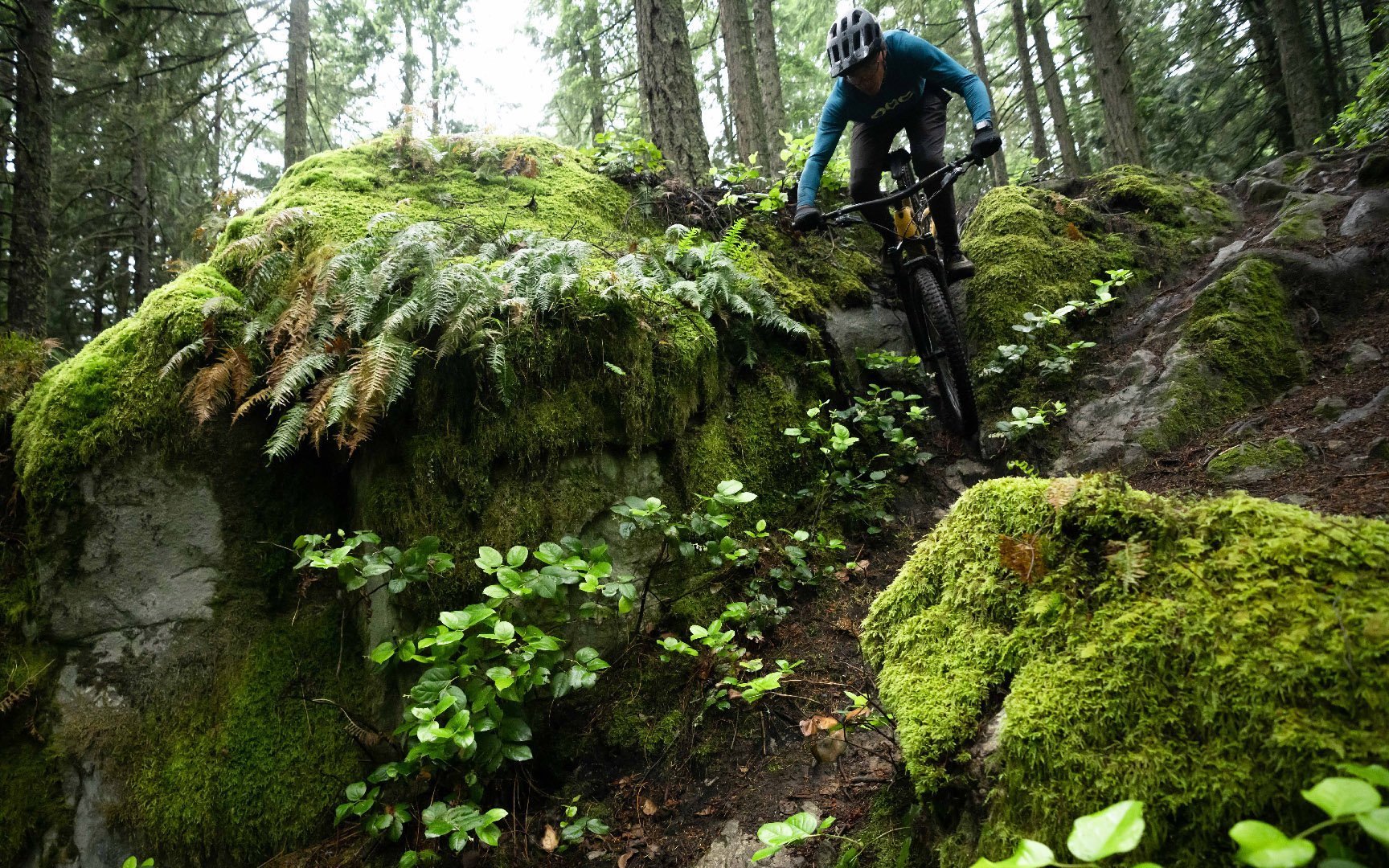 Best Of
Cam McRae's Best of 2022
2022 ended with a bit of a fizzle for me. I concussed myself riding near Chilliwack in early September, started to feel better just in time to get COVID (for the third time) and then I got it again 6 weeks after that. I've actually been identified as a super catcher. As I write this I'm test riding what might be an unreleased version of the flu. (shockingly I tested negative for COVID this time). This has made my riding sporadic and clumsy, but more precious than ever.* This scarcity has me itching to get back on bikes and has me thinking about some of the gear that had a nice influence on my riding experience. These were some of the belles (beaus?) of my ball last year.
*I did get out yesterday, flu be-damned and the extra suffering today was well worth stretching my legs.
Trek Fuel EX-E (9.9 AXS)
Trek's Fuel EX-E represents a breakthrough in the eMTB world, largely because of its TQ power plant. While the motor is very natural feeling and responsive, with enough power to get you up hills faster, for me the real breakthrough is the absence of whine or whir. In most situations it was difficult for me to hear the motor at all, while it was completely silent to any other riders I was with. The TQ motor requires no chains or linkages connecting it to your crank spindle, because the inline motor drives it directly. That removes any mechanical noises while any motor whine is barely perceivable in most situations. Add the subtle form factor and size, and you have a bike that can easily pass as meat-powered.* I actually managed to win a couple of races and bag some KOMs and nobody noticed I was...
*with apologies to Andrew Major
I kid. I don't use Strava and I haven't (really) raced in years, but I have taken the Fuel EX-E on rides with some too-fast-for-me buddies on conventional MTBs and managed to feel unobtrusive and far less annoying than I would have on a full powered eMTB. I'm hopefully this technology can be scaled up to faster eMTBs with more range and I can't wait to see what Trek comes up with next using TQ's incredible technology.
The model I tested retails for absurd price of 18,300 CAD but you can get one that is still well-spec'ed for 9900 less at 8,400 CAD.
Long term impressions to come, once I get riding more.
Loamlab's Counterpunch
I slapped a set of these on my Norco Sight VLT and have had no desire to remove them. I generally don't notice they are there but if I'm dodging trees I sometimes lean in and use them to push off the bark which would be far too risky otherwise. The Counterpunches give me a feeling of security and confidence while reducing the odds of having my pinky touch my wrist as I ride by some immovable object. The grips are nice and thin at 29 mm and they have cores with cutouts to approximate a slide one where contact is most important. The entire system is also remarkably unobtrusive. At times I have wished they were a little longer so I could climb old-school, using them as bar ends, and honestly, I wouldn't complain about a longer version. (#bringbackbarends) I only have them on my eMTB at the moment, which makes sense because of the higher uphill speeds, but I'd happily put them on every bike I happen to be riding.
Appleman Cranks
Ugly cranks annoy me. Is it really more expensive to make them beautiful? Are industrial designers in short supply? I don't get the fuss about eeWings either. If there's one place I'd rather not see welds, aside from my stem, it's on my cranks. They should at least be beautiful if they are expensive. But I digress, and I'm aware many of you love eeWings, which is great. I can't defend my tastes. Like you, I like what I like. But if you don't like these, well.. you're wrong.
The slick looks were what first drew me to Appleman Cranks, but the story is pretty great as well. At least what I know of it so far. Matt Appleman's a tough guy to get hold of. Matt builds custom carbon frames (you read that right) and does carbon frame repair and, not liking the cranks the industry made available, he made his own. The result is a modular system that is easily installed without any special tools (aside from what might be required for the bottom bracket). They come in 5 lengths from 135 - 175 mm and the install was a snap.
Out in the wild the Applemen have performed perfectly, with the help of a wolf tooth chainring. I installed a 30t ring to preserve my largest cog and while there was a little overlap with the 104 x 4 spider, it isn't enough to disturb the chain. The eagle-eyed among you may realize the directional Wolf Tooth ring is backwards.* I assumed the chain-line would be determined with the outer position, (cranks with two positions for chainrings? I've never heard of such things!) but in fact the Boost chain-line of 48 mm (despite the Super Boost hub - well done We Are One - except for the Super Boost hub part) is achieved using the inner mounting points.
*Because the Wolf Tooth ring is threaded, it can't be mounted on the outside position of these cranks while facing in the correct direction for a SRAM narrow-wide chain. I'm not sure if it's good news or not but it worked perfectly mounted backwards. I have since swapped it the right way and I'll see if I can notice a difference and improve my chain-line at the same time. Maybe one reason it's directional is to reduce wear?
I've had a few rides on these and they have been perfect thus far. I'll return with a full review as well as install details, and hopefully some info from the Appleman himself.
Appleman Cranks (from 485 USD)
---
Finding the right Drop in your Dropper Post
I made a discovery this year while testing the 2022 SCOR 4060 LT (a bike that was some awkward cable routing away from making my best of). The bike was great but I wasn't getting along with it and I was having a hard time figuring out why. After I swapped out the 170 mm dropper post for a 210 mm OneUp, my whole world changed. I started to ride the bike like I knew what I was doing and it was a dramatically different experience; I could get it off the ground, feel confident and planted on rock faces, and handle the bike reasonably deftly (for me) in high speed chunky situations. I was very clear that I preferred longer droppers, but before this I had no idea how dependent on that extra clearance I'd become. Going back to a shorter post pushed my riding back several years and I didn't like that feeling at all.
In the past, each time a longer dropper became available I'd reluctantly give it a shot. I remember back in the day when downhillers would ride with their saddles relatively high so they could pedal smooth sections while seated, and I was happy with my 125 mm post thinking I was emulating my heroes. Then I tried a 150 and realized it was way better, and probably couldn't get any better. That was until I tried a 170 drop. This continued to 210 mm and beyond but I finally found my limit from 220 (courtesy of OneUp's adjustable 240 mm drop post) to 225 using a prototype Bike Yoke Revive Max.
Bike Yoke has since released the Revive Max in 213 mm form but only in 34.9 diameter, which makes a lot of sense. (edit: the regular Revive posts are now available with up to 210 mm drop)
Despite this revelation lining up with my long-legged frame, I honestly had no idea how much an optimal dropper post influenced my riding performance until I found the limit. The lesson, to keep exploring new ideas and bracketing your experiences to find the sweet spot, isn't a new one but it seems to be one I need to keep learning over and over.
Curiously I wrote about long droppers in my 2020 best of and while I liked them, I had no idea how my riding would go to shit without one after getting used to it.
---
The Küat Piston Pro X 2-Bike Rack
This rack is a little outrageous, with Kashima coated stanchions and integrated brake lights, but those aren't the features that make it so great. The real highlights are the next-level build quality and ease of loading and unloading. Normally I try to avoid using a rack and I just load my bikes into the back of my Tacoma. The Küat Piston Pro is the only rack I've used that is almost as user-friendly as a pickup with a tailgate pad. And it's much easier when you are loading a 55 lb eMTB.
Other features include a patented cam lock, that ensures the rack won't wobble or bounce independent of your vehicle, an easy locking system, one-handed operation, (aside from lowering and raising the rack - although I've figured out how to lower it with one hand now) 67 lb capacity per tray on a two-bike setup with a 2" receiver or 60 lb per tray on a 1.25" receiver. It's also expandable to three or four bike capacity and has an optional eMTB loading ramp.
At 1389 USD, this is a pricy bicycle carrying apparatus. Fortunately, Küat will inevitably release a version of the Piston Pro with fewer premium features for fewer of your hard earned rubles.
Hope Tech 4 E4 Brakes
I can't shut up about these brakes. They are made in Barnoldswick, England where the weather is likely almost as crappy as it is here in North Vancouver, which may have something to do with the performance, which is rather impressive. Because of my aforementioned ailments, it's taken me awhile to get enough time on the Tech 4 E4s to gather enough experience to write my full review, but I'm just about there now. The take home is that power, modulation, adjustment, ergonomics and craftsmanship have all been top tier thus far.
With many brakes I am quick to reach for after-market pads to reduce noise, and improve wear, power and modulation. Hope pads are so good I haven't even considered swapping them out yet. Stay tuned for my full review early in 2023.
Honourable Mentions
This was a year of a lot of surprisingly good products being released. The Rock Shox Zeb with Butter Cups is high on that list, and the 170 mm version of We Are One's Arrival is a beast. I had a great time on the EXT Storia V3 Log coil shock and I'll be talking about the EXT Era fork early this year as well. Hopefully this year I'll get my body to cooperate half as well as all of these bikes and parts!