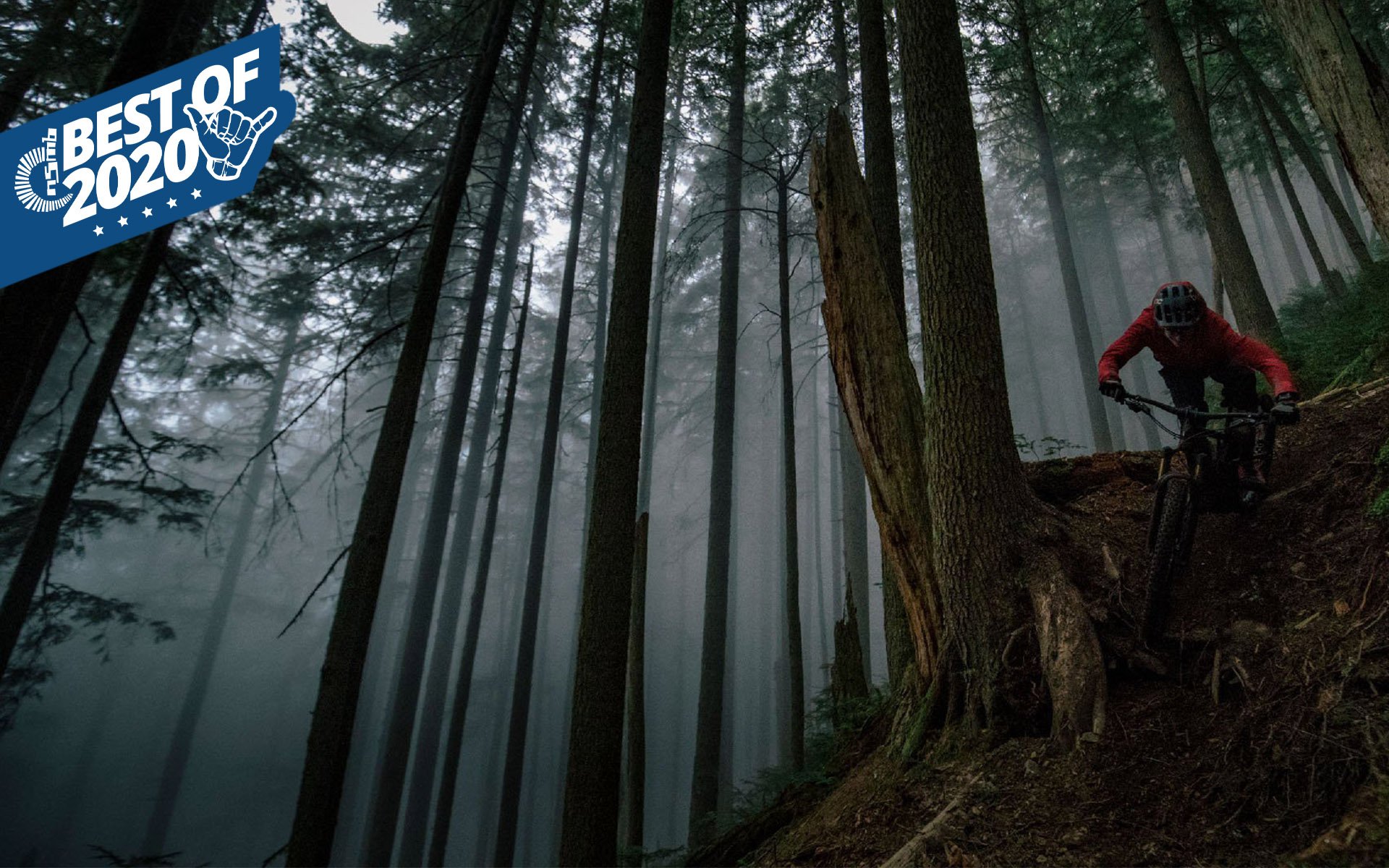 Best of Times and...
Cam McRae's Best of 2020
Steel Frames and Small(er) Wheels in the age of COVID-19
*Cover shot - Adrian Marcoux (on what may have been my best ride of 2020)
What an awesome year! So stoked! I'm sort of joking but not entirely, because once the dust settled on the first COVID-19 surge, it was an amazing year to be a mountain biker. It wasn't perfect, because international travel was off the table, hitting your favourite bike park was problematic, and heading to the pub after a ride wasn't possible for most riders outside of New Zealand. Living on islands has its advantages.
Beyond that though, it's been possible to get out and ride, even with a buddy or two at a social distance. You also may have noticed that mountain biking has exploded as other folks have cottoned on to the fun we've been having all this time. People who are gym rats or who play volleyball exclusively must be losing their minds.
The most golden period around here was the early COVID lock down in parks that kept everyone, except cyclists off both Mount Seymour and Cypress. Even hikers were prohibited. We'd ride up the wide roads five abreast, occasionally having to change formation for a service vehicle, and easily adhere to social distancing. The weather was pretty good, the trails were mostly deserted, and we rode our faces off. Safely. Mostly.
One big surprise this year was that two of my favourite bikes were new takes on old ideas; small wheels in the form of the Santa Cruz Nomad, and the Kona Honzo ESD, a 29er hardtail with modern geometry. Both were so much fun I was questioning what I thought to be true. Why are 29ers better for the terrain we ride again? Isn't it better to have more fun?
Aside from the ban on travel, I've had one of my best years riding bikes ever. I've been having more fun, going faster, riding moves I never expected to conquer, and generally getting drunk on stoke. There are lots of reasons for that, several of them are in my list below marked with a *.
Learning to Ride (on Modern Bikes)**
I never dreamed I'd be descending my best at this stage in my life but, aside from drops to flat, and sending A-Line, pretty much everything has improved. I'm riding more confidently, crashing less, (knock knock) carrying more speed, and riding features I used to avoid like the COVIDs. Much of the credit for this goes to Ben Wallace, World Cup racer, Pinkbike Academy runner up, and my buddy's kid. After joining us for a ride, Ben mentioned some of the errors we were all making to his dad, Mike. Based on his comments, or my interpretation of them, I made some changes and my riding improved immediately.
This got me hot under the collar to learn more so I recruited one of Ben's coaches, Joel Harwood of Blueprint Athlete Development in Squamish B.C., to get some one on one instruction and get clear on the finer points of going fast on mountain bikes. First I watched Joel coach Ben and his young ripper buddies riding through cones, and a week later Joel put me and some of my old bastard buddies through the same treatment. Riding cones on gravel is a great motivation to learn how to corner, because failure involves picking bits of rock out of your elbows. Two of us did that – two times each.
Standing up taller and weighting my hands more has made the biggest difference, and when I do that everything seems to click. It's impossible for me to overstate the difference Joel's (and Ben's) insights have made to my riding. If you are interested in more detail about what I learned, you can check out, Cure Your "2006 Posture" with Cone Training.
Long Droppers*
Dropper posts were an innovation I didn't know I needed, even after they first arrived. Around here we generally do a long pedal up and then a long ride down, so open and closing a QR hardly seemed to matter. And I made the same mistake with long droppers. When I had 125mm I thought it was great. I told myself I liked my post a little higher so I could pedal sitting down if needed, like DH racers do, but when I first tried a 150 drop I was sold. The same thing happened with 175. I skipped 200 at first and went straight to a OneUp 210mm drop, thinking I would reduce the extension to perhaps 190, but I loved every millimetre. I may have finally found my limit though because when I go back to 200mm I'm pretty happy.
Long droppers allow me to angle the bike more in corners or in the air (or they would if I could do that) and move more easily through the vertical plane above the saddle when a dynamic move is required. The one down side I discovered is that even us long-legged types can find our ass crack in contact with a spinning knobby tire with so much clearance, which is quite unnerving. At first I didn't know if I'd adjust to this but now I'm rarely reamed by my own bicycle.
I discovered another reason why long droppers are important riding the Trek Slash. The bike is great but I have an issue with the slack actual seat angle which puts me back above the rear wheel when I'm climbing.because of my long legs. It also means that when the saddle is down it's further forward than I am used to, and this is exaggerated by the necessity to push the saddle forward on its rails to improve the climbing position. This means when the saddle is down it interferes with my front leg when cornering or manuevering over and around obstacles. The bike ships with a 170mm post, which I can generally live with, but because of this geo peculiarity, it wasn't enough.
I told Sacki of Bike Yoke about my woes and he sent me a prototype post with a whopping 225mm drop. Based on the Bike Yoke Revive Max which currently can only be purchased in a 185mm drop, the Max is available in 34.9mm only and it features a 28mm (outside diameter) stanchion for increased stiffness and reliability. Other manufacturers use the same internals and stanchions from their 30.9 or 31.6 posts for 34.9 posts, failing to take advantage of the possibilities of the larger diameter, as I discussed with Sacki earlier.
Fitting the Revive Max 225 (code name: ULTRAMAX) turned out to be problematic at first because there didn't seem to be enough insertion in the Slash frame so I could actually only use about 210mm of the 225, but then I realized the actuator of the Bike Yoke post could be rotated without tools and I found the sweet spot and dropped the post enough to use every mm. There are two versions of the prototype post, one with extra bushing overlap and a total inserted length of 320mm, and one with standard overlap and a max inserted length of 298 mm, which I am using. The post is incredible and with the new Triggy Alpha cartridge bearing remote, which I like almost as much as the PNW Loam Lever, it's the smoothest post I've ridden.
If you are tall, or extremely long of leg, and haven't tried a long dropper, I highly recommend it.
Riding Pants (or Trousers across the Pond)
Last winter I had some good success riding in long pants from Pearl Izumi and NF and I really enjoyed the experience. It keeps the mud off your gear and it's certainly warmer, but neither of those is fully waterproof, and I hadn't yet used pants in the warm season. This year I've been riding in Patagonia's (mostly) excellent Dirt Roamer pants, and a pair of yet-to-be written-up 7mesh Thunders, both of which are durably waterproof, and it's truly a joy. We've had some incredibly shitty weather lately and riding either one of those gets me out the door on days when I'd normally just look out the window and pine for trails.
Photographer Deniz Merdano found out another reason for wearing pants when he crashed recently. He managed a large impact split in his shin that required 9 stitches to close. Normally mountain bike injuries are filled with nasty debris and you're destined for the house of pain as the doctor scrubs out your wound. Instead all that was required was a quick saline rinse because Deniz was wearing long pants.
They also help to keep your feet dry, provide a little protection and look pretty damned stylish. In the shoulder season I've been wearing a set of NF DP3s and I love putting them on. They have lots of stretch, excellent pockets, and a nice light fabric that resists abrasion very well. And they are comfy as a Mike Tyson hug. Or something.
POC VPD AIR "Fabio" Ed. Knee Armour
I've always been reluctant to pull on low pro knee protection. If you are going to go to all that trouble, shouldn't you be sure they're going to work? So I've dealt with slightly heavier, warmer, and sometimes less comfortable protection in order to be sure the job gets done. I know some riders who use lighter knees for more mellow rides, but who hasn't had a bad digger on a ridiculously easy section of trail? It almost seems like it happens more often that way.
At first glance Fabio Wibmer's signature knees were in that category. They looked small and they're very light, but closer inspection revealed some intelligent details. First off, they extend well above the knee, which is an area that very commonly gets smoked hard enough to make the Pope curse. The same goes with lateral protection, which extends efficiently but generously around the sides of your patella.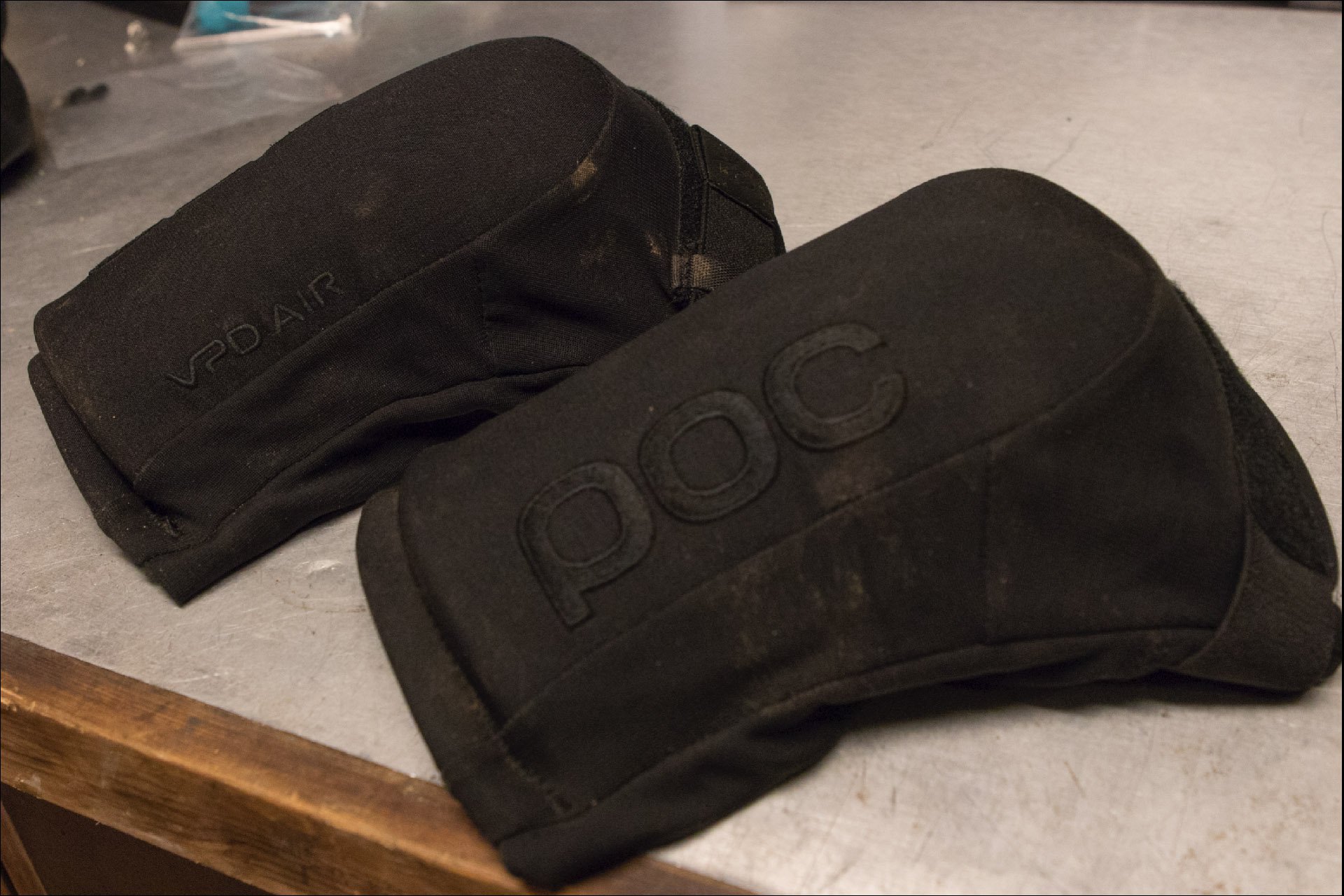 The padding material is Poc's version of D3O, a non-newtonian polymer dough that is highly flexible until it hardens when an impact is encountered. I haven't taken a big digger yet but I'm cautiously optimistic about the outcome. Until then I'll be both pedalling and descending in comfort wearing these low profile but high coverage pads that fit well under every pair of riding pants I've tried. The VPD Air Fabio's are also a relative bargain at 90 USD. Thanks Fab!
Tannus Tubeless*
After my mediocre experience on the Tannus tubed insert solution, I wasn't bursting with optimism about round II with the tubeless version, but my lack of enthusiasm didn't last. They aren't much to look at; relatively stiff salmon-coloured rings in an extremely odd shape, but they work wonders. They weigh 160 grams in 29" but they punch much heavier.
Because the centre is hollow, with four vents to allow the air in each chamber to equalize, they work a little like Schwalbe's ProCore, or like an air shock for that matter. They are easy to install* and they provide excellent sidewall support for cornering, excellent tire and rim protection, and they allow outrageously low pressures without any vague feeling or squirm. I regularly run 14 front and 16 rear when conditions are nasty and I'm riding steep trails that require lots of grip. And the traction is off the charts. Wet roots begin to look like velcro, and slimy rock faces become islands of safety. The reduced volume in the outer air chamber even makes your suspension work more effectively,
My full Tannus Tubeless review is here.
*I installed two in under thirty minutes, starting from aired up tires on the bike and finishing completely installed, because it's not necessary to remove both tire beads
Honourable Mentions:
Neutron First Aid Kit
Neutron from New Zealand sent us several of these kits so we'd increase the odds of using one of them on an actual injury. They weigh just 55g and have lots of stuff to clean and dress wounds and get you out including nitrile gloves, bandaids, stern-strips, duct tape, and a couple of dressings. The kits weigh in at only 55g so you can just strap it on your bike and forget about it until you need it. More info here.
Topeak's Accurate Floor Pumps
Before this year I was used to gauges on floor pumps being like clocks that are right twice a day, but two from Topeak changed my mind and saved me a bunch of time before every ride. It used to be that I would pump to where I thought I should be, remove the pump head, attach a gauge to check pressure, remove the gauge and re-attach the pump head etc. until I hit my desired pressure. Both the digital gauge on Topeak's Joe Blow Pro Digital and the analog gauge on the Joe Blow Mountain X are so reliably accurate that I no longer pull out the gauge afterwards. This saves me a bunch of time and I am always confident about my tire pressure.
The Mountain X is incredible value at 50 USD but it won't help you pump up anything high pressure because of the heavy volume it pushes with each stroke. The Pro Digital will take longer to inflate a high volume tire but it will do a road tire easily, and the . In fact small people might have a hard time getting much over 25psi (I'm not kidding), but you'll be able to inflate your tire in no time. Check out my review of both here.
Thanks for tuning in to our little corner of the internet in 2020. We'll be charging in 2021 to bring you more quality content.
HNY!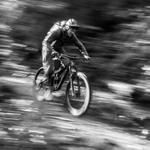 Cam McRae
Height - 6'/183cm (mostly legs)
Weight - 170lbs/77kg
Inseam - 34"/86cm
Ape Index - 0.986
Age - 56
Trail I've been stoked on lately - Boogieman
Bar Width - 760mm
Preferred Reach - 485-500mm (longer with 27.5 wheels than 29)