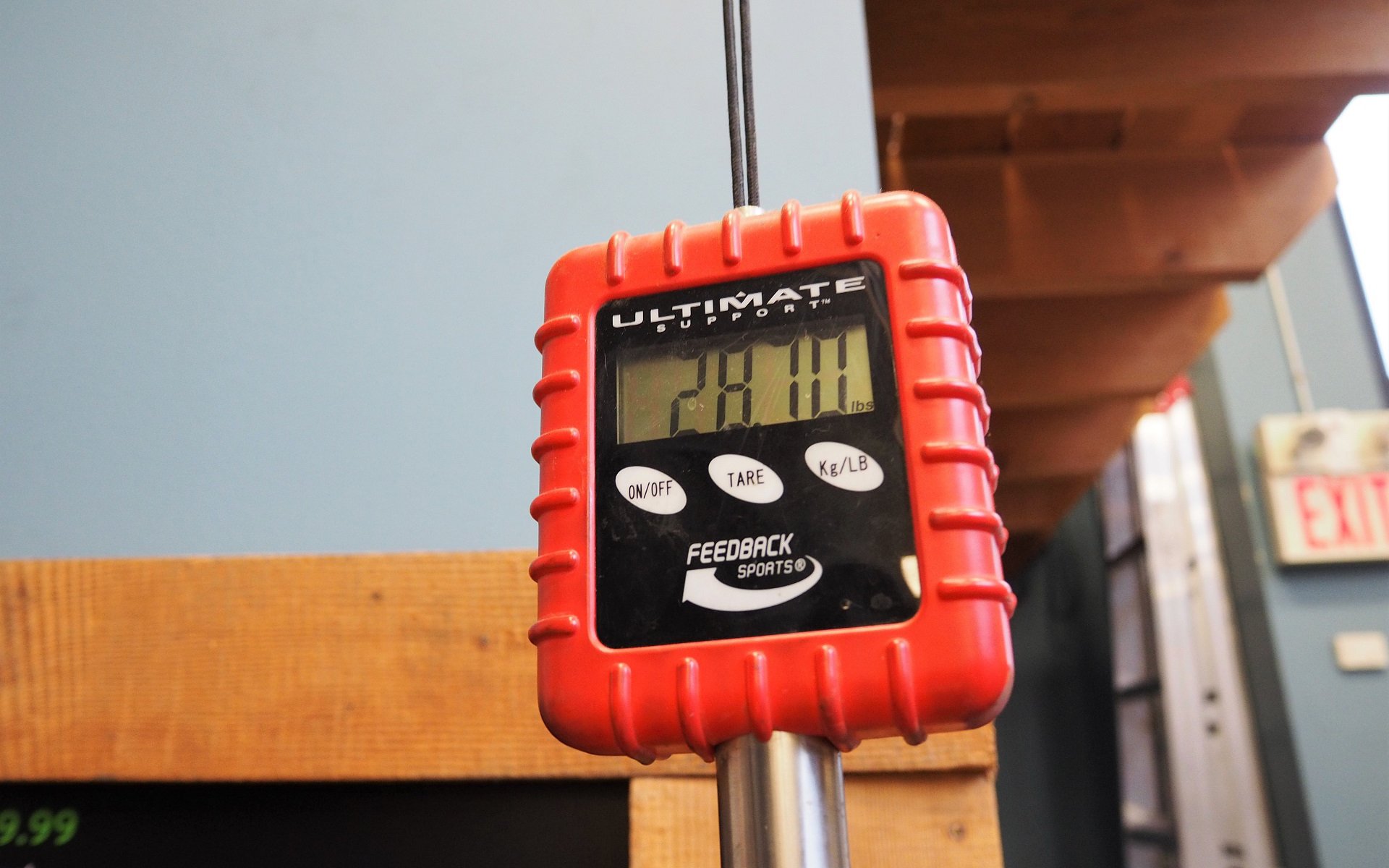 THE WEIGHT IS OVER - TWO
But Weight
The Terms
It's generally safe to say that shaving weight is a rich rider's game. It's a combination of having the cash to buy parts that use exotic materials and manufacturing to cut grams without sacrificing performance or durability and also having the cash to replace said parts when they wear out. Cassettes are one of my favourite easy examples. A Shimano XTR M9100 12-speed, 10-51t cassette features titanium, steel, and aluminum construction, weighs 359 grams, and will run you around 380 USD. A Shimano SLX M7100 12-speed, 10-51t cassette that's all steel except for the aluminum 51-t cog weighs 534 grams and costs about 105 USD. That's a 175-gram difference for just over a buck and a half per gram, or 275 USD to save less than half a pound.
Compared to a cassette, it's actually more expensive per gram to save weight on lots of other parts of the bike, but this is where the disposable mountain of monies comes into play. Go a step further and cut the durability factor by running lightweight XC parts on your Enduro rig. Just be prepared to replace parts due to failure more often. Wheel companies are practically begging you to run their XC Race carbon rims on your big rig by making them available in Enduro-friendly 30mm widths and when those carbon cranks fail they'll probably be covered under 'warranty' anyways. Heck, dropping weight is easy!
Or actually, not. For a number of reasons, this project certainly isn't an example of how to convert cash into weight reduction. I also endeavoured to avoid decisions that were more likely to leave me stranded on the trail - or at least be cognizant of how any reduced theoretical durability would really affect me in the forest. My framework is simple: any component I changed out should be replaced with one of equal value or at the very least the net change in comparative costs should be approaching zero.
I like to think that my desire to keep things similarly durable kept me fairly honest. The Weight Is Over is more about controlling my tendency to think "who gives a crap about 100 grams" over and over again or to buy the lighter of two apples than trying to hit any target. For example, I'm running CushCore inserts front and rear on both setups. On my lighter weight build, I swapped 40/35mm internal width WTB KOM Tough rims for 25mm (but still tough) DT Swiss XM421 rims, and I changed to the lighter CushCore XC inserts to complement my much narrower rubber. More on that in a minute or two.
I removed my steadfast SR Suntour Durolux EQ, which is lowered from 170mm travel to 120mm travel, and replaced it with a fantastic 120mm travel Manitou R7. This dropped a pile of grams with a minor performance trade-off. I'll dig much deeper into the R7 in the future but simply put, the 32mm stanchion fork is a stiff wee beastie. Because of the very slack head tube angle (HTA) on my V2 when I am coming across flat, janky terrain, it certainly didn't slide as easily as my Durolux, which I suspect comes down to stanchion flex, and when hard on the binders down steeper lines, the Manitou is a touch skittery. But the suspension performance is excellent and I certainly don't shirk any lines because of a lack of stiffness, so I think it's easy to say it's a gram-dumping success story.
In terms of durability, the only questionable choice I made is ditching my proven stainless steel oval ring and CAMO Bash spider setup in favour of an aluminum narrow-wide ring. I did gain a bit of ground clearance with the smaller 28t aluminum oval ring but the 1/3 pound weight savings presents a durability risk especially without the bash ring.
Otherwise, it is my typical aluminum 30X bar, NSBillet Overlord stem with huge hardware, and of course, the Waltworks isn't exactly a lightweight frame. I did swap my Race Face Atlas cranks for a pair of Turbines which apparently saves me 70 grams at the cost of having boring black cranks instead of sweet anodized blue ones.
Rolling
Okay, so the aluminum v steel chainring choice represents a potential durability issue but I'm not that concerned as Wolf Tooth's aluminum rings have been excellent and my ground clearance is increased. I certainly recognize that I'll be replacing the aluminum ring much faster due to wear.
However, chainring choice isn't the material malfeasance that is bothering me right now. As I was in the process of dropping weight on tires, inserts, hubs, and rims I somehow managed to talk myself into aluminum nipples instead of brass ones. Ugh. Now it's not that I think aluminum nipples are inherently bad; however, I'm not a very experienced wheel builder and I laced these lighter hoops up for riding a hardtail on the North Shore. It was a mistake to save, what, 40 grams? A mistake I'll be paying for this winter when I re-lace the wheels with brass nips for added durability and infinite re-tensioning.
Aside from some nipple woes in the back, the wheels are excellent. I'm impressed with the stiffness of the XM421 rims and the Industry Nine Hydra hubs are, as previously noted, excellent for a significantly reduced gram count compared to the King hubs that I normally run on my single speed.
On the CushCore front alone I've dumped 180 grams per wheel and dropped another 350 grams by going from my beloved Tough Casing 2.8" WTB Vigilante up front to a 2.4" DHRII EXO+. In rubber alone, I've dumped 810 grams, and that doesn't include the 325 grams for the rims and over 100 grams more for the difference in hubs and nipples. Call it 1,235 grams off the wheels, which is more than the weight of a Santa Cruz Highball frame.
Not surprising at all then that my bike rolls faster on the lighter weight setup. It's especially noticeable on the pavement where the tires cruise at a much faster clip, with less effort compared to my 29+ setup. This isn't surprising. I'm sure most riders would suspect a 2.4" DHR2 MaxxTerra EXO+ tire would roll much faster than a WTB 2.8" Vigilante High Grip / Tough Casing option.
One surprise is that the 2.3" Specialized Purgatory I've been using isn't any faster than the 2.6" I normally rely on, and actually is quite a bit louder due to the spacing of the similarly sized knobs. The 2.6" Purgatory on a 35mm rim with a CushCore Pro insert is totally my jam. Surprising amounts of grip for the rolling speed and vice versa.
But Weight
Going from a massive set of 29+ tires, beefcake 40mm aluminum rims, and some hefty inserts to a fairly standard setup that would have cost similar money, if not less, makes for a fairly easy way to drop a lot of grams. Swapping my lowered Enduro fork with 120mm travel for a dedicated 120mm fork and I'm still on the low-hanging fruit. I downsized from a 203mm rotor to a 180mm rotor in the front, which worked well when paired with the MaxxTerra tire rather than the tackier option I normally run. I even added some grams by running the NSB's aluminum Daemon pedals rather than the composite OneUp pedals that were on my Walt for the first weigh-in. Toss in the chainring swap and a few grams for the different Race Face aluminum cranksets and I dropped over six pounds.
Even before swapping the fork out, just running the lighter wheels and rubber made an amazing difference. My ride from work or from home up to the trails was faster and I was even more motivated to ride to the trails than usual. The DHR2 MaxxTerra is the same 2.4" tire I am running on the Canyon Lux and it was fun to compare it on an 25mm vs 30mm rim. The setup was great on the tamer trails in Cumberland and in the dry and loose conditions we experienced on the North Shore this summer.
But, quite frankly, as I look back at my notes and consider the whole experience I have to say the results are a great disappointment.
For one thing, now that the Shore is back to its natural, greasy state, I miss my 29+ Vigilante on every ride. It doesn't fit in the R7 so it's not a simple wheel swap - it requires popping on my Durolux EQ for the necessary clearance. Equally, the added traction and comfort from the big 2.6" rear tire, insert, and low pressure are missed every time I come off my line into some jank.
The smaller front ring has given me more gearing options with a preference for 21 or 22t to match the 28t oval. I could easily keep this setup and go back to the bigger rims and bigger rubber at the same time. While the lighter, faster rolling, rubber wins on pavement and gravel I'm also not racing anyone. I'm quite content to wander my way up to the trails and once on singletrack I'm not convinced that the rolling weight is making that big of a difference. Or perhaps the trade-off of increased traction makes up for it enough in my mind that I've decided the extra weight and rolling resistance isn't a big deal.
Certainly compared to my riding friends I'm not slower or faster relatively. I stay fresher longer for with my lighter and faster setup, particularly if I'm road riding to meet someone, but it would have to be a big day to make me choose 2.4/2.3" rubber rather than my usual 2.8"/2.6" setup.
This experience was very reinforcing for my long-standing disregard for bike weight concerns for my personal rigs. That's not saying it doesn't really matter to some riders and some applications, but I think it's worth it to err to the side of durability, especially with my rubber and rims. I'm not dropping fishing weights down my seat tube or anything silly like that, but my renewed focus is certainly on having fun, living flat-free, and not being concerned about grams.
I plan to be back on the 29+ rubber this winter on my hardtail and will save the lighter, narrower rims for exploratory rides and XC outings. It has, however, been an awesome opportunity to remind myself how happy I am with my personal bike and my usual setup.