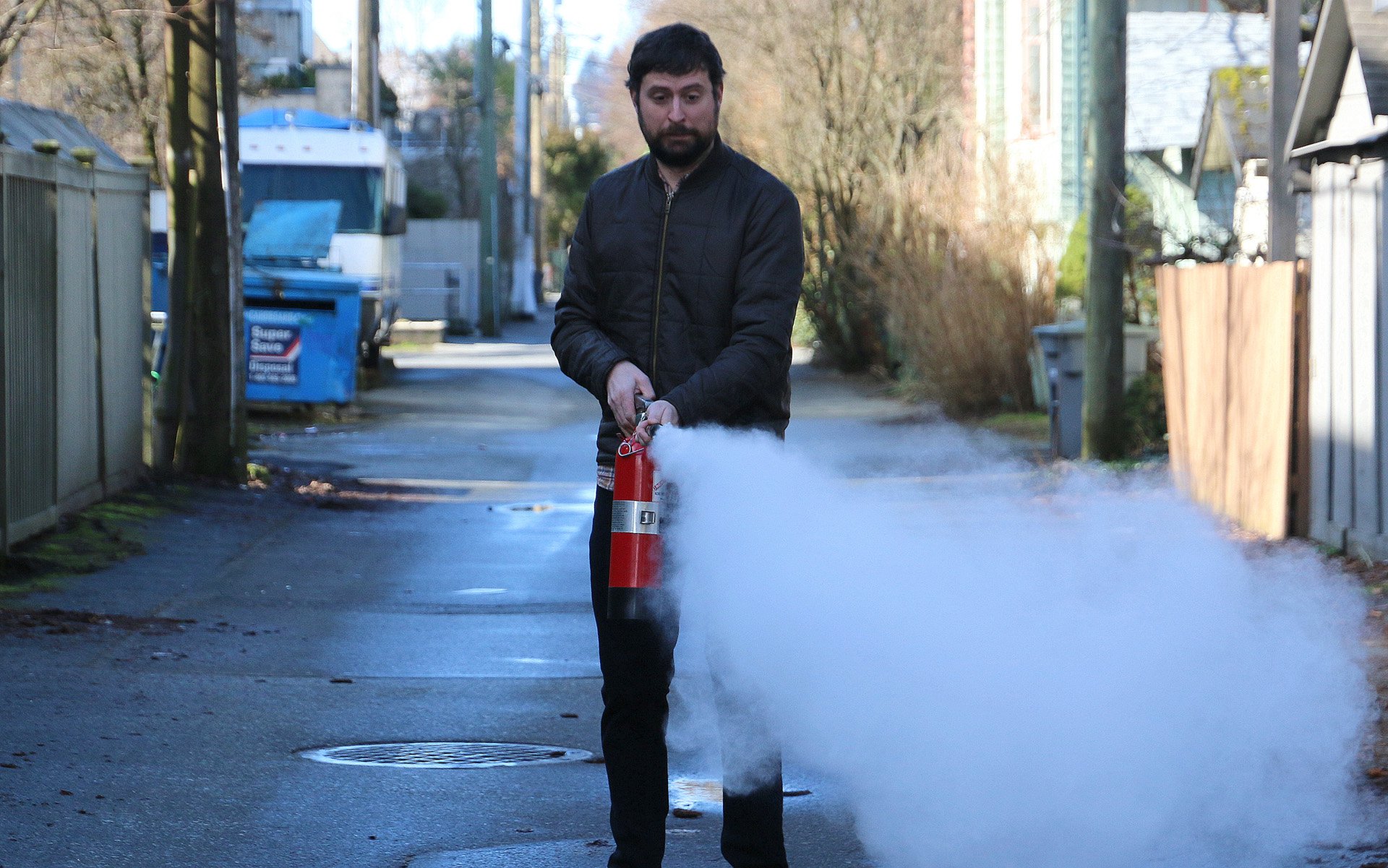 An Ask Uncle Dave How-to
Build Your Own tubeless Inflator
Like all great ideas, I was not the first one to come up with this one. That is to say, I did think of it all on my own, but as I planned out the project and finally thought to plug "fire extinguisher tubeless tire inflator" into Google, of course a bunch of people had already done it. But somebody else made a hamburger before Ray Croc put a McDonald's on every corner. So what I'm giving you here today is kind of the Dairy Queen of tubeless tire inflators: I'm not the first to market and I'm giving you a suspect product, but I am packaging it up and distributing it to a mass audience, and some people may see fit to consume it, but many others won't.
Why bother?

Yes. Why bother, indeed. There are so many products out there that let you seat a tubeless bicycle tire with ease. You have the Bontrager pump (US$150). The Airshot device (£50). Specialized (US$55) and Schwalbe (US$75) are doing things. Shit, you probably have a bloody air compressor that is free to use down at the local gas station. But there are two things going on here that are driving me to build this thing:
1 - I'm way too cheap to spend that much money on a ready-made product.
2 - I'm developing too many excuses for having bad tires on my bike.
So I was sitting around one day thinking that it would be great if I didn't have to drive down to the gas station every time I wanted to change tires. And then drive back again once I'd finally fixed the problem that caused things to not work out the first time. And I thought that it would be really great if there was a readily available pressure vessel with an easily controllable valve attached to the top. Something like, oh I don't know, a fire extinguisher? So here we are. If that's not good enough, we can pretend that somebody asked a question about this.
Step 3 - Clean out the extinguisher
Everything should unthread fairly easily. Take the hose off the front. Take the pressure gauge off. Then screw the valve body/head off of the extinguisher. Give it all a good rinse out.
Step 4 - Wander around Home Depot like an imbecile
This is where you're going to want to have selected the right fire extinguisher. My master plan saw me strutting into Home Depot, finding a nice threaded hose barb and slapping it on in place of the hose. Of course, nothing fit, so I ended up buying a large bag full of fittings so that I could scab together a two pound mass of brass that would allow me to mate the stock hose with my pump head. I finally tracked down the various thread pitches and diameters for the valve body of my fire extinguisher, so I may eventually order the proper M16x1.5 Hose Barb that I will need to clean things up.
Other things you're going to need:
An old Presta or Schraeder valve - I was actually hoping to do a Schraeder valve so that I could easily fill this thing up down at the gas station, but I didn't have a threaded version. You'll need something that you can tighten down with some force, so a Presta will probably be your best bet.
A pump head - I bought a Park replacement head off of Amazon. I was planning on just trimming the end off of the hose and using that, but I decided I'd rather keep the tube whole and use it for a spare on my pump.
3/8" OD/1/4" ID Tubing - If your pump head doesn't come with tubing, you may need to buy some. Supposedly the white polyethelyne tubing found at Crappy Tire is good to 100 PSI, but I'm not going to be surprised if I end up replacing it fairly often. Braided vinyl would probably work really well if you can find it.
Teflon Tape - If you're using NPT fittings, you're going to want to give all your threads a good wrap of this. It's super cheap so don't skimp out.
Hose Clamps - Because nothing will fit, otherwise.
If you're smart, you can probably keep your total out of pocket expenses below $20. If you're not, you're going to buy a whole bunch of crap that you don't need and wish you just bought something ready-made.
Step 5 - Attach your Presta/Schraeder Valve
There's many different ways you can do this. If there's  a fill port on your valve body, you may want to go in from there. I decided to just drill a hole in the side of the extinguisher. It was remarkably easy to get through, just make sure you use a center punch to mark your hole and you should be fine.
Once your hole is drilled, use some string to feed the valve through the hole. Make a seal using some of the inner tube that you cut up, throw a washer or two on top of that and tighten the whole thing down. Then take it apart and seal it up with some tubeless sealant or some shoe goo once you discover that it leaks like crazy.
Step 6 - Attach your hose
Once again, if you were smart with your fire extinguisher selection, it's going to really pay off here. All you will need to do here is thread your hose barb onto the head of your fire extinguisher and then jam your hose on and finish it all off with a hose clamp.
If you weren't smart, this is where your life starts to suck. First, you'll have to chop the fire extinguisher hose up. Make sure you do this in the kitchen, using one of your cutting boards. They probably have tumeric stains on them already, so it should be fine.
After that, grab your monstrosity of a fitting and spend a good hour wrestling it on to the end of your hose. It's like jamming a cucumber down the urethra of a flaccid penis. I would imagine. No fun. No fun at all. WD40 helps, as does clamping the whole thing down so you can get some good leverage (once again, make sure to use your kitchen counter). I never did get it all the way on though, and just tightened my hose clamp up really tight.
And of  course, the polyethylene tubing had the opposite problem, and needed a few good wraps of gorilla tape to pad out the diameter a bit. Once completed, the whole thing is hideous, but seems like it probably won't kill me.
Step 7 - Fill 'er Up
That's really all there is to it. Use your floor pump or the local gas station to fill your gizmo up to 100 psi or so, and give it a rip. Here are the videos of me trying my unit out for the first time. Both involved nothing fancy, no soap on the beads and no valve stems removed or anything like that. I just mounted the tire and gave it a rip. Watch the first video and you can hear my surprise at the end that the whole thing worked so seamlessly.
The second video is after I popped the bead off and added some sealant. I also went up to 110 psi in the fire extinguisher and you can hear that I got some really nice bead pops. Once complete, everything equalized to around 35 psi, so you can really only get one tire at a time unless you want to put a whole bunch of faith into your craftsmanship and really up your pressure.
Uncle Dave's Music Club
We've pushed over 1600 words, with several photos and a couple of videos. Do we really need to keep this going?
And because this wasn't a real question - no prize for you. If you have a good question for Dave - or maybe something that will give him another DIY project - send it to him here...