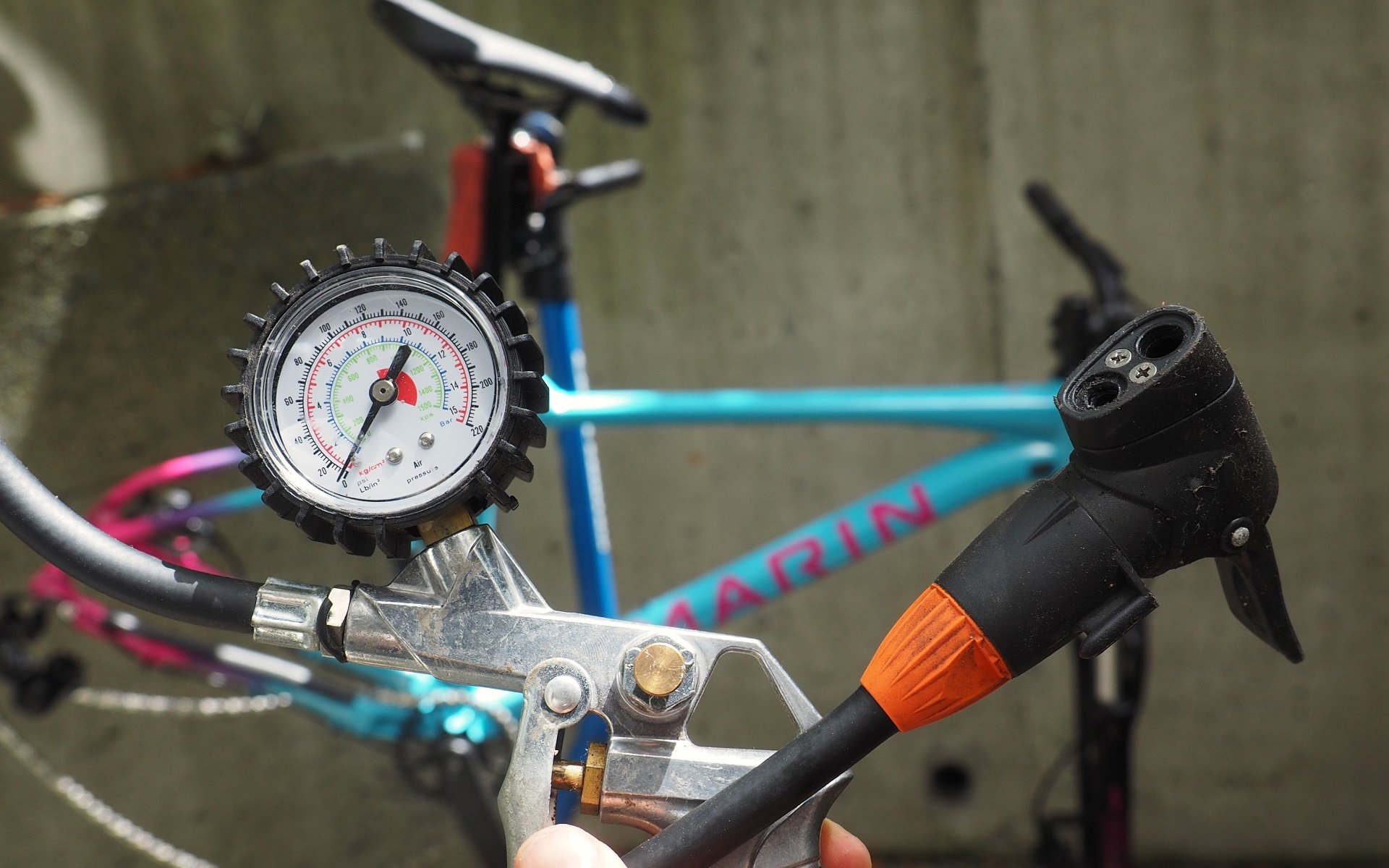 EDITORIAL
Budget Bicycle Buying: Before You Leave The Bike Shop
House Bleeping
I believe that your best experience of buying and owning a mountain bicycle, and the best value for the vast majority of riders, is going to come through a good local bike shop. This is in contrast to buying your bike from a direct-to-consumer brand, even when there are clear justifications in the spec. to dollar ratio. Or buying your bike online from a major manufacturer who's indentured their existing independent dealer network into servicing you, as though you bought the bike from them. That's my opinion and my reasons are multi-faceted from the fitment and buying advice on day dot, through to any support needs that could arise down the trail. It's mountain biking, stuff fails. Also, I think the fact that local businesses pay local taxes and support local trails should matter.
I know there are great service-primary shops. Some great friends of mine own, or have owned, such businesses. I know that there is enough diversity in the direct-to brands that it's not necessarily fair to lump them all together. Turning wrenches, I've seen the worst of what some of these brands deliver in terms of after sale support, warranty, and general product support when it comes to spares but I haven't seen everything. This is simply my experience compared to other brands I've worked with.
Today I'd like to focus on budget mountain bike buying, a category where I think buying a bike locally most consistently benefits the target customer. I'm talking about real mountain bikes, for having fun riding on at least blue-level trails with the experience and skill set of a newer rider. Both the riding experience and skill set, and also the mechanical experience and skill set. This is not me buying a budget mountain bike, raiding all my friends' take-off parts for beer-priced upgrades, and then taking the thing down to a frame to maximize the performance using my collection of tools and experience. This is your mom's friend's neighbour's grandparent's dogwalker's kid's teacher's brother who's decided to take up mountain biking.
I am not trying to be an arbiter of what makes a good or bad bicycle shop. I've worked at and with enough consistently good bike shops, or shops that have consistently good people, over the last twenty years that I feel comfortable having the conversation. And I'll catch myself there and say I often find myself in the position of needing to recommend folks go to one shop or another and when I do I always attach a name or two to my recommendation. Cycling, mountain biking or otherwise, is about personal connections - with nature, your machine, yourself - so buy a bike from someone you're comfortable talking to. What I will say definitively is that there are a lot of independent bicycle dealers in my geographic area* and they offer a lot of experiences. I think, here, regardless of how much money you spend or plan to spend, it's good to have a bike shop you're comfortable and confident in and I don't think it'll take that many tries to find one if you don't currently have a go-to.
*Many locales have significantly fewer options, but I'd argue that makes it even more important to support your local.
I'm writing this piece after some feedback I received, directly and indirectly, from my piece 'Real' Mountain Bikes Don't Come With Pedals. I'm going to suggest some talking points for regular folks buying an entry level mountain bike. I'm going to suggest some stuff that I think should be the basic best practices when buying one of these mountain bikes. I'm not trying to be a dick here but, as with my pedal piece, if you work in, or own, a shop and you think this sounds like idealistic fantasyland bullshit then the problem might be you. Lastly, thanks to my shop friends who entertained my diatribes and helped me know when I wasn't out in left field. In particular, the Squidulous Toucan for being my imaginary floor-staffer as I mock-negotiated my way through this process.
Setting A Budget
It's always easy to say "for a few more bucks..." but as with my parked budget hardtail review plans, I have to draw the line somewhere. When a rider needs gear, shoes, pads, helmet, gloves, hydration, and basic tools add up fast. The problem is that the price of bicycles has been going up but companies are still trying to find ways to hit certain price points while delivering basic expectations. Put another way, if the price of a certain model didn't go up then the spec went down. I'll talk more about this in a section below but for now, suffice to say there is some absolute sh*t coming on bikes, particularly in the world of hydraulic brakes, and that's why in some of my bullet points I've listed brand names.
Certainly the first step in deciding on a budget is determining the minimum level of mountain bicycle that we're buying. I have a specific buyer in mind today, which is my youngest brother who, despite my best efforts, isn't particularly interested in mountain biking. On the new development front, his six year old is very interested in mountain biking (this may be partially my child's fault). My brother needs a mountain bike that's great for the blue trails at his local mountain now, but also something that will grow with their experience and is upgradeable into the future. In light of the requirements, the budget is going to be somewhere between 1000-2000 CAD. Realistically closer to 1500 CAD as a starting point in 2022. Here are my requirements:
Hardtail frame with modern geometry (good geometry is free you '90s NORBA-geo selling bastards)
Through-axle fork stiff enough for a 200lb rider on blue trails (performance wise, any fork on a bike in this price range will be a future upgrade discussion)
Hydraulic disc brakes from a reputable manufacturer (look for Shimano or Tektro brakes in this price range)
Clutch-equipped derailleur drivetrain (MicroShift, Shimano, or BOX. Avoid SRAM SX like the plague, you're unlikely to see NX under 2K CAD). I'm suspicious of anything with a front derailleur.
Double-walled aluminum rims and a cassette rear hub (not a freewheel; shocked I have to say this)
Knobby tires that deliver good climbing and braking in all conditions on blue trails
A saddle with no sharp protruding pieces of plastic (it would be good if it was comfortable but at the minimum it shouldn't maim)
A seat post quick release that can be opened and closed multiple times without failing and hold the seat straight
These are all terms and concepts that it would be good to familiarize yourself with. I'm certain your friend, or friend-of-a-friend, who knows about bikes will be happy to get you up to speed on the basics and so will the floor staff at any shop worth buying a bike from.
Rotor Rousing
Shimano brakes in this price range will almost always be mated to 'Resin Only' rotors. This means the rotors only work with resin (not-sintered metal) brake pads but more importantly - because for many riders resin pads work fine - the rotors also suck for braking in a such a way that swapping them without making any other changes (bleeding brakes, changing pads) is an immediately noticeable upgrade.
Uncle Dave and I have a standing annual competition to see who can mention how badly these rotors suck more times. It always comes out as a draw because frankly, we all win when more riders know about it. Some day Shimano is going to quietly kill off these cheap steel, money-saving, shit-discs (they suck on commuter bikes too, especially in wet conditions) and we're going to get a nice bottle of something and toast our successes. In the meantime, if the rotors are stamped with the words "Resin" and "Only" then buyer beware because it's an expensive, but I'd argue necessary, early upgrade.
The short version of this is to say that Shimano makes fantastic budget brakes, but I usually look for Tektro spec on budget bikes as I can then generally be certain they'll be mated to decent 6-bolt rotors and not only will that mean more stopping power upfront, it means I can go with a higher-friction sintered pad option when I'm due for a replacement set.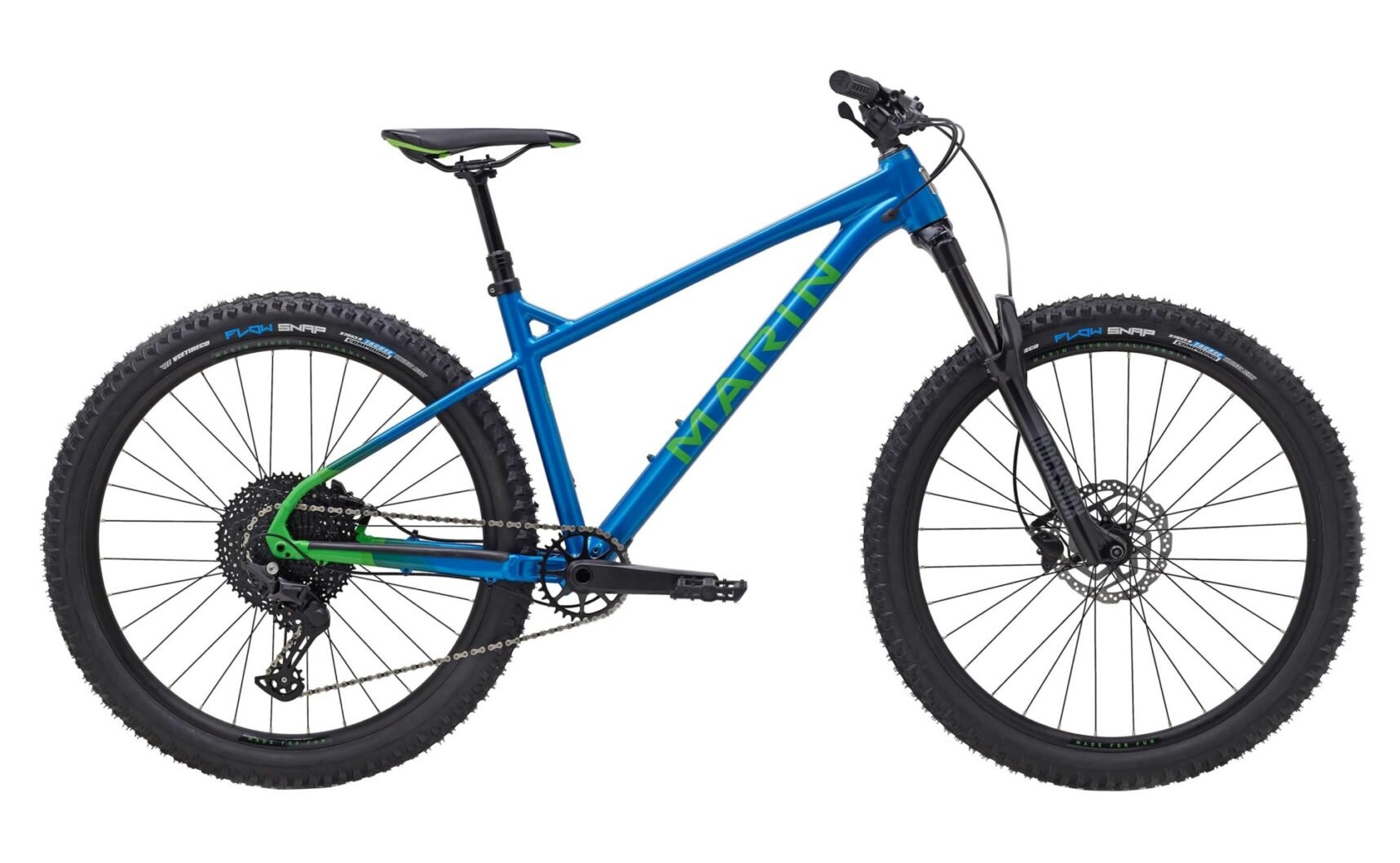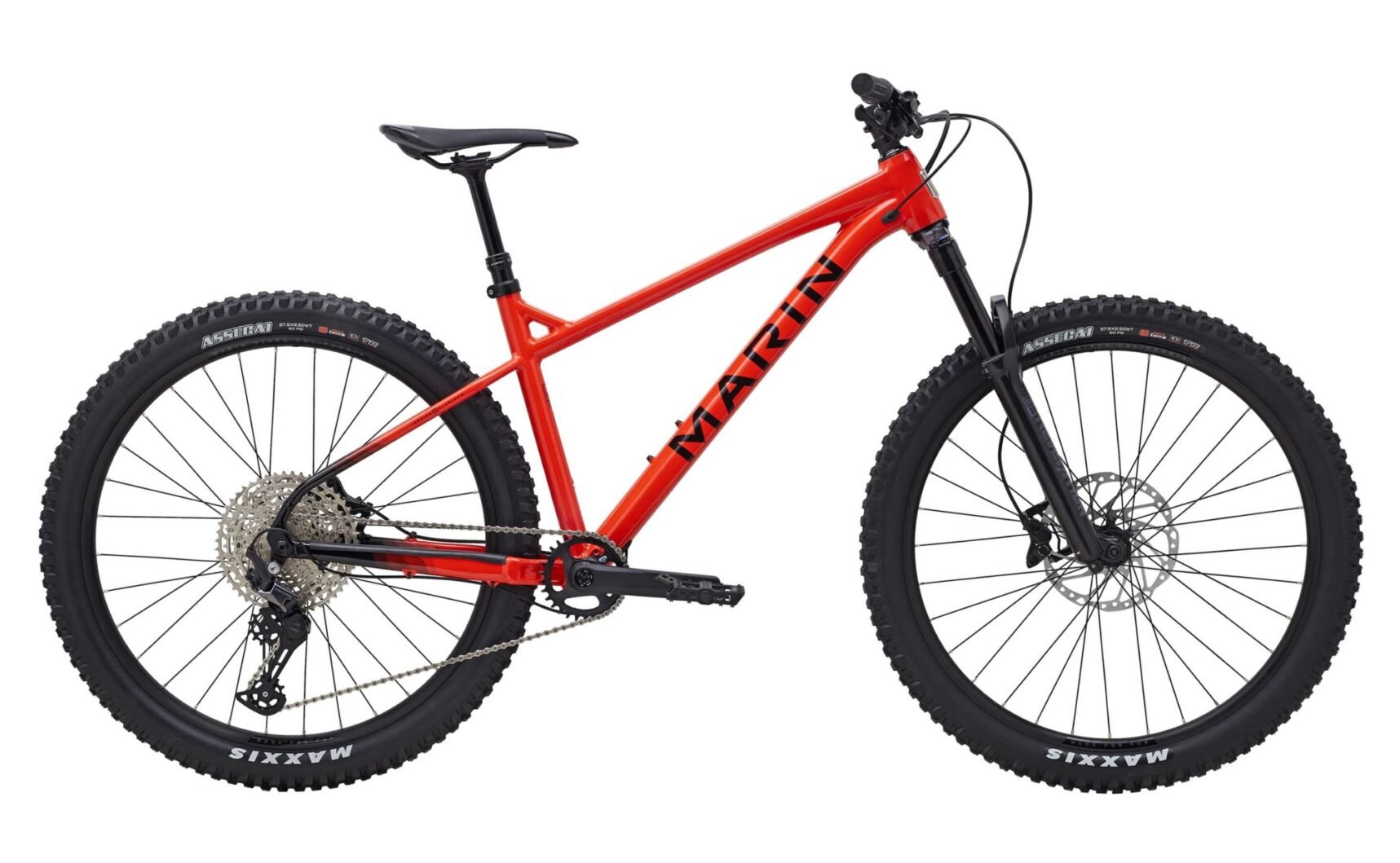 The Test Ride
What can you tell from a parking lot test? Admittedly you'll learn more about the shop you're buying a bike from than about the bike itself. First off, what level of pre-ride prep did they do? Some shops have a process for every mountain bike test ride that goes out the door whether it's 1K+ or 10K+; if there's air suspension they'll do a basic setup for your weight, they'll run you through anything specific about the bike. They may adjust the controls inboard to simulate a narrower bar, and they will set the saddle height. Some other shops only take that level of care with their premium bikes.
In the latter case, that may be awesome for your friend who referred you, who's buying a new carbon super bike every few years. This may be the best bike shop around for that rider, full of staff helping them get the most out of their off-road experience. But, you're buying a budget mountain bike, making a still significant 1-2K investment in an activity you're excited about, and if you do fall in love with riding you are going to break, wear out, and outgrow parts on that budget hardtail. Eventually you're going to flip that bike or relegate it to commuter duty and invest even more money in your next rig, but what about the honeymoon phase? If the shop doesn't have time for you when you're spending 1-2K, how much effort are they going to put into helping with reasonable upgrades and necessary repairs?
There are three things I'd expect before taking any bike out for a test ride. The bike gets checked over by a mechanic before you roll it out the door. People touch bikes on the floor all the time, or they get moved around in storage and folks browsing fiddle with them. A shop that cares about your experience will make sure the bolts are tight, the brakes are working properly, and the shifting is crisp before sending you out
Shops will also install real trail riding pedals on the bike before you take it out. These will be plastic or metal with metal pins. If you need a bike that has high-traction off-road worthy tires then you need a bike that has high-traction off-road worthy pedals. If they send you out with cheap pin-less plastic flats, they either think they're selling you the wrong bike (did they suggest a city/commuter type bike instead?) or they aren't taking your experience seriously. Off-road worthy tires, off-road worthy pedals.
Finally, the shop staffer helping you will adjust the saddle tilt, brake lever reach, and position of the controls to suit you. This will either be to your preference or to where they think your preference will be. Often these items will be adjusted again based on your feedback. For smaller riders, shops will often move the grips and controls inboard to simulate a narrower handlebar.
Getting Fit
Most mountain bike companies have figured out that it's a lot simpler to cut a handlebar than to add to it and so you'll find that most budget mountain bikes come with 780-800mm wide bars. In the case of my brother, that will be perfect but as the runt of the litter I'd be cutting them down to around 760-770mm depending on the bike. On my wife's bike the bar would be getting chopped to between 720-740mm.
Bar width has a degree of personal preference - and learned preference - but all the same I regularly see riders, and especially groms, on handlebars that are significantly too wide for them. A couple inches of bar protruding out from either side of their hands, which are splayed out with arms straight and their wrists locked out at extreme angles. Never mind how much less dynamic such a position makes you on a bike. Just, ouch.
Bar height is another adjustment that's available, the number of spacers above and below a stem. When it comes to bike fit, centimetres really matter and changes in position will have an effect on weight distribution, front wheel traffic, and comfort. The person helping you with your budget bike purchase will set the rig up neutrally but, if you haven't already discussed it, this is a great time to mention all those old injuries you're carrying around. I personally find that most budget bicycles put the bar too low for me, which results in too much weight on my hands and wrists and discomfort in my shoulders and neck. This is easily resolved with a higher rise bar than stock, but again this is another expense.
Chances are a basic fit from the shop, including sizing the bar and a saddle swap as necessary, is all you'll need to have a great time getting out mountain biking. If you ask, the staff helping you should be happy to show you how to adjust the saddle angle and position yourself so you can continue to experiment with what works best for you. That said, if you get out on the trails and you are not comfortable on your bike, do not hesitate to head back in and explain what you're experiencing. Chances are the shop you're dealing with has heard it all and the staff there will have some solutions for you to try.
Pedals
Real mountain bikes don't include pedals. Sorry. Regardless of whether the pedals are aluminum or plastic (resin, glass fiber, injection moulded, composite or however they're being marketed), the key is that they need to have metal pins. When you have your feet weighted into the pedals, the right platform will feel like your shoes are attached to them. It's a great idea to try a couple different pairs as even the newest rider will often have a preference in platform size or shape.
There are a lot of options but chances are you're looking for a pair of decently grippy flats and the shop you're working with will have a couple favourite options towards the more budget end of the spectrum. We're years removed from one-size-fits-all with platforms so if you're flaunting some flippers there are proper large platforms that will support your feet.
If you're in a Kona dealer, whether you're buying a Kona or otherwise, they'll have the excellent WahWah 2 pedals in stock in a composite (read: good plastic) body in two sizes with really tenacious metal pins. Great option. Many shops carry the RaceFace Chester or OneUp Composite which are both good options as are Crankbrothers pedals in this category. Buy pedals with sealed bearings if you can spring for them, they'll spin nicer longer.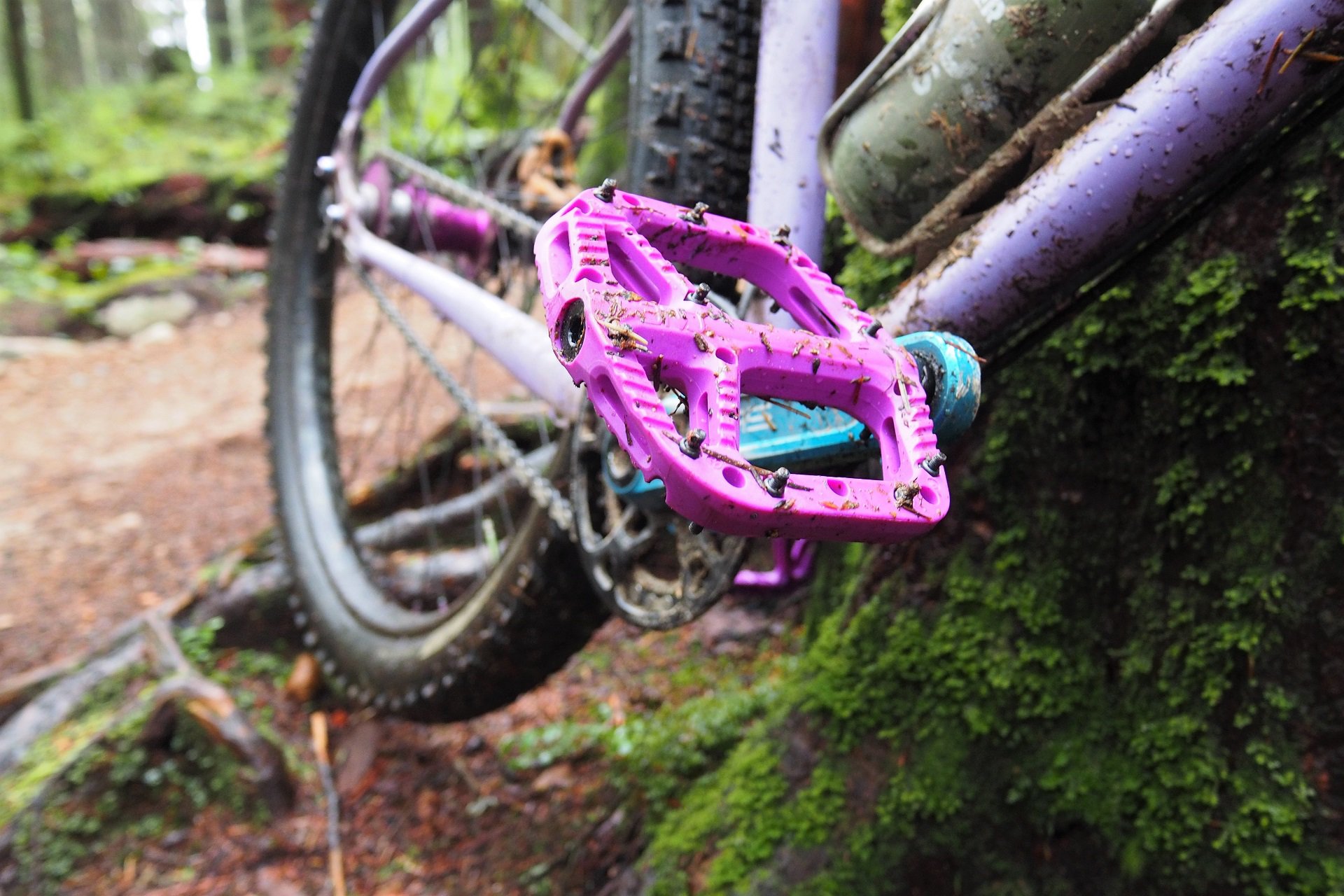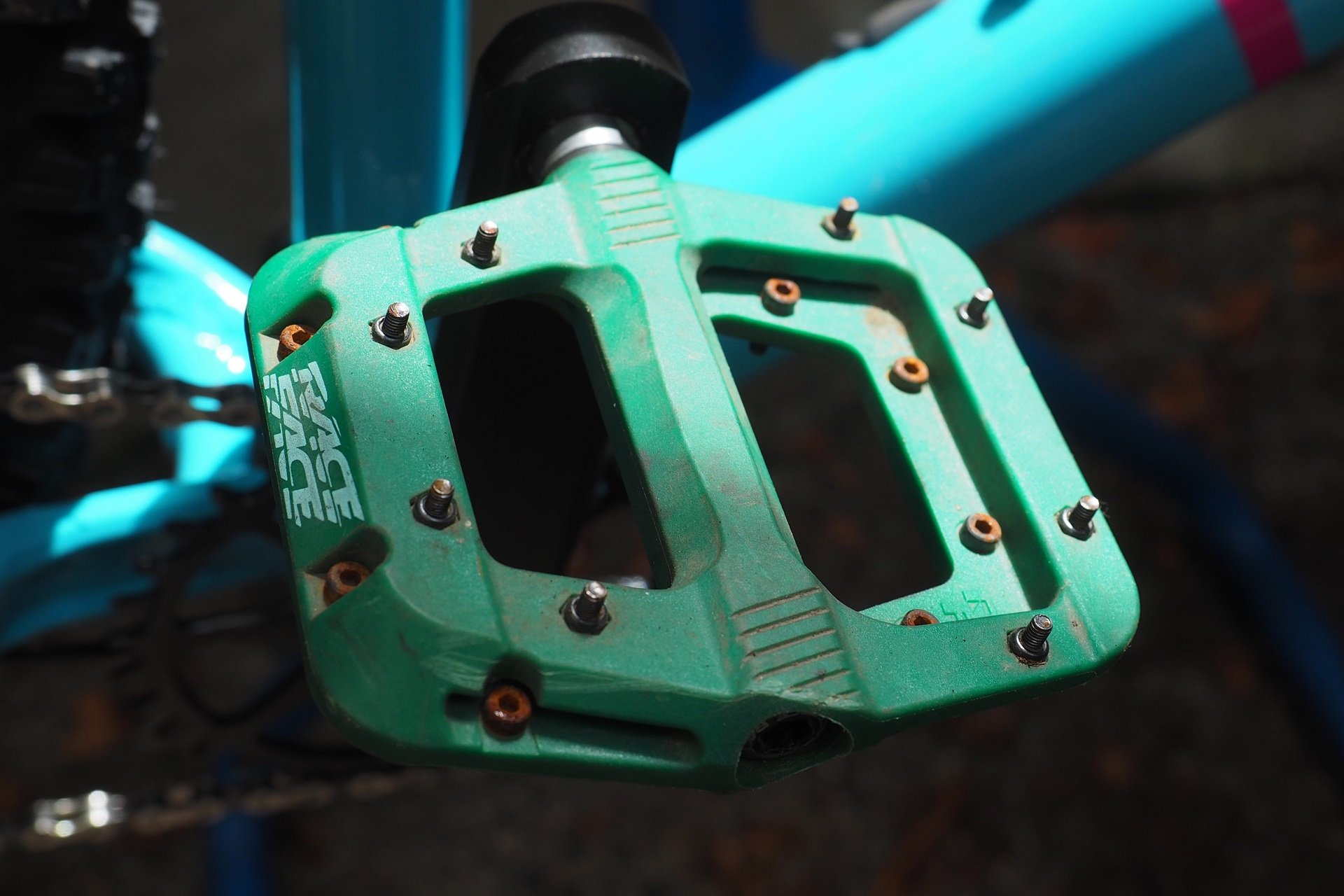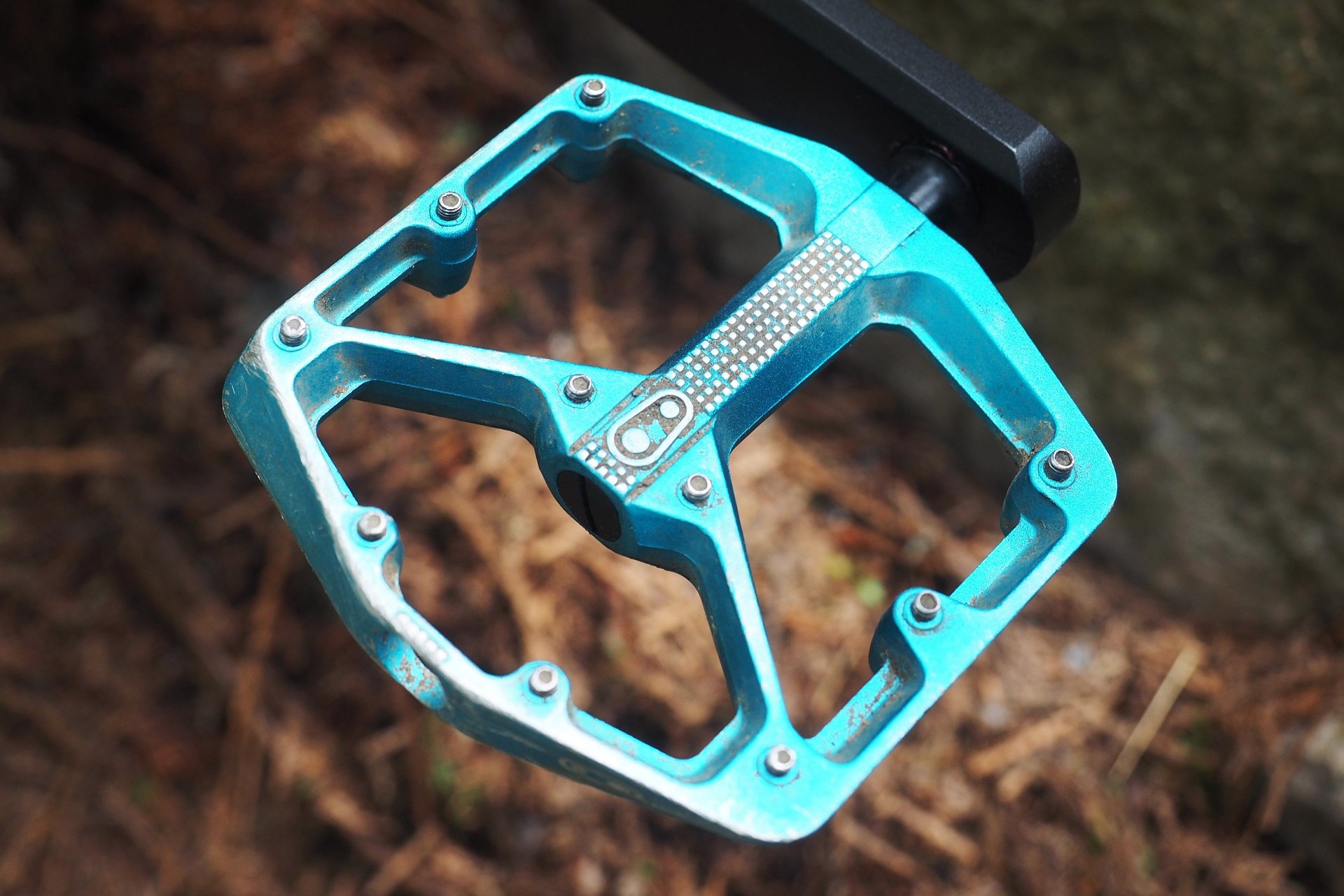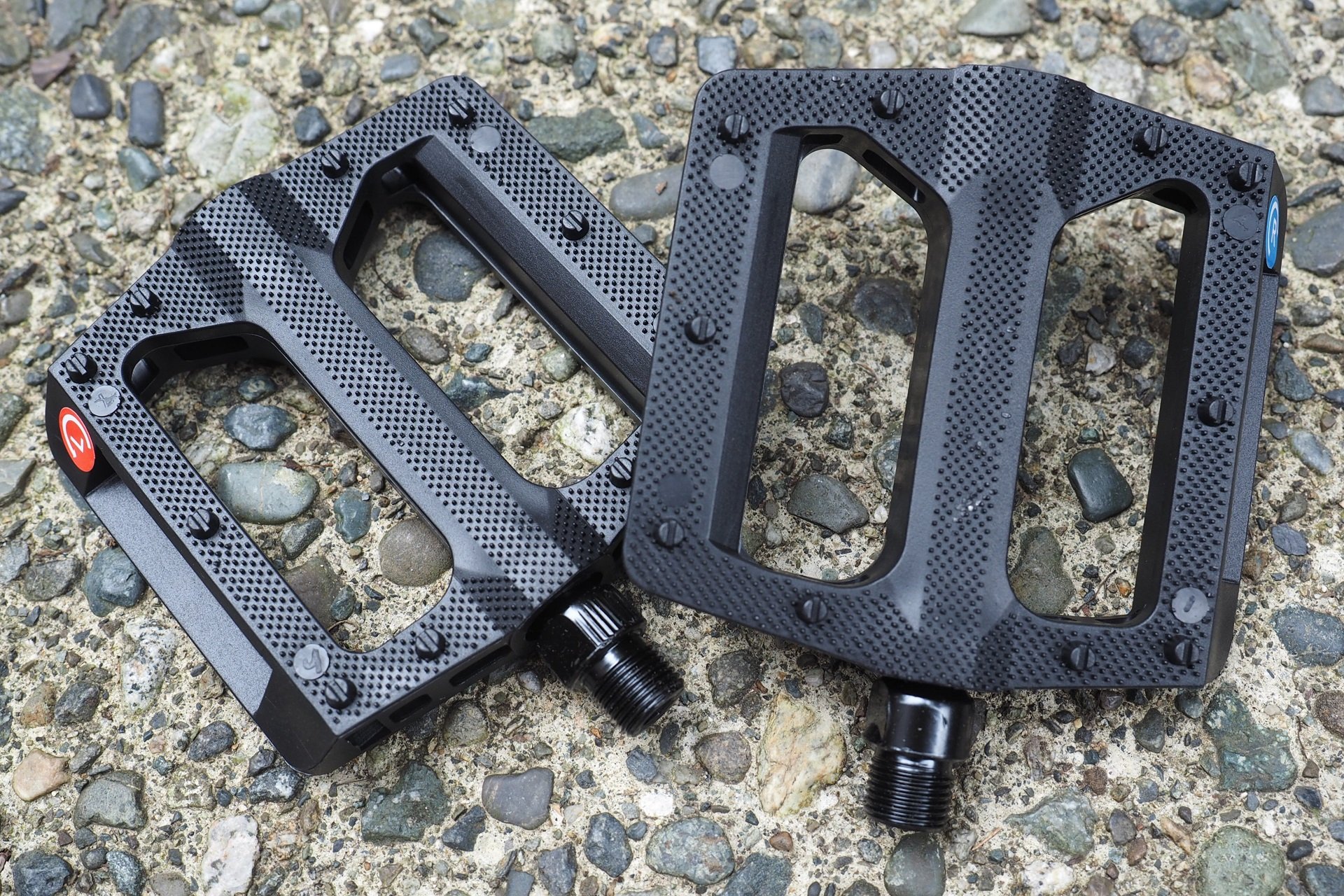 Tubeless Time
Some riders are still using tubes, but for the vast majority of riders they're a quick repair option only these days. Who doesn't want a more supple ride, improved traction climbing and descending, and fewer flats? At the sub 2K price point most bikes will come with tubes installed and making the switch is a conversation that will need to happen. Hopefully the shop you're working with will initiate the discussion. This is another added cost in terms of valve stems and sealant, but most shops will waive the labour and two that I talked to feel strongly enough about a tubeless mountain bike experience that they'd only charge for valves - sealant, tape, and labour waived.
Stories abound of shops unwilling to tape and about tubeless bikes that come with tires that aren't 'tubeless ready' and in particular tires with wire beads. I guess I'm old enough to remember when most tires took a little extra effort to get seated up but I don't think it's a big deal personally. I've setup plenty of cheaper wire bead tires with an air compressor and an extra wrap of Gorilla Tape, so I'll stick with my rule to tubeless everything.
Squidulous Toucan does note that if you're planning to ride in our local conditions year round, it can be a very good idea to setup your bike with a softer, stickier, rubber option up front and save the stock front tire as a spare rear option. Again, this is an added expense, but it's one that comes out in the wash. Since most folks getting into riding tend to buy their fresh rig in spring or early summer this is an expense that could be put off until fall. Just remember, if you're planning to ride slick rocks and roots in the 'off season' rubber is the number one upgrade.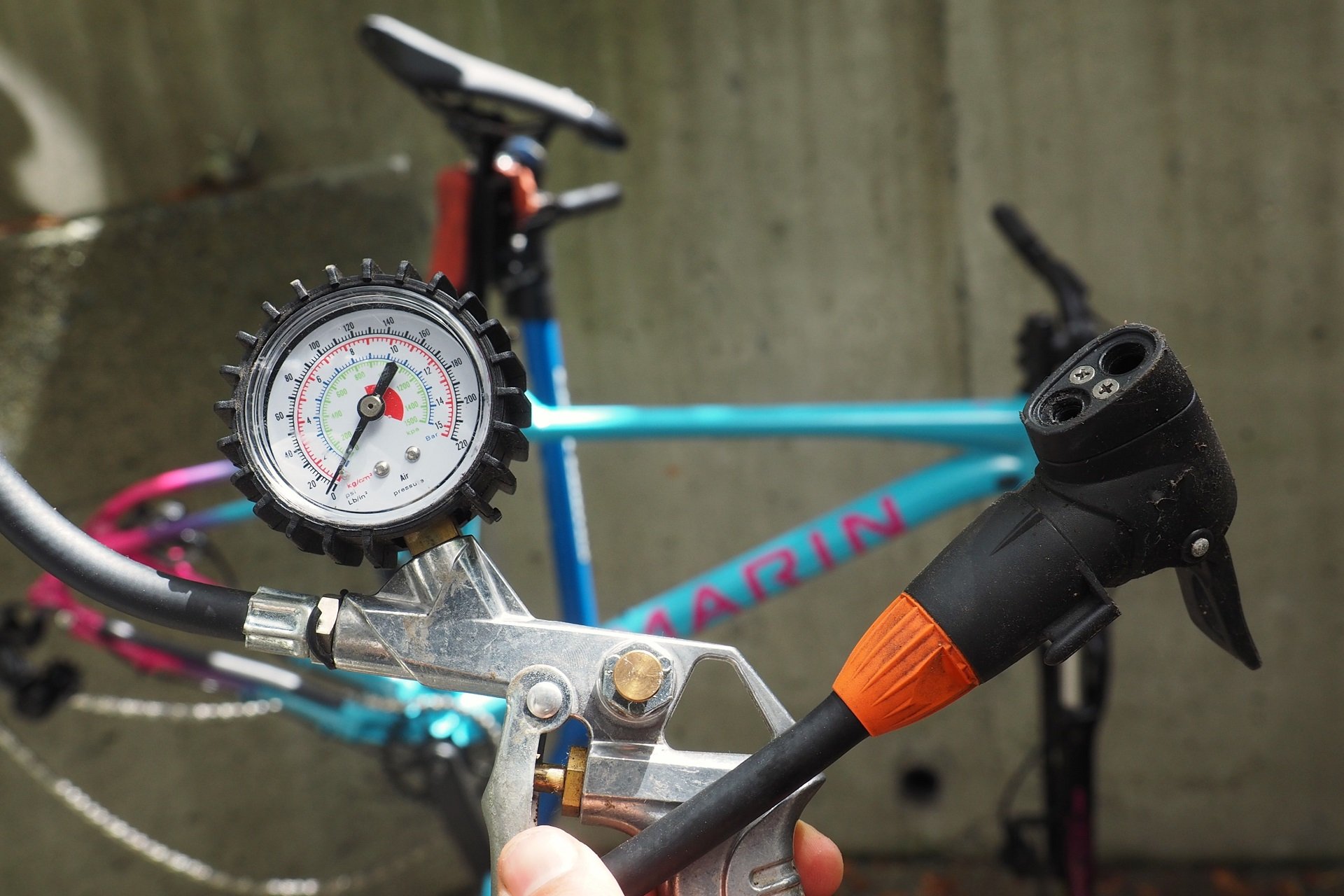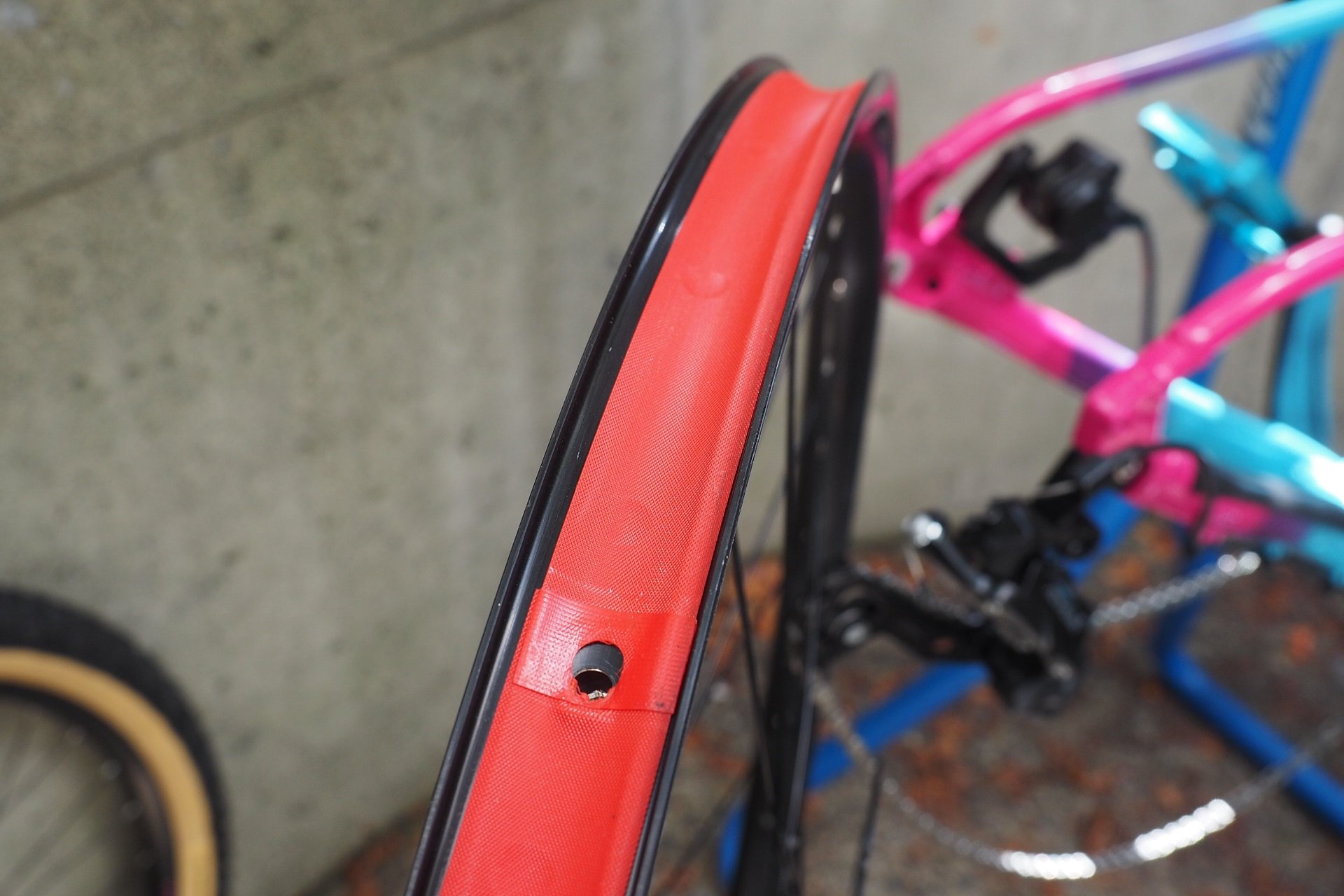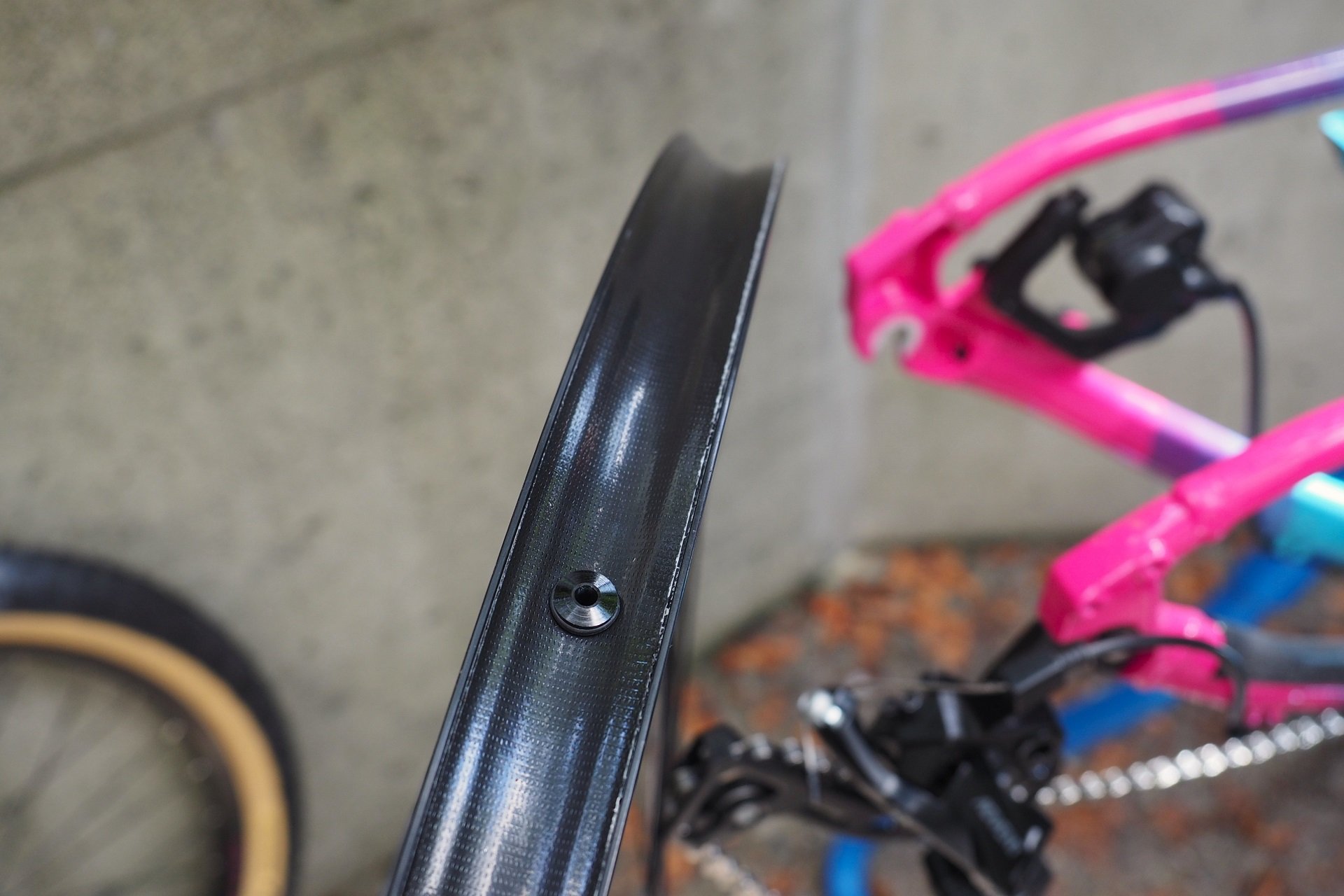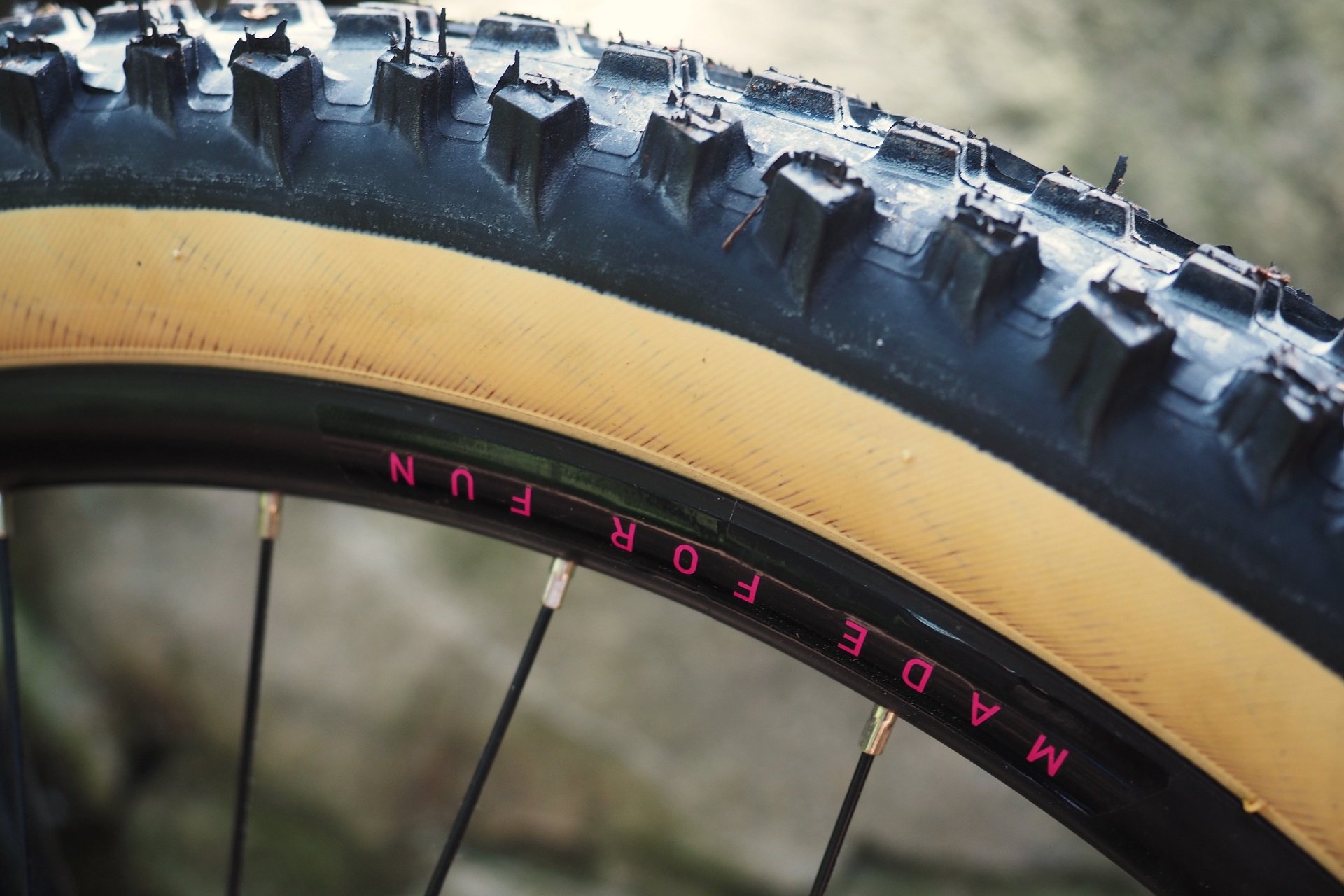 Accessories
Footwear is important. You want a flat, uniform tread that will interface properly with the pins of your flat pedals. Cycling-specific flat pedal shoes are vast improvement over street shoes for riding in but even a good basic option like a Giro Jacket II is going to run you over a hundred dollars. If you're just starting out a decent hack can be a pair of whatever skate shoes are on clearout at your local skate shop. My buddy just picked up a pair of Vans for about thirty bucks (plus tax) and those would certainly do the job.
Armour. I know you'll see a lot of folks out on the trails without any gear on but if you're just learning I'd recommend some knee pads, gloves, and, of course, a helmet. Starting out, all this gear can be overwhelmingly costly. Like a pair of skate shoes, Mechanix gloves from the local hardware store can get you by until you're ready to seek out something that breathes better and fits better for the application (or, like a few of my friends, Mechanix gloves might just be your jam period).
Your shop will have their favourite high-value helmet and there are some good ones out there. The Giro Fixture MIPS is a popular option for about 100 CAD that's a good basis point to start from in deciding whether to make a bigger investment in a brain bucket. For riders in places where there's a steeper learning curve to get into this activity, like the North Shore, I'm a big proponent of helmets with a chin bar. I rarely mountain bike without one myself. This is an extra up front cost, certainly, but a decision that can easily pay for its.
Even if you have no clue where to start using them, you should always be carrying a basic multi-tool, a mini-pump, and a tube. Self-sufficiency has been a fundamental aspect of mountain biking since the beginning and the helpful person who is going to stop and give you a hand if you have a trailside mechanical issue will have something to work with. I've ridden many places and I think I can say with some authority that if you get hurt or otherwise need a hand, the mountain bike community has your back.
You don't have to spend a fortune, but at the same time you want a pump that's going to work when you need it. Blackburn, Lezyne, and SKS are all common good options. I've had the same SKS Airboy XL for over a decade so it's an easy recommendation. On the multi-tool front, I like the Park IB-2 for about 30 CAD. You can absolutely spend a bit less but the IB-2 is a nice tool to use, where a lot of multi-tool blocks are very clunky, so it's again something you'll have forever. You'll have two tubes to roll up post-tubeless conversion so that's looked after.
Don't forget a water bottle and a cage. Hydrate!
Future Upgrades
Most the mountain bikes in my price range here are won't come with a dropper post and that's a good thing. Bikes under 2K CAD that have a dropper as standard equipment have invariably received some other down-spec to cover it and the stock post is unlikely to provide the optimum amount of drop or be of particularly good quality. At the same time, we're buying a bike on budget here and coming up with an extra 300 CAD for a good dropper post and nice remote may not be in the budget with all the other-other stuff required to get out and ride.
All shops provide some kind of discount on products purchased along with your bike (helmet, pedals, etc) but what about products that you would buy at the same time budget aside? If the plan is to come back in a few months and upgrade the rubber for winter or to add a dropper post in the new year then you should ask the staffer helping you if the shop would extend the purchase discount to those items. Based on my experience, they'll say yes. Then ask them to add a note to your receipt, just in case they're not in when you come back. This is a small investment in building a relationship with a rider.
Pedlar's Dilemma
Minimum bike. Maximum expectations. Selling budget bikes is often not easy. As impressive as a MicroShift clutched 1x drivetrain is, it will never match the performance of a fresh XTR cassette, chain, derailleur, and shifter that combine to cost as much as that MicroShift equipped mountain bike. The common SR Suntour XCM32 is a really decent fork, but light riders are going to use minimal amounts of travel, heavy riders are going to bottom out regularly, the coil spring isn't silent, and all those riders will probably find the fork is overdamped. I can go on and on.
As someone selling bikes, it can be impossible to balance a riders' expectations, future requirements, and budget. It's very easy to get into the 'for a few dollars more' cycle or set basic requirements so high that it prices a lot of folks out of mountain biking. Or at least getting into mountain biking at your shop. One reason I think everyone selling bikes in shops should spend real off-road time on basic mountain bikes is to have a proper sense of where they're really fun and where their limitations show up. Otherwise they may end up projecting their personal equipment needs and expectations onto riders who will always be happy on cruisy-smooth trails. For one, I'd bet we'd see a lot more shop-folks riding top-end suspension and brakes paired to MicroShift drivetrains on their own bikes.
Buying an upgrade-worthy bike you can afford now and then investing in it as you grow as a rider is a valid way of experiencing mountain biking. There are often times in mountain biking when the lower-priced option, with strategic min-maxed upgrades, will be a better value than a more expensive rig with all the components bumped up a step.
Some shops choose to set their price of entry higher to avoid significant compromises. For 3K CAD you can head into a shop, in 2022, and grab a hardtail with a reasonable fork, great tires, solid 4-piston brakes, a good 150mm dropper post, and almost the only drivetrain that matters. That's a sweet value. But it's also more than double the price of the Marin San Quentin 1 I used as my basis here. Apparently, some shops have no floor for what they'll sell in terms of creating expectations (see cheap pin-less pedals). If you, or someone you know, is genuinely in the market for a proper off-road bicycle on a budget, around $1500 + tax is a realistic investment for a fun experience on blue trails. The fact that a lot of folks are riding suspension forks that cost more than that is a reality that should be reflected in the performance expectations of the purchaser without impacting their stoke for getting out on the trails.