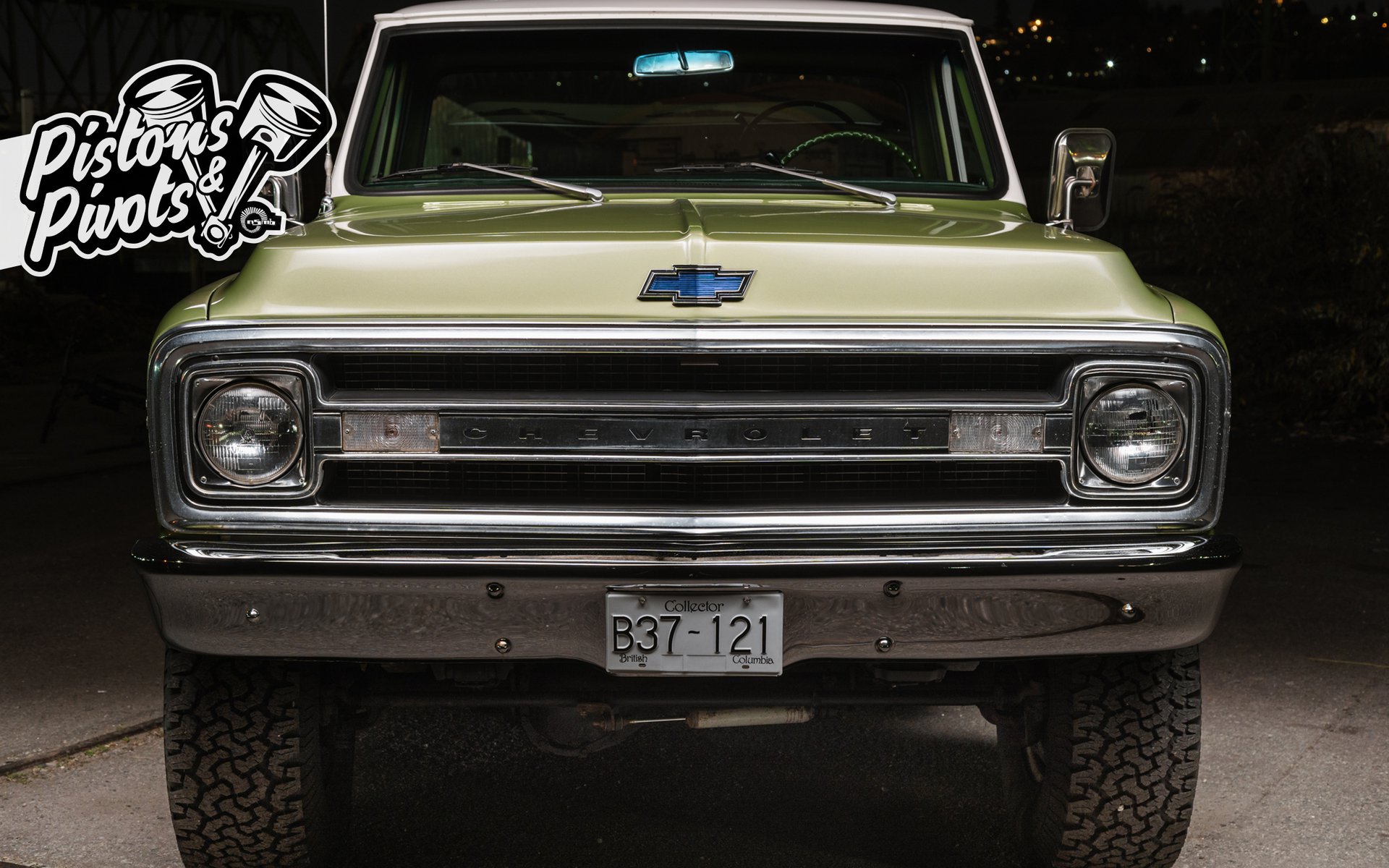 Pistons & Pivots
Brad Hutchison's Rare 1970 C-10 4x4 & Devinci Spartan
Presented By
Pistons and Pivots is presented by Maxxis. Every second Monday, we'll present a new round of Pistons and Pivots which features cool vehicles with character, and a little about their owners and the bikes they ride.
If you've got a vehicle and bike that fit the series, you can submit your photos and articles to pistonsandpivots@nsmb.com. Make sure to include 'Pistons and Pivots' in the subject line. Once a month, we'll pick a winning submission and feature it on the site, and the person that submitted it will earn a fresh set of tires for their bike, courtesy of Maxxis. At the end of six months, we'll pick a grand prize winner, who will walk away with Maxxis rubber for the vehicle they submitted for Pistons and Pivots!
---
Brad Hutchison is a Vancouver native with a passion for automobiles. Thanks to his father, his interest started early. As a child, Brad would listen to his dad's stories about classic vehicles he owned before starting a family. Those stories are just fond memories now but they ignited a passion for automobiles.
In high school, Brad followed his interest and was part of a drag racing team that spent the majority of its time working on an old Chevelle race car. His time with the team steered him toward his first car; an '81 Malibu, which he customized for the race track. Off-road sports have also been a big part of Brad's life since grade 7, and dirt biking was his go-to activity throughout his teen years.
Brad's 1970 Chevy C-10 4x4
At home, Brad's whole family was into cars and trucks, including his younger brother, Dwayne. Their interests were similar and Dwayne, along with his father, had been in the process of restoring a two-wheel-drive 1970 Chevy C-10. Tragically, Dwayne committed suicide before completing the project, devastating the family.
The engine planned for Dwayne's C-10 project now sits in Brad's 4x4 C-10, giving the vehicle a special place in his heart. His uncle now owns Dwayne's truck and Brad gave him the engine from this one so he could complete the build.
In 2016, after searching for months, Brad eventually found this C-10 on Vancouver Island. He had to be patient because he wasn't interested in the more common two-wheel-drive option and finding a 4x4 in good condition was difficult. When this truck was new 4x4 C-10s were a custom order from the dealer and they often spent their lives working hard in industry.
Brad had the engine mounted in the truck with the help of North Vancouver-based hot rod shop, Rusty Hookers. While Brad connected everything himself, dropping an engine into a vehicle isn't the light-work cyclists are accustomed to. Once the engine was in, Brad had the truck towed to a friend's house, where he was able to use the carport to plumb, wire and finish the swap. Unsurprisingly, the project has been a mission for Brad.
1970 Chevy C-10 Specs
LS engine swap
3-speed Automatic with overdrive and a manual floor shift transfer case 4-High/4-Low
Posi-track rear differential
Warn manual locking front hubs
Solid front axle
15 x 8 Ralley wheels from an early 80's Chevy Blazer
33" BFG All-Terrain tires
All original interior except for the radio
Odometer says 37,000 km but it may have rolled over once or twice (It could be 137,000 or 237,000)

I think the headlight switch is broken because every time I turn them on I blow the fuse for my brake lights. When I drive the truck at night I have to decide between brake lights or headlights. It's always a tough call! – Brad Hutchison

I just figured out how to turn the interior dome light on at the photoshoot! Turns out it's worked the whole time I just didn't know how it worked. – Brad Hutchison

I'd like to update the steering and suspension. It's kinda scary driving a 450-500 HP truck with original steering and rock hard leaf spring suspension. You basically point it in a general direction, step on the gas and hang on for dear life! – Brad Hutchison

I've probably only put about 2,000km on it. It's been torn apart most of the time I've owned it. – Brad Hutchison
Brad's 2017 Devinci Spartan Carbon
Offroad sports have been a passion and hobby of Brad's since he got his first dirt bike in high school. Ever since his favourite place to pass time is the mountains and when it comes to mountain bikes, the quick and easy access to the trail makes it very appealing. And this is something new to Brad – he only began riding mountain bikes seven years ago.
His Devinci Spartan has a story too. His friend, Nick Brush currently manages the ski and bike shop at Silver Star in Vernon, B.C. Nick also has a mountain bike skills and development business called Bike Happy Trails in the Vernon area. Nick has also helped with the Canadian Paralympian Winter team in the past. Brad bought the bike from Nick at the end of 2017.
Devinci Spartan Carbon Specs
27.5 Wheels
Upgraded Shimano XT Brakes (done when Nick owned the bike)
Upgraded Shimano XT Drivetrain (also done when Nick owned the bike)
Maxxis DHR II front and High Roller II rear tires
ODI Rogue Lock-On Grips
RockShox Pike front and Monarch Plus RC3 rear suspension
Kona Wah-Wah 2 Pedals
Brad's priorities diverge from the first Pistons & Pivots subject, Owen. Where Owen's bike was meticulously built and maintained, Brad instead puts his time into his collector truck with a goal of eventually driving it down the west coast of the U.S. and hitting some truck shows. That means there are more plans to come and with them more expenses. While he doesn't outright say it, you can bet Brad's attitude toward updating his bike suffers because of this. 'Trying' not to dream of other bikes and keeping part updates to necessary wear items help him keep the focus on the truck. Customizing and working on old vehicles is "painfully expensive" he says, but this one is more than a truck; it holds dear memories for a family member who left us too soon.