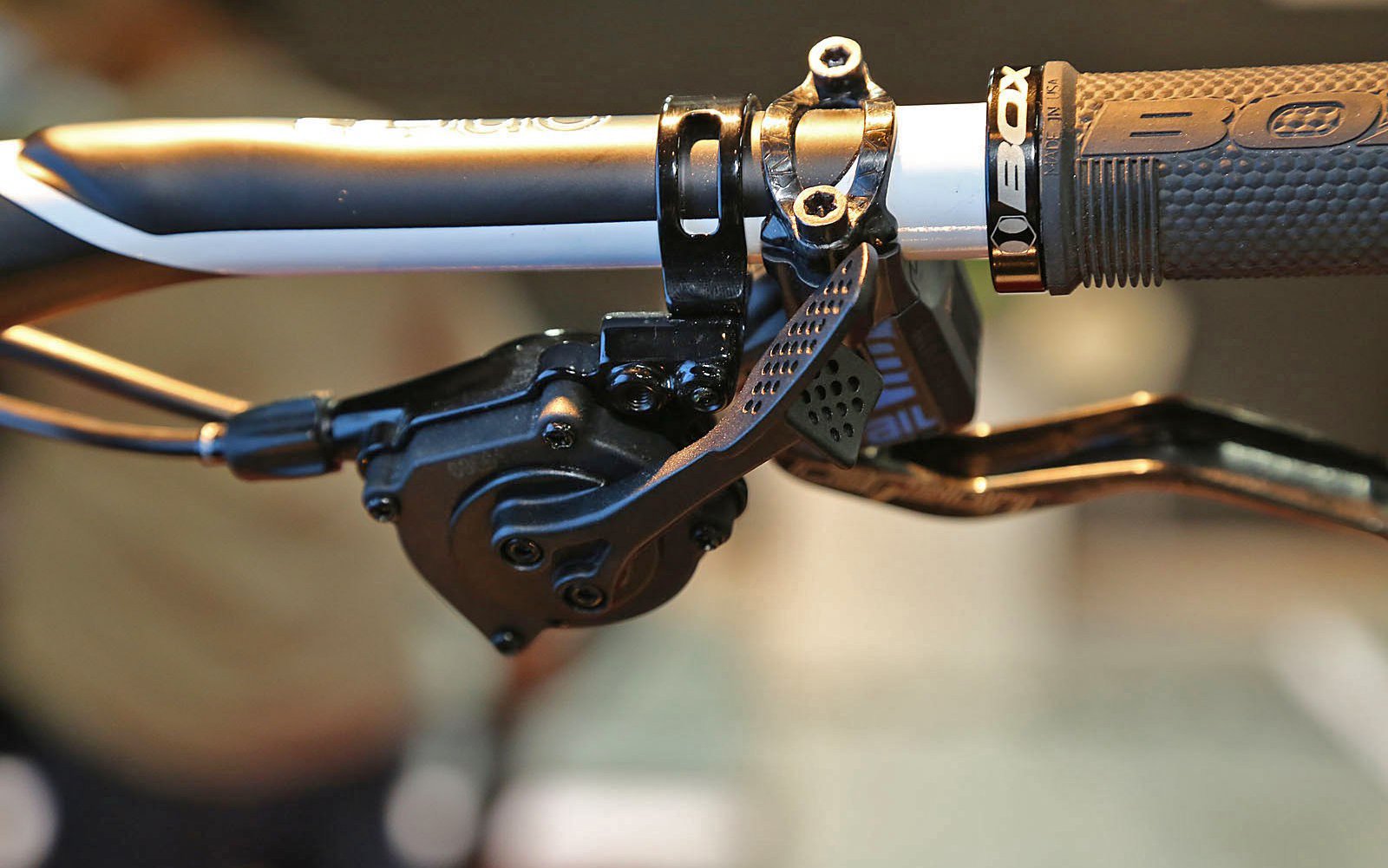 First Impressions
Box One PushPush Drivetrain (& Cockpit)
Box Components
In virtually any industry competition tilts the table toward the consumer. In the drivetrain category of the MTB industry, each big player has only had one competitor to deal with. Recently a few smaller brands have launched efforts to slice that pie into a few more pieces. One of these is Box Components, a BMX Racing brand entering the fray with their Push Push line. 
Cockpits are one thing, but when you consider all the brands that make bars and stems who haven't gone anywhere near derailleurs and shifter, it becomes pretty clear that manufacturing drivetrain components is the minefield of the MTB market. 
For some reason this hasn't scared Box Components away. Before he started designing cycling products, front man Toby Henderson raced mountain bikes for GT Bikes and Ironhorse after racing BMX professionally through the 80's. Maybe a former racer nicknamed Captain Elbows is just the guy to stir up the drivetrain segment and serve up some choice for consumers.
It's exciting to see how many alternatives to SRAM and Shimano are coming online and the creative ways they are putting a wedge into the market.
Push Push
The mono-lever, thumb activated, Push Push shifter is the element that puts the most distance between Box and the competition. The Push Push is compatible with Box's One clutch derailleur or any Shimano 11spd mountain bike drivetrain. The shift lever rotates forward to select a lower gear and an inward push of that same lever drives the derailleur back down the cassette towards a smaller cog. 
In these early days there is mixed feedback on whether the textured remote is as intuitive to use as Box suggests. Tim will be riding the remote in a variety of situations and will be best able to comment on any learning curve. 
Box One Derailleur
The Box One 11spd clutch rear derailleur is simple to set up. Shifting action on a fresh One derailleur is light compared to a Shimano Shadow Plus setup with the clutch engaged likely because the Box One derailleur's non-adjustable CamClutch clutch engages with less force than Shimano and even the current SRAM Type-3 Roller Clutch mechanism. 
While the cover for the clutch is removable, Box does not suggest the mechanism is adjustable, likely because Shimano holds a patent for adjustable clutch derailleurs. Box tells us the cover is removable to facilitate cleaning, but I wonder if it is possible to increase chain tension by preloading the one-way friction plate of the CamClutch the way it was with the original SRAM clutch derailleurs.The derailleur also features a spring loaded cable stop designed to make the mech less vulnerable to damage in the event of contact with trail features. 
Box Two Cassette
No top-of-the-line Box One cassette exists at this time so our drivetrain is equipped with a lower end Box Two model. The steel and aluminum cog carrier manages a 418% range with an 11-46t range and Shimano freehub compatibility. 
This is a rebadged Sunrace MX8 cassette. My experiences with Sunrace's cassettes have been very good so this wide range cassette should prove to shift well and offer very good durability. 
Box One Cockpit
The 35mm Box Cusp stem comes in black, red or blue in 45mm, 55mm and 65mm lengths. It's a nice looking piece that weighs a reasonable (claimed) 164 grams for the shortest length. 
The carbon Box One DH bar is a much more interesting piece. It exercises some of the promises of unique carbon fiber shapes that are seen in road bars with flat surfaces and raised areas to increase stiffness without adding weight. The bar we received is 800mm wide and there are also narrower Trail and XC versions. It comes in both 15mm and 30mm rises with a 35mm clamp.  
Long Term Review
Tim's going to hammer on the Firebird and Box drivetrain for a few hundred hours and then get back to us with a proper review. 
Choice is chief and I'm excited to see how the first generation of the Box One drivetrain holds up compared to the Pivot's stock XT/XTR drivetrain and the SRAM Eagle XO1 kit that Tim spent months on this winter. 
The Box One carbon bar has an SRP of $170 and the Cusp stem sells for $100. The Push Push shifter lists for $75, the Box Two cassette at $100 and the Box One rear derailleur is $175. All prices in USD. 
For more information check out Box Components here.