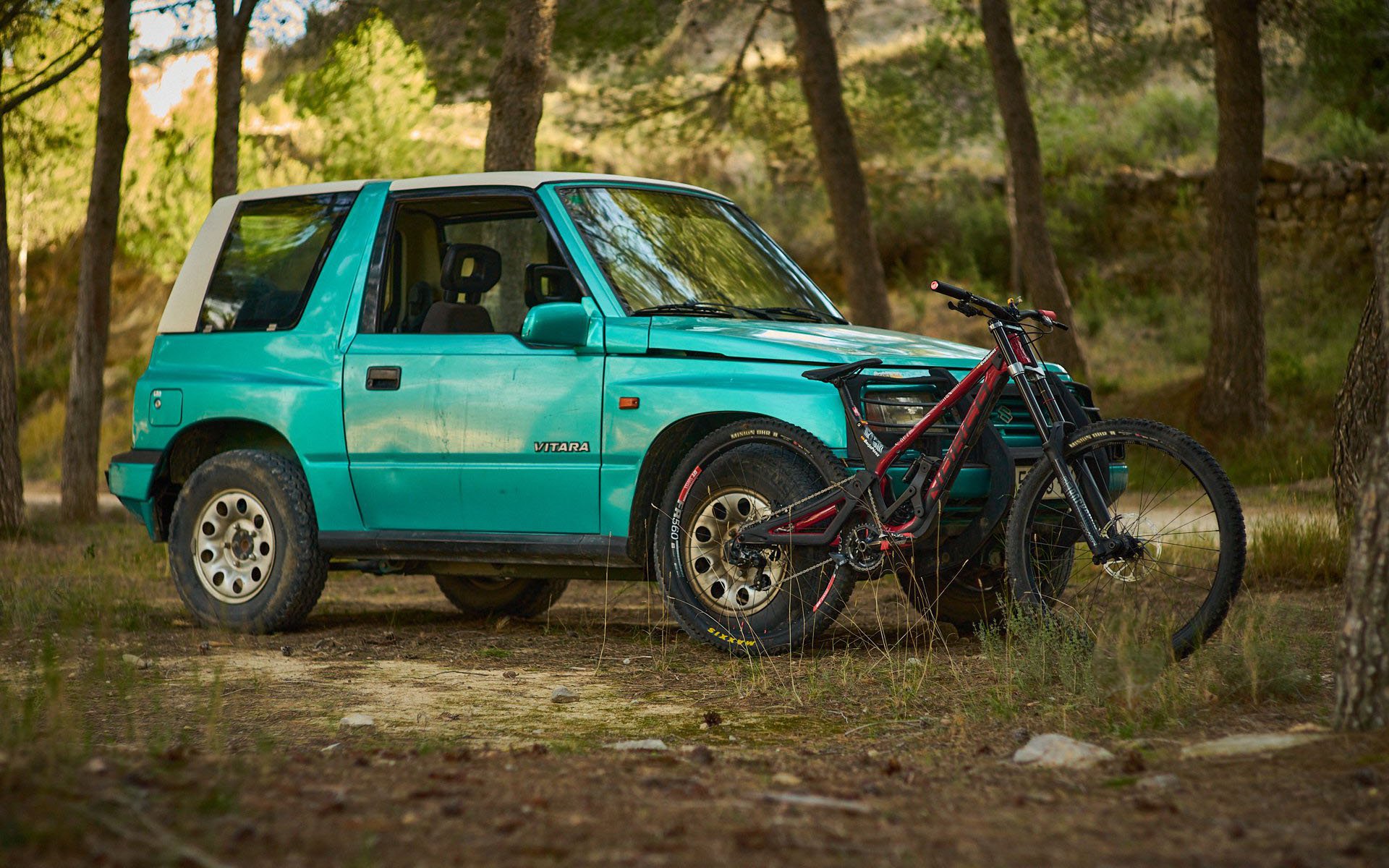 Pistons & Pivots
Borja Perez' 1990 Suzuki Vitara JLX & 2019 Norco Aurum HSP 1
Presented By

Pistons and Pivots is presented by Maxxis. Every second Monday, we'll present a new round of Pistons and Pivots which features cool vehicles with character, and a little about their owners and the bikes they ride.
If you've got a vehicle and bike that fit the series, we'd love to help you share them with a wider audience, and you can take a crack at winning some tires from Maxxis.
You can submit your photos in one of two ways:
Send photos and articles to submissions@nsmb.com. Make sure to include 'Pistons and Pivots' in the subject line.
Or simply post a few vehicle and bike photos and details to Instagram and use the hashtags #pistonsandpivots and #nsmb.
Once a month, we'll pick a winning submission and feature it on the site, and the person that submitted it will earn a fresh set of tires for their bike, courtesy of Maxxis. At the end of six months, we'll pick a grand prize winner, who will walk away with Maxxis rubber for the vehicle they submitted for Pistons and Pivots!
---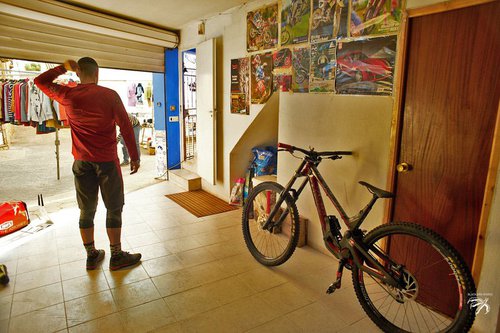 They do things a little differently in Spain. Time seems to move at a different pace. You don't need to rush your moving about outside when the weather is this good.
Along the Mediterranean Coast, the landscape is hard to work with. The vegetation is tough. Butcher's broom, juniper and heather clad the overly-farmed land and the pine forests start at higher elevations. It is not until late December when the temperatures cool enough for soil to retain some moisture that trails can take shape or be cut in.
Borja comes from Higuaruelas (fig tree), a small village 45 minutes northwest of Valencia. It is home to no more than 500 inhabitants and some incredible trails in its network. Most of them were hand built by Borja and his father, and all of them are maintained by them. Borja has an infectious smile and radiates energy. He doesn't talk your ear off, but you can tell his engine is running at high RPMs.
When not building trails or training for European Downhill Cup Races, he is just starting to train as a firefighter. At 24 years old, he is the youngest one in the Province of Valencia.
The Perez family's home garage opens up into the center of the village's weekly farmer's market. The market is smaller than you think. It feels more like a residents' weekly garage sale. Figs, oranges and almonds. Some winter clothes hang on rolling racks blocking the usual flow of the narrow street. The garage is full of pedal and motorbikes. Posters line the walls.
"You like shooting photos, I like riding. Perfect match," he tells me. We jump in his 1990 Vitara to get a sampling of his trail network.

"You like shooting photos, I like riding. Perfect match," he tells me.
1990 Suzuki Vitara JLX gets the job done
Once new, sitting covered in fine dust in a fenced parking lot (the Spanish version of showroom floor), the little Suzuki Vitara JLX has a few stories to tell. Borja's father - the fire chief of a local municipality - bought the little Vitara new in 1990. He doesn't remember the last time the oil was changed or the fluids were topped. The little Vitara does not complain and chugs up the trail without a fuss.
Not being a daily driver plays in favour of the Suzuki. A warmer climate year round helps the cold starts and short drives for Spanish cars. Ninety percent of cars in Spain are diesel-powered due to decades of agricultural government initiatives. Diesels are happy in hotter climates where combustion is more complete and gelling is a non-issue.
This Suzuki runs on a healthy little 1.6 liter gasoline engine that makes very little noise and doesn't require much maintenance.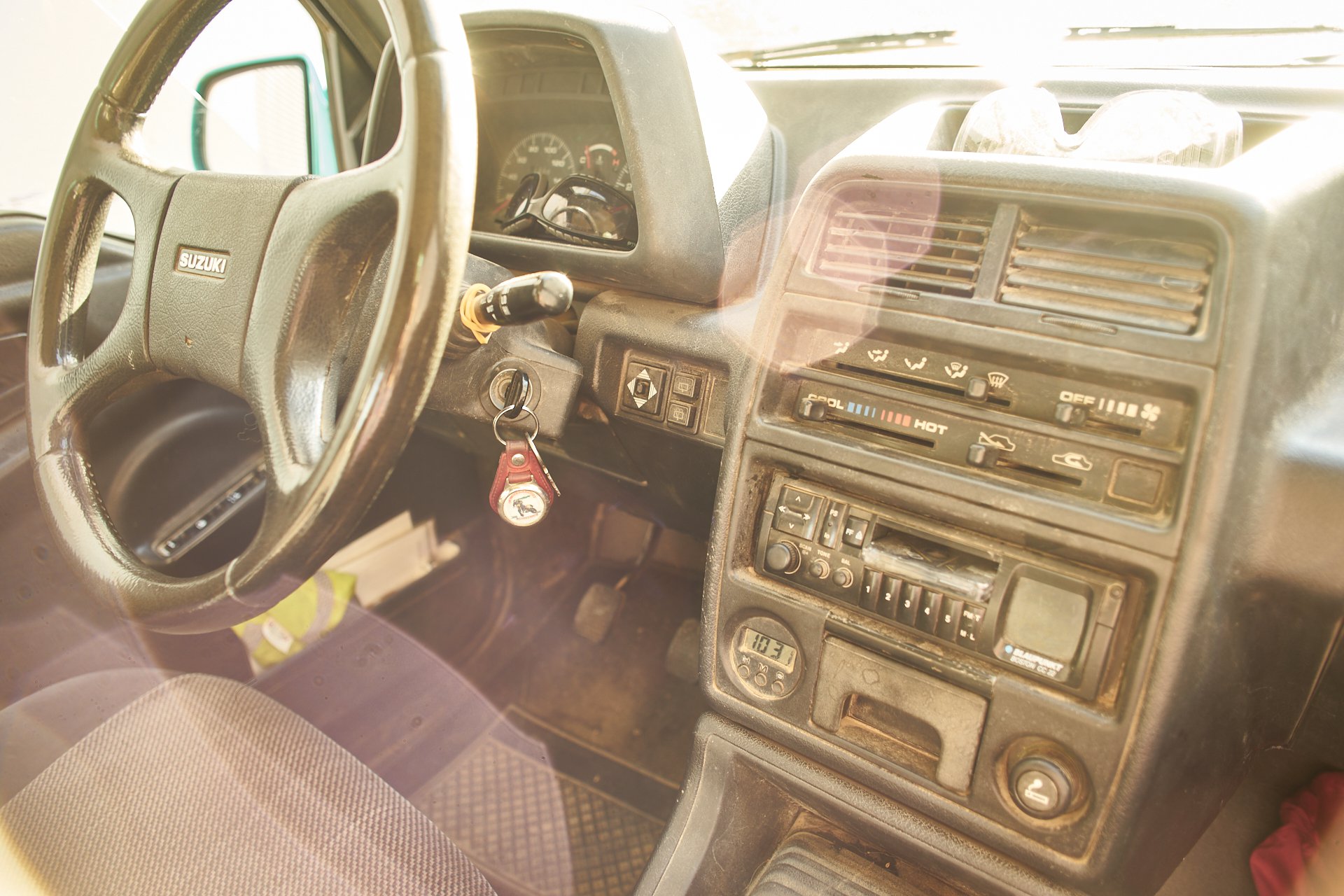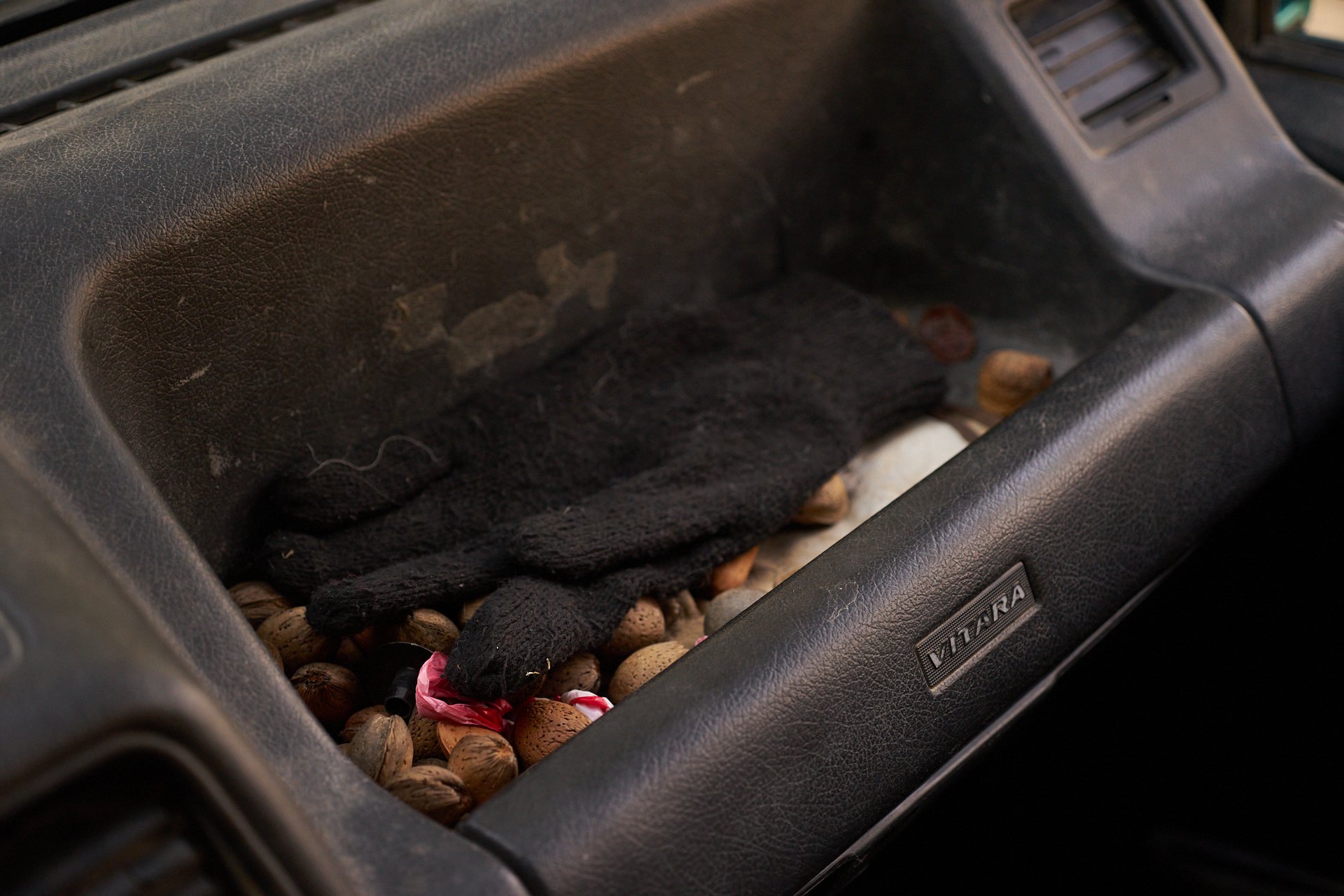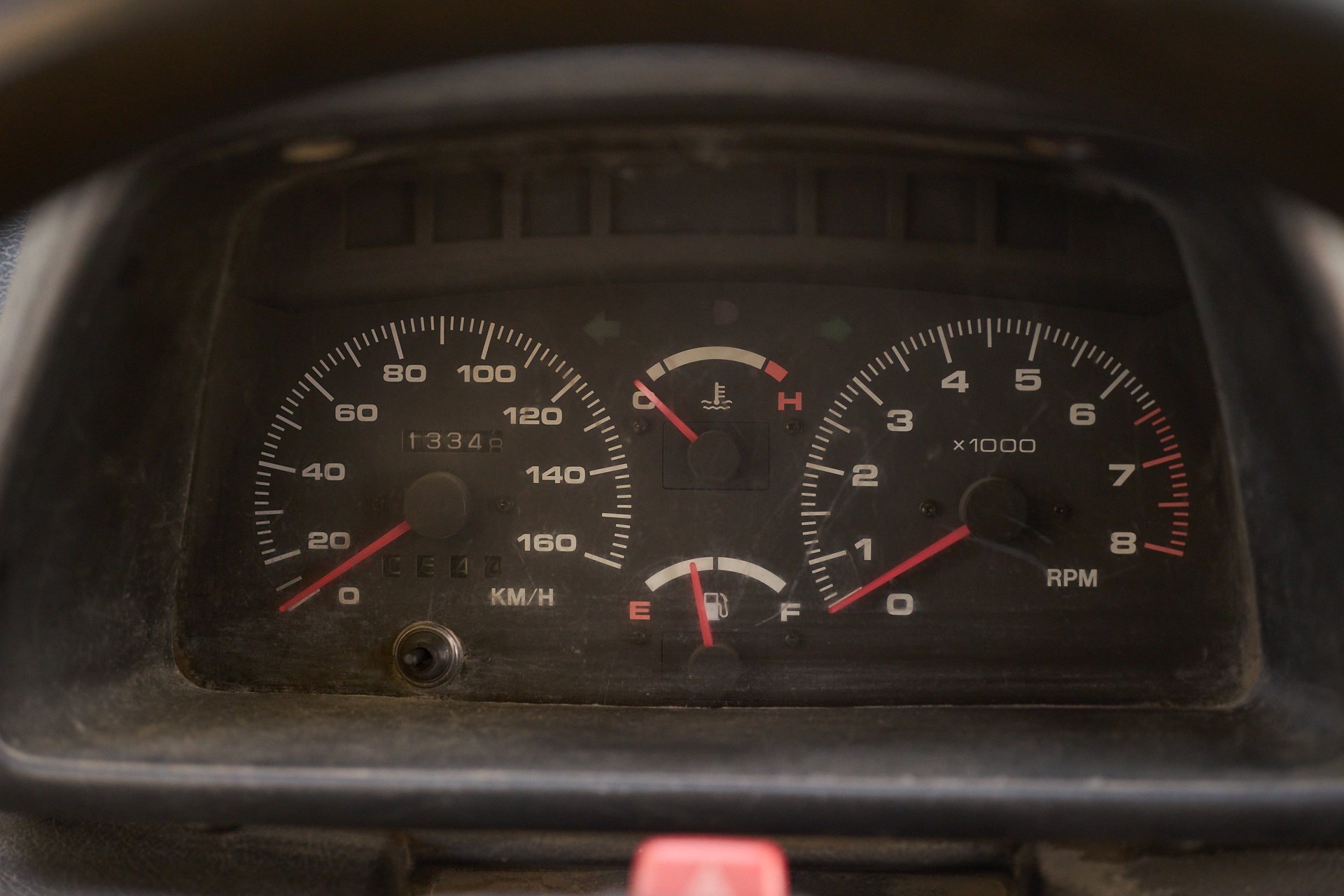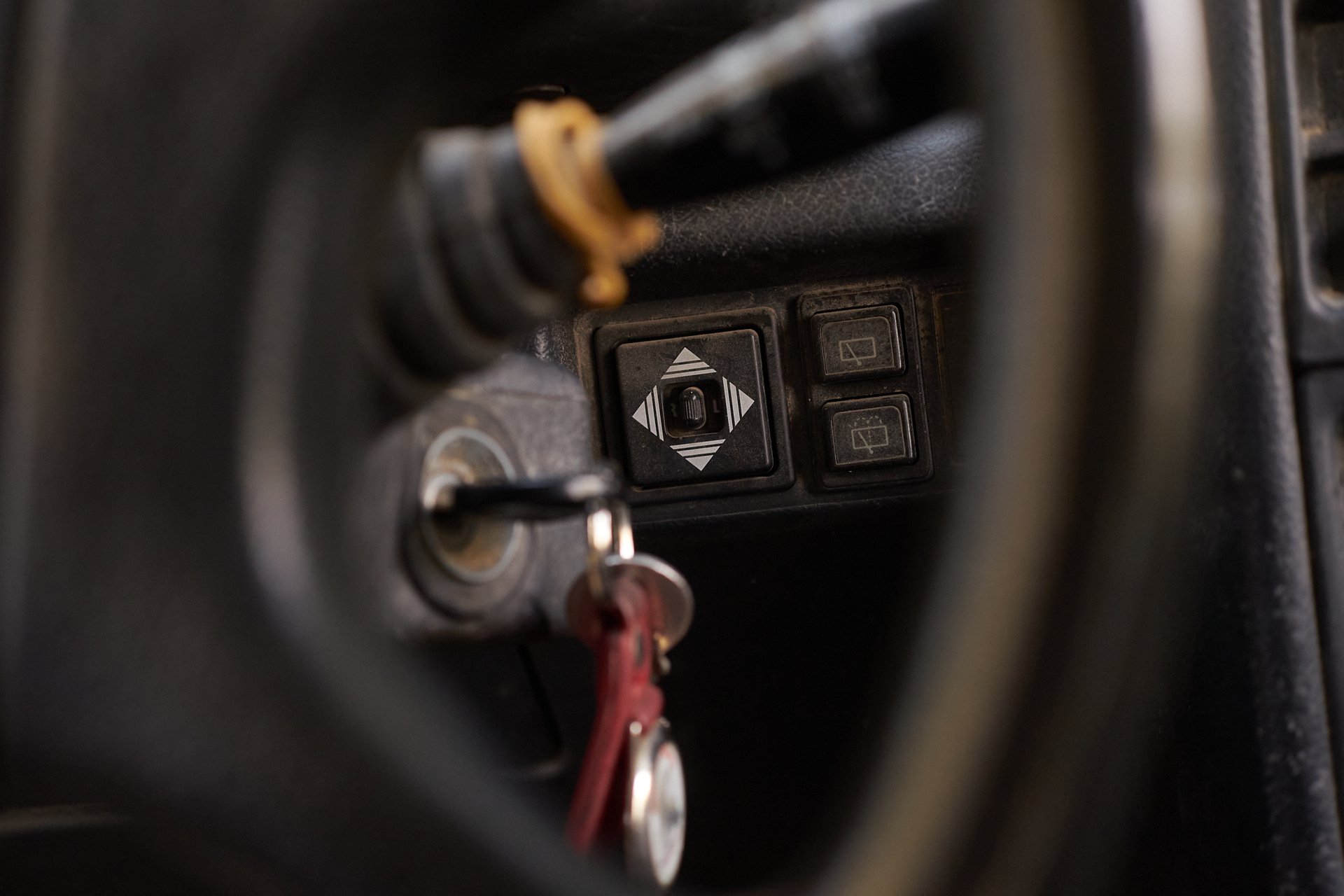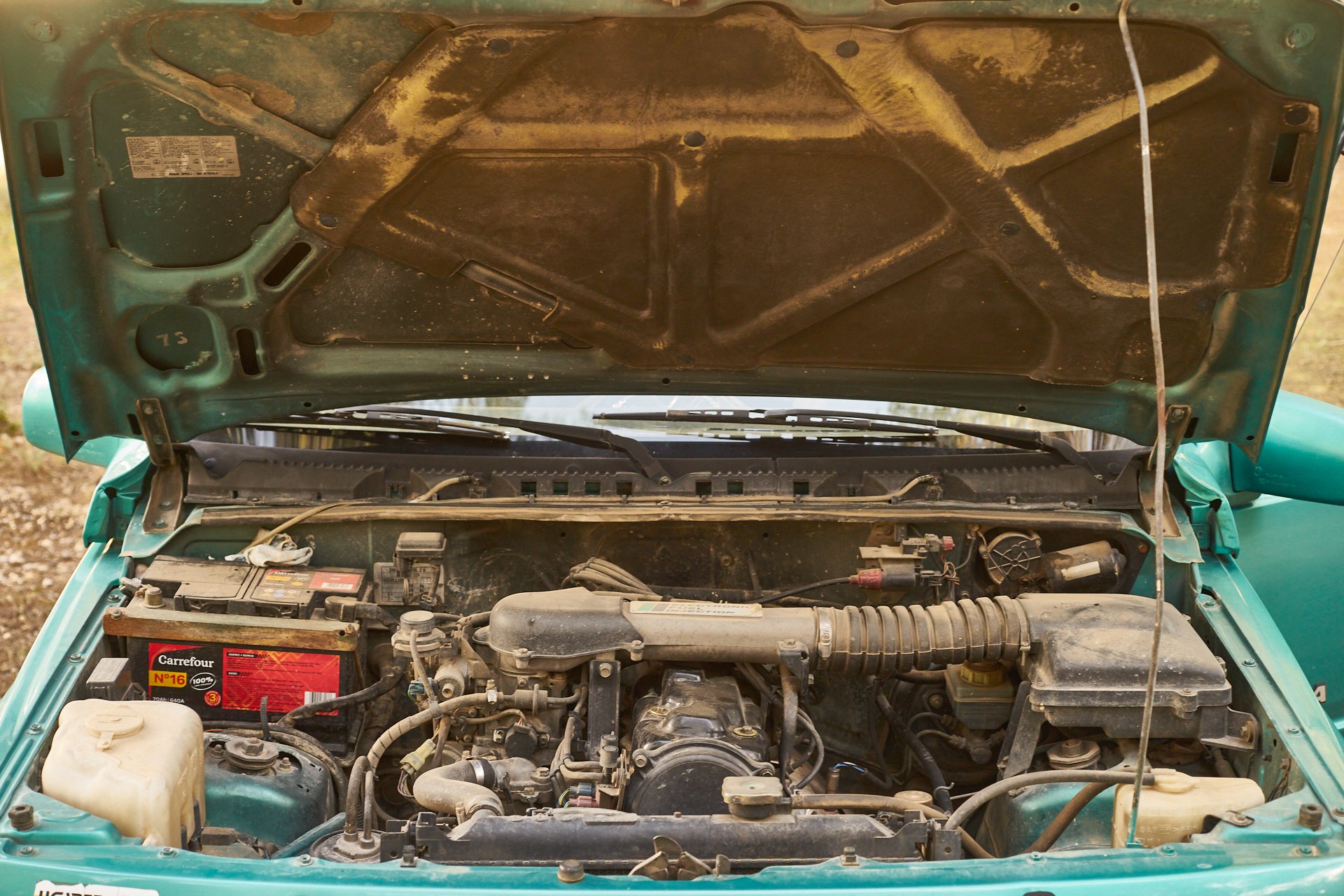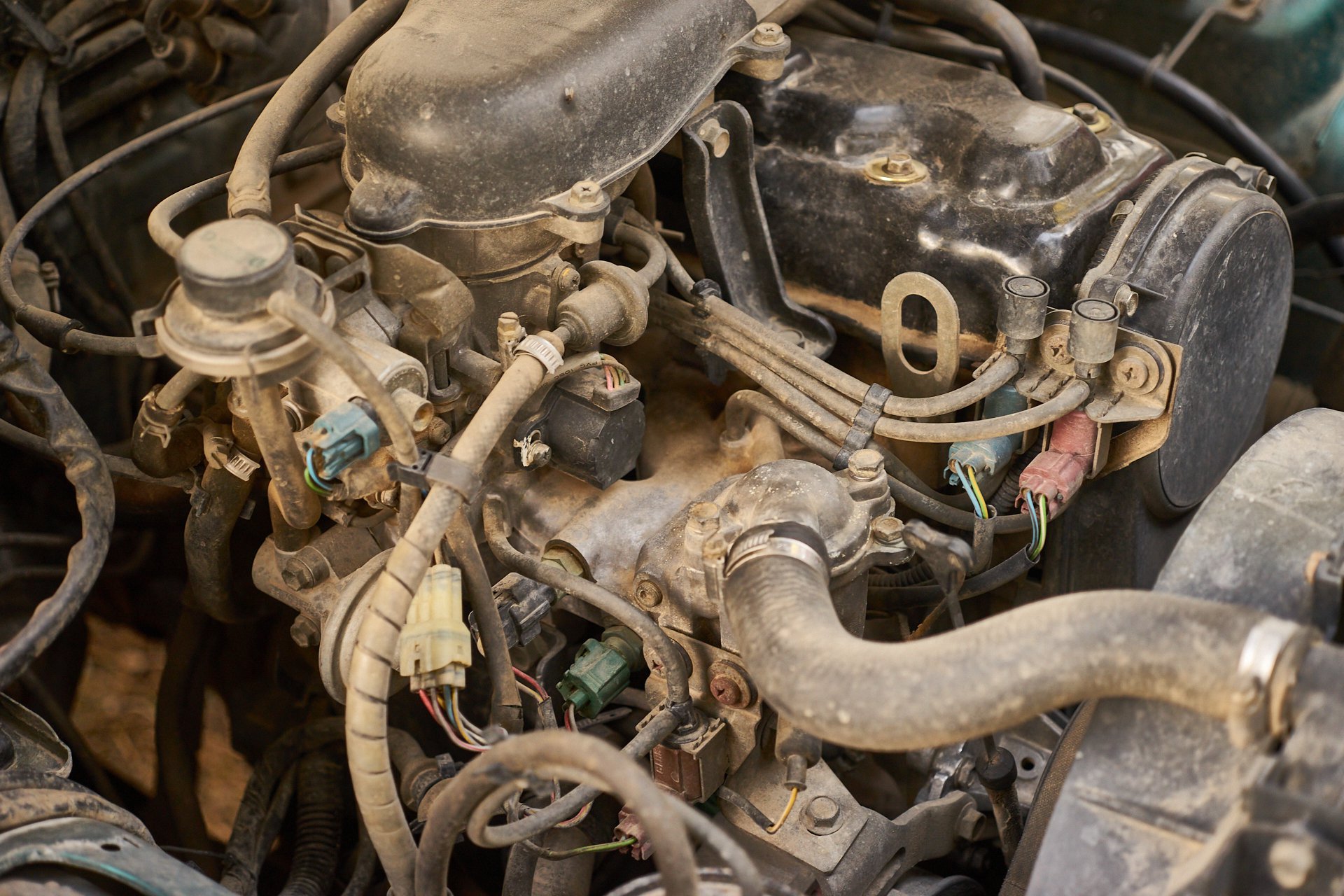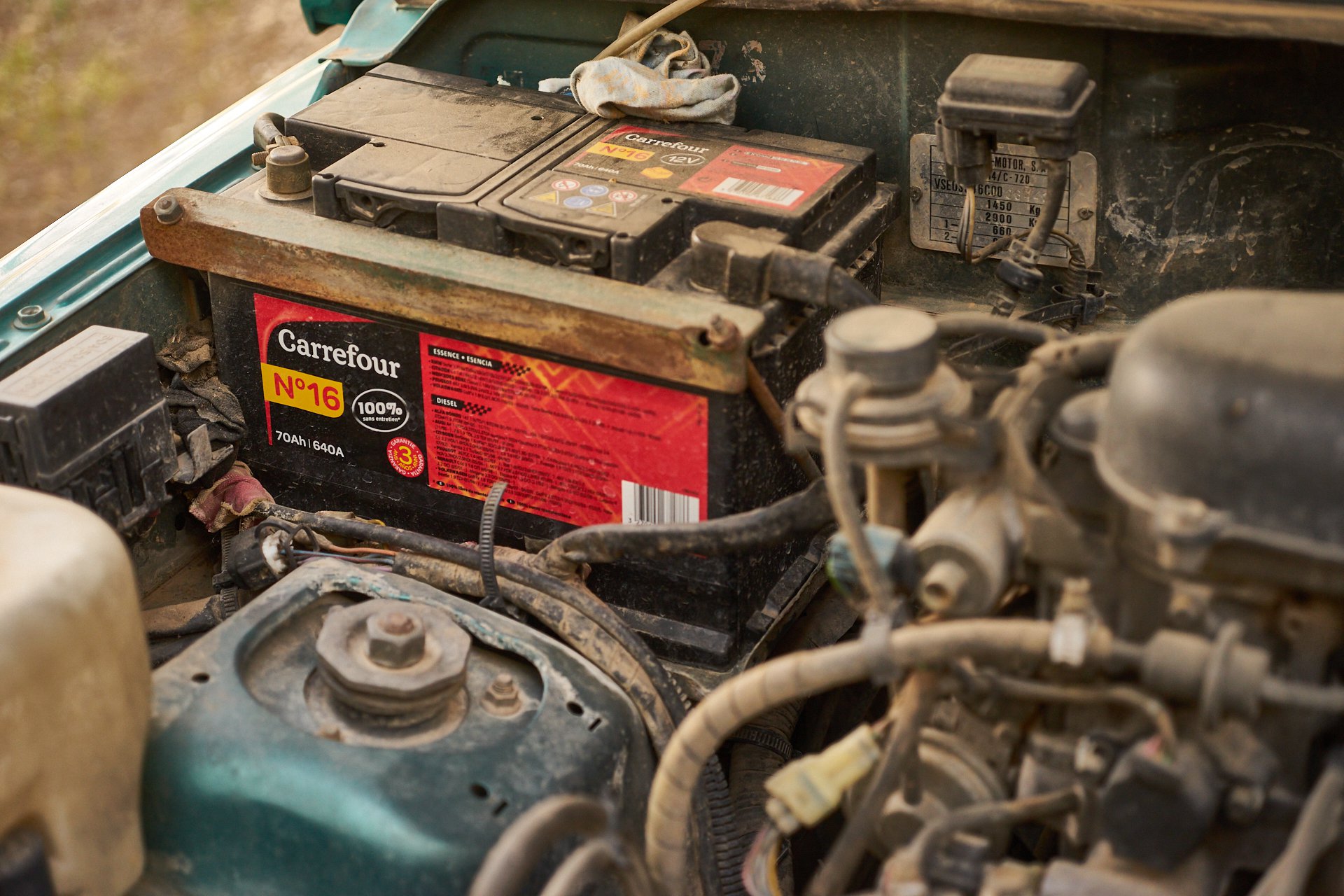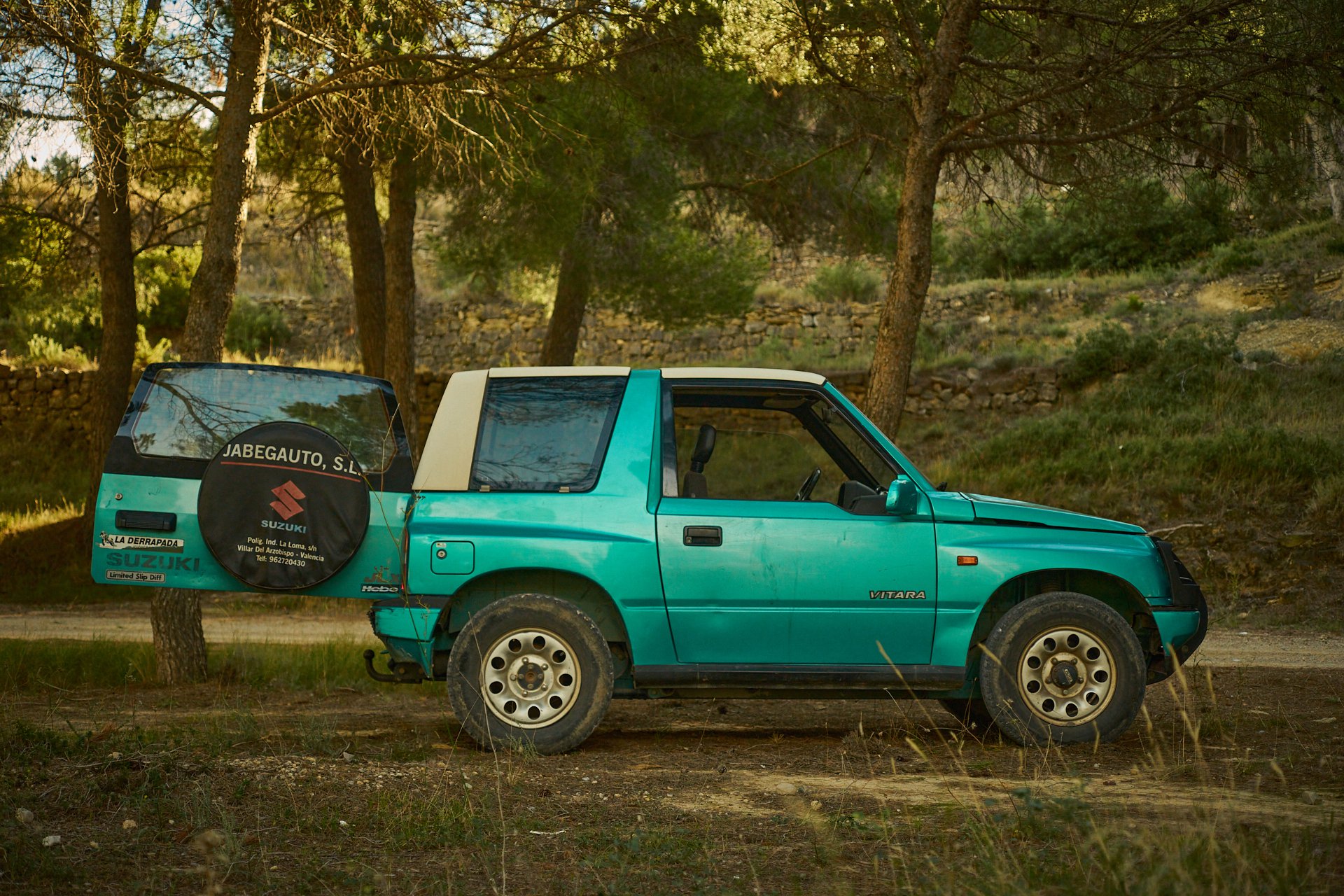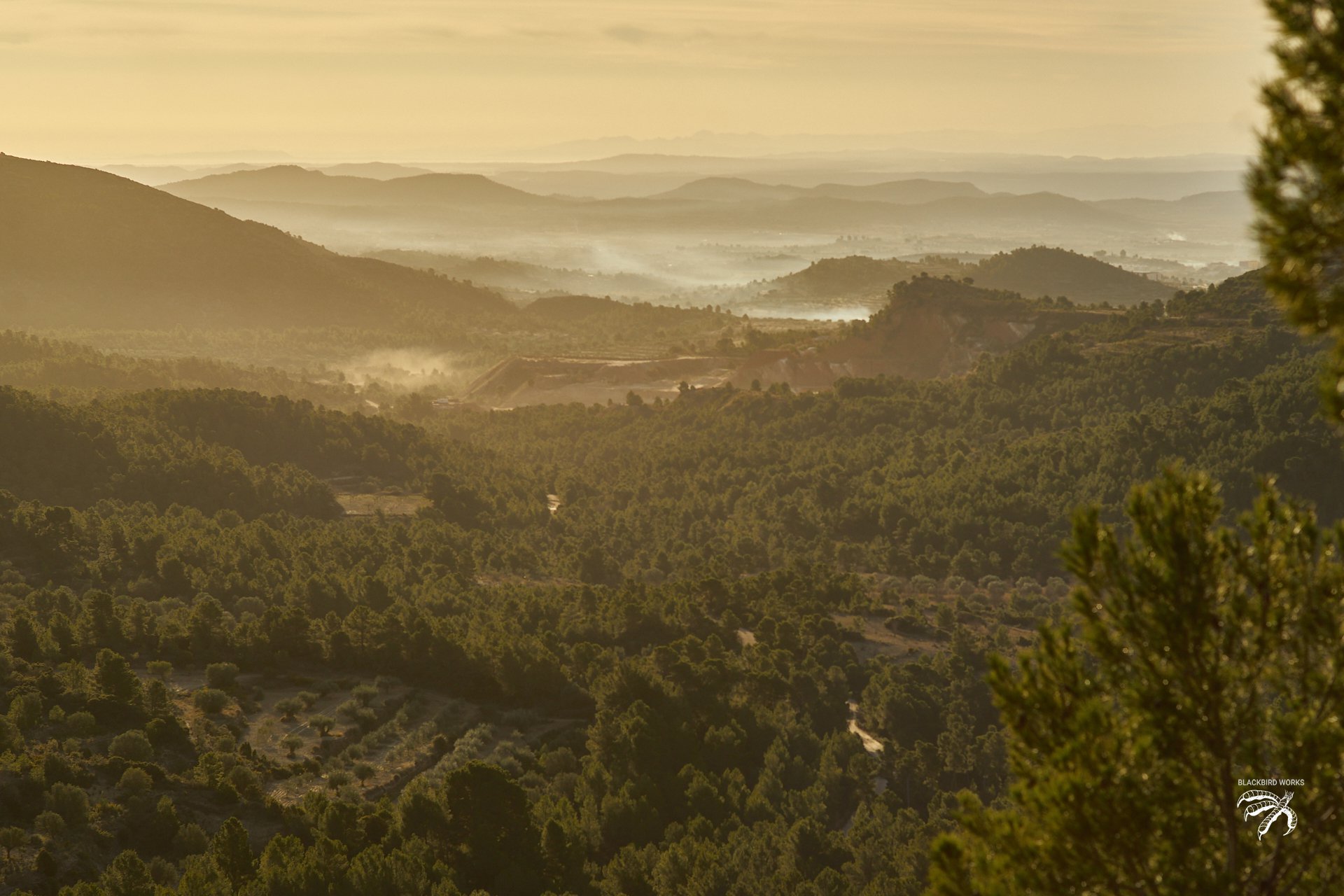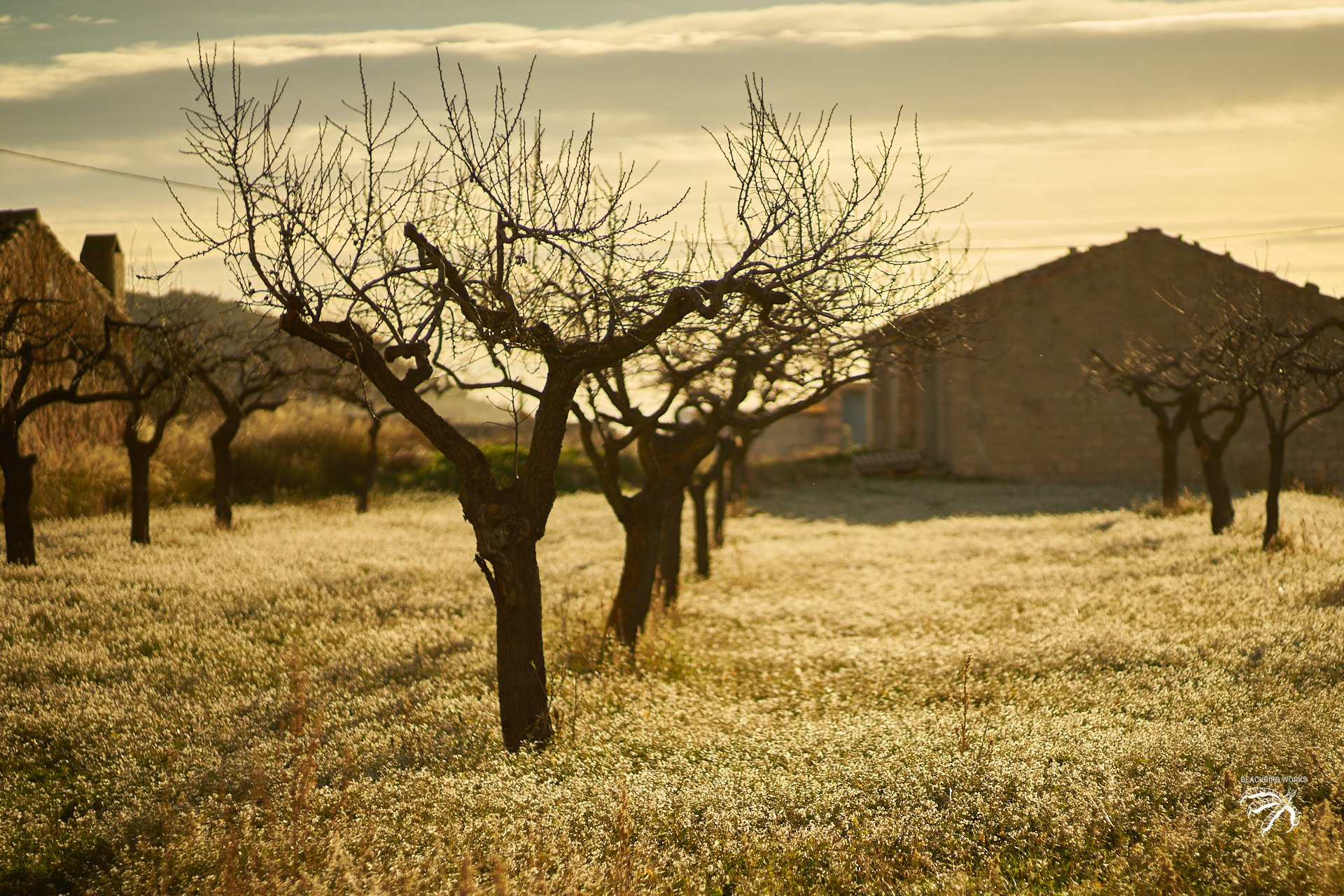 Norco Aurum HSP 1 29"
Borja - who stands at 180cm (5'10") - rides a M/L Aurum HSP. Reach is 440mm for a size M/L and shortish static chainstay length of 420mm. The rear center does, however, grow with the suspension travel, further stabilizing the bike. Headtube angle sits at 62.5º for this race-ready bike.
Borja grew up on trials motorbikes and his setup is a reflection of that. He is the only Spanish rider I've seen running his brakes moto-style (front brake lever on the right).
Hope Pro 4 hubs keep the wheels rolling while Maxxis Minion DHR II rubber keeps the sliding around on Spanish marbles predictable. There are no tire inserts in Borja's tires. Pressures are "somewhere between too soft and too hard". All Mountain Style protection keeps the carbon frame free from damage and cranks safe from rock strikes. The Aurum HSP does have ample amount of rubber frame protection throughout.
Rockshox's excellent SuperDeluxe Coil with a 400-lb spring handles the incredibly supple rear end of this high pivot race bike and an upgraded Charger damper in the Boxxer up front keeps the initial impacts manageable at race speeds.
Foam grips help with hand fatigue for Borja. With the lack of rain in Spain, he does not have any grip rotation issues even without using an adhesive.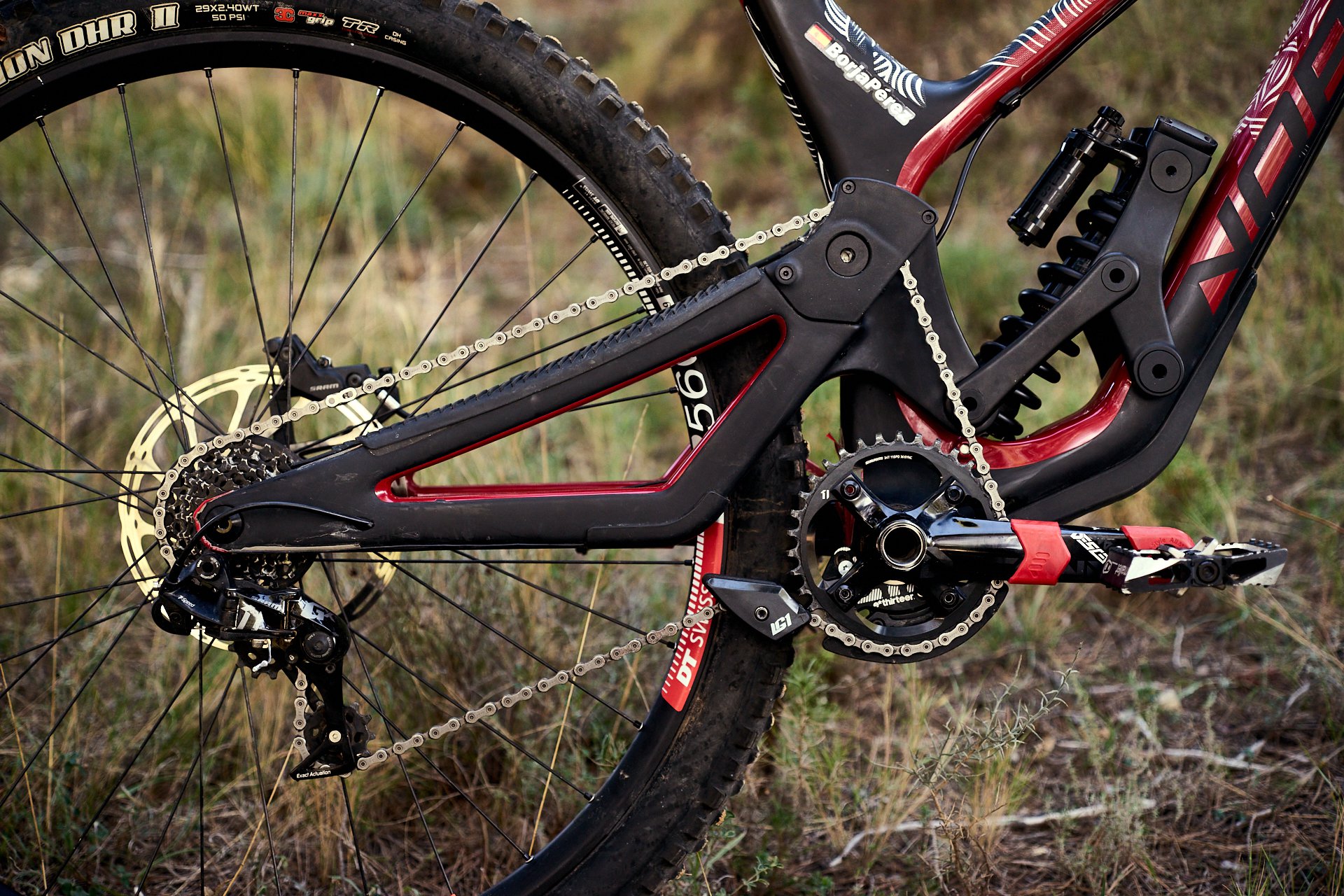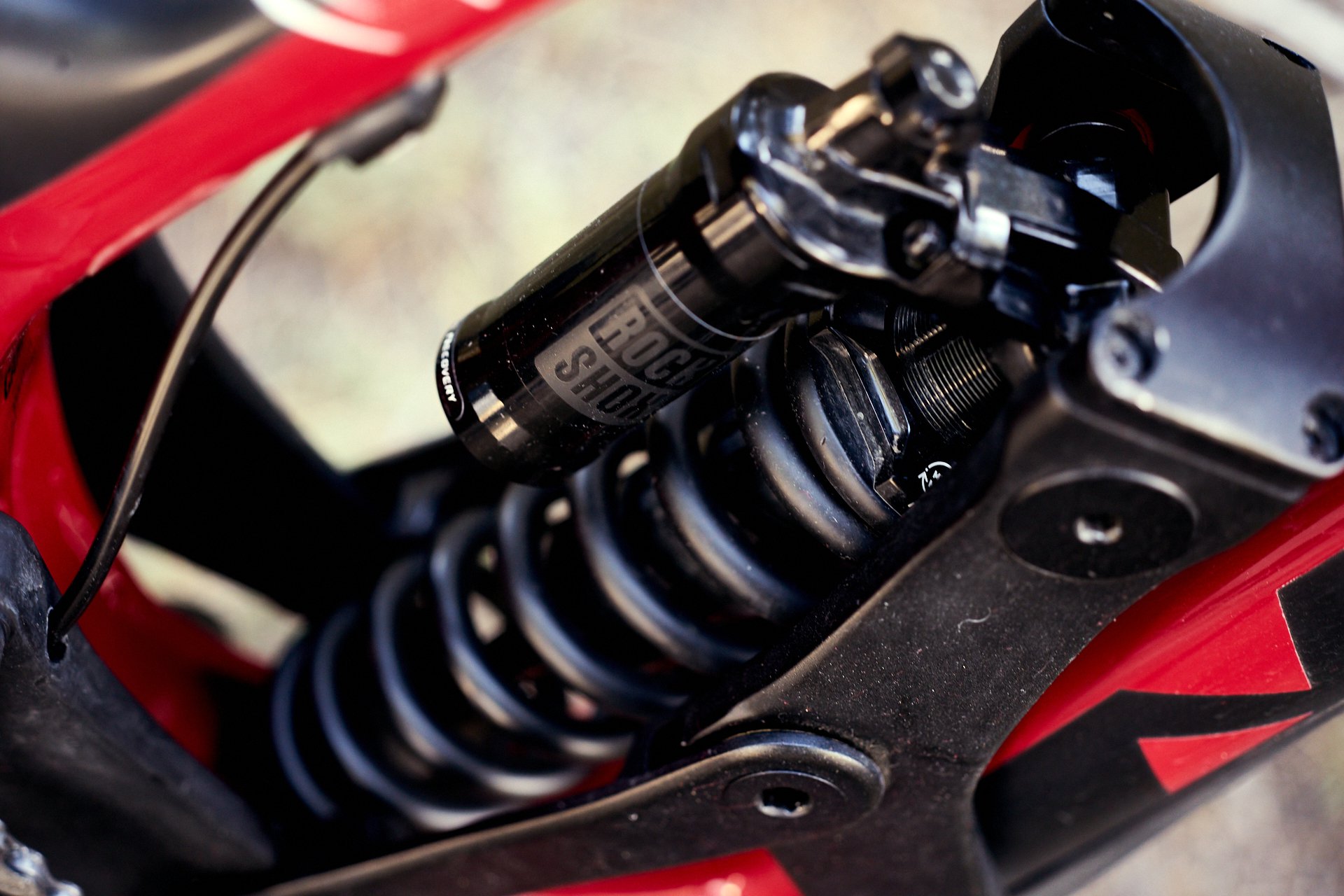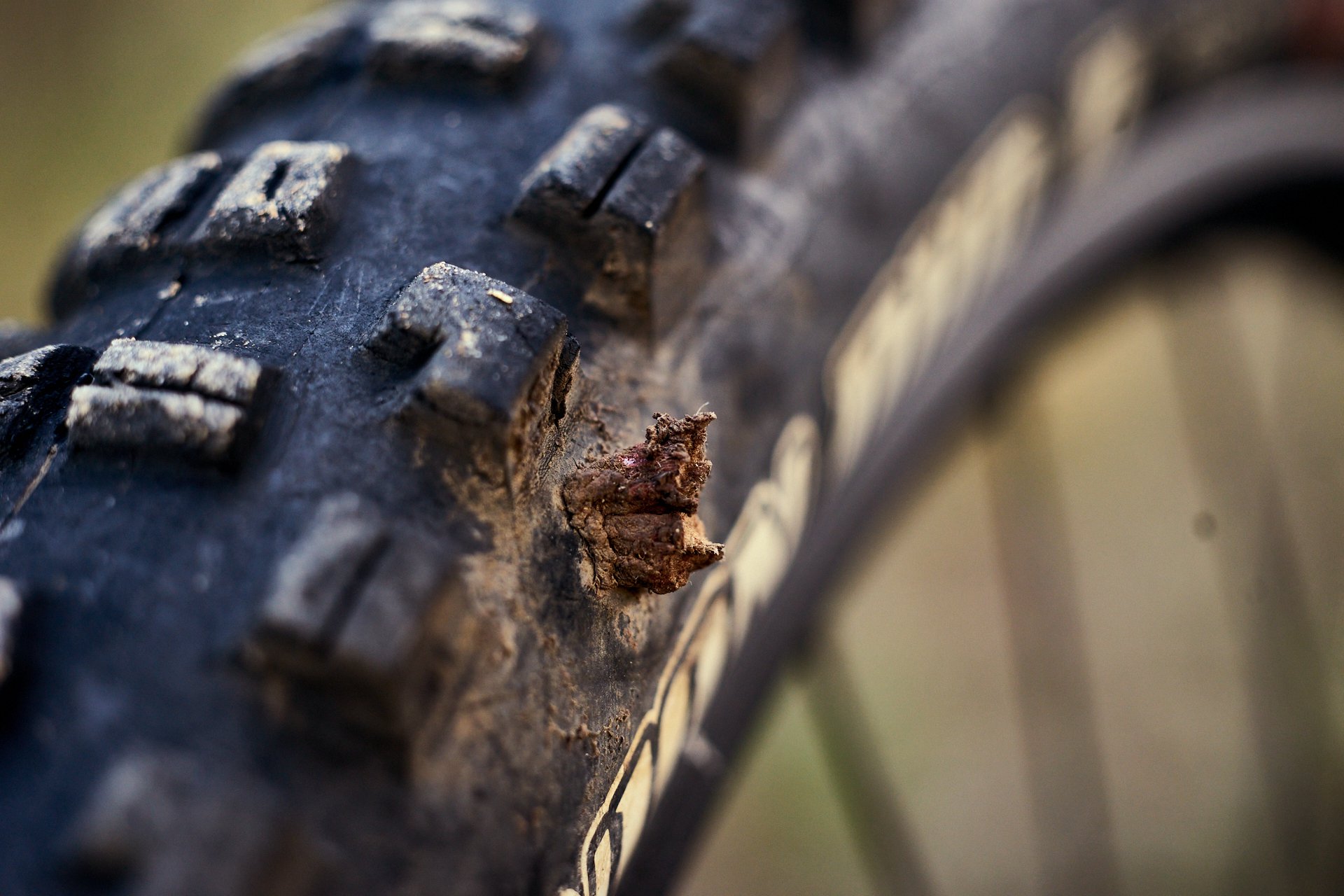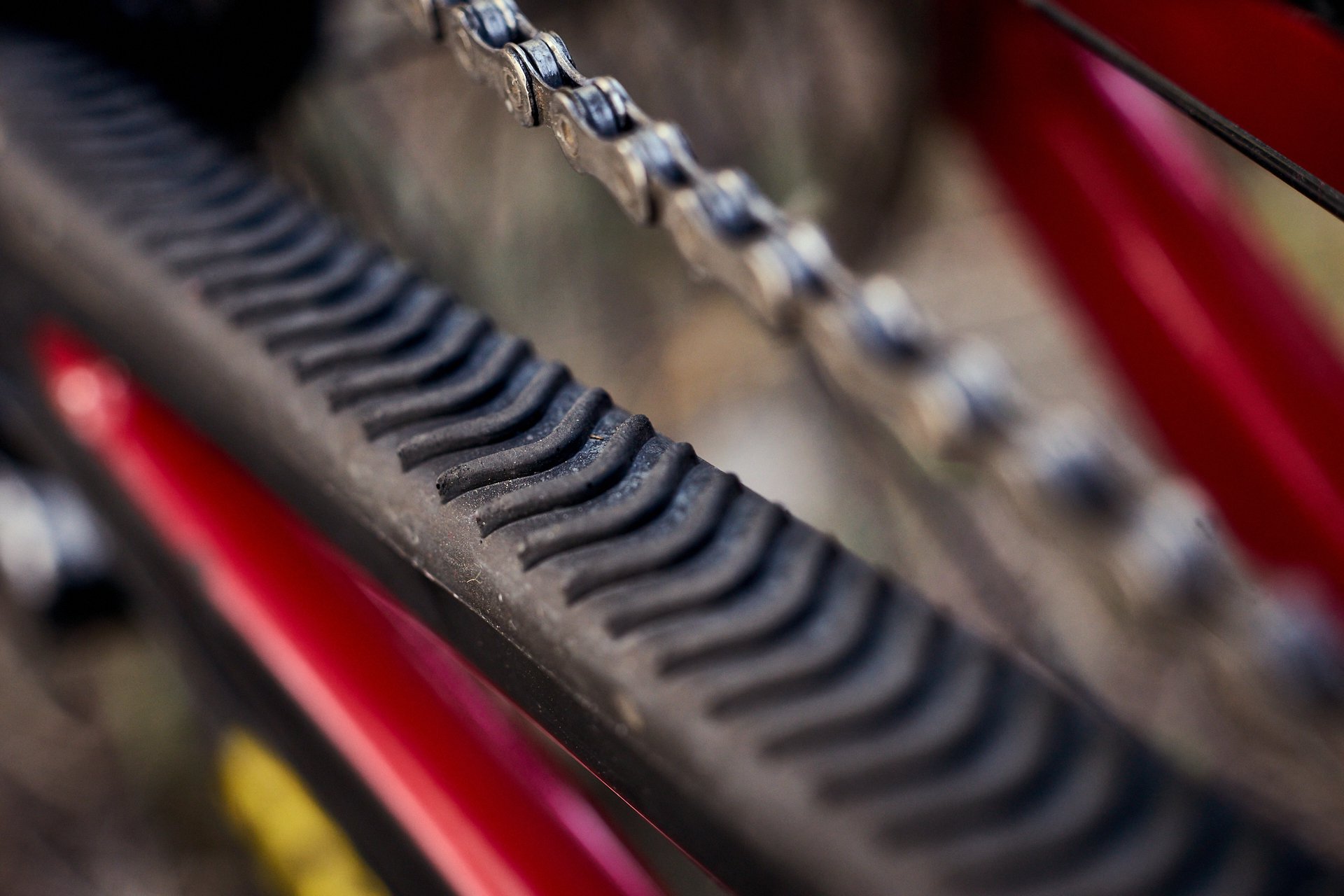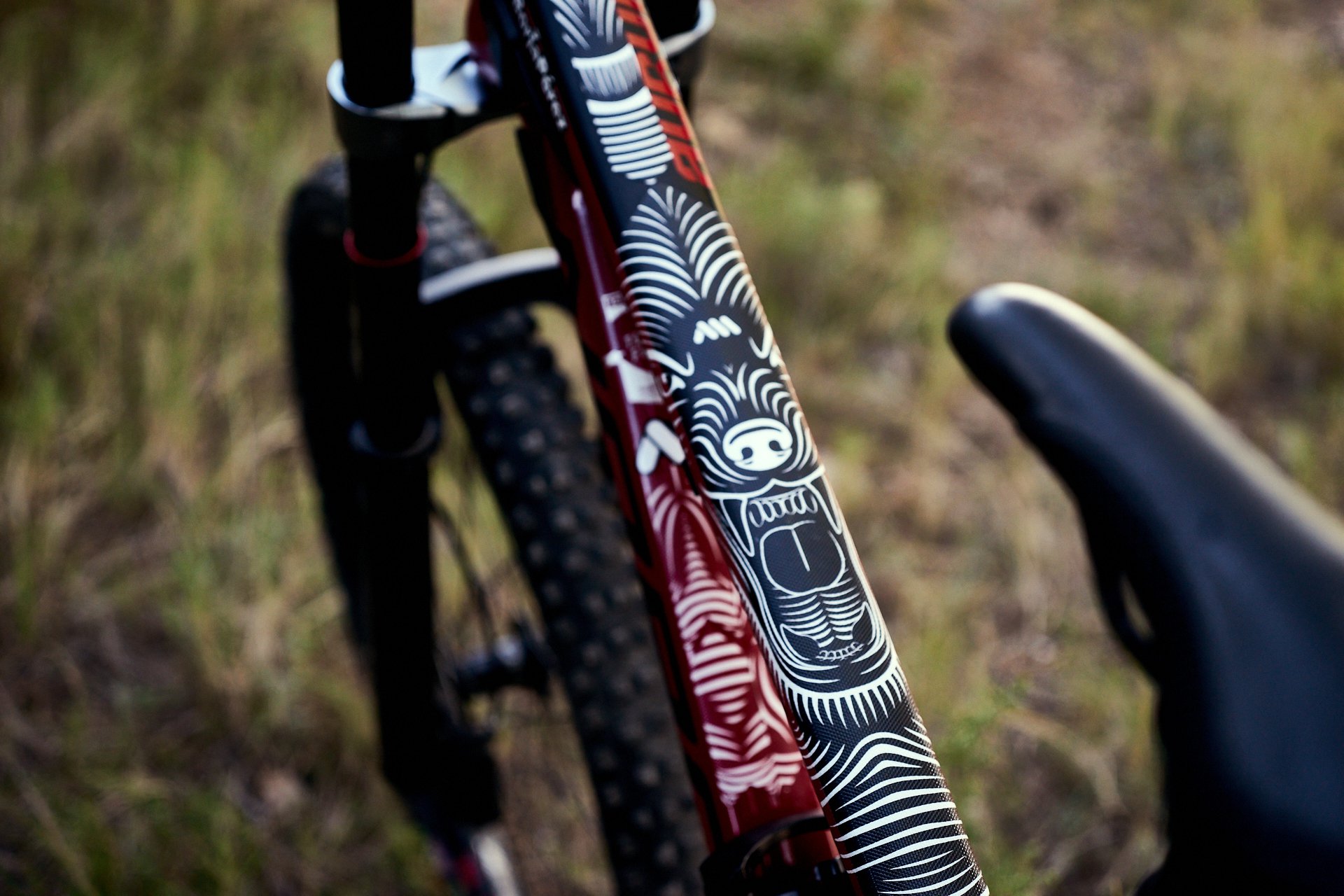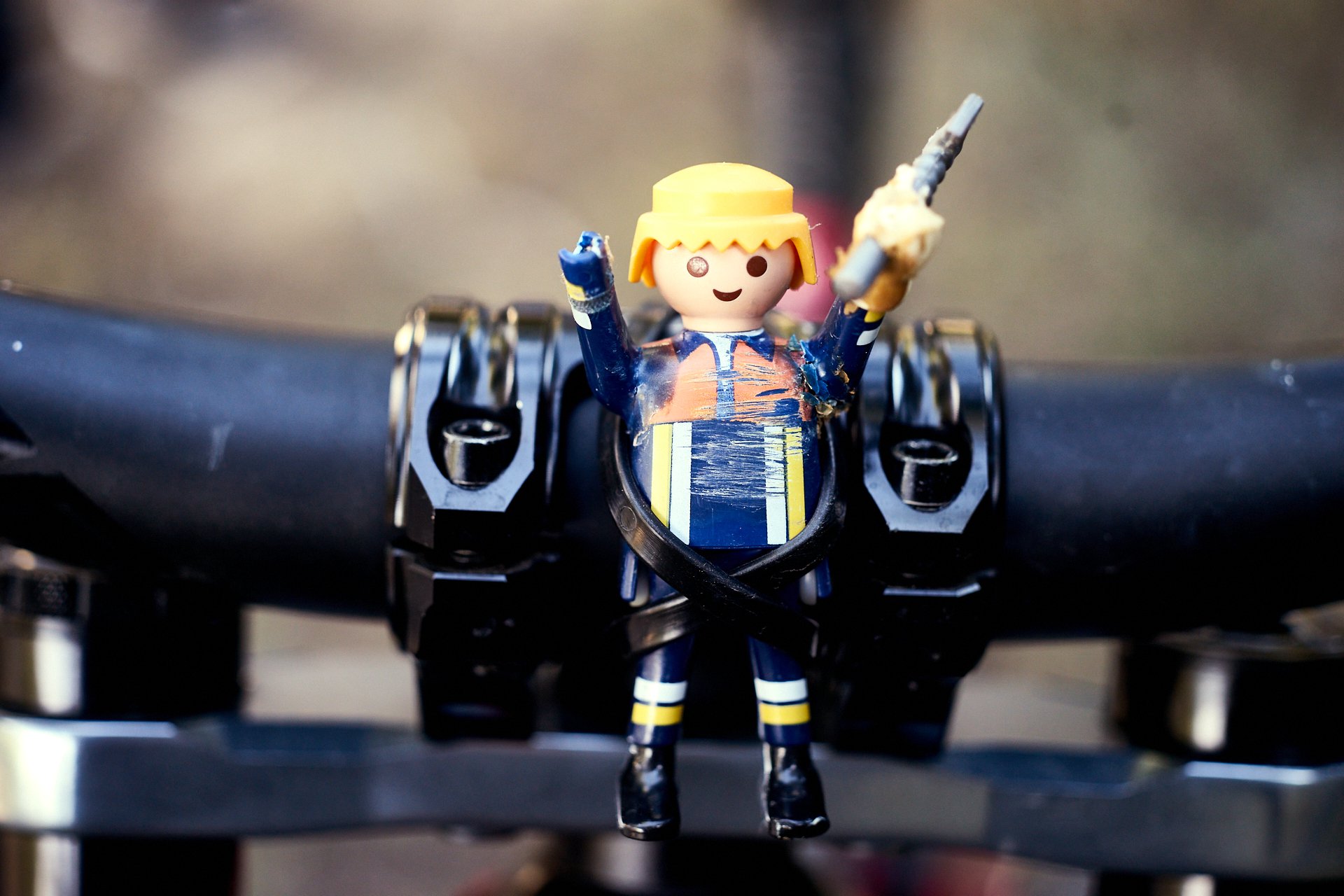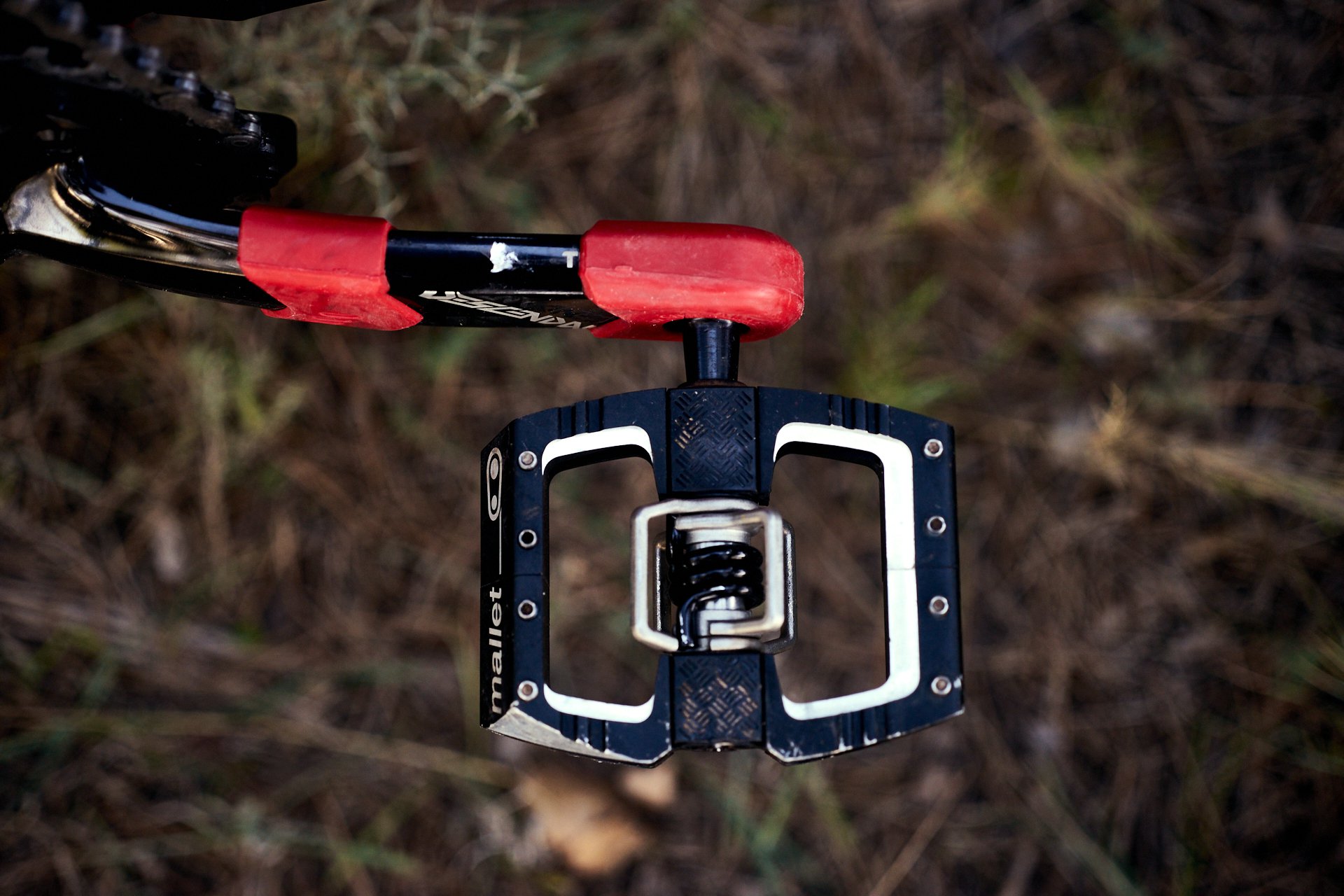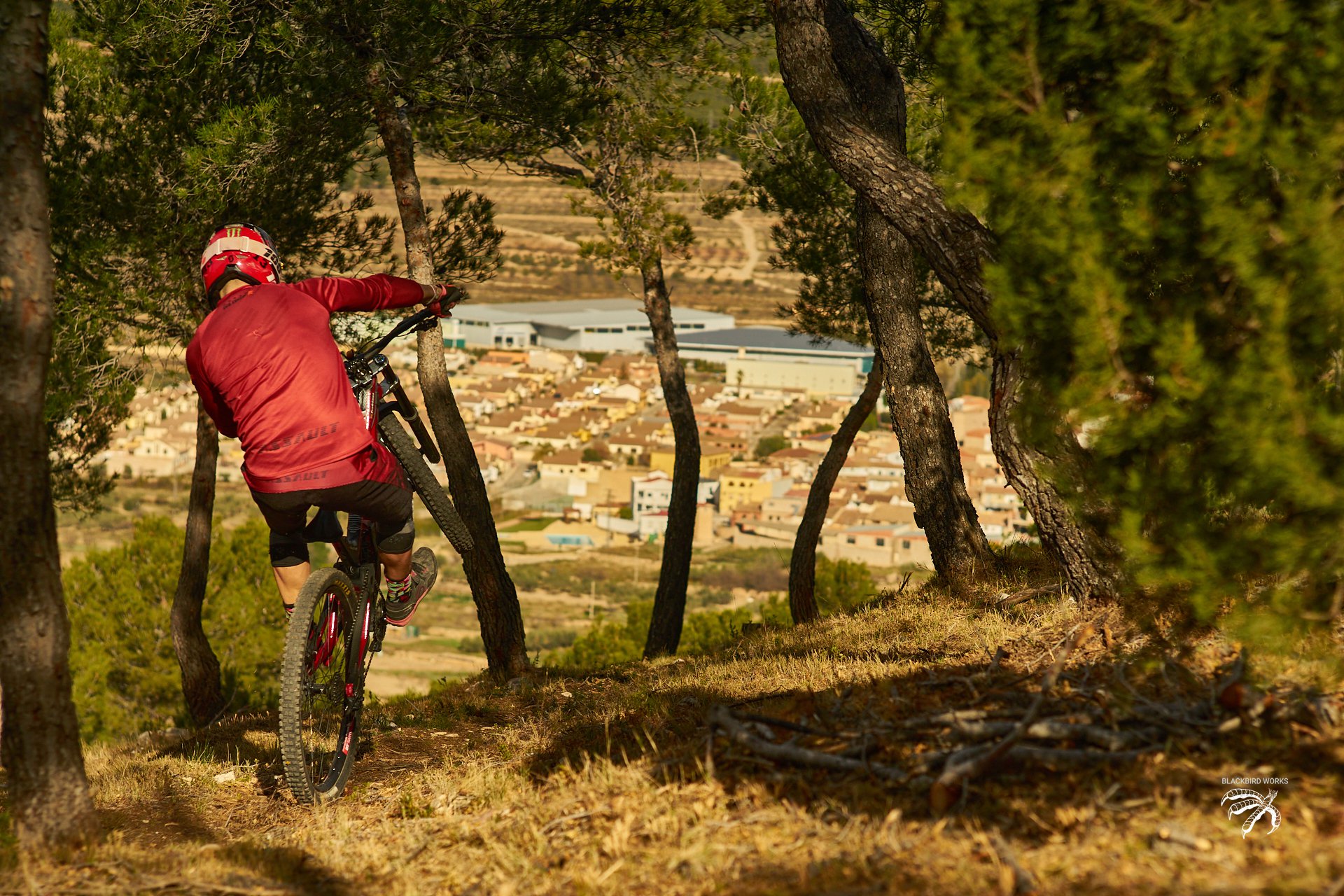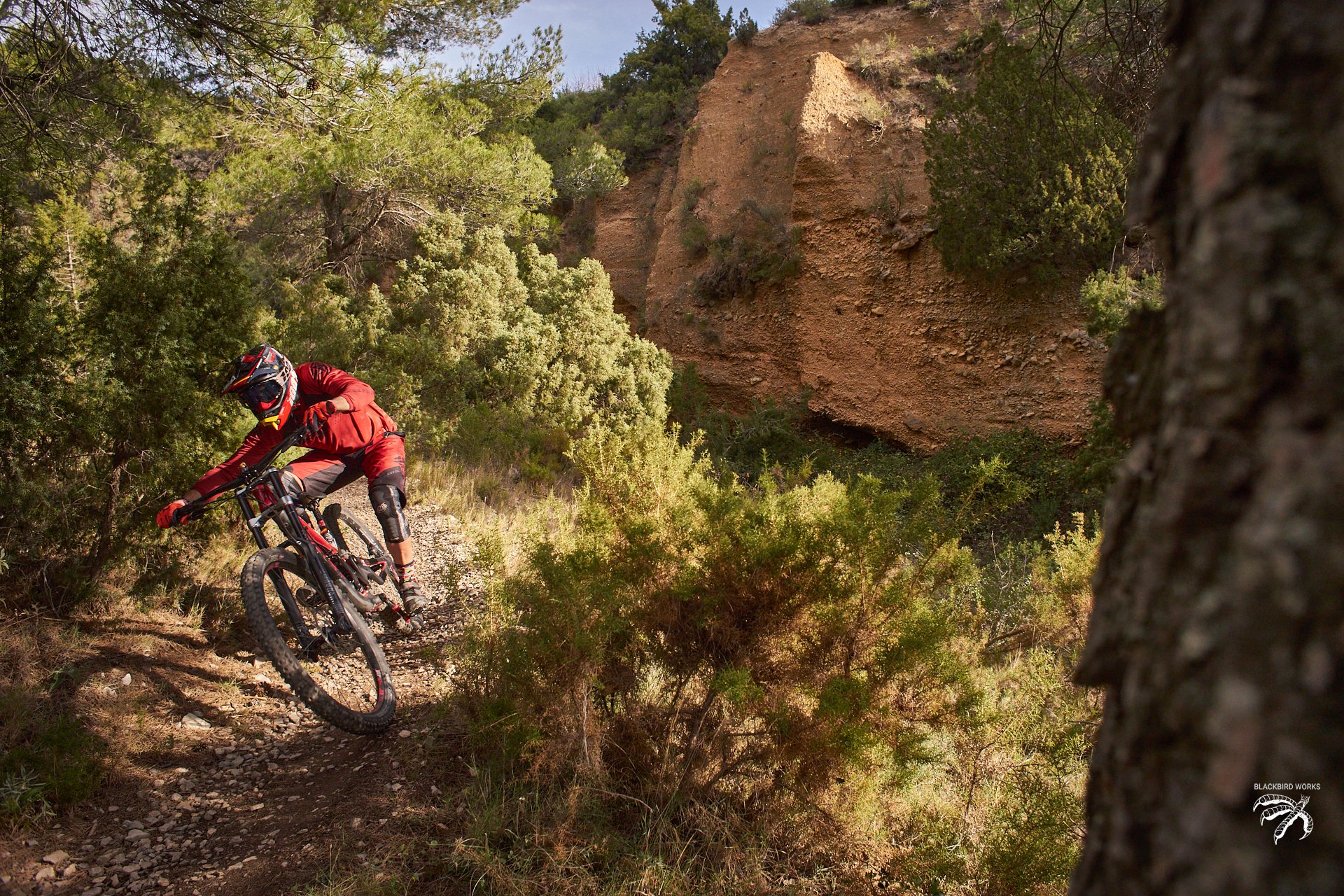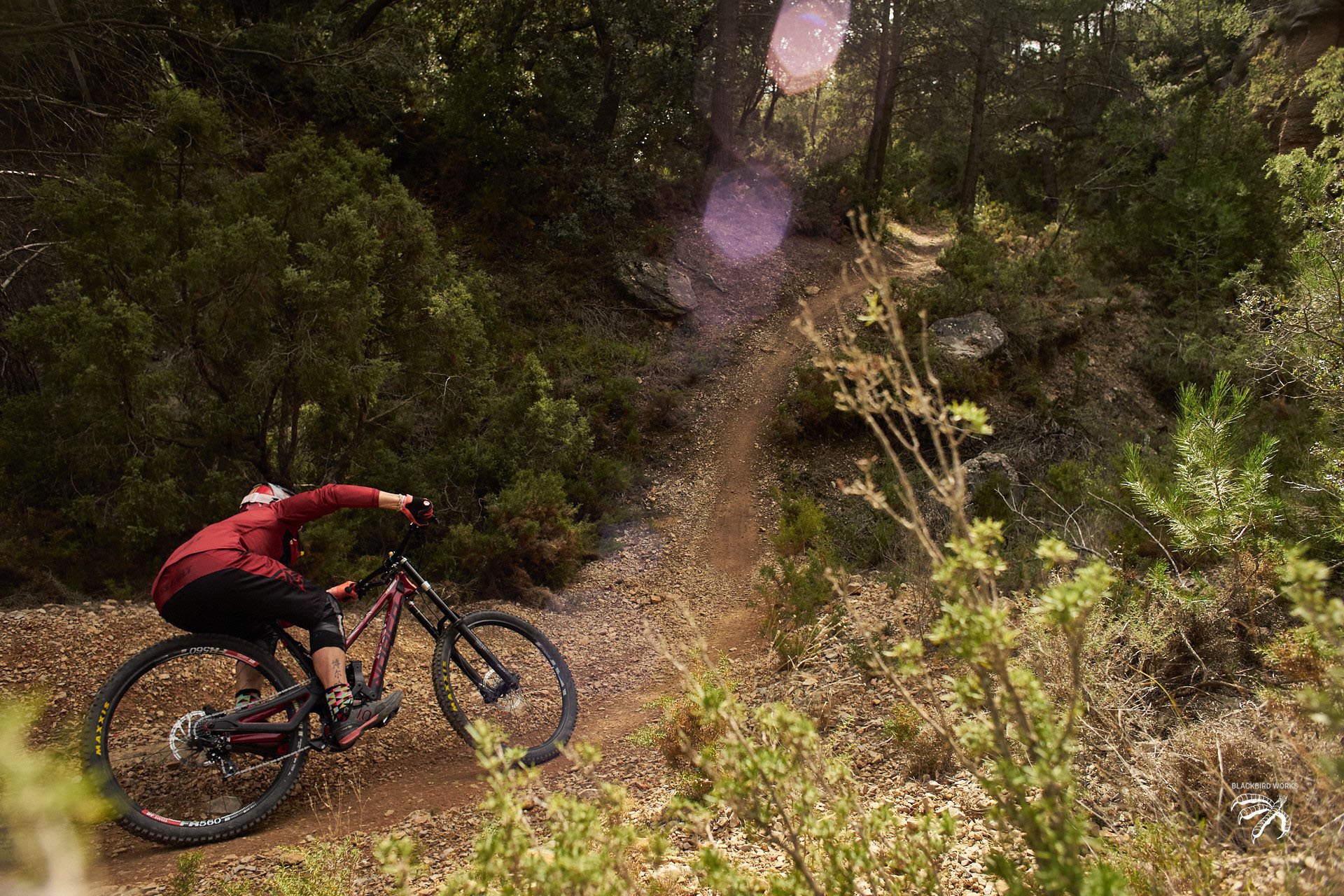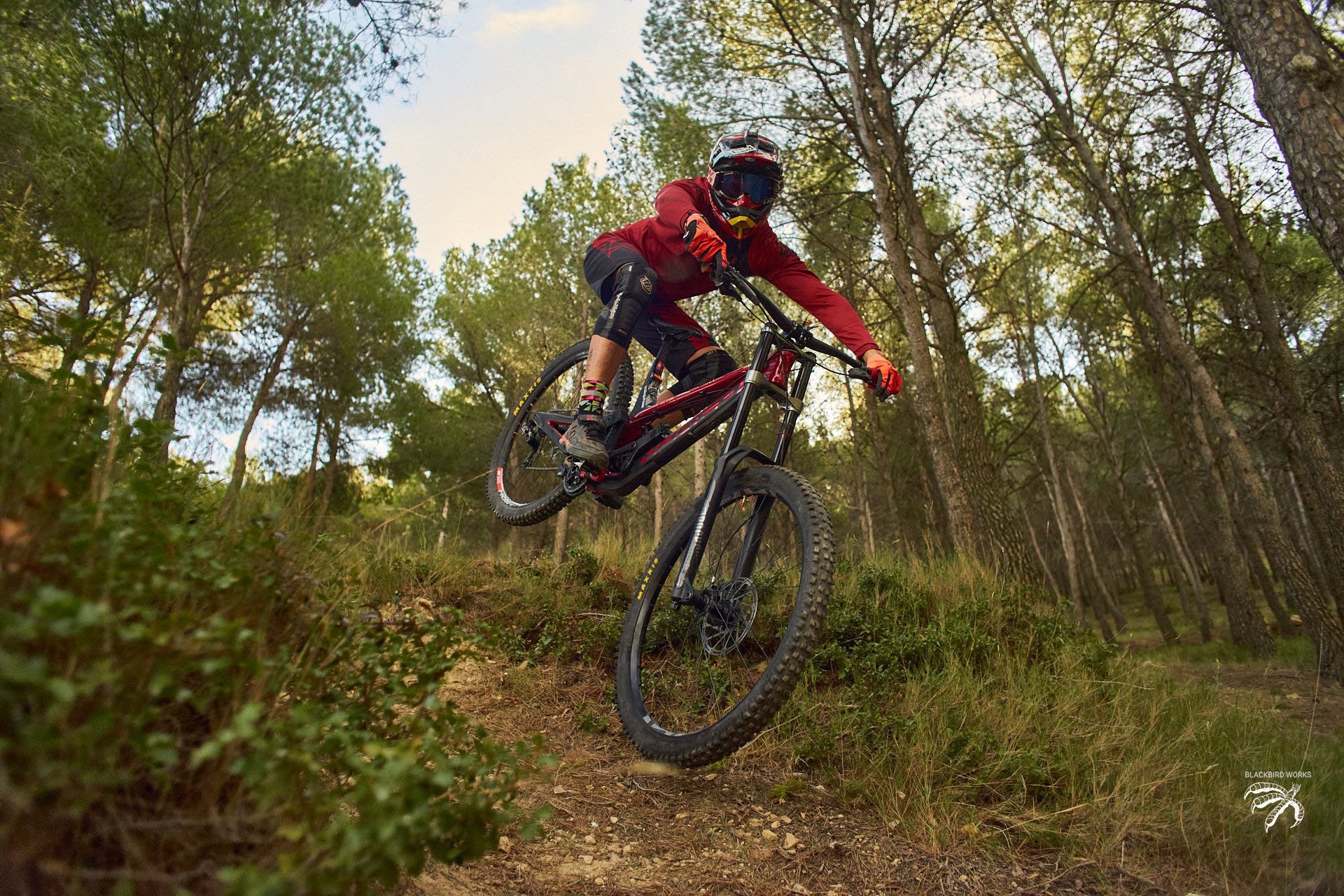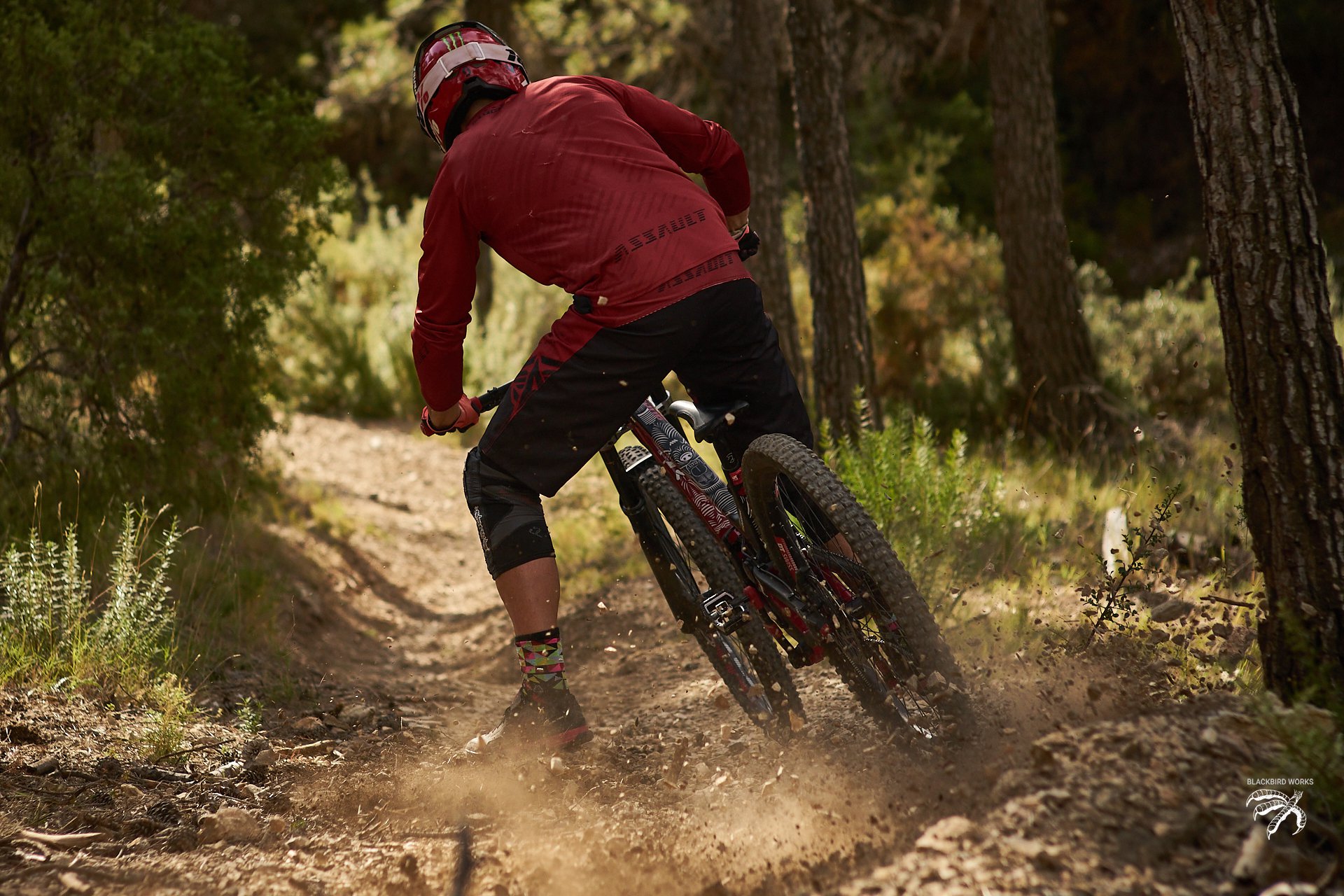 Editor's Note: Deniz Merdano spent December and part of January in Spain, and had the opportunity to gather some photos and stories while he was there. At the time, no one was aware of the problems that were to come. During these difficult and strange times, we want to extend our thoughts and best wishes to the MTB community and all citizens in Spain, and everywhere the effects of the novel coronavirus are being felt. In the meantime, we will enjoy some of these photos and stories and look forward to brighter days ahead.