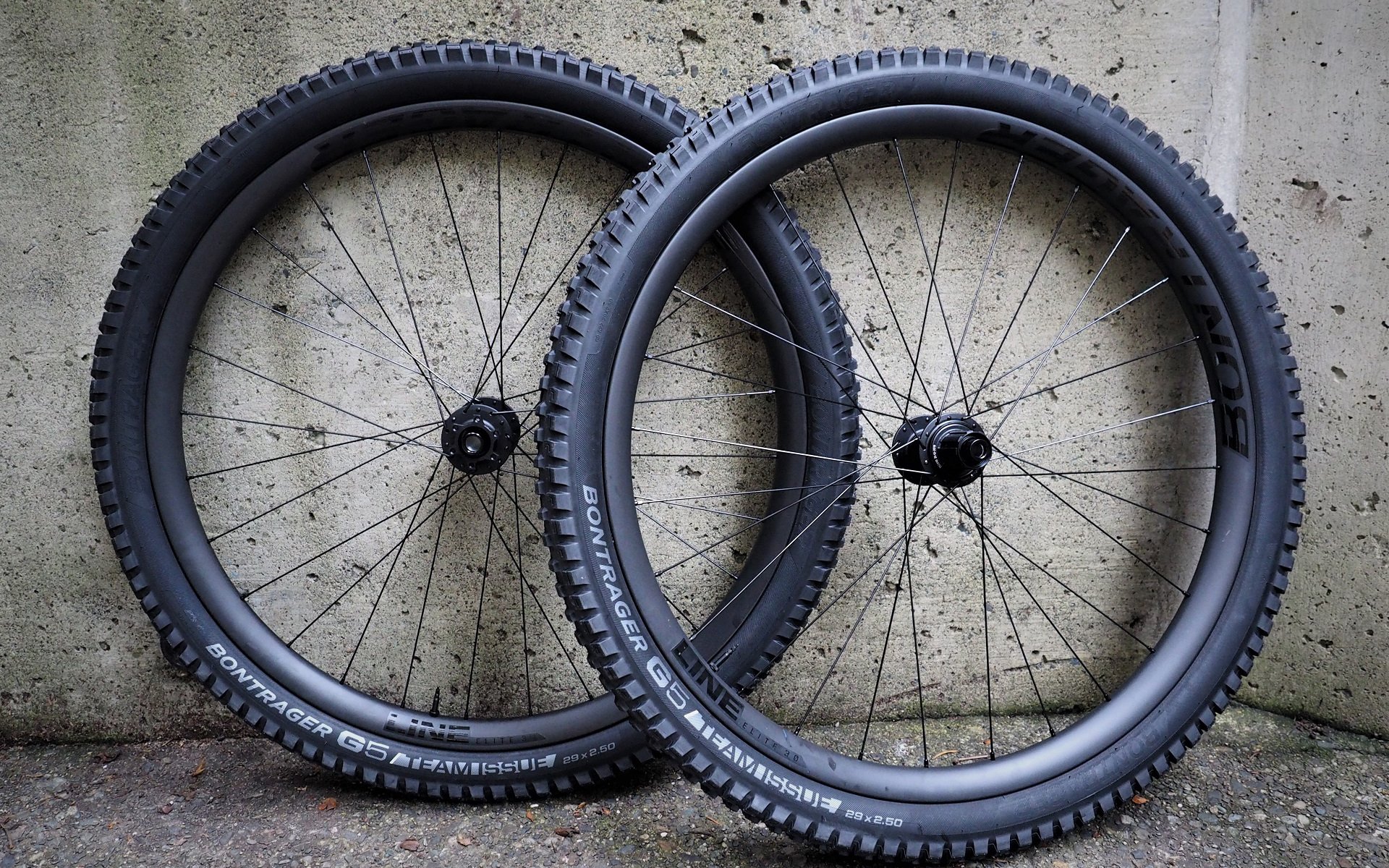 RIDE IMPRESSIONS & DETAILS
Bontrager's Outrageously-Priced Line Elite Carbon Wheels
SMASHY SMASHY!
I've never met Bontrager's Graham Wilhelm, who happens to be the mustachioed monarch in charge of their wheel & tire program. I understand that he's ruggedly handsome in a Hemsworth-esque way, smart like Will Hunting, and the absolute best person to green light the 29 x 3" SE5 and SE3 Bontrager tires I've been dreaming about for a couple of years‽
Pandering aside, Bontrager has also shouted out Mr. Wilhelm by name for his involvement in the new carbon wheels of which they are obviously really excited. After the Oprah's Couch moment that was their WaveCel release, it's understandable that the Bontrager Line Elite and Line Pro carbon wheels are receiving more muted marketing but "strongest carbon mountain bike wheels... from any manufacturer*" is a powerful claim. That powerful claim is accompanied by a powerful new tool, a mean-as-f*** looking impact anvil that the folks at Bontrager built to smash their rims and everyone else's.
While smashing rims all day sounds like tremendous fun, the results, even just compared to the past Bontrager carbon rims are impressive. Almost twice the impact strength thanks to a new shape, shallower profile, and a doubled-up hook wall.
*The actual quote adds the cop-out, "...Bontrager has ever tested–not just from Bontrager, but from any manufacturer"
The carbon rims are mated to the 108 point engagement 6-pawl Bontrager hubs which I've previously had an excellent experience with, and a combination of a lifetime warranty for defects in materials and manufacturing, and a two-year guarantee, called Carbon Care, for defects in rider judgment.
The two-year Carbon Care guarantee makes these wheels Line Elite wheels a real value proposition for a number of riders I know. At 900 USD for a pair with 3.3° hub engagement and 1890 gram/set, you don't have to smash very many aluminum rims to cover the difference in hoops, spokes, and labour.
Also, because I was asked to ask, Bontrager fully approves the use of tire inserts, like CushCore, with these rims. I've been riding them with straight rubber - Bontrager G5 29 x 2.5" tires - on my full suspension bike but on my hardtail I'd still prefer to run CushCore, not out of a concern that I'll break the rims but just for the performance boost out back on my Waltworks.
This piece is a combination of a product release, first look, and all mixed with a healthy dose of editorializing so I have a fair amount to unpack here. Suffice it to say that the rims are in for a summer of sh*t kicking before I draw any hard conclusions. As someone who isn't generally into carbon anything I felt it was worth mentioning that my motivation in spending time on these wheels is entirely down to the value proposition of a pair of compliant-enough carbon rims that can be ridden forever without failures.
As good as my previous experience with Trek's 54-tooth, 108-point, 6-pawl, 3.3° ratchet was, my expectation is that these rims will out-survive the hubs they're laced into. In other words, the initial investment and, currently, non-recyclable environmental impact of the rims should both be paid back many times over without considering any performance improvements.
Rubber To Rims
My general aversion to carbon is well documented and multi-fold but the newest factor, thanks to Santa Cruz, is that I can't work on anything carbon without singing Boy George. It is a damn good thing that these rims practically inflate the tires themselves because I really can't stop myself singing, but check yourself a moment before getting too excited.
In general, my experience with Bontrager's rubber rim strip has been good but I know more than a few experienced bike-wrenchers that have tossed them and I have also had a singular experience that almost resulted in tire (and rim) fire. It's a double-edged sword as the rim strip absolutely aids with tubeless inflation when it's not helping the neighbourhood kids learn an exciting new arrangement of curse words.
The worst part is that there seem to be two categories of riders. Either they've never had a problem and these rim strips are endlessly awesome or there's an abject refusal to work on bikes with Bontrager rims because one of these strips may be involved. I left them in for this round and have already had the tires on and off a few times with no issues.
The drive system itself is the same as the one in the upgraded Bontrager Line Comp 30 rims I reviewed previously so I haven't done a teardown at this point in the review. My plan is to ride them through what's left of the wet season and then lube them up with my favourite slurry of Dumonde Tech freehub oil & grease.
This is a straight forward 6-pawl system where 3 pawls are engaged at a time to disperse load and deliver rapid engagement. A really nice rear hub is generally one of the first pieces of kit I splurge on when min-maxing any build but in this case I have a lot of hours on this drive system on both geared and single-speed bikes, so I'm feeling confident that despite not being Chris King or DT Swiss, or the Industry Nine hubs coming as spec on a lot of carbon hoops, that these will hold up to another round.
The 'Downgrades'
I'm going to be mean for a second. George, you can skip this part. You see, Bontrager is also releasing some higher-end Line Pro Carbon wheels today and I can't wrap my head around them. According to Bontrager both the Pro and Elite carbon rims are identical in terms of impact strength. Both wheels use the same guts in terms of the hub drivers and bearings. They even look almost identical when mounted on a bike and share the same rim profile and i29 width. But, for the privilege of riding the Pro wheels, I have to pay an additional 400 USD.
At 900 USD, v 1300 USD, the Line Elite wheels have a few notable downgrades. First, they have J-Bend spokes instead of straight-pull. Wait, I'm thinking the same thing. That's not a downgrade at all.

The Elite wheels I'm testing also weigh an extra 130 grams for the pair. This is a combination of the carbon being used in the rims to achieve the same strength and also the larger flanges on the less-finished looking J-bend hubs. For anyone not following along at home that's about 3 USD per gram saved.
The only other 'downgrade' that I wish Bontrager had added to the Line Elite wheels is to make them 32h. I know I'm always giving Trek a hard time about things like Boost, and Tapered head tubes, and Trunnion Mount, and so on, but I don't think I'll ever understand why they started marching to the 28-spoke drum and why it keeps in step. If anything, going from 26" to 29" wheels, I've always wondered why 36h never made a comeback.
It's not that I think the Line Elite wheels need any kind of stiffness boost, thus far they're a perfect compliment to my Alpine Trail frame and 180mm Manitou Mezzer fork. But I've broken plenty of spokes in my riding career and any number subtracted from 32 spokes is going to 4 spokes bigger than the same number subtracted from 28 spokes. Now, maybe the rim has enough structure that it doesn't matter? I've been riding like a total goon lately so I'll, of course, report back if I find out.
Rims To Trail
My past carbon rim experiences have been mixed but my best experience to date was with a set of 29" Reynold's Blacklabel wheels I tested three years back. I regularly rode my hardtail down Ned's Atomic Rock Bin with carelessly less air pressure than I would ever put in wheels that I paid for and yet they never winced even after my fresh-looking Schwalbe tires spewed cups of sealant out the sidewalls. I definitely would have written off multiple aluminum rims behaving in the same way - and they opened my mind to the possibility that carbon rims, under some riders, could be a significant investment in future cost savings when it comes to rims, spokes, nipples, and labour required to build replacement wheels.
Bontrager takes that to another level with the Line Elite with a significantly lower initial purchase price, bold claims about rim durability, and a really decent rear hub all attached via J-Bend spokes, and that's a beautiful thing. As to those bold claims, there are going to be tonnes of these wheels showing up on high end 2021 Treks, so real world feedback will be legion.
In the meantime, I completely accept that when it comes to mountain biking sometimes there is better living through carbon fibre. Rims aren't the first place I'd invest my hard-won scratch on bicycle upgrades, but if it's time for new hoops, they're worth a visit to your preferred Trek dealer to have a look. They may even have a set you can demo off of a test bike.
I'll report back when I have enough hours to call this a worthy test. In the meantime, the Bontrager Line Elite carbon wheels are 1890 grams for a 29" set, 1820 grams for a 27" set, cost 900 USD, carry a lifetime warranty against defects, and they'll replace the hoops within the first two years no questions asked. There's more information at Bontrager.