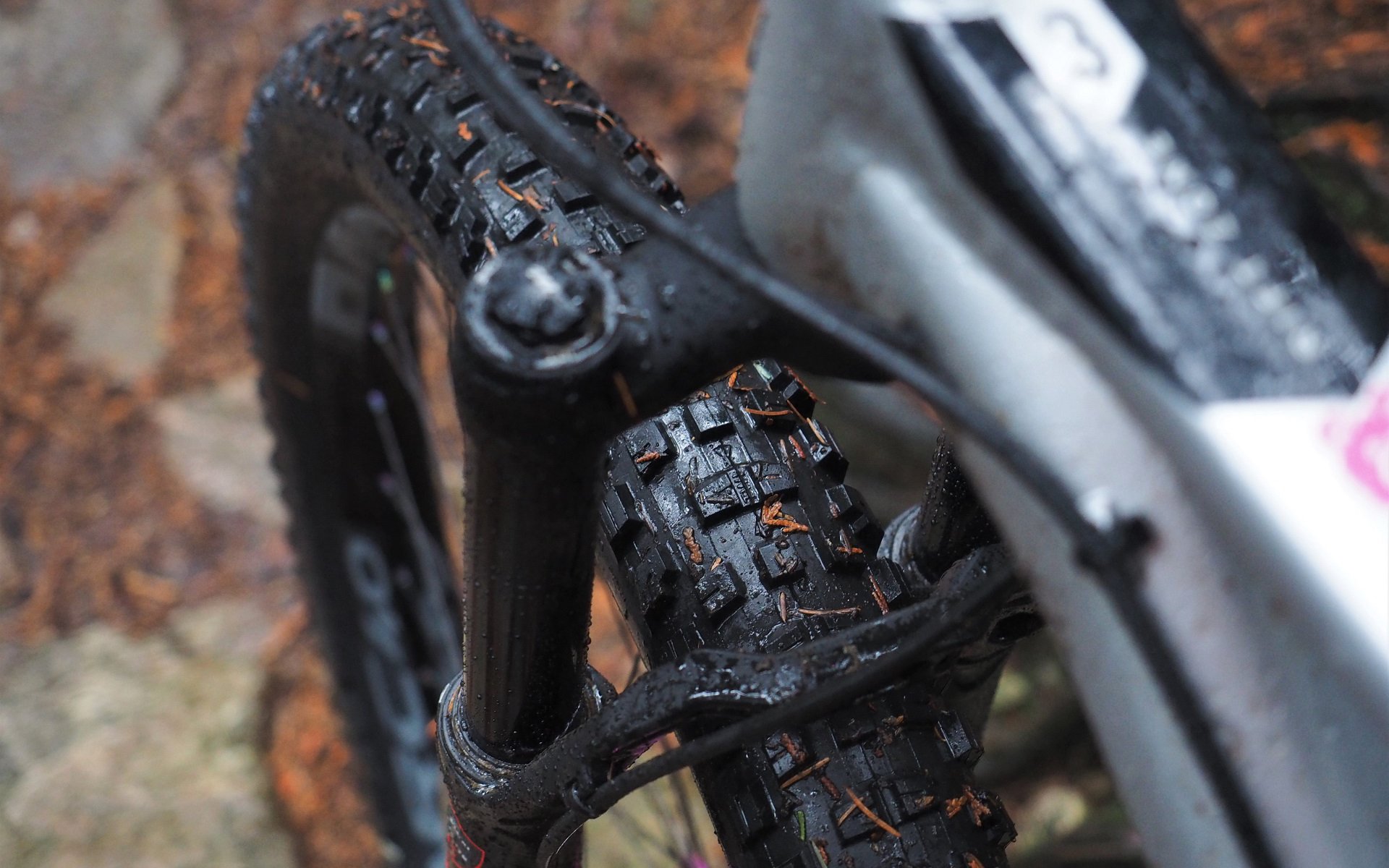 REVIEW
Bontrager XR4 and SE4 Team Issue Tires
Bontrager '4-Series' Tires
The XR4 and SE4 Team Issue tires from Bontrager are so similar that I generally refer to them as the Bontrager '4-Series' tires. There is so much interchangeability between them that Trek specs both versions on their Remedy line of bikes.
The SE4 model brings more support and durability to the equation at an average weight penalty of about 10% over the same sized XR4. It trades the XR4's subtle 120tpi single-ply casing for Bontrager's Core-Strength reinforcement in the sidewall and casing. 
One model for weight conscious rider looking for good rolling and good grip. One model for heavier rider concerned with support at lower pressures, tire durability, rim protection, and flats.
My favorite feature of the 4-Series tires is Trek's move to stop making crappy OE rubber. From Trek's Fuel EX 7 (2500 USD) on up the tire-spec is a set of dual compound (61/50) Bontrager Team Issue tires. As a heavier rider, I have to run more air pressure in an XR4 than the same size SE4 but aside from air pressure traction is identical between the two versions of this animal. 

Throttling my single speed up the hill out of the saddle, while re-eating my breakfast, that 10% weight drop to ride a 2.4" XR4 seems like a win. Descending the same bikes, a 2.6" SE4 provides more rim protection, braking traction, and on my hardtail an additional comfort factor. A 2.4" SE4 and 2.6" XR4 weigh about the same. Decisions, decisions. 
I will say that anyone riding the BCBR this year and antagonizing over finding tires that roll fast enough for all day pedaling, are sticky enough if the rain comes, and provide good braking in loose conditions would do well to check out the 2.4" XR model. At 55 USD the price to performance ratio is even great. 
The Plus Size Exception
I have one strong exception to the interchangeability of the SE4 and XR4. I've ridden enough thin sidewall Plus tires to say definitively that best practice is to skip the more papery versions from any brand.
A 29 x 3" tire is never going to be light enough for competitive XC-Racing or durable enough for competitive Enduro racing, at least without weighing 1500 grams. That's not the point of Plus. 
I'm having a lot of fun riding the Plus sized SE4, and I prefer it in all situations over the 29 x 3" DHF 3c I was running previously. I enjoy it on the front of my full suspension bike and love it on the front of my single speed. Whether braking on greasy roots in the winter months or getting an extra margin of error on trails I'm unfamiliar with I'm a fan of Plus up front since companies released big rubber with proper sidewall support. 

I can recommend the XR4 and SE4 for different riders and applications with the exception of Plus. I haven't ridden the Plus sized XR4 and can't imagine an application where the SE4 isn't a better option. 
In The Rear
Running the Bontrager 4-Series tires out back is a no-brainer in my books. They bring an excellent balance of traction in loose terrain, relatively fast rolling, and good-enough grip in greasy winter Shore conditions. I slipped a tire occasionally on a primeval root or green rock but that's to be expected. 
Short of a winter running a Max Grip DHR2, which rolls slower and wears much faster, the 4-Series is my most pleasant rear tire experience for local riding in the Winter. The 2.4" is a faster rolling option but, through the winter, both on my hardtail and full suspension bike I prefer the extra traction that the 2.6" tire delivers. In dry-and-loose conditions I find both tires bite equally and on my dual suspension, I give the edge to the 2.4" for faster rolling but still prefer the extra comfort delivered by the less-than-Plus rubber on my hardtail. 
My all-time favorite rear tire is the 2.6" version of Specialized's Slaughter Grid. The combination of semi-slick rolling with DH side knobs is pure shenanigans. The 2.6" model isn't a whole heck of a lot wider than the 2.3" but it is a much taller tire.
Other than on the road I prefer the 2.6" version of the 4-Series. They bring more compliance, traction, and rim protection at a minor penalty to rolling resistance and a 160-gram weight penalty over the 2.4". It's not nothing, hence recommending the 2.4" for the BCBR, but for technical trail riding it's worth the weight in my book. Especially on a hardtail. 

The reason I bring up the Slaughter is the 4-Series in the same size rolls almost as quickly with an improvement in climbing and braking traction. The Slaughter kicks its ass as soon as I'm looking for cornering traction and side knob support.
It's a toss-up between the two as a summer tire, with the SE4 winning for the winter months, but if Bontrager made an SE4 with the massive side knobs of a 2.6" Slaughter, or better yet the accordion style knobs of the e13 LG1r.
Up Front
If Trek made the SE5 in a 29 x 3" size I'd run that. I'd actually be very tempted to try it in a 29 x 2.6" if such an animal existed. 
I don't think it's a stretch to say the Bontrager SE4 is the best 29 x 3" tire on the market. Bold praise I know, but it's also the only size of the 4-Series which I love as a front tire. It corners aggressively except in greasy mud,* it has massive bite in steep loose descents, and it's supple on wet rocks and roots in the winter. The flip side is that the only other application where I like the 4-Series as a front tire is the 2.4" XR4 as a lightweight trail tire. 
*flotation is not my friend in greasy mud
In the non-3" options there are tires at a similar weight that bite better in corners and bring better braking to the table. These tires, like the DHR2, most certainly roll more slowly but speaking strictly of front tires I find that makes a small difference for trail riding compared to having a faster-rolling tire out back.
I can see running an Ikon out back with an XR4 up front for true-XC riding but for Shore-XC I prefer meaner rubber up front with a bit more obvious transition from the center knobs to the side knobs and more bite and support from the side knobs once I'm over-coming my trust issues and trying to get them to hook up. 
That said, riding the 2.4" SE4 tires on the 27" Remedy there were only rare situations where I felt the front tire was holding me back so I feel as all-purpose rubber the 4-Series is a win with a caveat that local conditions may call for a more aggressive front tire or faster rolling semi-slick rear tire. 
All-Purpose Rubber
I've been recommending the 4-Series tires regularly as an excellent rear option for most riders and as an ideal front tire for many applications. In addition to the performance, prices are very competitive against comparable rubber. The highlight tires are the 2.4" XR4 at 55 USD, the 2.6" SE4 at 85 USD, and the 2.9" SE4 at 105 USD. I'll also give a shout out to the 2.6" XR4 at 65 USD. I'm really impressed with the durability and performance for the weight. I heartily recommend them for lighter riders and if buying for myself my preference for the SE4 comes down to my desire for more support for my 185lbs of dad-bod.  
For most riders the Bontrager 4-Series provide great options for rubber at very good values. Bontrager could improve sales by offering the SE5 in the same range of sizes for a more aggressive front match up with the SE4 out back for those rides that can't handle a lack of tire symmetry. But then I think for most locales the 4-Series would be all the front tire needed. 
Either way, as a great all-around mountain bike tire it's easy to recommend the 4-Series tires as rear tires for pretty much everybody and as front tires in a lot of situations - especially 29+.
Prices range by size and model. There's more information about the XR4 here and the SE4 here.