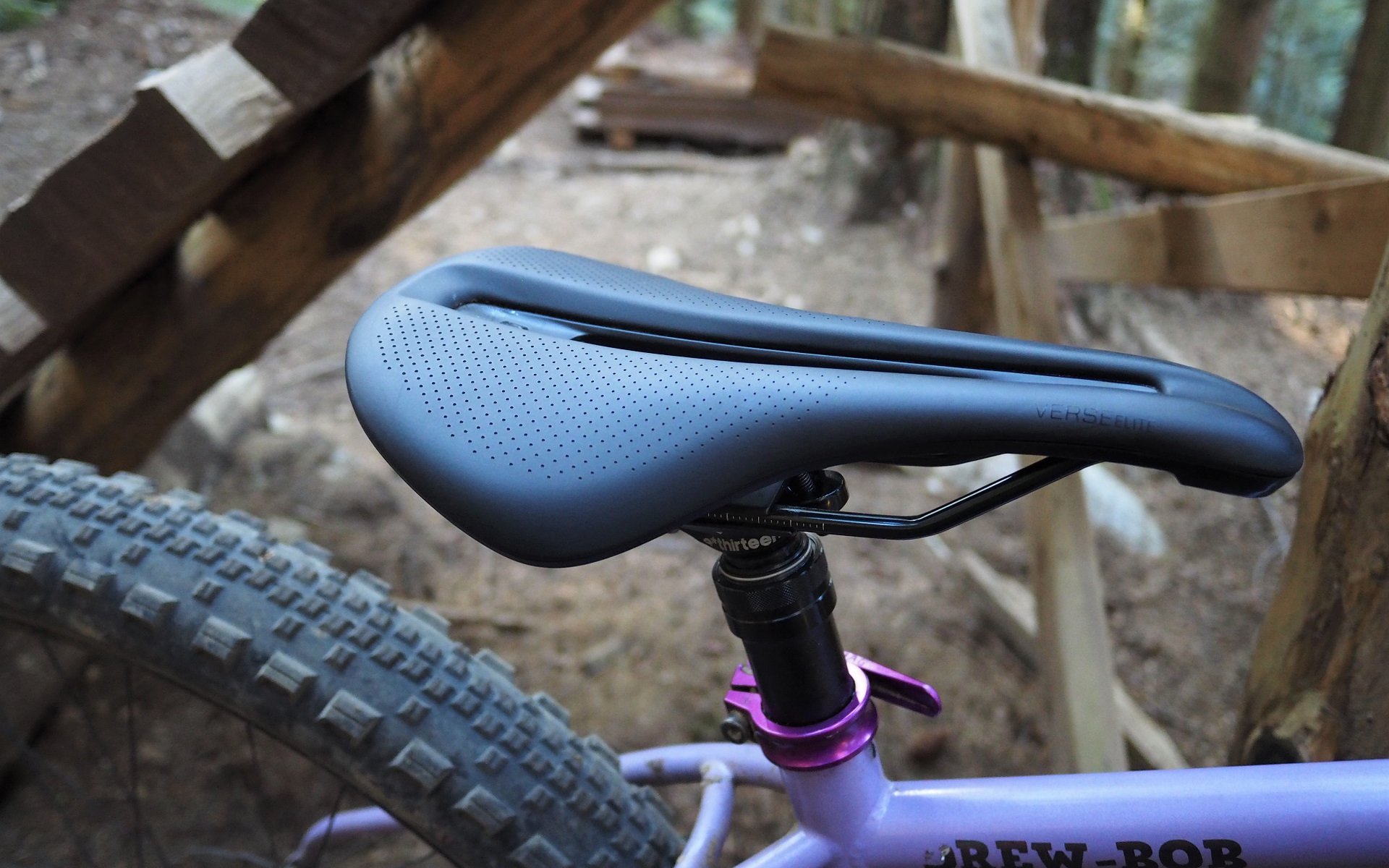 REVIEW | RELEASE
Bontrager Verse, A Saddle For All Riders
The End Of Sex-Specific Saddles
Women love the Chromag Mood. Men love the WTB Koda. Trek joins the growing list of companies who recognize that selling products as 'man-specific' or 'woman-specific' is just a bunch of made-up bullshit. Because anatomically speaking, if we don't need sex-specific saddles, then what's left?
Now, before I get another whack of e-mails telling me I'm the "Trump" of mountain bike media, there are companies absolutely killing it when it comes to encouraging women to take up mountain biking. This is awesome. Want an example? Bell Joyride. And not only do you not have to wear a 'women's specific helmet' to attend a Joyride event, but you also don't even have to wear a Bell! And yet, I'll tell you, I know more women that will only ride Bell helmets - whatever colour they prefer - and plenty of them reference Joyride, and that's how marketing can do good instead of evil. Check it:
"The BELL JOY program is designed to inspire and enable female cyclists with regular, structured, fun, and social rides that appeal to all levels of riders. The program allows female riders to enjoy challenge and camaraderie in a nonintimidating environment."
On the other hand, there are also a few companies still trying to profit off of, to quote a reformed Specialized, "stereotypes of body shape [that] are largely inaccurate." When in fact "body proportions vary as much within gender as between them." And hey, kudos to Trek for, almost*, not being one of them.
*We see you 2021 Marlin 6 Women's
The Bontrager Verse
The big news with Bontrager's newest saddle is that your 2021 Trek mountain or gravel bike is going to come with a perch that most riders won't immediately want to toss. I found the Verse to be an immensely comfortable saddle. My number one all-time favourite? I'm on the fencepost. But I've been running the Verse on both of my mountain bikes and I'm in zero hurry to swap it out.
The Verse comes in three trims and four sizes. I've been riding the mid-level Verse Elite saddle in both 145mm and 155mm widths. For narrower sit bones there is also a 135mm width and for a wider sit-bone-stance, there is also a 165mm option. The Elite version of the saddle features an austenite rail that is "lighter than titanium" and much, much, cooler in that it is also known as 'gamma-phase iron,' which sounds rad. The less expensive Comp level saddle has boring stainless steel rails, painted black, and the top end Pro model has carbon rails and a carbon shell for folks that wear really high-end chamois.
The big story with the Verse is the amount of flex that Bontrager has engineered into it thanks to the shape of the saddle wings and the massive cutout in the middle. It's not an SQLab Active saddle, but it's the closest thing I've tried in a traditional rail format and 90 USD for the Comp saddle is a heck of a smaller investment than almost 200 USD in terms of trying something out.
The Bathtub, Or The Shower?
Many ergonomic saddles have a form that can collect a small amount of water if my bike sits for a while. I jokingly refer to this as 'the birdbath' or 'the bathtub.' The Verse has neither. Instead, it has what I like to call 'the shower.' The gap in the middle of the Verse is so large that on a particularly wet day my tire sends a steady and fairly powerful stream of cold water seemingly straight into my groin region. To say it was shocking the first time does not capture my pained giggle. It was just that kind of Juneary and Julyuary around here.
It had been my intention to craft a little fender to keep spray from coming through the saddle cutout but then the sun came out and I figured I would put project saddle-fender off until September. Then 'the incident' happened. I contemplated not sharing this particular event because in my disgusted haste to clean my bike, and myself, I didn't take a picture. And, without a photo, did it really occur?*
*Yes, yes it did.
I'm just riding along when suddenly I can smell the ripest of dog shit. The kind that's fresh enough to still be wet but has been baked in the sun just long enough to be extra-sticky. I pull over, dismount, and thank my lucky stars that I'm running a semi-slick tire out back in the form of Tervail's 2.6" Cumberland. I proceed to find just the right stick and set about clearing a 5" circumference of healthy shoulder knobs from truly putrid doggy doo. Sniff. Sniff. Oh crap, the tire has actually shot dogshit up into my saddle. Lovely. Wait. Ugh. The crotch of my shorts is also endowed with a reasonably large glob of Rover's ordure.
Needless to say, I'm on saddle fender 2.0 and the whole little project is starting to come along really nicely. I think it speaks volumes to how good the saddle is that even afterward I'm more inclined to fashion a fender than to remove the Verse.
Four Sizes & Three Prices
As I said, there is a good chance your new 2021 Trek mountain or gravel bike will come with a Verse saddle. My understanding is that dealers will be equipped to make sure that of the four widths - 135mm, 145mm, 155mm, and 165mm - you'll end up on the right one for you. In my case, it's the first time I wouldn't be binning the Bontrager platform to buy something else. Well, not only that, I would be between a Verse and Koda if I was buying a seat tomorrow and it's strange for me to see Bontrager excelling in this category.
I've been riding both the 145mm and 155mm width of the Elite version of the saddle, moving them back and forth between two bikes. I'm normally right in that 145mm range, for example loving a 145mm WTB Koda, but sometimes with more flexible saddles, I find a bit more width works better for me.
The 155mm saddle arrived first and I certainly would have guessed this to be the case until I tried the 145mm. Both are very comfortable for a medium length ride but for sustained sitting, particularly sitting-and-spinning on a multi-speed bike the 145mm works much better for me over long distances.
There has perhaps never been a bicycle saddle with more potential that is easier to try out. Whether it's the 90 USD Comp or 150 USD Elite these saddles will be showing up any day now on a 2021 bike at a Trek dealer near you. That in itself is a great feature as so many well thought out saddles require an expensive leap of faith. I'm not saying that the Verse platform is going to work for everyone as saddles are hugely personal but it is really nice that they will be very accessible to try. I'm enthralled enough with the Verse that my plan is to clean them up and pass them around to a collection of male and female riders to get some more varied real-world feedback.
If you already have a favourite saddle that really works for you then please just stick with it. If you've been seeking something else anyways, then I think the Bontrager Verse is one of the first stops on the sometimes never-ending journey of saddle searching.