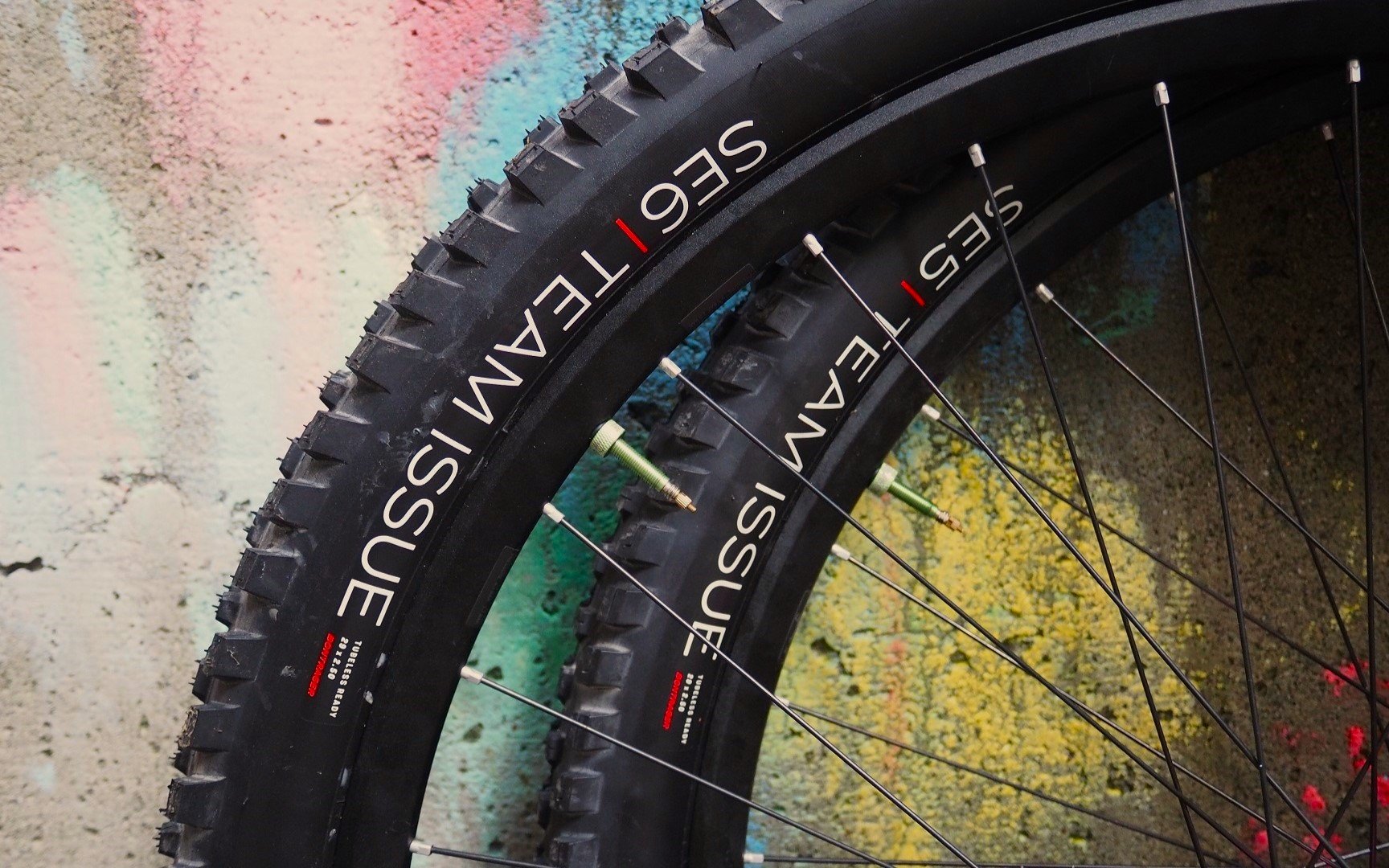 REVIEW
Bontrager SE6 & SE4 Tires
Butchered
I'm afraid my review of Trek's latest enduro tire, the 2.5" Bontrager SE6, lacks enthusiasm. I'm going to ask Bontrager to shoulder the blame because their "most aggressive tread for trail and enduro" is uninspiring, at least for 10 months of the year on the B.C. coast. It's a close cousin to a similarly-sized previous-generation Specialized Butcher, or a more common point of comparison would be a Maxxis Assegai in the MaxxTerra compound. These are tires that I wouldn't run out and replace if they came with a bike I was buying in July or August, but as soon as the temperatures drop and the rain starts falling, they'd be taking up space until I gave them away or recycled them.
If I don't need all the grip then I'm not going to ride a tire that rolls this slowly. If I'm pointing my front tire down terrain dicey enough to warrant ultra-aggressive knobs, I'll gladly accept a bit slower rolling and faster wear for the extra safety of soft rubber. There are better options for rear tires like the DHRII or Bontrager's SE5 that provide excellent braking traction while not turning every uphill into a total slog.
The SE6 has potential however. So much potential. In the right conditions on dirt, wood, or rock, it can deliver excellent braking and cornering traction. Except when it doesn't. It's a familiar experience for me and anyone who has ridden the previous Specialized Butcher and the same tire in their newer T9 compound. The softest slow-rubber T9 material transformed an okay OE tire into one comparable to the MaxxGrip Assegai and the softest Schwalbe Magic Mary. And Specialized does it at just enough of a cost saving to make even the most skeptical performance-focused value-hunting mountain biker take notice.
If you're thinking that for where you live and how you ride the MaxxTerra Assegai has plenty of traction to be your front tire all year round, I'd be curious why you prefer it over the faster rolling DHF or DHR2 in the same compound. I'd also suggest that at 115 CAD | 85 USD the SE6 may bring you the same level of traction, in all situations, for less money. I'm also bewildered by how long the SE6 has stayed looking fresh even with a pile of road miles thrown in. The longevity would be impressive if it didn't come at a huge cost of lost confidence in our greasy season.
Trek's 'proprietary TM-Grip compound' glides and slides on terrain where the equivalent tread in a softer compound does not. I could see myself riding it through any more of the wet coast winter after installing CushCore Plus inserts and airing the tire below 20psi.
Most Bontrager tires I've ridden, like the SE5 & SE4, use a dual-compound 61/50 rubber that makes for a fairly long-lasting center tread and grippy-enough side knobs for aggressive all-around use in most conditions, especially as a rear tire. They're not as clear about TM-Grip but I'd wager a tall can of Kolsch that it's the same stuff. Trek says "soft dual-compound bites into corners and with added durability on the center tread" and lists the rubber spec as 50a.
All-Around Rubber
While my SE6 front tire experience was okay in the warmer drier months, it has had me reflecting on my all-time favourite Bontrager tire, the faster-rolling all-around excellent SE4. I've ridden and appreciated the SE4 in every size from 27x2.4" to 29x3". It's a predictable rear tire that rolls fast enough and brakes hard enough for year-round trail riding here on the North Shore and the 29x2.6" is my current go-to out back on my hardtail. Cornering traction is very good in most conditions and it's durable and relatively affordable.
As a front tire, it's not as confidence-inspiring as slower rolling braking-over-everything tread patterns, even in the big-big 3" size. But for folks who need enduro-light traction for spicy sections of trails but are trying to balance that with all-day rolling, it is an excellent compromise. I find this especially true in the more voluminous sizes. I maintain that the Maxxis DHF in a 2.3" width is still the tire to beat, front and rear, in terms of ride-anywhere versatility but with my more cautious cornering technique the center-to-side transition starts to get too vague in larger sizes where the SE4 is excellent as a 2.4", 2.6" or 3.0" (RIP) tire.
The SE4 is a boring tire in that it doesn't excel in any particular conditions or under particular effort. It's not silly fun like a semi-slick and won't have you charging uphills in a harder gear like Bontrager's surprisingly good SE2 or any number of fast-rolling tires that somehow still deliver sufficient climbing and braking traction. Likewise, as a front tire, it's nowhere near the level of get-out-of-jail-free card that the softest options from Maxxis, Schwalbe, or Specialized (now) deliver - but then neither is the more aggressive and slower rolling SE6.
I think this leaves Trek where Specialized previously found themselves with aggressive MTB tires. They have a good rubber compound for all-around tires like the Specialized Purgatory, which also makes an excellent faster-rolling rear tires for aggressive terrain. Bontrager has well tested tread designs worthy of softer and slower-rebounding rubber that roll too slowly for their current compounds. Now they just need to split things up. Keep the excellent Bontrager SE4 in the 51/60 compound for use as an all-around trail tire and an excellent rear when paired with a more aggressive front tire. Give us a properly soft-and-slow compound on the Bontrager SE6 so that it can compete with similarly structured enduro tires.