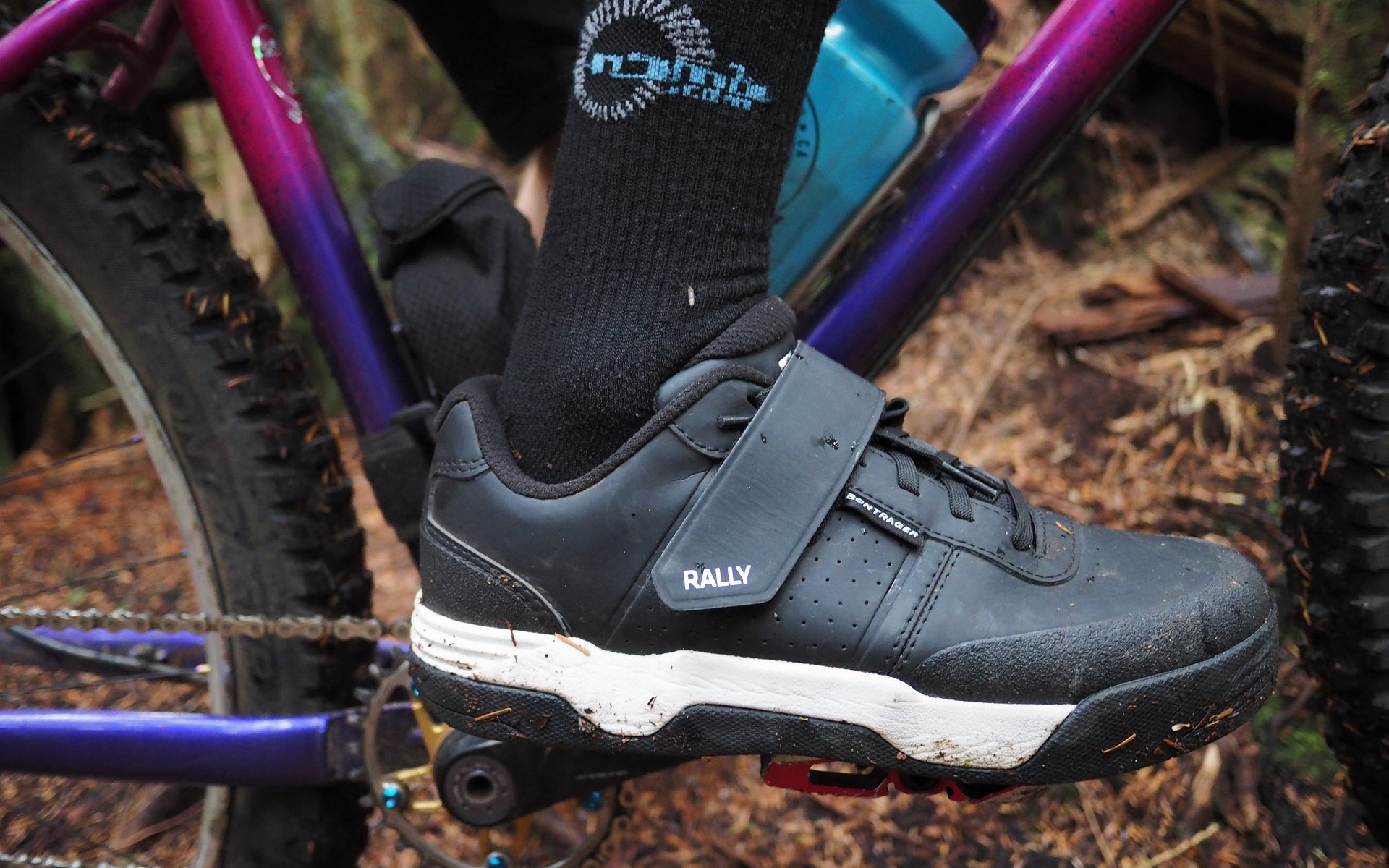 A CLIPLESS SHOE REVIEW
Bontrager Rally Clip-In Shoes
Silent Partners
This is the story of two shoes. A left and a right. No, seriously. I've been wearing the Bontrager Rally for months and I haven't so much as looked at another pair of clip-in shoes during that time. Mated to a pedal that fully supports the relatively flexible shoes - in my case the Crankbrothers Mallet DH - the feel is next level. They're also significantly more comfortable and grippier off the bike than the clip-in shoes that usually make me happy.
I've also ridden the Rally interfaced with a LOOK X-Track SPD, stance-enhanced Crankbrothers Eggbeater, and Time Speciale which are all pedals that I get along with when paired with a stiffer shoe. I found, however, that the Rally has too much flex to work well with a pedal that doesn't provide extensive support.
This makes a world of sense to me since the Bontrager DH and Enduro teams both use Crankbrothers Mallet pedals and they were involved in developing the Rally shoe. I generally prefer a very solid interface, either carbon-soled shoes with XC pedals or a supportive platform with nylon soles, and there are folks at Bontrager happily using the Rally with Shimano trail pedals.
The Rally has more flex than any clip-in shoes I've recently worn; Bontrager doesn't even rate them on their stiffness scale. Heck, if you're designing and testing a shoe that will be used with a pedal that provides extensive surface contact and support, like the Mallet E and Mallet DH, it makes perfect sense to have the sole flex into that platform for a full-contact feel.
Speaking of cleats, the Bontrager Rallys have relatively deep cleat pockets. Owners of Crankbrothers, Time, or HT mountain bike pedals will be used to shimming their cleats for optimum positioning relative to the cleat pocket but that likely won't be the case for riders who only use SPD pedals. Here are some recommended starting points with the Rally:
For the Crankbrothers users, Trek's athletes are all running one stainless steel shim, called Shoe Shields, and one plastic shim, and that's where I'd recommend starting out. Some of Bontrager's employees are voting for one plastic shim on each foot so there's certainly a degree of personal preference.
For Shimano and other SPD pedals, I obtained my best results running one shim under my cleats (I like the Shoe Shields for this application) but I spoke to Bontrager thinking this might be a foreign concept to most SPD users, and they confirmed that the folks working there running the Rally with Shimano trail pedals are not installing any shims.
For my own setups with my Mallet DH pedals, I have the pins fully inserted* and then do a little extra customizing depending on the bike. For my single speed, I love the extra float gained by removing the rubber traction pads and I still find, whether I'm standing and cranking up a climb or surviving a gnarly technical descent, that support is excellent thanks to massive surface contact. On my suspension bike, I'm still running the shortest 1mm rubber traction pads for a bit of damping on the release.
*except for a few that are missing but the result is same-same.
Bang the gong, roll your eyes, whatever, when I invoke that 'flat pedal feel' cliché here because with my cleats slammed back that's exactly how the system works. My shoes flex into my pedals and instead of pins holding my loaded feet from slipping it's the pedal-cleat interface. The combination of the Rally shoe and the Mallet DH pedal is the closest I've come to mating what I love about riding flat pedals with the security of being clipped in.
I can't jump in and recommend the shoes unequivocably because I prefer a much, much stiffer sole with the majority of pedal options on the market but that doesn't mean other riders won't be stoked on running the Rally with more diminutive pedal contact. Keeping in mind that I don't count grams, choosing between standing on clip-in pedals in the stiffest shoes or the experience I'm getting here, I'm reaching for the Rally & Mallet every time. Frankly, the 200 CAD/150 USD Bontrager Rally is the most positive clip-in footwear experience I've had.