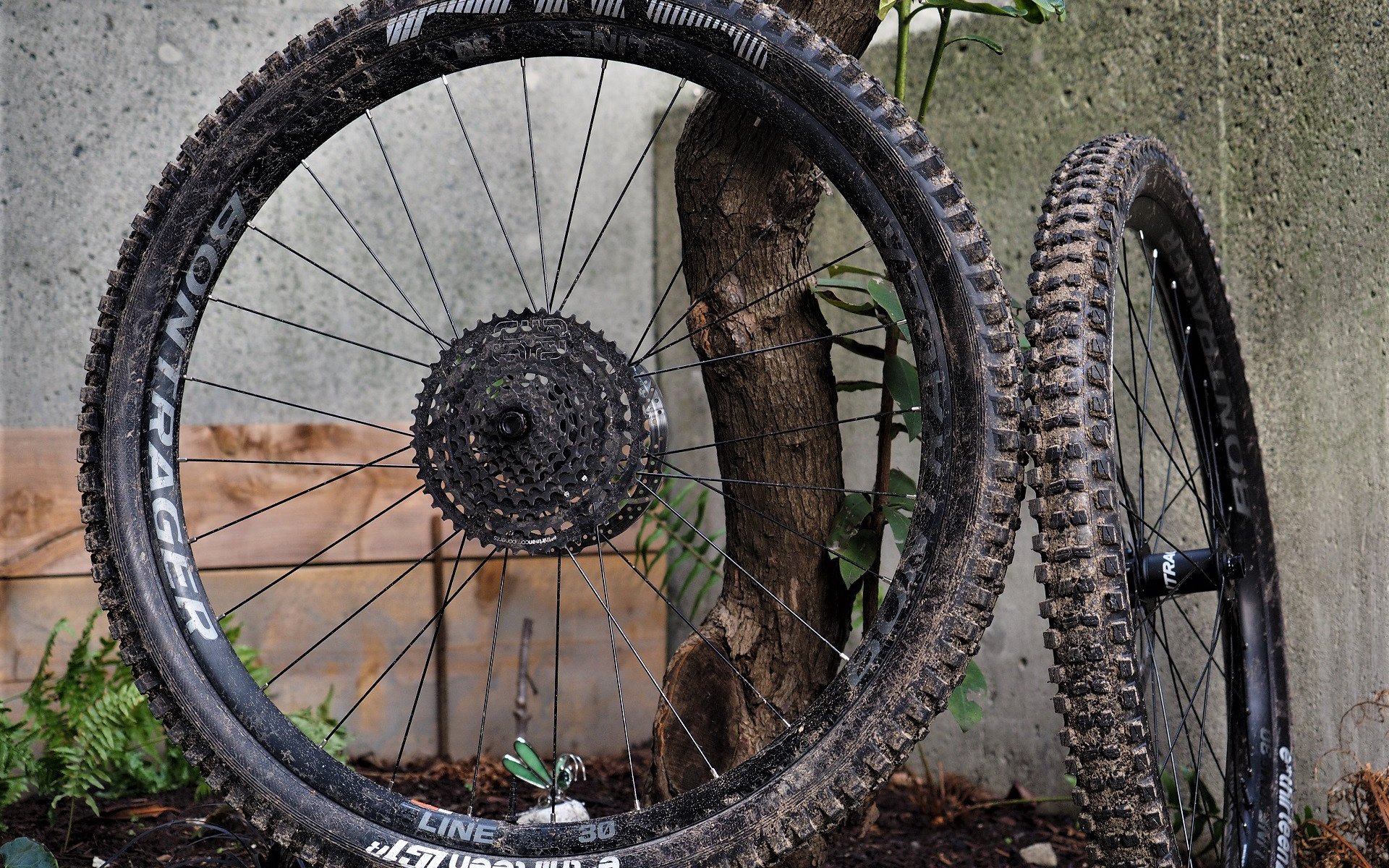 REVIEW
Bontrager Line Comp 30 Wheelset
Can't-Lose
I've ridden my fair share of rear hubs that cost more than the 300 USD Bontrager Line Comp 30 wheelset.
The 29'er hoops come stock with a 29mm internal rim diameter, 54pt (6.7°) engagement, and they weigh around 2100 grams. Factor in easy tubeless installs thanks to the molded rim strip and solid rim durability and the Line Comp looks like a solid buy. Then drop an extra 20 USD on a spring & pawl kit and jump up to 108pt (3.3°) engagement and the Comp 30 competes for a can't-lose product designation. 
I've been riding the Line Comp wheels on a couple of different bikes since back in November. They've been covered by Bontrager's ultimate all-around tire the XR4 in both the 2.4" and 2.6" sizes as well as the new E*Thirteen LG1r. All these tires are easily popped up tubeless on these rims. 
Just like buying a frame, drivetrain or brakes, the value proposition of these wheels is going to depend on personal preferences and specifications. Personally, if my budget for fresh wheels is maxed-out, I don't think I could go wrong with these wheels for the price. 
If I'm looking at a bike in the 2500 USD to 3500 USD price range my potential rigs definitely include the Trek Fuel EX 7 29, Remedy 7, Fuel EX 8 29, and Remedy 8.* That's because with all other components being equal, for a 20 USD pawl kit update I can't think of a better wheel spec in that price range. 
*All these bikes are spec'ed with Line Comp 30 wheels. 
Can Choose
The Line Comp 30 wheels certainly are not faultless. I've never been at peace with Trek's insistence on 28x spoke wheels, although there are a lot more rim options than a few years ago. The weight is within the ballpark for other 29-31mm internal rims in their price range and there are plenty of 29" wheels with much narrower rims dropping into the same weight and price category. 
I don't notice the weight riding alone, but if I'm out with a fit group on big-money-super-bikes I definitely suffer more on lap two compared to spinning a set of lighter wheels like the Reynolds Blacklabel. That's probably not a surprise. Also unsurprising, the Reynolds are notably stiffer. 
Perhaps more importantly, the Lines are going to require more frequent basic maintenance, and full bearing replacements, compared to boutique mountain bike hubs with similar engagement and riders who are tough on gear will find the rims are on the soft side. 
I've pulled a couple small dents out of the rear rim and I tend to run moderately high pressure. I've had no problem airing them up tubeless to date. I should note that the hard rim strikes happened running fairly light Bontrager XR4 2.4" tires. I've experienced very few notable strikes, and no damage, running the larger 2.6" version of the XR4 and not a scratch with the support and damping of the DH casing LG1r tires.
I'm not suggesting running DH tires for trail bike duties, but a larger volume tire that still rolls fairly quickly for it's grip-level, like the 2.6" XR4 or SE4, is a win for rim survivability if it clears inside the frame. 
Service & Setup
The Line Comp 30 rear hub is ridiculously easy to open up and clean. Anyone who can remove a wheel can upgrade the rear-hub to a 6-pawl setup and likewise cleaning and lubing the pawls is a 1/2 beer job. The evidence is in my first look and teardown piece here.
This is helpful because the rear hub ingests crap faster than any of the pricier hubs I've used with similar engagement. I'll be very surprised if anything on the market can match the ease of service vs. sealing ratio of the Race Face Vault hub but the Bontrager ties for keeping things simple. Over the course of this test, I've opened up the Line Comp rear hub twice to quickly clean and re-lube the pawls and springs. 
The bearings are surprisingly still spinning smoothly. Assuming all bearings are well greased and shielded from the elements, the first to die horribly for me is usually the one inside the freehub where it interfaces with the hub shell and axle. In this case it' hasn't been an issue which I credit to Bontrager for doubling up on bearings in this location. 

The only product I used to lube the pawls and springs is Dumondetech Freehub Oil. I've had great results using it in a few different Pawl-style hubs and highly recommend it for the application. 
Line Comp 30
The Line Comp 30 wheels roll medium-loud. They're not quiet-enough for someone who loves Onyx or Stealth hubs and not loud enough for folks who swear by the screaming metal sound of a dry Industry Nine hub*. Other trail users hear me coming just before I start to slow down, smile, and say hello but no one can hear me the next mountain over.
In the same vein, they're not light-enough or stiff-enough for the rider with the cash and requirements to justify a set of carbon hoops on boutique hubs. But, the budget Bontrager wheels are not going to apologize. 
*record said hub and play it backward at half speed and it still just screams "use some lube you jerk!"
I think the real winners are folks buying the complete Trek Fuel and Remedy bikes with these wheels installed. They're a significant upgrade over the wheels gracing most bikes at these price points and 20 USD away from wicked-fast 3.3° engagement. 

If you want and can afford a higher end package go for it. If the Line Comp 30 wheels are your budget then look no further. More information at your local Trek dealer and here.