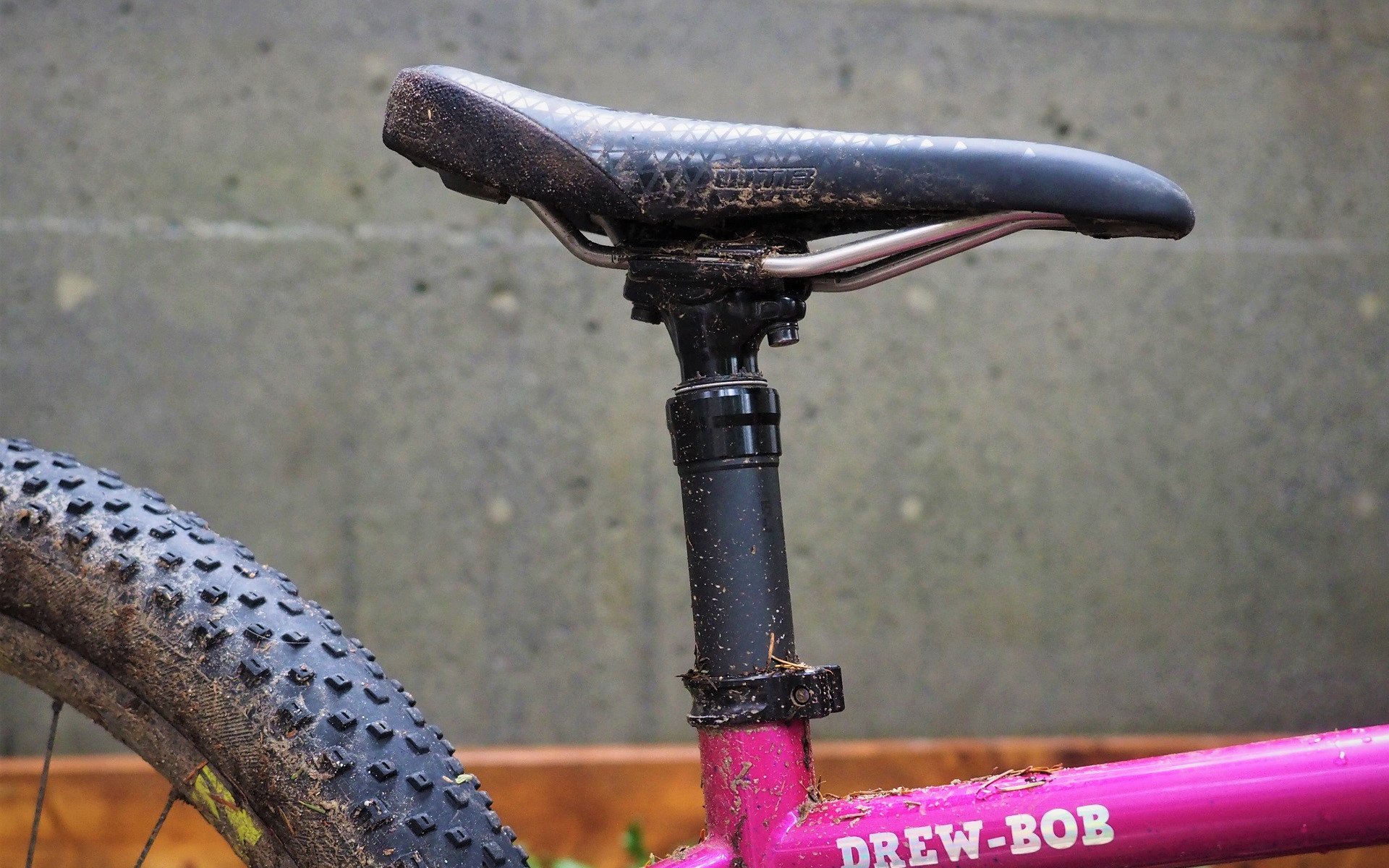 REVIEW
Bontrager Line 150mm Dropper Post Reviewed
The new Line Dropper is a solid choice. The vast majority of rider who purchase this 150mm post will have it come stock on a new Trek Bike. If that is the case I have great news for you. The only reason to spend money swapping it out of the box is to get something with more than 150mm travel. The shifter-style remote is totally serviceable and if that's the worst thing I can say about the post that bodes well.  
Considering how the Line stacks up against other dropper posts, and in particular those in the 250 USD price range, is a bit more complicated. 
 This post has two features that are well tailored to Trek bikes, or to any bike with a relatively slack seat tube angle (STA) or if you need to move forward to get the right fit; travel adjustability and forward offset seat clamps.

If you hate side-to-side saddle slop you will be thoroughly impressed by the Line post. Going back to my much-loved e13 TRS+ post it took me ten minutes to rewire my brain to ignore saddle play. I've ridden posts that are comparably free of slop, but I haven't tried anything that's better than the Line. 

I've used some great posts using a Wintek cartridge, like the more expensive Crankbrothers Highline and the less expensive X-Fusion Manic, and the comparative experience is interesting. 
The Highline is much smoother in the shop, equally easy to service, has a better-sealed actuator, a really solid three-year warranty, an arguably more ergonomic remote, better seat-clamp design, and longer travel option (170mm) but it has a slower return speed and adds a 100 USD premium over the Line. 
I had such a great experience with the Highline 125mm I tested that I purchased a 160mm version the next year but I have to admit that the adequate return speed at 125mm is a bit slow for my liking in the longer travel format. 
The Manic has a more finicky and time-consuming initial setup, due to the cable orientation, but otherwise for most riders it gives up nothing to the Line at a savings of 50 USD. 
Forward Offset
One place the Bontrager Line subtly sets itself ahead (ahem!) is the forward offset of the seat clamps. This is great for riders trying to get a more fashionably-forward position over their bottom brackets on bikes with slacker-than-bleeding-edge seat tube angles (STA) like all of Trek's models. 
It makes me think of how many posts, even those with zero-offset at the head, have a rearward saddle bias. Most riders I see on the trail, even on bikes with steep STAs, are running their saddles forward of neutral in the clamps and Bontrager is the only company I see taking that into consideration with their post design. 
I'm not trying to be uncharitable, since to my knowledge Bontrager is the only company offering a forward-offset saddle position, but what's better than a good thing? More of a good thing. 
I'd like to see Bontrager bias the clamps all the way; as far forward-of-neutral as possible. I do understand the local biases towards steeper seat tube angles and longer reach numbers aren't universal but most folks I know on Trek bikes size up and ram their saddle forward. There are also tonnes of bikes out in the world with really slack effective seat angles and Bontrager could be the go-to dropper post for all those riders.
The Line's ability to be travel-adjusted, using simple spacers under the main seal, could prove great for sizing-up as well since it's possible to lower the travel a centimeter if that's what it takes to achieve a proper fit. It's a feature that is probably meaningless for most riders (who doesn't want all the drop they can get) but I suspect for those for whom it matters,  it really matters. 
What It Needs
Clamp talk aside, there are three things I think the Bontrager Line needs to be a threat on the aftermarket dropper post scene. 
First, Trek needs to drop the street price of the post by 50 USD to go tête-à-tête with the X-Fusion Manic. I'll put in the caveat that the price difference is easily negated if your preferred local shop is great at supporting customers and is a Trek dealer because they have the opportunity to provide unrivaled same-day support for these posts if there ever is an issue 
Another way that Trek could earn my 1/2 c-note is by putting a cartridge bearing in the remote a la Wolftooth or e13. It makes activation much smoother, especially when cable and housing has reached its half-life. 
If I was a betting man - and I'm absolutely just spitballing here - I'd guess for next year Bontrager will have a 175mm+ drop version of this post and they will also have an XC and Gravel 'super light' (SL) model. And I'll also bet that the Line SL post is going to have a carbon outer tube but most weight savings will come from much lighter clamps, which will hopefully be compatible with this Line post and available as a cheap upgrade. What I'm trying to say is the clamps on the Line are porky and would be a cheap place for Bontrager to ditch some weight without any performance loss. 
Finally, Bontrager* could re-examine the bolt orientation on the Line saddle clamps. The exit angle of the Line post means I have to be very wary of tool-shaft contact with my preferred multi-tool. This is less of an issue now that I have swapped the stock bolts for T25 Torx heads, which lets me cheat on the tool angle after I initially loosen the bolts.  
Bontrager could have a look at how e13 handles bolt-orientation on their TRS+ posts. On the TRS I can easily tighten and loosen the seat clamps bolts with any tool I have. 
*And many other brands
Bontrager?
Before this year, the last time I was interested in a Bontrager product it was a steel hardtail frame on the wall at a shop called 'Mountain And Beach' and I wasn't old enough to qualify for a driver's license. Turn the page and I've had great experiences with a couple of their new tires, for example, the SE2, the best-value-in-the-world Line Comp wheelset, the 100 USD Ion Pro light, and yes the Line dropper post. 
Most riders who end up on this dropper will get one as original equipment with their new Trek bike and they'll get a very functional, well supported, travel adjustable 150mm dropper post that's proven to be very reliable. 
For aftermarket I think Trek needs to use their massive purchasing power to bring the price down a few dollars but otherwise, the Line dropper is an excellent product. 

Trek has more information on the 250 USD Line and I also did a teardown previously.