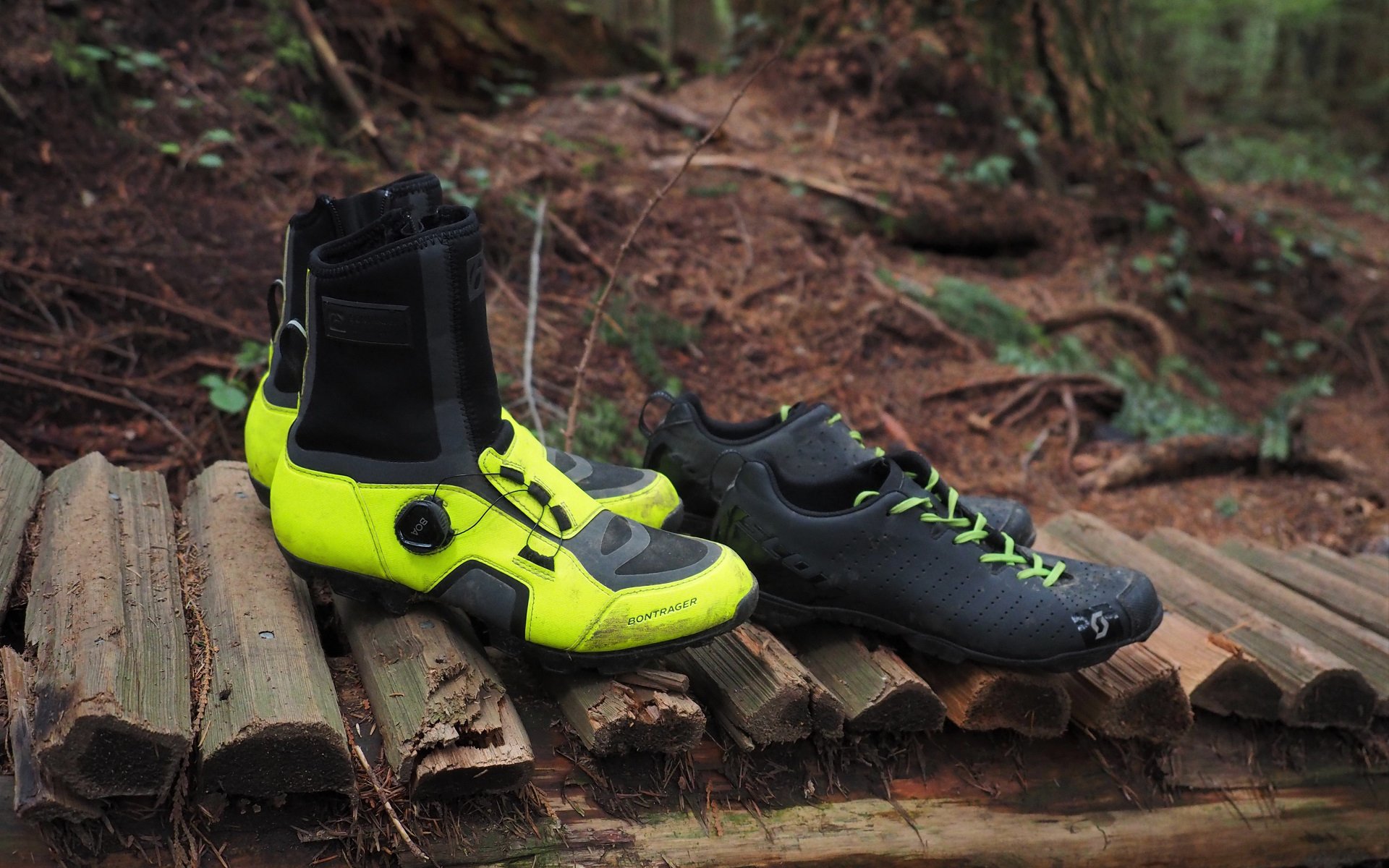 Two Shoes Reviewed - 1 Winter 1 Summer
Bontrager JFW Winter Boots & Scott MTB Comp Shoes
Same-Same But Different
I've been on the Scott MTB Comp Lace shoes since May 2018. They were becoming my go-to shoe but a dumb trail building injury in early summer put me on flats and delayed this review. I'm going to mention it about fifteen times in this review in the hopes that other shoe manufacturers are listening, but of all the great things about this shoe, there is one feature that is the absolute best-in-class, with that class being every clipless shoe on the market I've tried.
It's the cleat pocket, baby. Is there a mountain biker alive that uses the forward 50% of the cleat adjustment on their shoes? I'm still running my cleats slammed back with the Scotts but they make me want to start cutting channels or drilling holes in all my other clip-in footwear.

Is this critique skewed by personal preference? Sure. But even if the average rider likes a cleat position forward of where I'd like to mount mine, can we still agree that the average position, call it the centre position, should be rearward of where most companies place it? Just once I'd like to try on a pair of clip-in shoes, mount the cleats fully rearward, and go - wait, nope, I need to move this cleat forward.

I realize that's some pretty brutal foreshadowing of my number one issue with the JFW boot but, despite this, I still reach for the Bontrager mid-winter boot every time it's pissing rain or particularly cold.

It may look like I'm trying to review a Trophy Truck against an Indy Car, but that's not how I look at it. To me, the combination of the MTB Comp Lace and Jack Frost Winter (JFW) complement each other well for year round riding conditions. Fit is very similar (EU 43) with the JFW's adjustable volume allowing for a greater range of sock thickness options while the Comp Lace's stiffer upper offers a racier feel hammering out of the saddle with summer fitness.

Both shoes have essentially identical sole stiffness riding or hiking, with hiking being surprisingly comfortable for how XC-Race they show. I used the shoes with multiple pedal systems from Shimano, LOOK, Time, and Crankbrothers., some with massive platforms and others with none.
Jack Frost Winter
Bontrager's 'Radioactive Yellow' foul-weather shoe is listed at a range of 25 to 40F or -4 to +4.4C. For those with extra-cold tootsies or riding in sub 0°C conditions, Bontrager has their Old Man Winter (OMW) boot with a rating of 10F to 25F or -12 up to -4C. The volume is so adjustable I can comfortably pedal in anything from a bulky pair of Showers Pass H20 shocks to my thinnest pair of NSMB wool socks to further extend the temperature range.
I mention the OMW as it claims a 100% waterproof upper and thus, combined with waterproof pants, brings forth the option of a system that is virtually sealed with the only potential moisture being sweat soup. The JFW is not a completely waterproof shoe and doesn't claim to be. Generally, by the time my boots are wetted out so is the rest of my gear but it's worth noting that it isn't just a matter of water coming through the top.

When it's really cold and pissing I'll sometimes wear my waterproof socks inside the JFW for a better wet weather combo but otherwise I find, as with most 'waterproof' clip-in boots, my feet are getting wet with sweat from inside if not rain from outside.
I run hot, and highly recommend the JFW for similarly sweaty riders. If the issues I have with cold hands stretched to my feet I'd be looking to the OMW for those North Shore days and nights when the wet seems to penetrate all barriers like a phantom through walls.

I let the shoe out of the box on my one big criticism of the Jack Frost Winter. I should qualify my comments here because the JFW cleat pocket is by no means Euro-forward XC-oriented. In fact, it matches shoes from Lake, Mavic, and Shimano that I've said very positive things so, while it may seem I'm singling out the JFW, this critique applies to many shoes currently on the market. I mainly notice the more-forward-than-I'd-prefer cleat position while descending. I've been riding flats a lot lately and the Scott shoes put me in a position where I can drop my front heel a touch, raise my rear heel a touch, and shred. It's simply more fun. Until my feet get cold...

If Bontrager would shift the cleat pocket rearward 25% I'd have nothing to complain about. I should probably also mention that a number of folks who've asked me about the shoes were turned off by the single bright colour option but I do enough road miles that I appreciate it.
Despite my one criticism, for winter riding on the North Shore I haven't come across a shoe I like better, after riding Shimano, North Wave, Specialized, and Mavic boots. They have an intelligent balance of hiking versus riding stiffness, they're surprisingly grippy and comfy shoes for long off the bike adventures, and they've proven very durable even considering how often I rub the inside on my crankarms. For locals hanging the bikes up in the winter and those living in balmier locales, it's a hard expense to justify, but even with our relatively dry winter I've been regularly appreciating them.

They're available in full sizes from 36 to 48, usually for around $199 US.

Then I remind myself I'm only racing to my next coffee or beer and I'll probably run out of gas or courage at some point and do some walking.
Scott MTB Comp Lace
Have I mentioned how good the rearward oriented cleat pocket on the Scott MTB Comp Lace shoes is?
Other excellent features include offset laces that magically negate all hot spots that my weird feet sometimes get in other shoes (lace, ratchet, BOA, etc), wicked durability of the sole given how much hiking I've done in them and the fact that the rubber is soft enough to traipse across greasy logs I'm too chicken to ride.

I have a strong preference for lace-up shoes, although my hands appreciate the JFW's BOA when they're cold and an adjustment is needed, and Scott does a great job with a very adaptive fit. It's not surprising really since the MTB Comp Lace shares a pattern with their deluxe MTB RC lace shoe.
Occasionally when I'm riding strong and tackling a mean climb out of the saddle I wish I was riding the MTB RC's to which Scott assigns a rating of '9' on their stiffness index compared to the MTB Comp's rating of '6'. Then I remind myself I'm only racing to my next coffee or beer and I'll probably run out of gas or courage at some point and do some walking.

Descending stiffness is never an issue because that aforementioned cleat position positions me perfectly over the pedals.
Like the vast majority of cycling shoes that are not Specialized, the Scotts come with a really crappy basic insole. With some shoes, it doesn't really seem to matter - Mavic's Deemax or the Bontrager JFN for example - but for me inserting my regular insoles made a big difference to all-day comfort.

I've been running the same old Specialized BG ++ Blue insoles (their medium in terms of support) for years and they worked great in the Scotts. Apparently, these things are supposed to wear out and I haven't compared them to freshies but they seem to have lots of life left to me. Pretty solid return on investment. I've also run the SQLab 215 insole, which is their medium, and it's great as well. Both Specialized and SQLab have folks in place that can help choose the amount of support you need if your feet are looking for an upgrade.

Scott's top-end shoes, like the MTB RC Lace, include the adjustable arch support Ergologic insole. I haven't tried the system, but given Scott's cost to equip it up front versus buying an ergonomic insole aftermarket I'd love to pay a some more bucks up front and give it a shot.

With the shrewdly universal cleat pocket, offset laces, balanced sole stiffness, fairly grippy sole, and quality construction, the 120 USD price for the Scott MTB Comp Lace is a bargain - even with an extra $30 for insoles. They are available in whole sizes from 38 to 48.