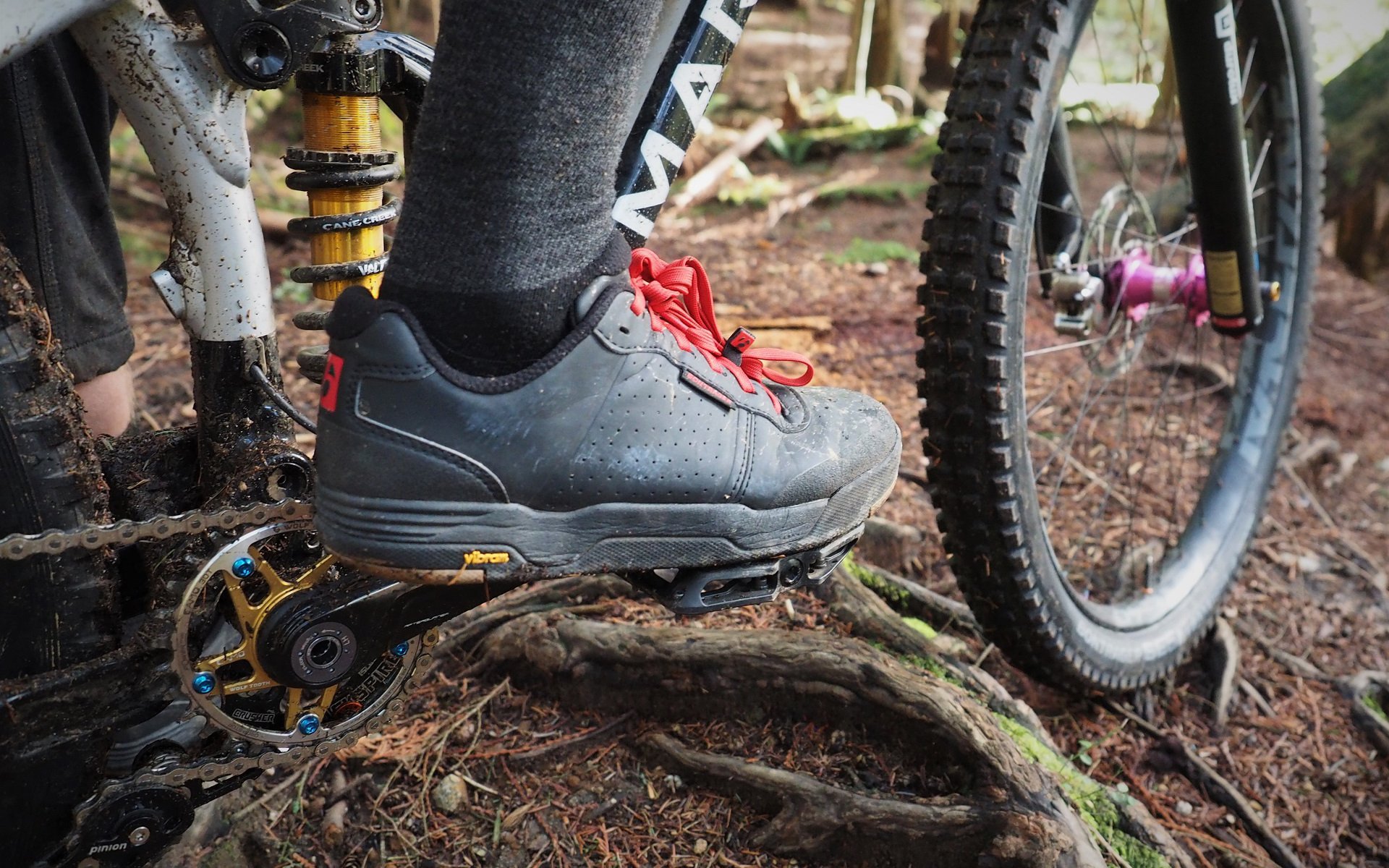 TWO-MINUTE REVIEWS
Bontrager Flatline MTB Shoe
Flatline Facts
I can take all the flat pedal shoes and divide them into two categories: Shoes that are trying to be Five Tens and shoes that are not trying to be Five Tens. The first category is clearly dominated by Five Ten and their legendary Stealth rubber, although there are some interesting upstarts moving on the category.
The second category, home to the Bontrager Flatline MTB shoes, is distinctly more interesting given the many different takes on the ultimate shoe.
I'm not a Five Ten man myself - my knees like a bit of float - so my ultimate comparison is to put the Bontrager meets Vibram Flatline up against the Shimano and Michelin collaboration GR7.
The Flatline forgoes the eyelet reinforcement of the GR7, but its eyelets' oval shape combined with flat laces has presented zero wear issues. I appreciate the Shimano's neoprene cuff, but I do like the more casual look of the Bontrager.
Pedaling uphill, the Bontrager has a firmer sole and does a great job of transferring my effort. It's not quite as firm as the Pearl Izumi Alp-X Launch but it's still a fantastic candidate for folks riding longer distances or single speeds on flat pedals.
Also like the Alp-X, the Flatline is a shoe that works better with some pedals than others. Any pedal that falls into the 'it only works well with Five Ten shoes' category isn't a great pair with the Flatline, especially in the wet.
I very much enjoyed the Bontrager Flatline. Forced to choose, I'll still buy the GR7 for the perfect mix of traction, flex, and easy re-positioning of my foot. That said, for longer rides I'm generally clipped in. As soon as I'm doing long rides on flats, trail or cruising, the Flatline is my first choice.
For riders who prefer something stickier when it's greasy and are riding flats year round, consider Five Ten shoes for the wettest winter months, and then choose the durability and extra sole stiffness of the Flatline for the drier parts of the year.
For more information on the 130 USD Flatline check them out at your nearest Trek dealer or online at Bontrager.