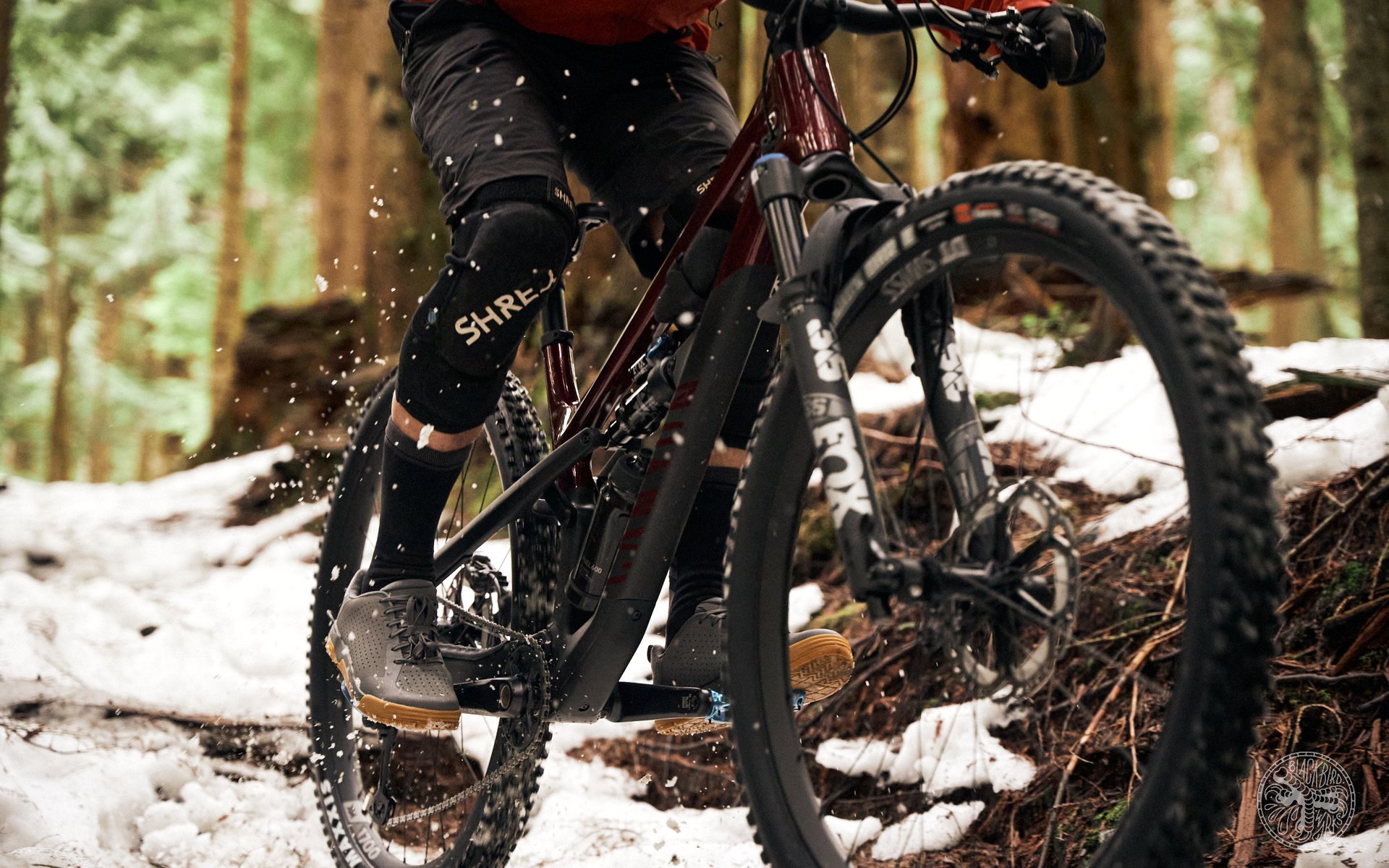 REVIEW
Bontrager Flatline Flat Pedal Shoes Reviewed
Back in the days of flashy product launches, Trek invited me to Moab to ride some new bikes. I was actually sick with the swine flu beforehand (aka H1N1 - a pandemic teaser) and I had to cancel. Miraculously I woke up in time for my early morning flight and my fever had broken, and goddamnit I was going to Moab. The marketing manager at the time told us there would be shoes for us to try, either for clipping in or for flat pedals. I was right to be skeptical of anything that wasn't made by Fiveten in those days, but even more so in this case. His solution for flat pedal riders was to take the clipless shoe, but leaving the removable part of the sole in place.* Trying to negotiate slick rock exposure wearing a circa 2010 Bontrager shoe made for SPDs is probably a lot like skiing without bindings. Thankfully I pulled out my Impact Pros for my red rock experience and life was grand.
*Early clipless shoes often came with a perforated outsole covering the cleat pocket that needed to be removed before cleats could be installed
Based on that, and some other experiences, Bontrager hasn't ever been on my flat pedal radar, but I'm also aware the company produces some very good products, so let's say I was cautiously pessimistic. This feeling wasn't helped when I noticed a tiny transparent sticker on the sole with white letters that read, "MEGA GRIP." All I had to do was push my nail into the rubber to realize this was unintended hyperbole. This didn't necessarily rule out the shoes for my use however. Since my return to flat pedals a couple of years ago* I have come to prefer a less sticky sole as long as I'm using high grip pedals. And I always use high grip pedals. These are Vibram soles though, and I haven't had luck with that brand's forays onto the soles of Shimano mountain bike shoes in the past. Those were a ridged design however, and shoe makers are beginning to realize that fewer is more when introducing recesses into the shoes of flat pedal outsoles.
*Or 4? I confess that COVID has made me lose track of time. Or accelerated that process.
I confess that during the first few rides I didn't actually pay much attention to the performance of these shoes. I knew I had to test them so I laced them up, but my low expectations kept me from registering anything positive or negative. And then I realized that registering negatives doesn't require active attention; when I wear shoes that suck I'm made aware by being launched into the salal, slipping a pedal and amputating large chunks of calf flesh, or simply being terrified any time things get steamy. Instead I performed just fine. I would choose my regular shoes, either Specialized 2FO Roost orFiveten GTX Trailcross GTX, depending on the weather, for particularly challenging rides, and the only thing I noticed was struggling more to get my feet aligned with the Fivetens and a wee bit with the 2FOs. And then I realized it was time to pay attention.
Awareness can be a murky mess when you are performing a task that is at the edge of your ability and also exposes you to grave peril. Focus comes from the lizard brain's desire to keep making tiny lizards, and systems that don't pertain to surviving the current task are shut down temporarily. This tendency has been selected for over time because our forebears who exhibited this focus survived at a higher rate than individuals who continued to wonder about cloud shapes while being chased by a mastodon. This may explain why I could only tell you about brakes and pedals after a ride in the early days, and my comments about each were binary; they were either good or bad. As I've spent more time learning to pay attention to subtleties, like rebound damping, wheel stiffness, and frame resonance,* I've become much better at tuning my attention to one thing at a time, but other than brakes or pedal interfaces that are subpar, I have to flip a switch to become actively conscious of the donglehickey I happen to be evaluating.
*just high five for those of you still paying attention
When I was able to tune my attention to pedal grip, I began to realize it was exceeding my expectations. In fact, the shoes seem to grip almost as well as their stickier competitors, but without the downside of complete immobility. Wearing the Bontrager Flatlines, I'm able to reposition my feet either seated or standing, and even in stressful situations. Wearing Fivetens I regularly find my pedal either too far forward or rearward, and sometimes outward. In the worst cases there can be problems on both the X and Y axis, and I'm powerless to rectify the situation until the weight of my ass on the saddle allows me to unweight my feet.
In other respects, it's clear this is a well-made shoe with solid attention to detail. These are some of the few shoes I've worn lately that can be pulled tight easily without having to tug at the top three or four eyelets and they loosen just as smoothly. I'd rate the sole stiffness at medium but the construction does enough to balance feel while insulating your foot from impacts admirably. While it's early, the visible wear from pedals and walking is virtually nonexistent. I wouldn't expect to see major wear at this point, but I can only find a single spot on the sole of the left shoe (my front foot) where there is any pin damage at all, and it's minor.
Product Details (provided by Bontrager)
inForm Performance last offers a relaxed fit for more comfort on the bike and more utility off the bike
Uniform tread pattern provides consistent, predictable interface between pedal and outsole
Directional tread at toe and heel gives off-bike scrambling traction, uphill or down
Shock absorbing EVA midsole
Durable, synthetic leather upper
I'm leery of gushing about any product I haven't lived with for at least a year, but so far these are excellent flat pedal shoes by every measure I've evaluated. I can't tell you about warm weather ventilation just yet, but there are perforations scattered around the entire upper, aside from the tongue. While I can't yet say these are the holy grail of mountain bike shoes, like you've been given a switch that turns grip on and off, but for me they seem to strike a very nice compromise, at least on dry days. Moisture adds enough lubrication that I think I prefer something a little gummier when it's pissy out, but the Flatlines didn't fail that test either; uber sticky soles can simply lose some traction and still have lots left. What I'm trying to say is, I really like these shoes despite my preconceived notions and absence of expectations. They aren't in the discount bin however, with an MSRP of 130 USD and 190 CAD but shoes seem to be a category where you get what you pay for.
I'll report back if I have any revelations about durability or construction quality down the road.