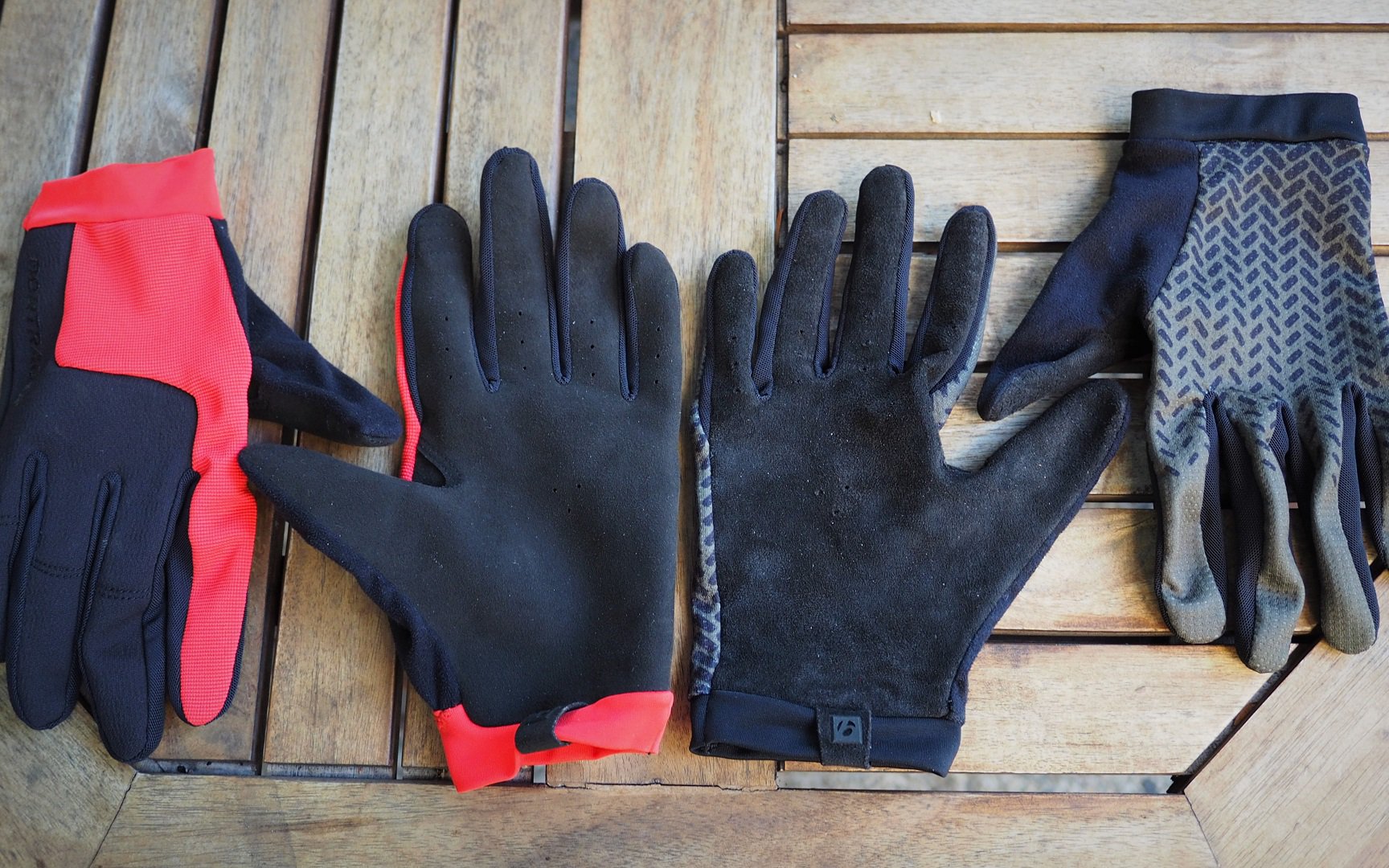 MANO a MANO
Bontrager Evoke VS. Rhythm Gloves
VS. Quantum
Trek dresses riders from helmet to heels but with the litany of companies out there making full fingered mountain bike gloves I get that their Bontrager brand may not immediately come to mind for many riders. I mean, I can easily rattle off twenty glove brands without having to pull out old obscurities like Rip 'n Hammer and I'm sure my list is far from exhaustive.
My experience has been a little bit different. I've been riding a pair of Bontrager's 25 USD* Quantum gloves for a few years now and they're the baseline that I compare other gloves against. They are lightweight and breathable, with excellent manufacturing quality, at a reasonable price. I wash my gloves after every ride and I couldn't estimate how many times these Quantums have been put through the machine.
Fit is personal, but where I find myself in between most brands' large and medium gloves, the Quantums are my unicorn. I can just squeeze my hand in through the wrist port* of the medium and otherwise it fits like *cough* a glove.
For me the offer to test out the latest Bontrager glove models was an easy yes. Here I'm putting their lightweight Evoke and protection-focused Rhythm gloves up against high the expectations they created with the Quantum.
*Huzzah! No Velcro!
Bontrager Evoke
The Bontrager Evoke is a perfect two-to-four season Shore glove for me depending on whether I'm running aluminum or carbon lever blades, the pace of the group I'm with, and the volume of precipitation.
A thin and surprisingly soft one-piece palm joins an ultra-breathable knit back hand. They somehow manage to be even lighter than the Quantum and the stitching quality on the minimal seams looks great even after dozens of washes.
Comparing size medium gloves, they fit almost identically to my well worn Quantums. I think that comes down to the different palm materials with the Evoke being much softer but less stretchy. They also represent a significant price jump with a 40 USD price tag - a 60% increase in price compared to Bontrager's past lightweight model.
Frankly, the price difference is really a wash if these Evokes survive as many outings & cleanings as my Quantums. And, they do feel like a much nicer glove when I pull them on thanks to the so-soft polyester-spandex palm.
I've ridden them with my favourite Renthal Ultra-Tacky Push-On grips and a pair of Ergon GE1 grips in wet, dry, and sweaty-as-hell conditions and the grip is excellent.
I have a decent collection of gloves and these Bontragers are one of the pairs I take on every ride.
The Bontrager Evoke is available in both men's and women's sizing in a range of colourways.
Rhythm
The Bontrager Rhythm glove is a different experience. It uses a thicker palm, dubbed AX Suede Quattro vs. the Evoke's AX Suede Uno, which is still surprisingly supple but feels more vague than I'd normally say I prefer. Interestingly, since temperatures have dropped a bit for fall and the wet weather has arrived I've been wearing the Rhythm on almost every ride.
Where the Rhythm gets interesting is the padded backing protecting the knuckles on the pinky, ring, and aggressive-communication fingers. On a warm day, my paws get a lot toastier then wearing the Evoke but I can say for certain that the padding, dubbed PORON protection, does a great job of damping tree taps while remaining very flexible.
I'm an armour minimalist and I haven't truly smashed a pinky in a long time but I can certainly imagine a customer for these gloves although I'd prefer them at a lower price point than 55 USD.
Unfortunately, the Rhythm is the antithesis of the Evoke and Quantum, in more ways than just the palm thickness and warmth retention. Flip them inside out and the stitching quality is comparatively crap with plenty of uncut ends and some missed insertions. I'd be shocked if they came out of the same factory.
I was prompted to look more closely at the quality of the Rhythms after both gloves failed on me, in the same spot, on my first ride. The thread didn't break but rather there wasn't enough material overlap where the terry cloth thumb meets the stretchy wrist band.
In my experience Bontrager stands behind their products and these would definitely be covered under warranty - no questions asked - but given they both failed in the same spot and the general quality of the manufacturing I'd take a really close look and try them on hard a few times before buying a pair.
My sewing ability is awful at best; however, set against my hate of tossing gear that's repairable I stitched these gloves up and they've been reliable since - including multiple trips through the wash - and the stitching is holding together fine everywhere else.
My handiwork has been holding up great and I've worn the Rhythm on every ride since the rains arrived. Not because of any water resistance but they interface very well with the Silicone grips I've been testing and I like the extra protection. I'm looking forward to continuing to test them now that the trails are greasy, and random off-the-bike moments are more common.
They're available in men's and women's sizing in both red and black.
Evoke VS. Rhythm
The most remarkable feature, in comparing all three pairs of Bontrager gloves I've spent hours in is how consistent they get the fit from one pair to another. All three pairs of mediums fit pretty much identically. I've had multiple pairs of gloves from other brands and sometimes within a single model bought in the same year that's not true.
For my glove preference the Evoke is the obvious winner. They have the fit and features of my much-loved Quantum only with a significantly nicer feeling palm (comparing fresh gloves). If they last as long then I think they also present good value.
I'm disappointed in the quality of these Rhythm gloves, especially at 55 USD, but after five minutes with a needle & thread they're holding solid, I appreciate the concept, and they've become my go-to this fall.
There are plenty of brands trying to sell a glove that offers protection for those vulnerable little finger bones without compromising flexibility and on that front the Rhythm is a winner. The padding notably dampens impacts.
From my saddle, the Rhythm glove would be better combined with the thinner palm of the Evoke. Both palms are very soft to the touch but I miss the airy compliance of the Evoke when going back and forth.
A rider who prefers a thick palm that will wear in and is interested in knuckle protection without sacrificing the flexibility of their glove could do very well with the Bontrager Rhythm assuming they give the gloves a solid pull on the wrist cuff and otherwise inspect them thoroughly.
Any rider who likes a thin, breathable glove, would do well to check out the Bontrager Evoke. Quality is excellent, the palms feel awesome, and based on my experience with their previous Quantum model they should provide the kind of life that makes them an excellent value.
For more information you can check out Bontrager's full fingered glove lineup here (many of which are currently on sale), and of course please post any questions below.