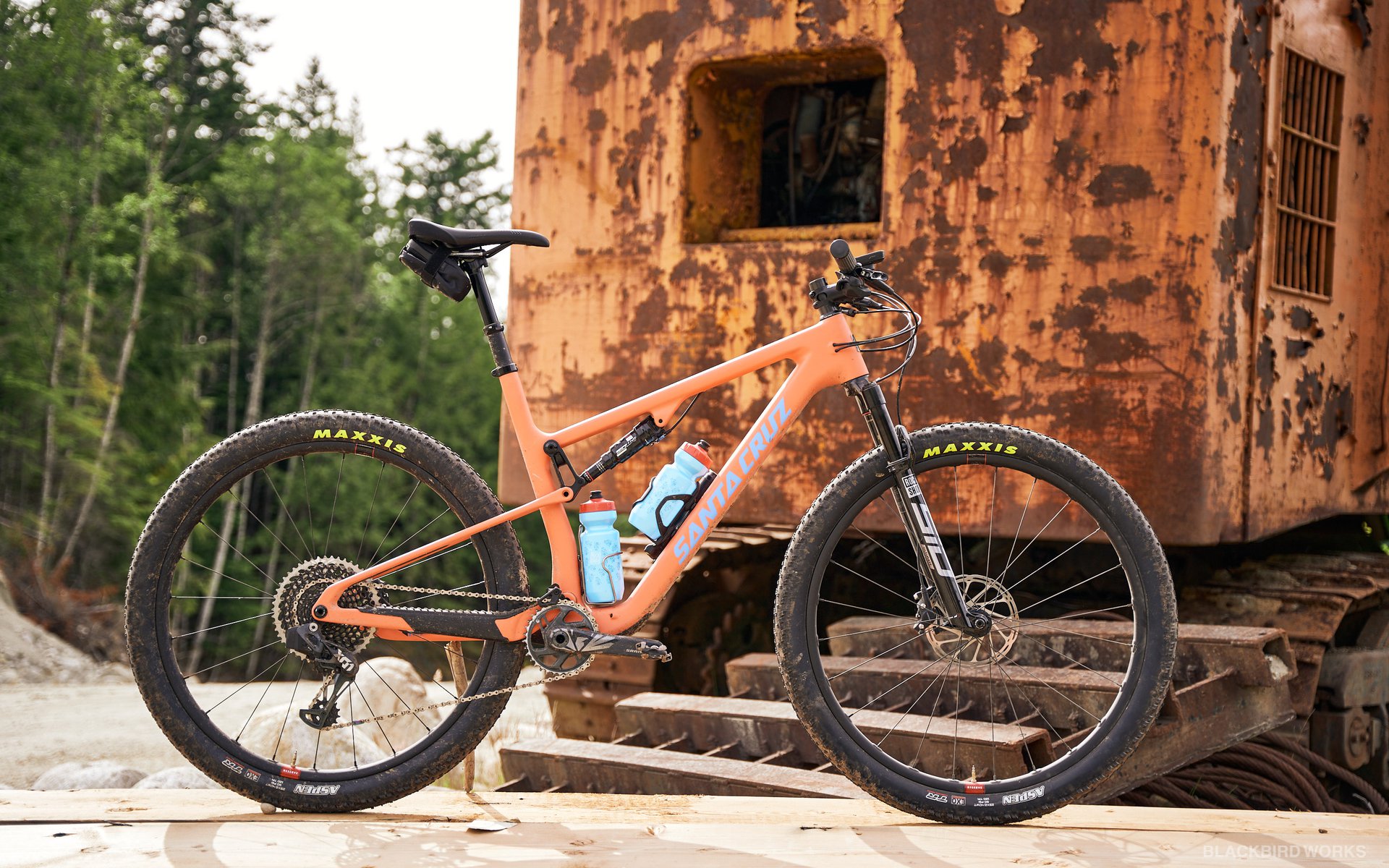 FIRST LOOK & RIDE IMPRESSIONS
Blowing Minds: Santa Cruz Blur
When NSMB got started way back in the first summer of this millennium, XC bikes were not a part of the formula. Sure, many of those involved had recently owned or ridden XC bikes, but that wasn't what NSMB was about, because that wasn't what the North Shore was about, and that wasn't the kind of bike or trails we were all riding. Over the years, we've hemmed and hawed about cross-country bikes. Do we cover them? What about World Cup racing - especially when there's a Canadian doing well? Are we stupid for leaving such a huge category untouched, or do we follow our noses and leave those leg-shaving roadie wannabes to their own devices (Strava)?
Until now, we didn't have to wrestle too hard with those questions, because none of us were particularly tempted by XC bikes. Of course there have been lots of chances to ride and test them, and lots of impressive bikes brought to life over the years that we appreciate...but none we wanted in any of our respective garages*. That all changed earlier this year when Santa Cruz chap-at-large Seb Kemp called to ask if I wanted to race BC Bike Race this year on a new bike they were releasing? Seb knows I've been wanting to do BCBR for years, but I'm no racer and the summer schedule is busy...year after year I half-heartedly declare my intent, and then whole-heartedly find a way to weasel out of committing to it. Without knowing it, Seb has called my bluff and it turns out I'm sitting on pocket aces. I think.
Before that phone call, had I been pressed to choose a bike I'd want to race BCBR on, I'd say something like Santa Cruz Tallboy, or Rocky Mountain Instinct, or Trek Fuel EX...there are tons of options, but you get the idea, right? Light duty trail bikes. And that's because my experience and comfort level on mountain bikes starts at about 120 or 130mm of rear wheel travel and goes up from there (hard tail and road bike dalliances notwithstanding).
BC Bike Race + Santa Cruz Blur = ...?
But the more I thought about it, the more it made sense that I should ride BCBR on a cross-country bike (especially if it was one that handled well). I'm not a small guy - especially by XC race standards - at 6'1 (185 cm) and 190 (86 kg) - and I'll likely lose a few more if I can avoid drinking too many Salted Lime Lagers from La Cervezeria Astilleros, but even now that's lighter than I've been in recent years. I don't race because I'd rather ride for fun with buddies and drink beer, although like most aging guys I have an illusion in my mind of how fit or fast I 'could be if I just trained'. As someone who will be comfortable on the terrain the BC Bike Race covers aboard just about any bike, but could use every advantage I can get on the climbs, it makes sense to elevate my floor rather than trying to raise my ceiling. Right?
Maybe I'm wrong, but the fact is I'm not trying to be a fast guy, I just want to have a good time with a bunch of other MTB sickos for 7 straight long days on the bike, and having the right tool for that little bucket list-ticking adventure sounds like a good plan.
Ok then, Seb, I'll do it.
*Can we get rid of the word quiver asap, please? Once it's been used more than a handful of times in bike reviews, it's dead. Quiver killer thus died in 1999 and if you use or believe in that concept, you're my enemy because n+1 for life, but I think it's about time we assassinate quiver as well.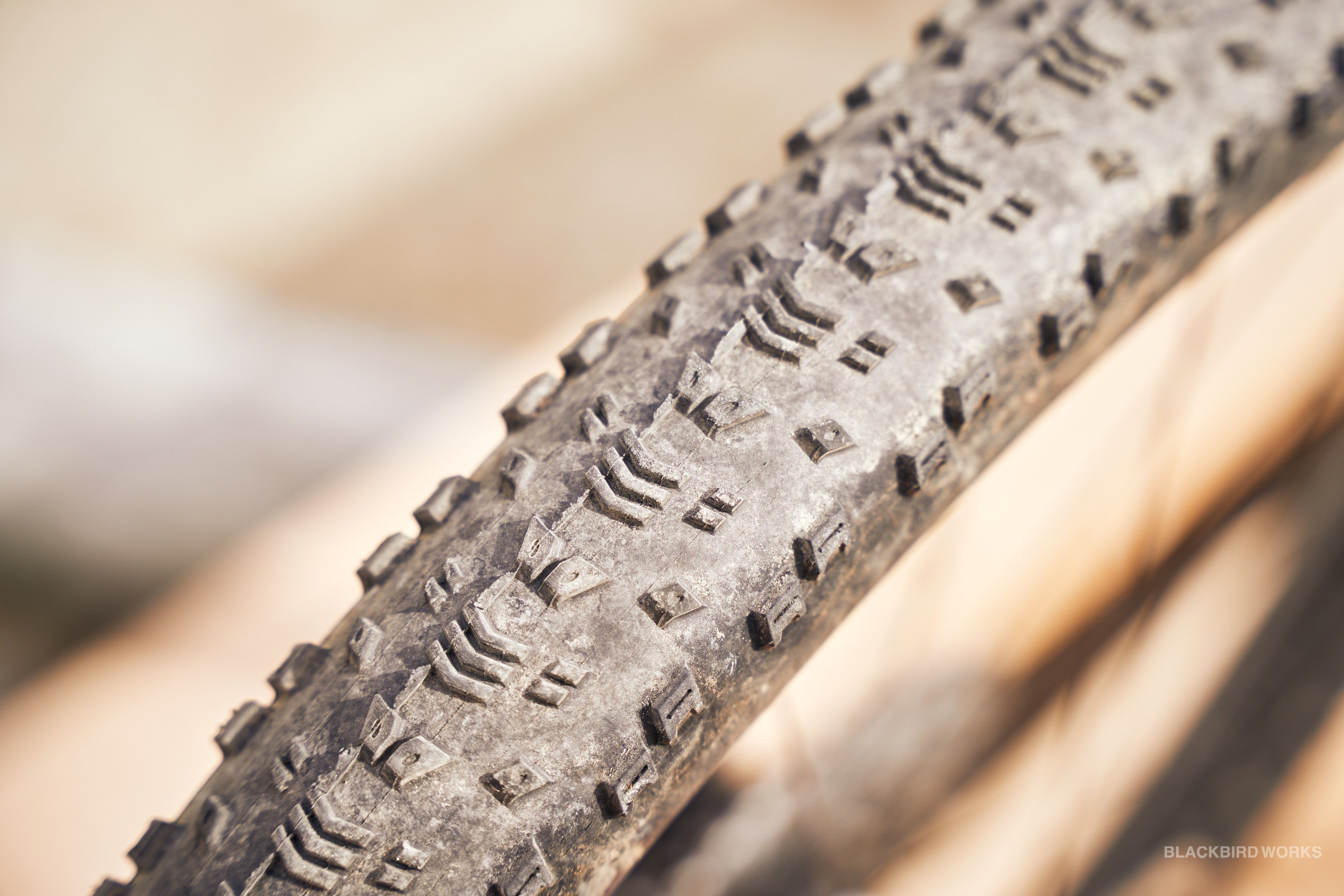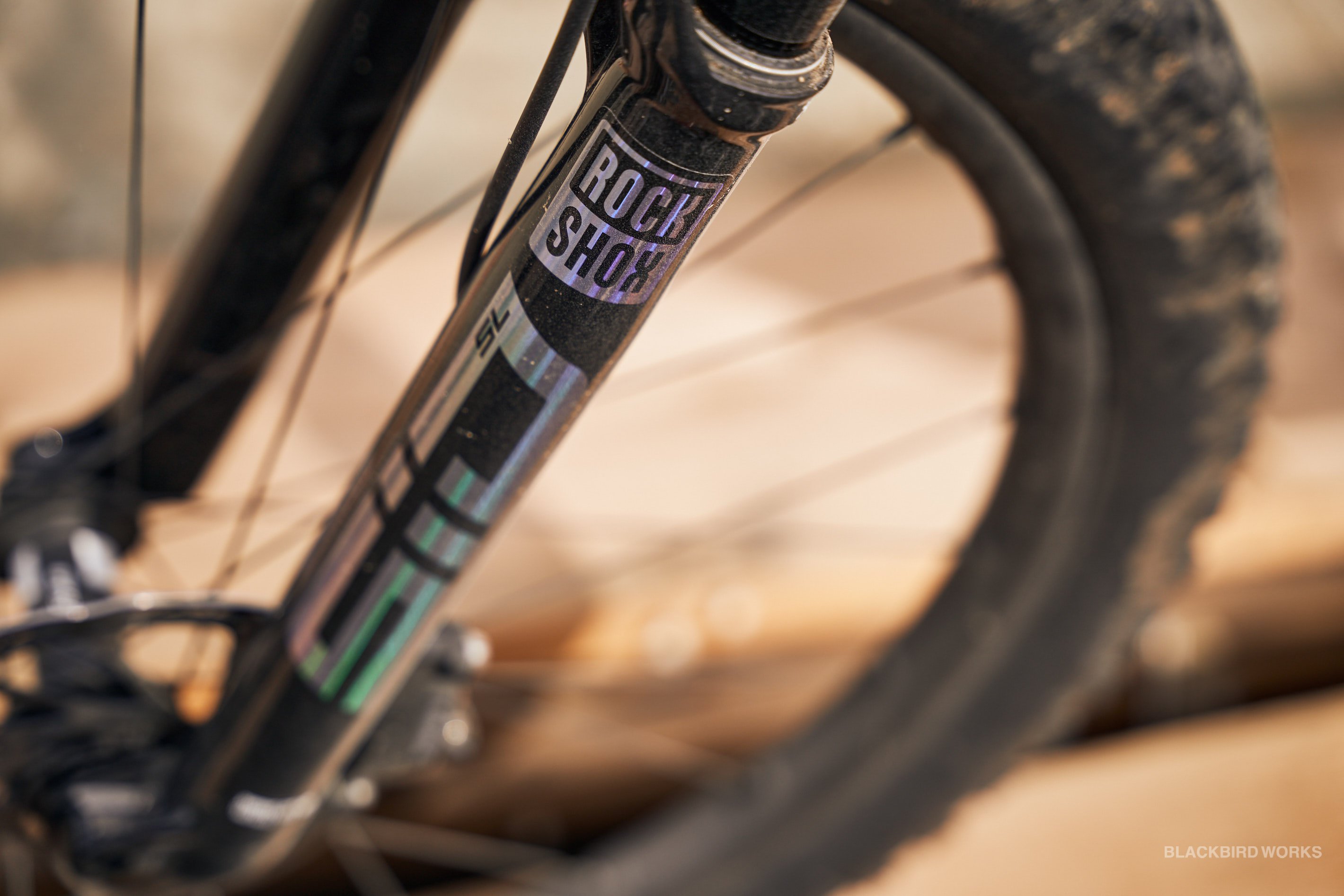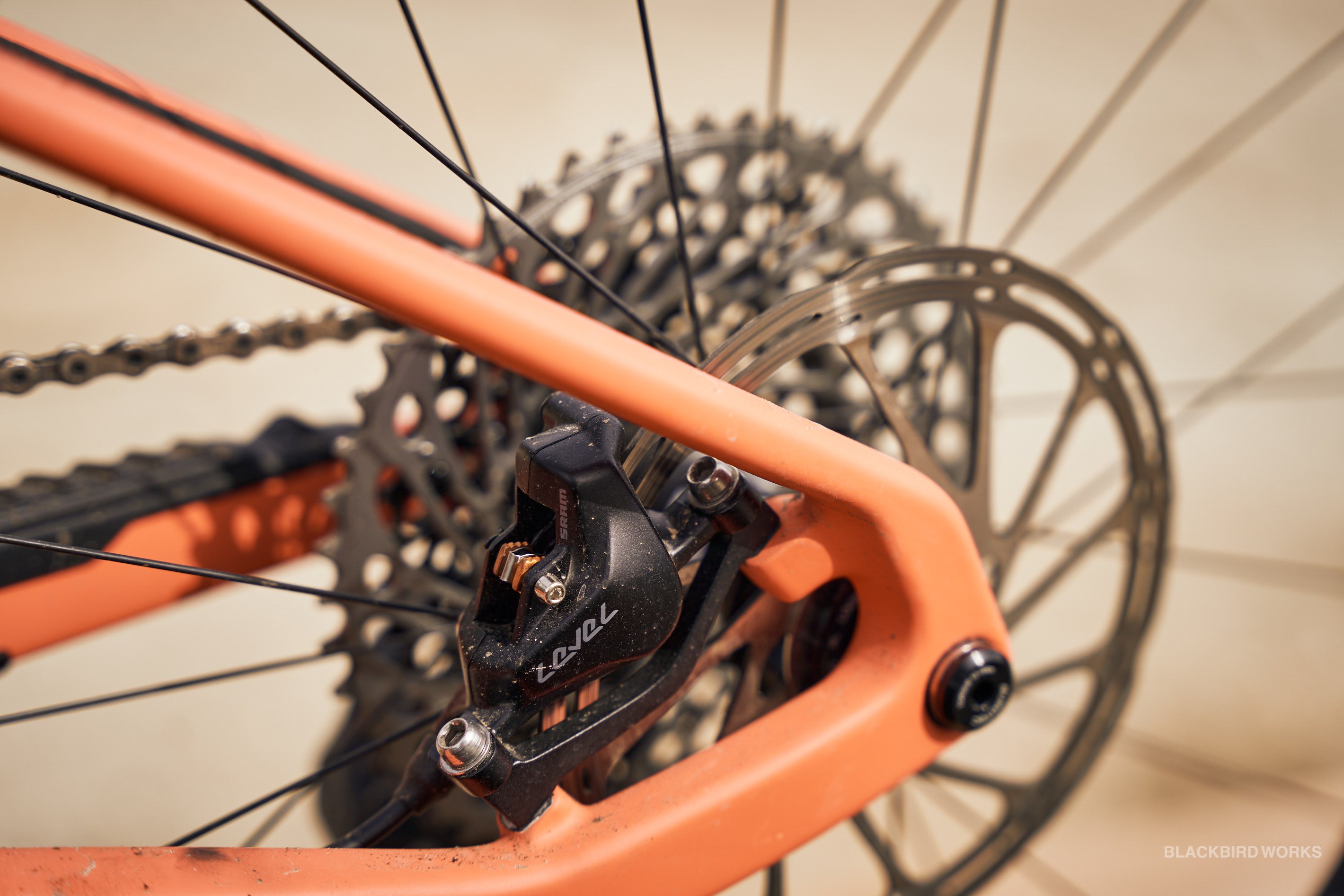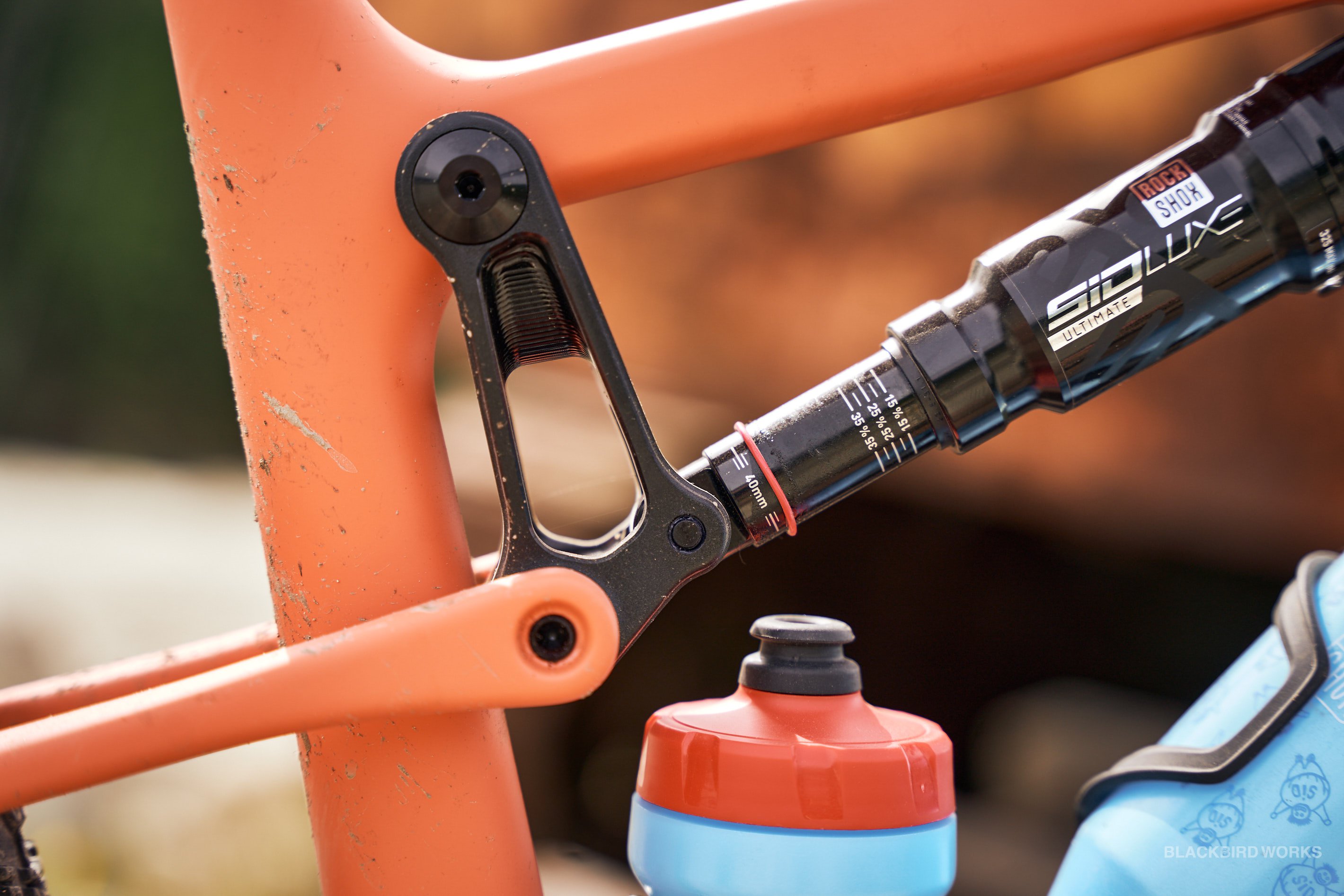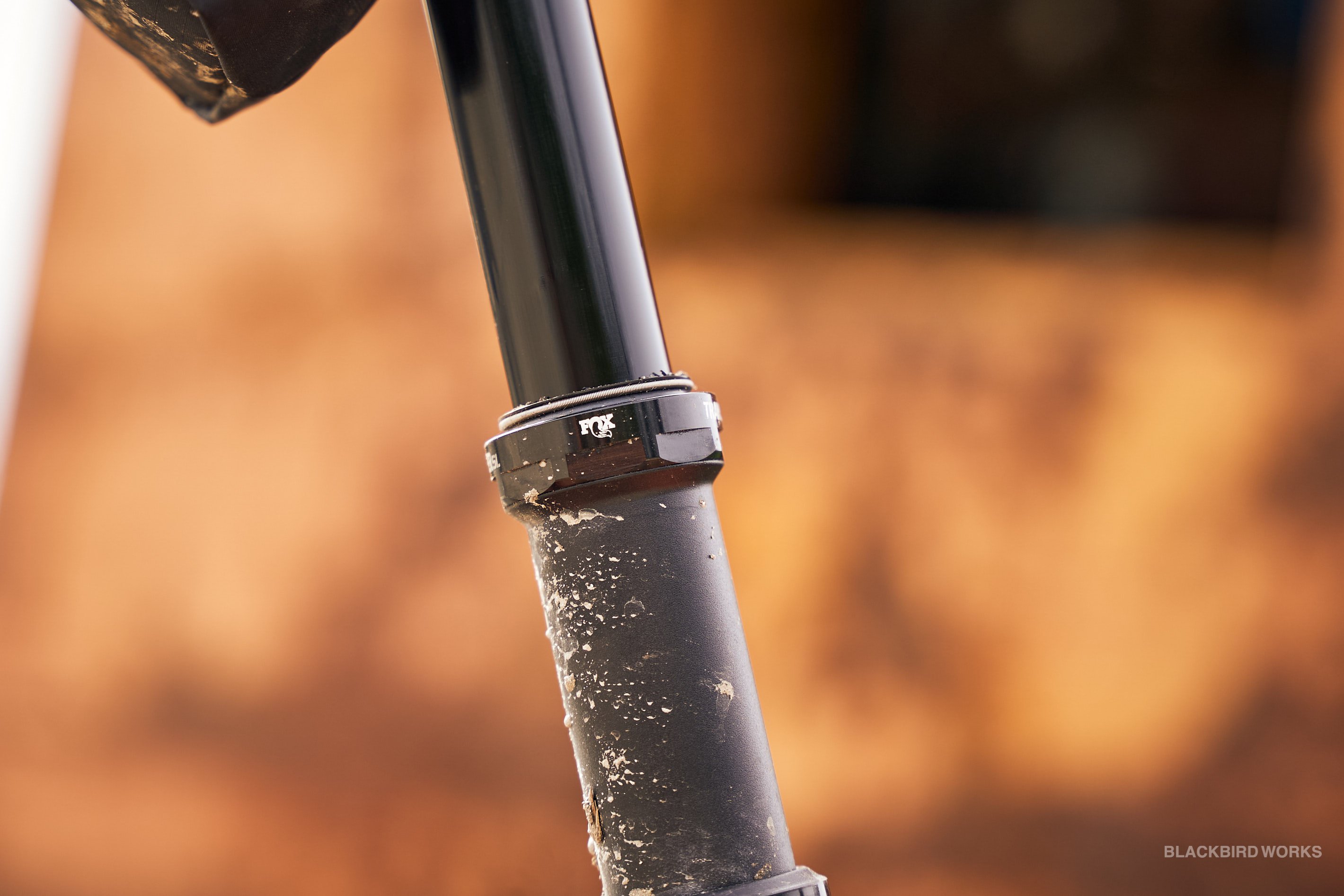 The Santa Cruz Blur
Look, there's a lot going on with this bike, which surprises me to write about a XC race bike, and usually our First Look format means we spend a lot of time on a bike's details, geo, and spec so we can leave the qualitative stuff for the review. But the new Blur and Blur TR launched on June 1st, and our test bike arrived something like 2 days before that (thanks, Covid!) - which was also about 10 days after I finished a move from North Van to Sechelt on the Sunshine Coast (not on Vancouver Island, by the way - even BC locals get that wrong - although you do need to take a ferry to get here). So, believe my excuses or not if you want, but the info is out there and you can also find complete Santa Cruz Blur specs and pricing here, and geometry here. Instead, let's do our own thing and pretend we're having a beer and talking about bikes and the terrifying prospect of the BC Bike Race being your first race (other than the occasional half-hearted North Shore Ripper or Enduro) in more than a decade*.
*and really, I'm just saying that. I've never really raced XC. I've done stages of BCBR, and I've gone on long rides with very fit jerks who are clearly trying to use their legs and lungs to assassinate me, but actually strapping a plate to my bike and getting after it? Nope.
2021 Santa Cruz Blur Highlights
Two configurations: XC and TR - differences explained below
Santa Cruz's new SuperLight suspension design uses carbon flex stays - there goes Santa Cruz flexing its carbon engineering chops, again
SuperLight uses the leverage curve to achieve the control and support they wanted rather than anti-squat - the goal being to reduce chain-induced forces on the suspension so the bike provides more traction and sensitivity on the way up and down
289g lighter than previous Blur
Size specific chainstay lengths
29-inch wheels only need apply for World Cup/Olympic XC racing
Size Range: S-XL
Materials: C and CC Carbon
Santa Cruz Blur XC:
Full-on XC racing
100mm front and rear
Light tires (Maxxis Aspen 2.4)
Light and short dropper post
Remote lockout
RockShox SidLuxe and Sid SL
Santa Cruz Blur TR:
TR - not a trail bike, it's a XC bike for certain courses (well thanks for calling it TR then, Santa Cruz!)
120mm front and 115mm rear (achieved simply by running a longer stroke shock)
Beefier tires (Maxxis Rekon)
Full height adjust dropper post
No remote lockout
Bigger rotors
Fox 34 Stepcast
Looking at all of those details, it's an easy choice for me - as well as for most of you reading this, I would think - to go for the TR version since it'll still be plenty fast and light but a heck of a lot more suitable to the trails around here. Thanks to tricky supply issues, however, Santa Cruz was only able to wrangle up an XC version for me in XL. In the near future, they're going to send a longer stroke shock which I'll pair with a Fox 34 for the front end at 120mm or even stretch it out to a pre-approved 130mm. In the interim, I've been riding it in full-gun XC race mode: 100mm front and back, high-volume but tiny-knobbed 2.4 Maxxis Aspens, SidLuxe shock and Sid SL fork with front and rear lockout available. 'What the hell' I thought, 'might as well see how it rides like this'.
As I mentioned, I've recently moved to Sechelt and the nearest trail network to me are the West Sechelt trails, consisting of a lot of low-angle undulations and a mix of mid- and high-speed singletrack. There are some steep and technical sections but in general the trails are more reminiscent of Hornby Island or even Cumberland than, say, North Van or Squamish. In other words: primo BC cross-country conditions (it's no coincidence that BC Bike Race has used these trails on many occasions). I was confident the Blur would work well, but I didn't really know what to expect. I owned a Rocky Element MSC back in 2011 but otherwise haven't spent more than one or two rides every now and then on XC bikes. Of course I expected it to pedal and climb well, and that would be helpful to race on, but what about the giggly wiggly bits? Can 100mm front and back be enough for me to have fun in a 'trail bike' way rather than just 'XC bike' fun? And would these silly-looking XC race tires be any more useful than overfed gravel tires? Is front and rear lockout really necessary?
Turns out I was in for a surprise. The rear pivot-less flex stays of the Superlight suspension are remarkably effective. It's clear Santa Cruz went to great pains to eliminate XC bike harshness from the rate curve, without letting you blow through it or wallow too much. There's just enough anti-squat for it to feel efficient without being constantly reminded that you're on a short-travel XC bike. It really feels like a short-travel trail bike, which is a neat trick because there isn't a lot of stroke length to play with. So, rather than feeling like I had to either run a ton of pressure to keep from bottoming out, or back off the pressure to avoid that virtual hardtail sensation, instead I found myself on a bike that was a joy to pedal to and from the trailhead (fast, efficient, great pedaling position) but that hardly slowed down once I hit the trails. And then up I go, and here the Blur really starts to shine. The first time I took it up Duracell (one of the more useful ways to climb up into the West Sechelt trail network), the difference between climbing it on my Sentinel and on the Blur was fairly drastic. The Sentinel is a decent climber, and the Blur should be noticeably better, and it was, to the tune of about three extra gears and less effort.
There are a lot of things working in the Blur's favour and it should surprise no one that it climbs well - it's engineered to race XC at the World Cup level after all - but actually feeling it myself and then realizing it didn't feel like a compromise riding it on those trails was a revelation. The super fast Maxxis Aspen tires and sub-1400g Reserve Carbon wheel set help greatly, as well as the ~24 lb. bike weight, but what I was feeling was a sum of the parts kind of fast that makes the Blur vastly different to climb on than a typical trail bike. As for that lockout, well, I am using it on paved or gravel sections when I remember it, which is another way of saying that this bike pedals superbly even with the suspension open (as it should) but if you need that extra gear, locking it out really does make it scamper. For a racer looking for an edge or an endurance rider needing some long-term efficiency, it's a no-brainer, but if you're not the type to remember to use it, the Blur is phenomenally efficient without locking out both ends.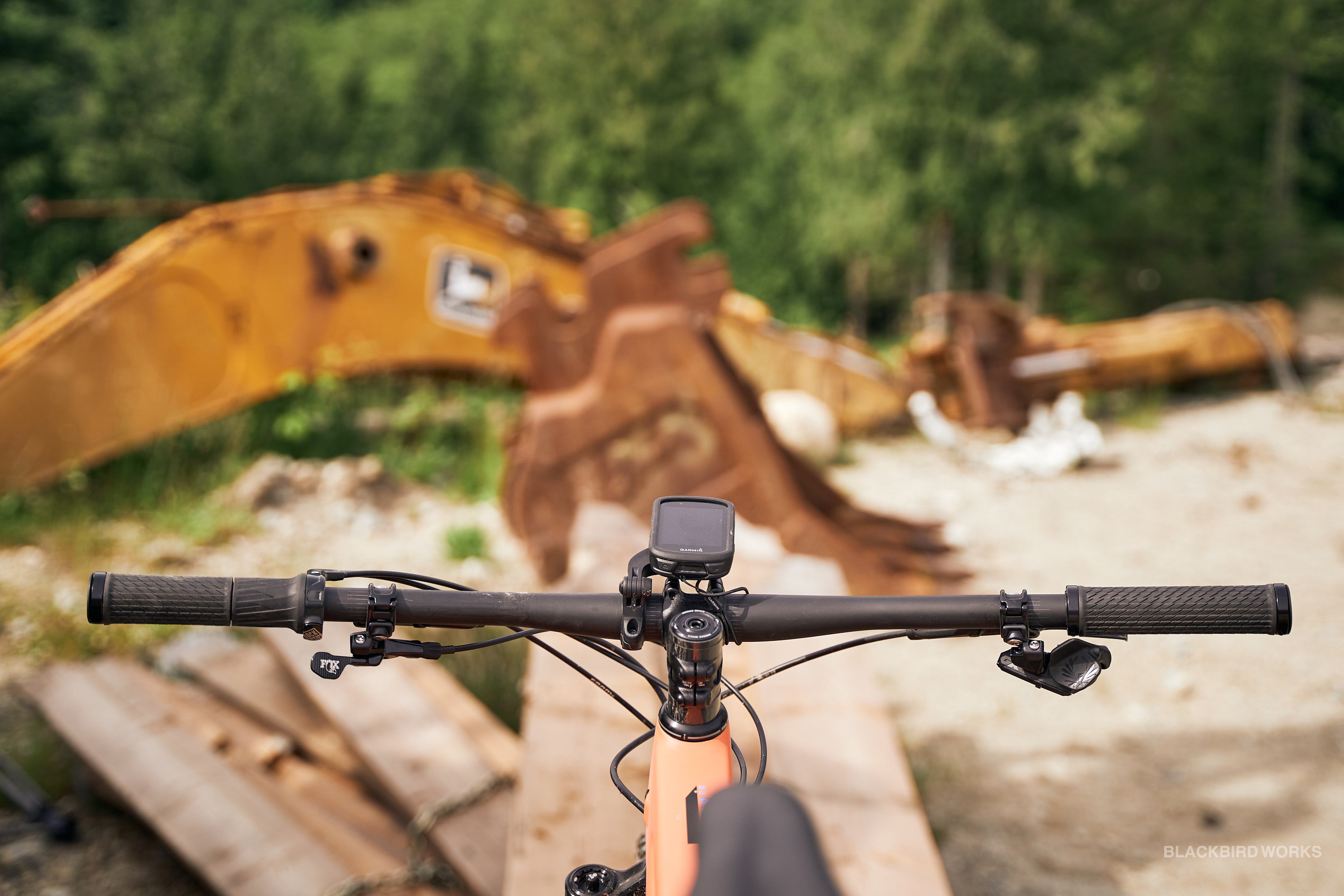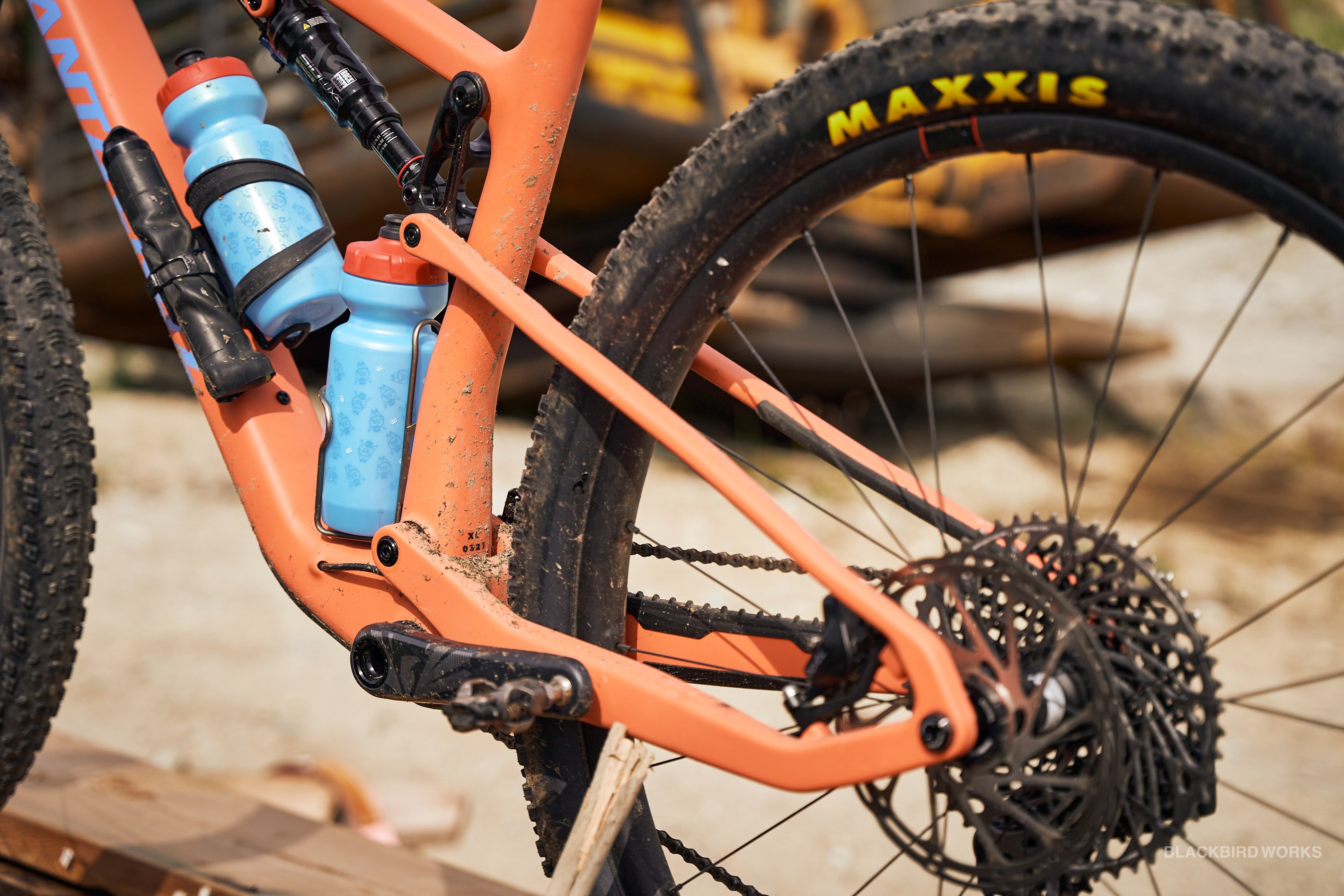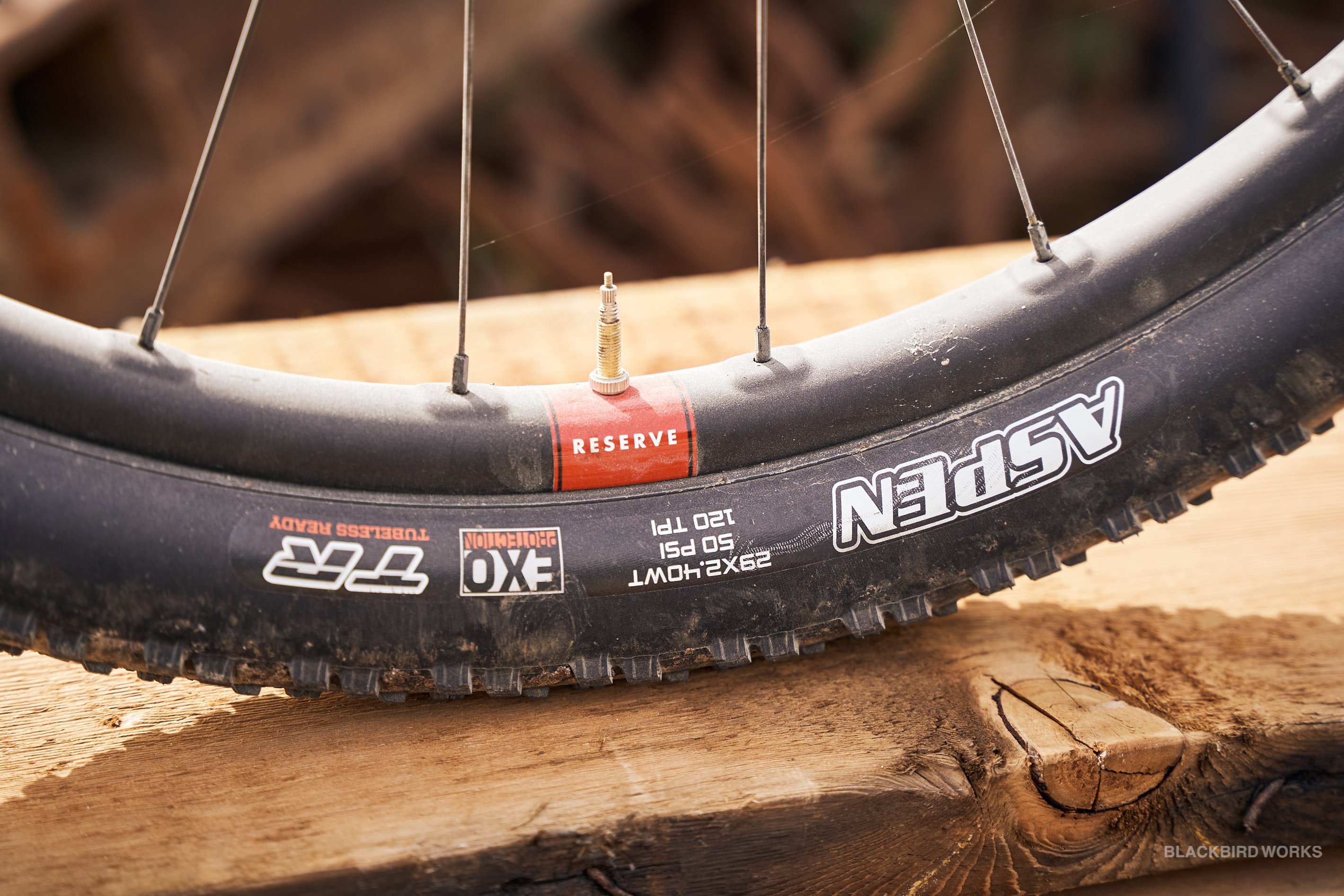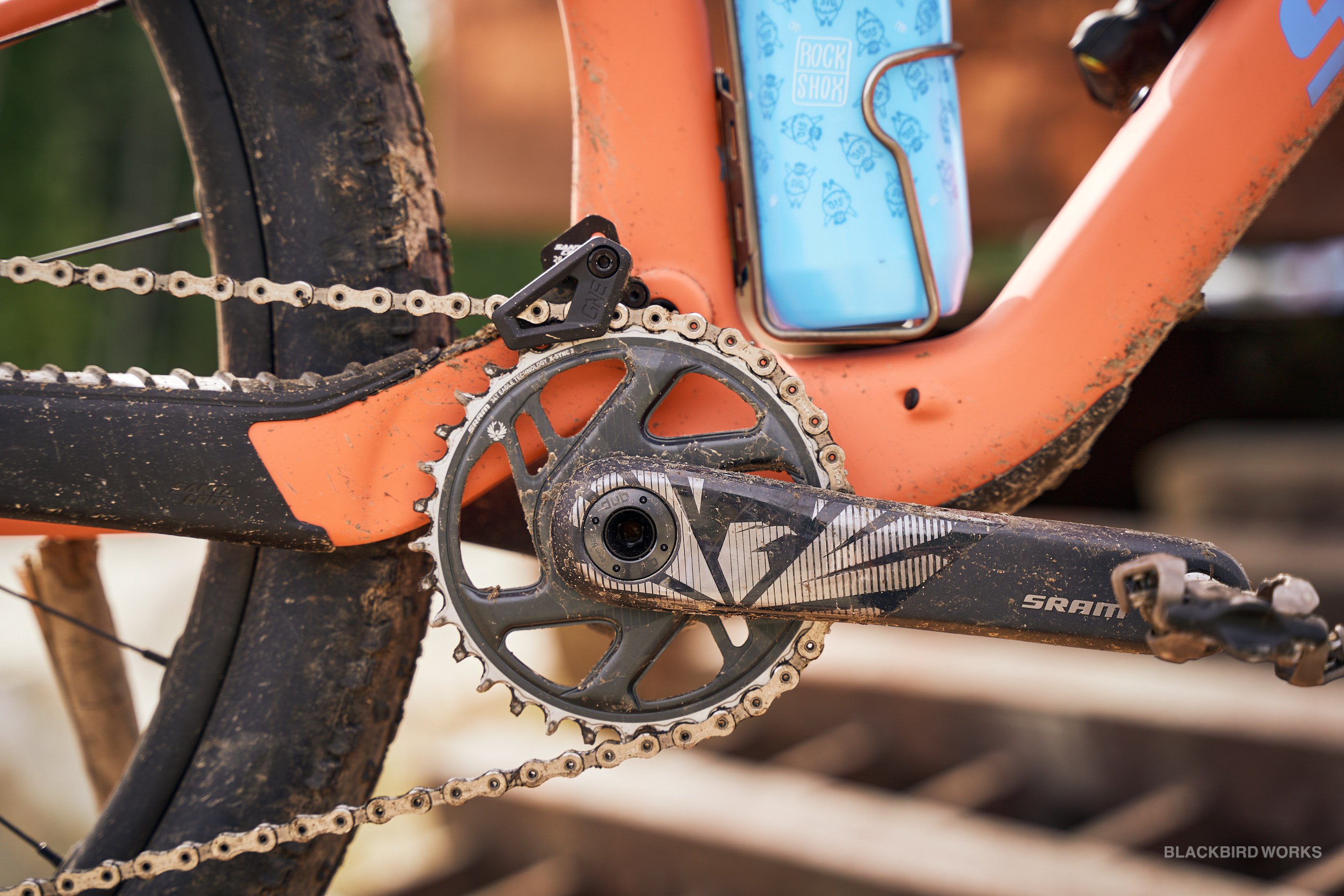 Revelatory on the climbs or not, my main curiosity was how the Blur would be on the descents. I was told it was definitely not a Tallboy, so I was apprehensive that the Blur would be too skittish to be pushed through corners or that the tires would be terrifying even in dry conditions, meaning my training rides were going to be something to be tolerated rather than enjoyed. Nope! Partial credit goes to the fantastic trails around here, which have been around for decades and were built in a timeless way that uses the terrain rather than works against it - they flow along contours rather than across them, giving the rider a great climb:descent ratio and a lot of chances to hoot and holler (which doubles as a heads up to any bears in the area).
So I wanted to start cautiously but discovered pretty quickly that the Blur would not only carry great speed through corners - even somewhat rough ones - but was also brilliant at recapturing any momentum you gave up with heavy braking or a badly chosen line. Two quick pedal strokes and a pump or two and I'd be right back up to cruising speed. As both Cam and Cooper have discovered, the Sid is a more than capable fork, and I haven't found it to be too flexy as long as I keep things within reason. The tires have just enough bite to carve a good line on firm-packed loam but cower in fear from anything loose or too soft. I'm very impressed with them compared to my first impression, however, which was that they'd be good to commute to the trailhead and nothing more. The 120tpi EXO casings give enough support but also feel sublime in those conditions, and the newly-released Reserve 28|XC wheels are beautifully balanced between compliant feel and stiff performance.
There are a lot more kilometers to come aboard the Blur between now and October, when BC Bike Race takes place for the first time in Penticton. I will report back after swapping in a longer shock and fork and some other tire choices as well as how the training is going (mostly what my favourite recovery beers turn out to be). Ultimately I'm curious to figure out whether a bike like the Blur makes sense as a 'little bike' for someone like me in a place like Sechelt, or if purpose-built XC bikes - even ones as versatile as the Blur is turning out to be - are a bit on the small and svelte side. I didn't know what to expect when this started, and I'm not going to be shaving my legs anytime soon, but so far my rides on the Blur have been a total blast and I'm loving the chance to rediscover how fun it is to sprint between corners and feel a bike come so alive by virtue of having this much raw speed.