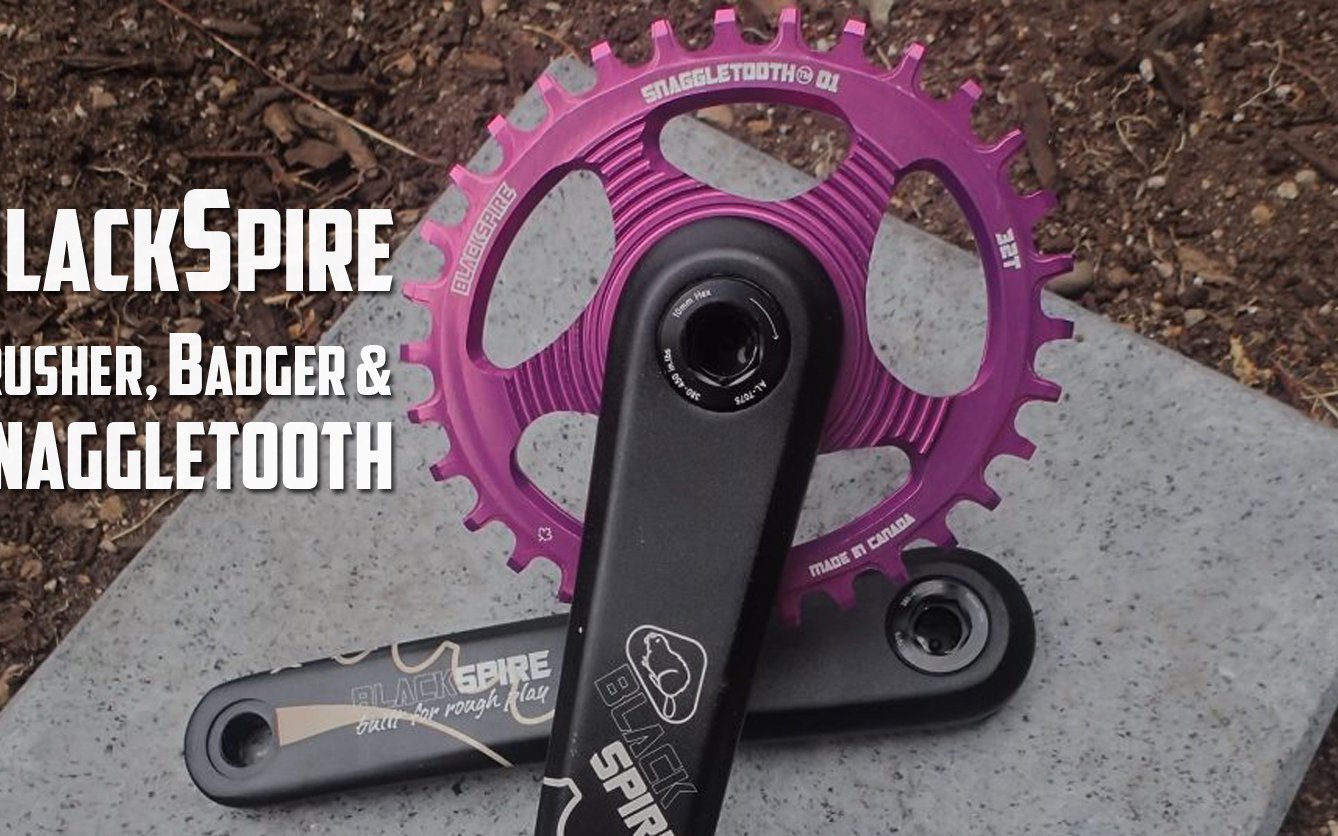 Blackspire Snaggletooth, Badger, and Crusher
Blackspire
Blackspire is an iconic Canadian brand. They manufacture the majority of their products in Vancouver, BC, and then sell them around the world. Best known for their myriad of chainring and flat pedal options in a wide variety of anodized colours, they also have a popular line of chain guides and guards and now a Taiwanese made crankset.
I've spent months riding their Snaggletooth narrow wide ring in an oval configuration. I've smoked their ISCG Crusher bash guard into rocks and roots. And, I've stood and hammered on their aluminum Badger crankset.
Blackspire Badger Crankset
I think that first and foremost the big story with the aluminum Badger crankset is the price. $165 CAD buys the crankset, bottom bracket with full stainless Enduro bearings, BB installation tool, and a Snaggletooth ring in any anodized colour or tooth count.
The crankset is soon to be available in both a carbon and an aluminum version. The crankarms themselves are made in Taiwan and if they look familiar it's because the factory makes cranks for a number of other companies.
That price though… $165 CAD buys a Badger aluminum crankset, bottom bracket with Enduro stainless bearings, BB install tool, and a Snaggletooth ring of the purchaser's choice – oval or round.
I'm on record as not being a fan of plastic BB tool installation adapters. This one is included with each crankset and has survived a handful of installs and removals.
The crankset uses a 30mm aluminum spindle. The non-drive arm includes a bearing preload adjuster so installation is a breeze. The crankarm uses 10mm hex bolts instead of 8mm. It's not that a multitool can generate the torque necessary to remove an arm on the trailside, but it's a nice piece of mind if something comes loose on the trail.
The bearing preload adjuster on the non-drive crankarm makes proper installation a breeze.
Blackspire is using SRAM's direct mount ring interface, which I feel is the best on the market. The splines on the chainring interface directly with splines on the crankset and together absorb all the pedaling loads. Three small bolts hold the ring onto its perch.
Blackspire is using SRAM's direct mount ring system. Which I feel is the best on the market. The splines of the ring interface directly with splines on the crank. Three small bolts hold the system together.
Badger Niggles
Mine is a pre-production crankset and I came across two issues that Blackspire has fixed for production models. To start off, my direct mount chainring came loose after a few rides. This was an easy fix when I arrived home and all production cranks will come with Loctite on the bolts.
The second issue was very premature bearing failure in the bottom bracket. Blackspire readily admits this was an issue with pre-production cranksets due to bearing spec. The production cranksets will feature bearings with stainless steel balls and races. There is no increase in price due to the bearing spec. The new bearings are nice.
The head mechanic at Living Room Bikes installing my fresh full stainless bearings into the BB cups. She's using my faithful first-gen Wheels Manufacturing bearing press. The best bearing punch made to catch a race in tight spaces and weird angles is Park Tool's TL-5.
Riding the Badger
For someone laying down serious watts, or in my case just trying to keep my wheels rolling uphill on my single speed, the Badger is not a stiff crankset compared to others I have ridden. I'm certainly not saying it's 'noodly', 'flexy', or even annoying. I do think it bears noting for folks that justify the price of XTR or NEXT cranks based on their stiffness.
At $165 it probably isn't fair to compare them to top-end products from Shimano or RaceFace but I can't help myself because I think the cost-to-performance ratio on these cranks is fantastic.
In addition to my usual North Shore ups I also cranked the Badger's up some steep Kamloops singletrack climbs this summer.
Aside from the aforementioned Loctite and stainless bearings, both changes for production, the Badger cranks have been awesome.
I'm a notorious heel rubber and the black finish on the arms is definitely starting to show signs of it; however, they look WAY better after months of abuse than my otherwise excellent black Shimano XT M8000 cranks did after two rides. If I had a choice – just like if I had a choice with XT – I'd prefer the cranks in silver. All rides considered, they look pretty good for what they have been through.
The Badger arms are showing some decent cosmetic wear from both my regular heel rubbing and also a tonne of unexpected meetings with rocks in the dark thanks to lots of riding with lights as part of my regular dad patrol rides.
They're cranks, they work great, the price is very good, and… they come with a great chainring.
Snaggletooth Ring
It's their Vancouver-made chainrings on which Blackspire has long built their reputation. The rings are popular for their quality and the huge number of bolt patterns and bolt circle diameters – both living and dead – that they choose to support.
Included with each Badger crankset is a Snaggletooth narrow wide ring of the rider's choice. As always, I was tempted by the option of anodized purple. They also offer these rings in black, red, blue, lime green, orange, and gold.
A 32t oval Snaggletooth ring in anodized purple. It's mounted to the Badger aluminum crank and protected by a blue, ISCG tab mounted, Chucker bash guard.
My oval experience on the one-speed was definitely more interesting than any of the geared bikes I've ridden with non-round rings. I notice I spin smoother circles when seated (in too high of a gear or spun out) and, once I adjusted the timing of my power stroke a bit, I like how torque is applied on steep and loose climbs.
Wear has been very good. The anodizing is certainly not as durable as my experience with Renthal's ring but the ring itself still works fine after months of abuse even if it looks beat. It's also available in significantly more configurations than the 1XR, not to mention the oval option.
Crusher Bash Guard
The Crusher bash guard is a great bit of peace of mind. It offers protection for expensive 12-speed chains and the narrow wide rings they glide on. It's available in ISCG, ISCG '05, and behind-the-cup BB mount and sells for $54 CAD.
It works exactly as advertised, was very easy to install, and I've smoked it on enough stuff at this point that it has my complete confidence.
Front side of the 26-32t Blackspire Crusher bash guard. Available as ISCG, ISCG '05, and BB mount for BSA. Simple to install and it simply works.
I did have to 're-shape' the front of it a little bit to function with the 32t oval Snaggletooth without any contact. That's a preferable choice to going up to the larger bash taco size and the corresponding decrease in ground clearance. It was a quick and simple job.
Backside of the replaceable bash taco on the Crusher bash guard.
My Crusher has all the signs of a plastic object that has been regularly abused into rocks and roots but it still appears to have infinite life left. It comes in a slew of colours and weighs about 80grams as seen.
Who's Buying?
The Crusher is an easy sale to me. It works with every direct mount ring setup and crank BCD as long as a frame has ISCG/ISCG '05 tabs. It's quick and very easy to set-up. I've smoked it enough times, that would have been ring/chain, to think that it is going to save money in the long run.
Who is the ideal candidate for the Badger aluminum crankset? Anyone doing a custom build on a budget would be remiss not to consider the $165 price tag including the Snaggletooth ring of their choice and a BB with quality bearings. That's a potential savings that can be spent on a notable upgrade like brakes or suspension.
I also think it has good potential as an upgrade or replacement for riders with cheap cranks on lower end mountain bikes interested in going 1x. A Snaggletooth ring alone is $65 CAD. Definitely it is worth looking at.
---
Snaggletooth? Crusher? Badger!? Oh My!