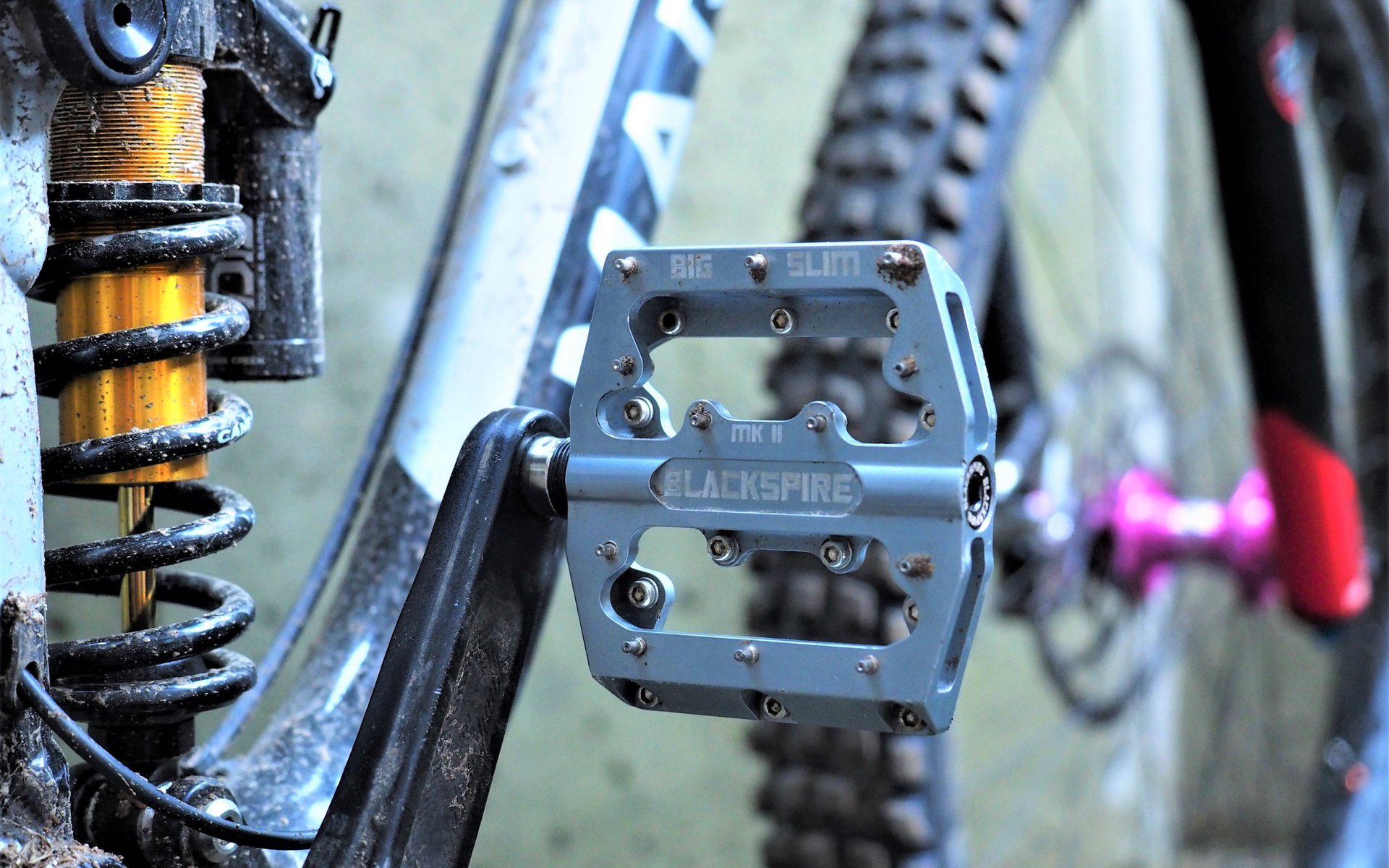 2 Minute Reviews
Blackspire Big Slim Flat Pedals
Blackspire
Blackspire components has been present in every bike shop I've worked in. The stainless steel granny rings and Ring God bash guards arrived in stacks and when the company started machining pedal bodies in their Vancouver facility they were our number one seller in a range of SKUs. 
Charlie and Co. jump into new chainring mounting standards so quickly that they often have replacement chainrings coming out of their CNC machines before the companies revolutionizing BCDs are able to support their own product. They also support legacy ring patterns decades after they've been left for dust by most everyone else. 
Over a long history of ordering hardware, like the nickel plated axles for their pedals, from Taiwan, Blackspire has established numerous factory connections and I look at their catalogue as a tale of two different companies: the Vancouver manufacturer selling machined-in-house pedals, chainrings, etc. worldwide, and the Vancouver-based importer branding components they like and selling them for lower prices than the exact product sold under different brand names. 
One example would be my previous review of their Vancouver made Snaggletooth narrow wide chainring which came stock with a  Taiwan made Badger crankset, with a bottom bracket housing stainless steel bearings, for 170 CAD – including free shipping. Another is the 800mm carbon handlebar I've been testing which has a 35mm clamp and sells for 115 CAD. 
Big Slim
The Big Slim pedals have a slightly concave shape and the bodies are 17mm at their thickest point. The platform is a mid-sized 92mm x 92mm. The bodies are machined locally from a 6061 extrusion and anodized in ten different colors before being assembled in-house. 
The nickel-plated axles are sourced in Asia and spin on a large bushing at the crank and a cartridge bearing at the outside. The bearing and bushing are both covered under Blackspire's lifetime bearing warranty. For the cost of shipping, they will rebuild the pedals for no charge including fresh internals. 
That said, the pedals are easy to service at home as well. 
After experimenting with pin height over a few rides, I've found my sweet spot. I run the three fore and aft pins at their full 5mm height and remaining six center pins with the included spacers to reduce their heights by 1.5mm.
I find this setup enhances the concave feeling of the pedals and makes them grippier (important if you don't run Five Ten shoes). I want to say that this setup is also more comfortable over the course of a long ride, but I'm willing to accept that that could just be a placebo effect.   
I love that the steel 'T-Pin' style pins are a rear-entry affair that prevents pedal damage and makes for easy removal of broken pins even if I do start singing "I'm on a boat" every time I think of them. 
The 92mm x 92mm platform size works great for my size 43 shoes but folks with really big clompers will likely want to consider a larger flight deck. 
I've been riding the pedals regularly with Shimano GR7 shoes and the latest generation Pearl Izumi X-Alp Launch and in the heat of battle the grip is as good as any of the flat pedals I've tried with these shoes. With Five Ten shoes, I am tempted to remove the middle pins, or to just buy a set of Blackspire's Sub Four pedals in order to introduce a degree of float when I want it. 
Support
I was instantly comfortable with the Big Slim pedals coming off of a few other flat options with varying concavity. I've ridden them on my full suspension bike, the Trek Remedy I was testing, and on my single speed. If I was buying a set of flat pedals tomorrow these would be the ones. 
Over the years, not every Blackspire product I've come across has been a winner but aftersale support has always been excellent. That includes with discretionary claims on wear items like chainrings. They are also one of the few companies that always gets back to me and I know quite a few riders, with no industry affiliations, who say the same thing. That shouldn't be surprising or that big a deal but it is. 
I think that excellent support from the slightly concave 92mm² and a couple of decades of excellent after sales support from Blackspire combine to make the Big Slim an impressive choice at 128 CAD. I highly recommend them to anyone who isn't related to Big Foot. 
For more information on the Blackspire Big Slim please click here.